Over the past few decades, Knichel Logistics has gone from being a small, family-owned business to a multi-million dollar logistics powerhouse.
INTRODUCTION
Kristy Knichel has always had an entrepreneurial spirit. Even while attending college she was managing two pizza shops, with the intent of purchasing one of them upon graduation. But her father had an alternative suggestion.
"He told me that I could set the bar higher for myself, and he knew that my strong work ethic could be directed towards an industry with massive growth potential. He then offered me the opportunity to work with him," she explains.
"At the time, my father was an agent out of Cornerstone Logistics in Memphis (Tennessee), specializing in intermodal freight. I was completely unfamiliar with the logistics industry, but shortly after starting as an intermodal dispatcher, I was hooked. The job was fast paced and I learned quickly from my co-workers. So much so that I began to take on as many roles as I could to learn as much as possible from them," she adds.
After a few years at Cornerstone, Knichel her father joined forces with her brother and sister to form their own logistics company. Knichel Logistics launched in 2003, and after father retired in 2007 Kristy took over as CEO and President of the company, a role she has held ever since.
During this time, her passion for the logistics industry has deepened. She describes it as a 'fluid and dynamic' space to be working in, which is what contributes to the excitement of being an industry player.
"Some days you never really know what you may be encountering when you head into work," Knichel says. "That seems like an odd thing to say when we are really just handling the movement of things from one place to another, but logistics literally makes the world move and allows us to all live the lives we're accustomed to. For instance, the transportation industry will be front and centre when the COVID-19 vaccine is finally ready to be distributed to the world."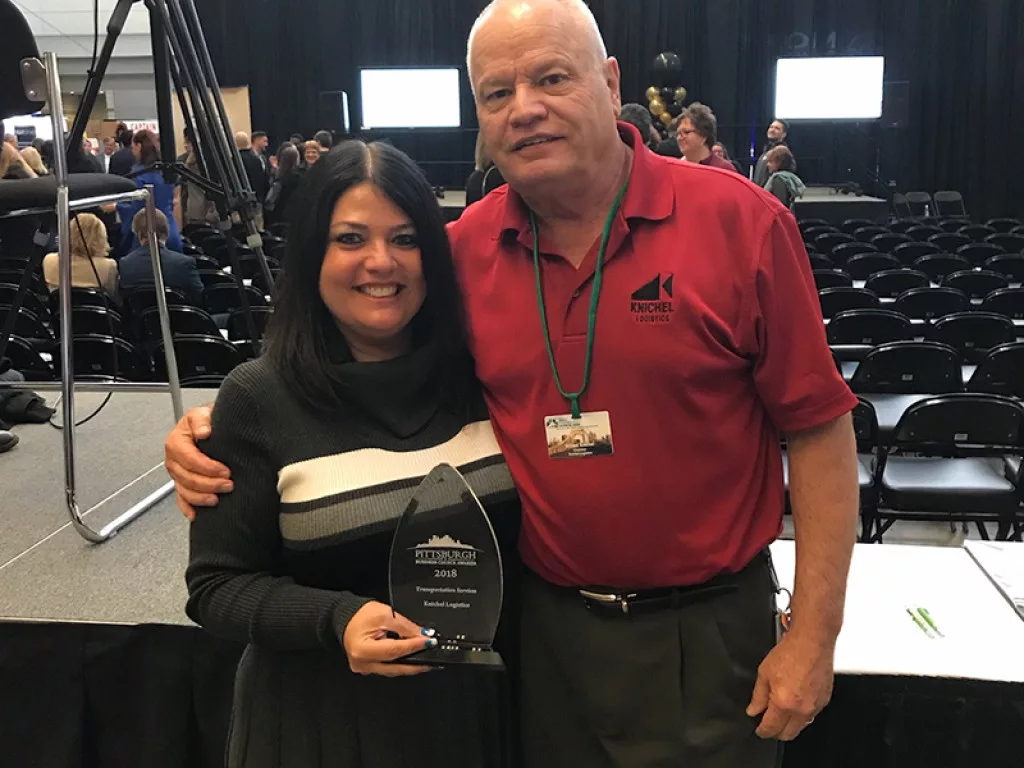 A FAMILY-FOCUSED COMPANY
Knichel Logistics began operating within a niche market that consisted of moving rice out of Northern California by rail. This is a market that it continues to serve and excel in. However, over the years it has continued to expand and diversify.
In its present incarnation, Knichel Logistics is a multi-award winning firm that has transported goods for some of America's largest corporations. It works with everyone from small enterprises with specific needs to Fortune 500 companies, and specializes in intermodal, less-than-truckload, cross-country and cross-border services.
"We have moved more than 200,000 containers with 385,000 trucks spanning over 295 million miles over the last five years alone," the CEO and President explains.
Needless to say, the story of Knichel Logistics is one of expansion. The company has expanded from its headquarters in Gibsonia, Pennsylvania, to incorporate satellite offices in Southern California and Ohio, with an agent network extending across the United States and into Canada and Mexico.
"My company began with less than 10 employees, the bulk of which were related to me, working out of a tiny office focusing on moving essentially one commodity for a small group of customers," Knichel says. "Over the course of almost 18 years, we've grown to roughly 50 employees and are quickly approaching $100 million in revenue. However, the one thing that hasn't changed is our approach to our employees."
For Knichel Logistics is first and foremost a family business. The CEO and President makes the effort to maintain close ties with all her employees, however long they have been at the company. The company maintains annual traditions to help alleviate stress and develop camaraderie, including outings to baseball games, family holiday parties and Customer Service Week (which includes games, food and prizes to celebrate all employees).
"I feel that maintaining a casual office environment, while still maintaining professionalism of course, is a great way to create a level of comfort and a feeling of belonging among our employees – I want everyone to feel as though they are a part of the family. Working in logistics can be an incredibly stressful job, but we still have employees working for us that have been here since day one," the CEO explains.
This friendly, relationship-building approach extends beyond employees to suppliers and customers.
Knichel Logistics doesn't acquire customers the usual way, through cost-based incentives. Instead, it adopts a problem-solving approach – the sales team work with prospective customers to investigate how it can best remedy their current logistics issues, while its account managers and rate analysts work with existing customers to streamline their operations.
"There are so many moving parts to be successful in this industry, but establishing solid relationships is the most essential," Knichel explains.
A relationship the CEO is particularly proud of is its partnership with BlueGrace Logistics, established back in 2015. Its LTL (less-than-truckload) division became a franchise of BlueGrace Logistics, enabling customers a larger array of carrier choices with more competitive pricing. Shortly after Knichel Logistics joined forces with BlueGrace, its LTL business tripled – nowadays, they are approaching a tenfold increase in growth.
Since co-founding the business, Knichel has worked tirelessly to ensure its success, in order to pass it onto her children and siblings' children.
"Knichel Logistics has truly been a labour of love. I've worked 80-plus hour weeks before becoming President and now nearly nonstop in order to ensure that my company will stand the test of time," she says. "There have been numerous offers throughout the years by other companies wanting to buy Knichel Logistics, but I've resisted each one due to my commitment to the succession of this business and to my employees."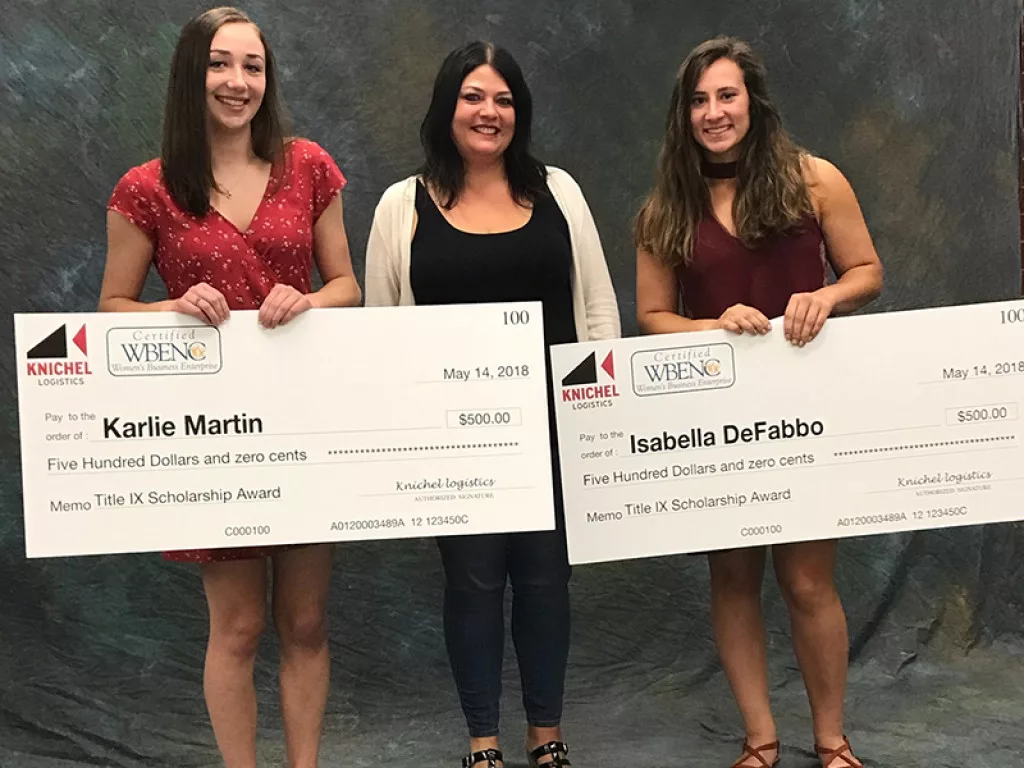 EMPOWERING WOMEN IN THE INDUSTRY
As well as supporting her family, Knichel also hopes her senior position will inspire other women to join the logistics industry.
"Because of the challenges I faced being a female leader in a male dominated industry early on in my career, the discomfort of being different stuck with me and has driven me to put myself out there more, to be a voice and hopefully role model to other women starting out in the industry," she says.
Within Knichel Logistics, the majority of managerial positions are occupied by women. The CEO stresses that these have been awarded on merit, rather than gender, and is proud of her employees for excelling in these positions.
Knichel has received numerous awards and accolades throughout her career, including the 2020 Influential Woman in Trucking Award, which is awarded by the Women in Trucking Association to women who influence key decisions, and serve as a role model to other women.
"This is a major accomplishment for me, particularly because all of the finalists that were selected are such talented women in the transportation industry and deserve to be recognized for their accomplishments. WIT's mission is one that I wholeheartedly support and am passionate about, which makes being named their 2020 Influential Woman in Trucking even more amazing," Knichel proclaims.
Another key milestone in her career is being nominated and voted onto the Transport Intermediaries Association's (TIA) Board of Directors as the Intermodal Logistics Conference Chair. The TIA is integral in shaping the industry, from government regulations to general advocacy, and Knichel explains that her main motivation for becoming involved was to help lend an active voice to women working within the industry.
"I believe women are more willing to take a chance on a career path that might be considered unconventional if they see other women blazing a trail ahead of them," the CEO and President explains.
"To be recognized as a top company for women to work for is such an achievement for me because it helps to validate my mission that women are vital to this industry, and that my very own company is successful because of the women (and men!) who work here."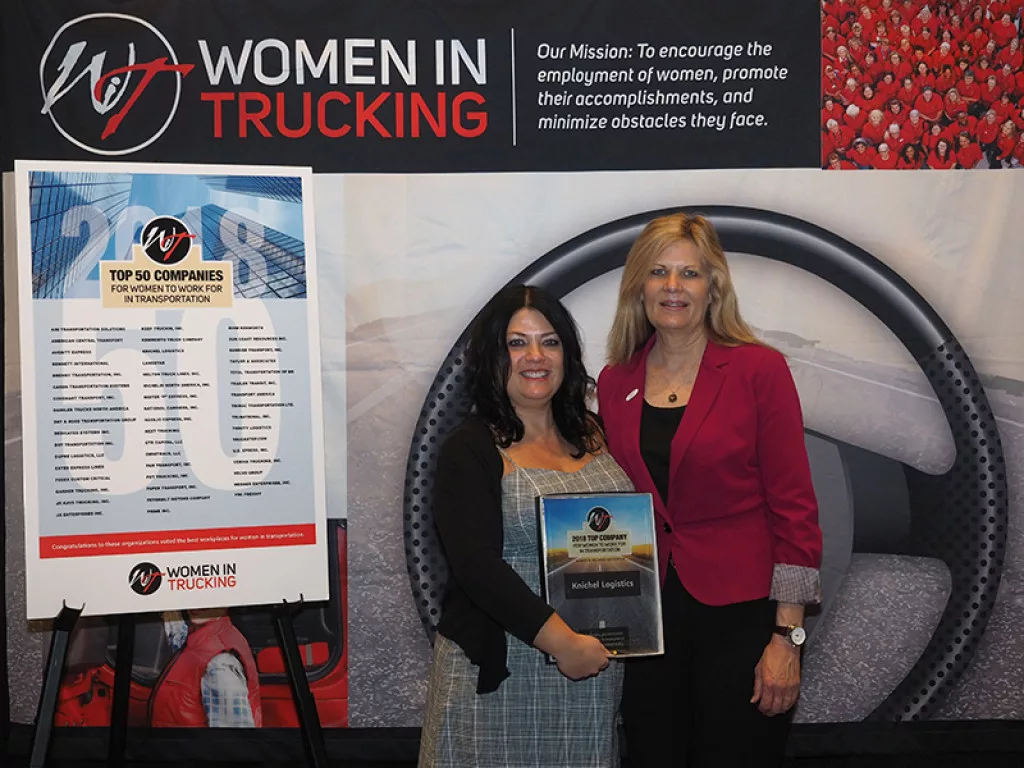 EXCITING NEW PROJECTS
As the conversation draws to a close, Knichel discusses some of the new projects in the pipeline that she is excited about implementing. Although COVID-19 has slowed down the process, the company has succeeded on making progress on enhancing its agent program, which it started a few years ago with a few vetted individuals.
"Our objective now is to flesh the program out more thoroughly and work on expanding our agent network geographically and modally," she says.
Another upcoming project is to achieve greater penetration into the government services sector. Knichel Logistics has worked on small governmental projects in the past, and now wants to establish a greater foothold.
"We are optimistic that these projects will become significant new revenue streams for Knichel Logistics in the near future," the CEO says.
Knichel has also been hoping to hit a milestone of $100 million in revenue.
"When we do finally hit that milestone, I am planning on throwing a party! 2021 might be the year we make this a reality."