Invest Saint Lucia talks to us about the island attracting tourists with its topographical contours, silky beaches, lush rainforests, and spirited celebrations. However, with a wide range of sectors, there are myriad reasons to invest in this vibrant paradise.
INTRODUCTION
Nestled among the Lesser Antilles group in the Caribbean Sea, Saint Lucia is one of the most unique islands in the Eastern Caribbean. The island competes with other globally renowned destinations with her iconic twin peaks, The Pitons, a UNESCO World Heritage Site, and the Caribbean's only drive-in volcano.
In addition, the island offers a wide range of heritage and cultural attractions, miles of breath-taking beaches, historical seaports, and a dramatic coastline perfect for sailing, diving, and other ocean adventures. With 13 World Travel Awards for World's Leading Honeymoon Destination, Saint Lucia enjoys regular airlift and major source markets in the US, United Kingdom, mainland Europe, and the Americas.
Saint Lucia is not only a liveable island, but a lovable one at that. Upon arrival, investors fall in love with the terrain, the people, the food, and the culture. The list of things to love and immerse yourself in as an investor are endless; sprawling golf courses, top rated marinas, abundant fresh produce, fine dining, duty free luxury goods, reliable shipping, lower crime rates, accessible foreign exchange, international schools, and a service-oriented culture with friendly citizens are the main highlights.
As well as having successful business processing outsource (BPO) and manufacturing sectors, cannabis is one of the newer industries seeing interest in investments grow exponentially. The immense economic impact of the cannabis industry was made possible by the relaxation of the laws and regulations surrounding it, alongside responsible legislation.
This is not the only forward-thinking move, as the renewable energy sector is also looking to the future. The geology and tropical geography contribute to the many natural energy resources, which make Saint Lucia a strong candidate for developing the industry.
At the forefront of investment on the island, Invest Saint Lucia is available to promote and facilitate any businesses ready to invest in the industries and sectors that the island has to offer. With reliable air and freight services, geographical connectivity, and an educated and regional labor pool, Saint Lucia has many reasons to invest in or settle on the island, as citizenship by investment is an option.
Facts and figures
• Saint Lucia covers a land area of 617 square kilometers
• The currency is the East Caribbean dollar, although US dollars are accepted
• The estimated population stands at 185,200
• The official language is English, however many residents speak Saint Lucian French Creole
• Saint Lucia is a three-hour direct flight from the US mainland
• Its 300,000 labor force can move freely in the Organisation of Eastern Caribbean States (OECS)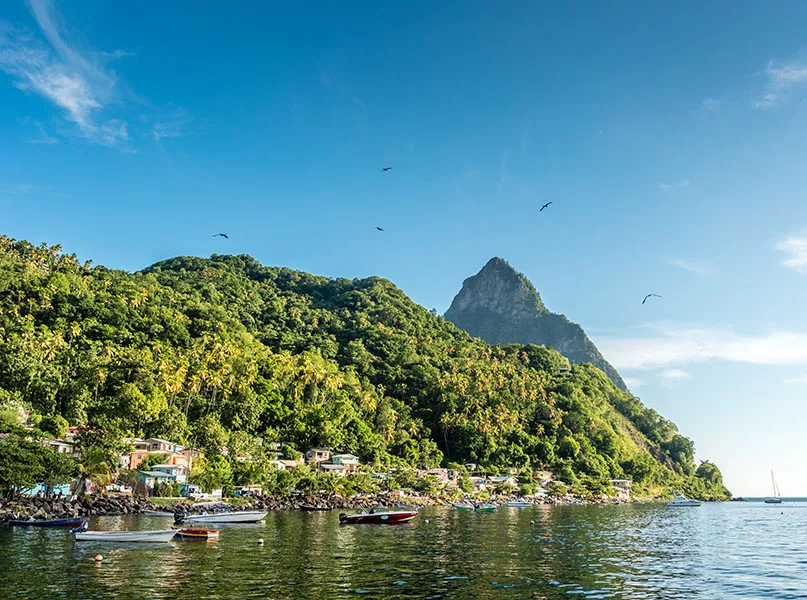 Q&A WITH OCTAVIAN CHARLES, CEO, INVEST SAINT LUCIA
With five decades of commendable results in investment facilitation, Invest Saint Lucia remains the principal agency of the Government of Saint Lucia, as it continues to foster growth and expansion in the Caribbean region
The growing economy of Saint Lucia is able to support businesses, and the stable environment and tax regime is ideal for investors and citizens alike. The tourism industry is the nation's main source of income and the biggest employer on the island. Invest Saint Lucia promotes the island's strategic location, efficient infrastructure and a wide range of sectors to facilitate the development of businesses and encourage a friendly business environment.
Saint Lucia has a lot to offer investors from agro-processing to outsourcing and manufacturing. The island also possesses a dynamic labor force for the employment needs of these sectors and industries. We speak with CEO at Invest Saint Lucia, Octavian Charles, to find out more.
Could you introduce us to Invest Saint Lucia and explain what led to your new role in the agency? Are there any plans you would like to implement?
Octavian Charles, CEO (OC): The agency has a long and eventful history which transcends beyond our shores. In 1972, the amended Act of Parliament made us operational, as the National Development Corporation (NDC). The agency engineered the framework and conditions required to act and retain some of the island's most successful businesses.
By 2012, the NDC had been formally rebranded to Invest Saint Lucia, a name which reflected the agency's advancement into the 21st century. Over the years, the agency has explored various options before settling on three key sectors: tourism, business process outsourcing (BPO), and manufacturing. In addition, the agency facilitates different secondary sectors, which include working with information and communication technology (ICT), creative industries, finance, and education.
I came to my new role as CEO after spending many years in finance, project evaluation, and the monitoring of trends and events relevant to Saint Lucia's economic progress. Coupled with a passion for agribusiness, I decided to move to an organization that can effect change in the country's economic development.
I plan to continue promoting Saint Lucia as an ideal investment hub in the Eastern Caribbean. Additionally, we want to highlight to nationals that we are open and available to facilitate their projects on the island.
What are the agency's main objectives and how have they developed since its inception?
OC: As the official investment promotion agency of the Government of Saint Lucia, we are responsible for stimulating, facilitating and promoting inward investment opportunities for foreign and local investors. Our focus is to build and promote Saint Lucia's image as a preferred location for investors, actively seek out and generate new investments in strategic sectors with high value-added and employment-generating potential, and facilitate domestic and foreign direct investment by functioning as a one-stop shop.
We offer comprehensive knowledge of the processes to set up a business; a keen understanding of investor needs, including site identification; facilitate new investors and existing businesses to navigate the official approvals process; and offer a full understanding of the available incentives and resources to foster growth and to expand.
Invest Saint Lucia plans to advance Saint Lucia's socio-economic development by targeting high-impact projects in tourism, manufacturing, agriculture, and BPO that will enable linkages with the wider society.
Through forging partnerships and engaging key government institutions, the agency will continue to encourage a united front for the promotion of Saint Lucia as the location of choice for investments, visitors, and exports.
Which qualities do you look for in your staff?
OC: Invest Saint Lucia seeks to strengthen our execution capabilities by aligning our people, structure, processes, culture, and leadership to our mission, vision, and strategy. Therefore, we select professionals who are passionate about what they do, and they enjoy the dynamism of the agency's work. Anyone joining the team should have a certain level of national pride knowing that they can impact the economic development of the country.
Naturally, we are looking for the best talent for the team, and we seek to employ and collaborate with individuals who are experts in their fields.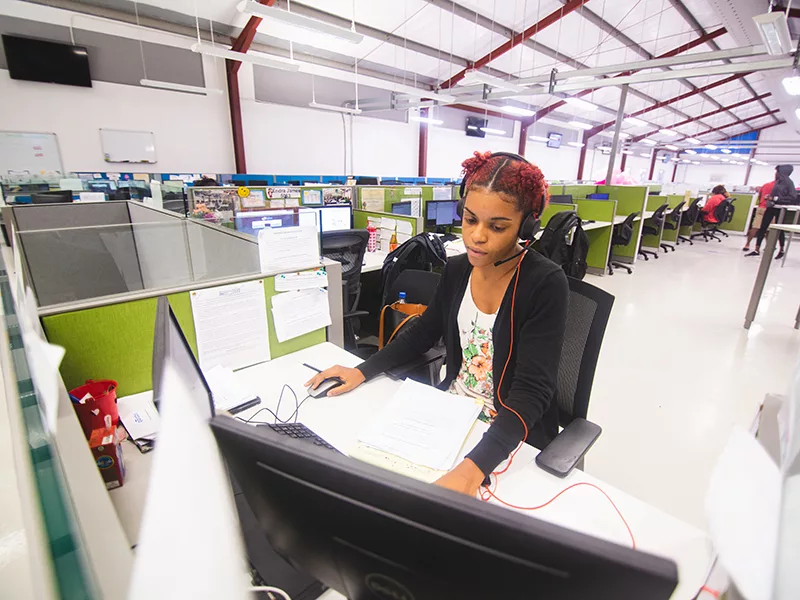 How do you plan to offer opportunities for investment in the other key sectors outside of tourism, for example, manufacturing, real estate and GBO?
OC: Diversification has remained a key focus of the agency, especially with the onset of COVID-19. Saint Lucia has seen noticeable growth and interest in the BPO sector. Additionally, there is a keen governmental focus on growth and strategic policy for BPO, as Saint Lucia possesses several key advantages in nearshore market competencies.
Being blessed with the ability to grow our food on the island, food security, and diversification of our agricultural basket forms part of the larger diversification strategy with a close look into other vertical integration strategies, including manufacturing and agro-processing.
Major sector players and investors are now in dialogue to look at the market as the government makes the environment even more sector friendly. The agency works closely with the government to develop and implement policies in the BPO sector. Invest Saint Lucia is also working on creating turnkey assets for outsourcing and manufacturing.
Could you tell us about your sustainability goals for the infrastructure, development, and industries of Saint Lucia? Are you optimistic about the future of the island?
OC: Saint Lucia continues to look ahead to a more sustainable future that meets the needs of our present and future generations. Thus, we will continue to invest in quality and resilient infrastructure and improve our sustainable industries. Another key focus lies in transforming the island's energy landscape to create a cost-effective, reliable, and resilient nation to be a leader in climate resilience through our laws, practices, and policies.
Topical geography contributes to the many natural resources, which make Saint Lucia an ideal candidate for developing renewable energy products.
I am optimistic about the future of Saint Lucia, although immediate forecasts and projections look dim because of global economic downturn; therefore, we are focusing our efforts on strengthening Saint Lucia's competitiveness in the market. It is important to gain a competitive advantage, and Invest Saint Lucia recognizes the need for sustainable development to be at the core of our national plans and programs, focusing on our people, partners, and prosperity.
How is the agency navigating current industry trends?
OC: Saint Lucia has been significantly impacted by COVID-19, and we have seen sectors decline and thrive. The GBO sector, especially the knowledge process outsourcing (KPO) and BPO sectors, grew at an alarming rate during the pandemic and continue to expand. We have also seen the details of the industries change as more investors use remote work for their teams, and this is another option for human capital on the island. We plan to target and attract more subsectors in the industry.
We also seek to continue promoting the country as a preferred location for investment in the Caribbean. We have adjusted all our strategies, especially marketing and promotion. Investment promotion is best done face to face, however, we must adapt in these changing times. We will include more ways to do business virtually with digital promotion highlighting investment opportunities, our people, and Saint Lucia's diversity. We also intend to continue facilitating new investors and making the climate more favorable for doing business.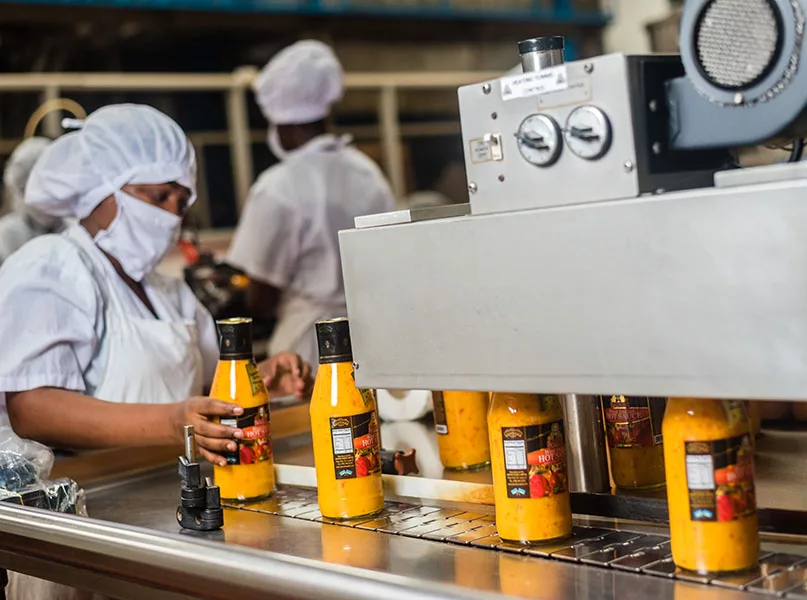 As the laws and regulations regarding cannabis in some states of Saint Lucia have changed, have there been any challenges regarding investment in this industry?
OC: Interest in cannabis investments in Saint Lucia has grown exponentially as many international and regional states and territories continue to relax and abolish their laws.
Invest Saint Lucia recognizes the expanding cannabis market and continues to assist with local efforts to capitalize on the increasing opportunities in this sector. The agency was the secretariat of the Saint Lucia Cannabis Commission (SLCC), established in 2019 to review and make recommendations on the laws and regulations relating to cannabis. In 2021, the Drugs (Prevention of Misuse) Act was amended to allow adults to possess 30 grams (g) of cannabis and four cannabis plants per household. Presently, a cannabis taskforce which builds on the previous work of the SLCC has been tasked with creating and maintaining a vibrant market for cannabis. However, local legislation remains unchanged regarding the exportation of medicinal cannabis.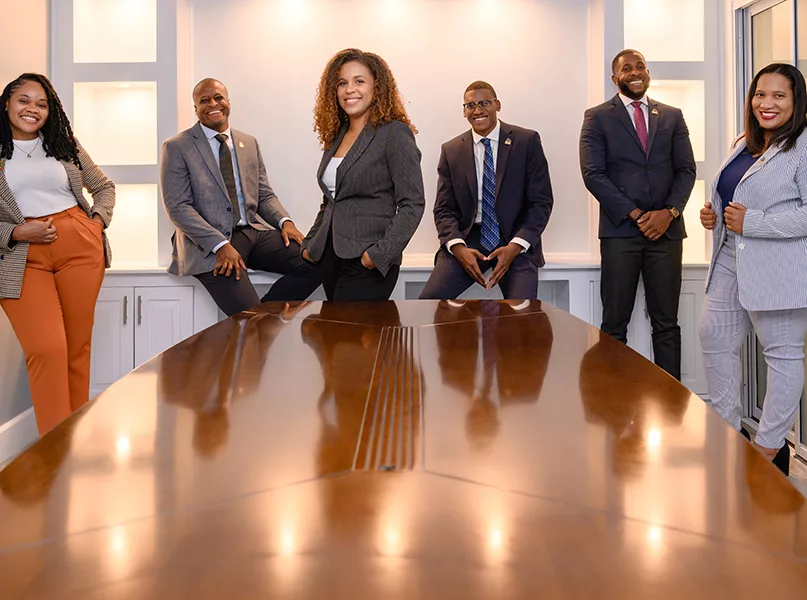 Could you elaborate on certain investment opportunities by location?
OC: As Saint Lucia's official investment promotion agency, we have numerous available opportunities for local and foreign investors.
TOURISM
With its pristine beaches, unique scenery, and vibrant culture, tourism remains Saint Lucia's flagship product.
Adjacent to the beautiful Reduit Beach, Mount Pimard has excellent views of Pigeon Island. It overlooks the lively Rodney Bay, the entertainment hub of Saint Lucia. This 58-acre site is ideal for hotel development as it is easily accessible to major commercial and retail centers with seamless access for guests.
Another tourism opportunity is that of Fond d'Or which spans approximately 346 acres of land in a pristine and rugged area. It offers unique topography and 15 acres of sandy beach bordered by lush forests and wildlife. This unspoiled beachfront provides spectacular views of the horizon coupled with adjacency to a heritage park, making it ideal for an eco-tourism/nature project or hotel development.
MANUFACTURING AND BPO
Invest Saint Lucia owns and manages seven industrial estates, which contain several factory shells ranging in size from 4,000 to 32,000 square feet. Our multi-purpose facilities are strategically placed throughout the island's economic hubs, and key transits are available for rental rates that are some of the best in the region.
Saint Lucia has been offering subsidies to the manufacturing sector through land and infrastructure since the 1970s.
These spaces are also suitable for BPO operations. The island offers quality technology infrastructure which enables faster real-time communications, transactions, and smart city capabilities.
The island has a lot to offer individuals looking to relocate and investors in a wide range of sectors that speak to the sustainable and profitable development in the country.
Top reasons for selecting Saint Lucia include:
• Our geographical and digital connectivity: Saint Lucia is ideally located to service regional, international, and virtual markets. Enjoy relative proximity to the nearshore markets of North America and the Caribbean community and common market (CARICOM) member states, and with just an eight-hour flight distance, Saint Lucia is your gateway to Europe.
• A proactive investment climate: The country offers an attractive investment climate through prudent planning and sound policies. We are committed to matching discerning investors with modern solutions.
• Attractive government incentives: As an investor, you can focus on starting and growing your business investment from inception, and benefit from a slate of well-tailored concessions for small and large investment projects.
• Educated local and regional labor pool: Saint Lucia and the islands of the Organisation of Eastern Caribbean States (OECS) possess some of the highest literacy rates in the region. The human resource capability can be relied upon to mobilize, train, and adapt.
• Quality of life: Our enviable quality of life has captivated many investors and international organizations who have headquarters in Saint Lucia. Whether it is the lure of the beach, the thrill of the ocean, or the connection of nature, our island paradise has a lot to offer visitors to its shores.
Given all that Saint Lucia has to offer, it is one of the most liveable islands in the Eastern Caribbean and its landscape is as diverse as its heritage. The island has a perfect mix of modern convenience and unspoiled natural beauty with a rich cultural calendar of vibrant festivals. Investors fall in love with the lifestyle.
We invite interested people to invest in our destination and make it your new home.