A vital part of any construction or maintenance work, scaffolding has an irreplaceable role in industry. Managing Director of Scafom-Rux, John McGinnis, gives us a glimpse into this critical service.
FOUNDED ON IMPROVEMENT, SAFETY, AND STABILITY
45 years ago, in 1978, scaffolding and shoring material was rather heavy and hard to work with. Being an engineer at heart, Frans Brinkmann was driven by the idea of how to improve the work of scaffolders while making scaffold constructions safer and more stable at the same time. He started inventing new shoring props and scaffold components, which immediately became a huge success.
Scafom, as the company was named in its beginnings, was growing quickly and expanded across the entire world. New factories were opened in Europe and in Asia to cover the rapidly growing demand for Scafom products.
In 2005, German scaffolding manufacturer RUX became part of the Scafom group, adding another 50+ years of experience and expertise in scaffolding to the company. And Scafom-rux was coined as the company name from this new partnership.   
100 percent privately held by the Brinkman family in the Netherlands, Frans Brinkmann and Scafom-rux have been very active in the Northern American market from the very beginning. But it wasn't until 2012 that Scafom-rux North America was founded. 
Today, the company is operating from more than 20 countries on five continents, serving professional scaffolders and customers from key industries like oil and gas, shipyards and shipbuilding, construction, mining, and infrastructure all over the world.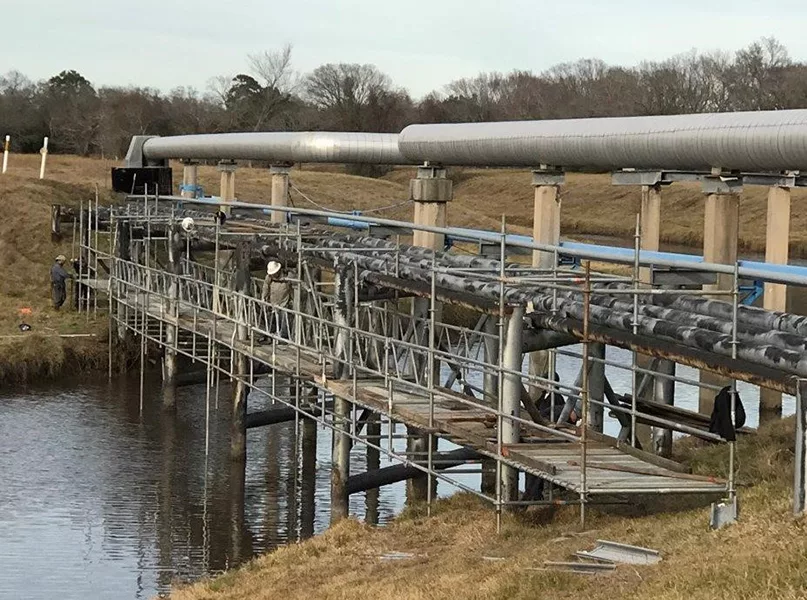 RETHINKING SCAFFOLDING
"My dad started in the industrial sector in 1965 as an insulator and over his 55+ years in the industry, he's climbed from insulator apprentice to CEO of one of the Industrial Specialty Crafts (ISC) providers. I've always wanted to follow in his footsteps in some form," opens John McGinnis, Managing Director.
With family-owned roots, Scafom-rux's scaffolding and heavy-duty shoring systems are among the best in the world, and their scaffold design team and engineering group even make custom solutions for customers, when they are in need of a specific product that no one else provides.
Industrially-focused with large infrastructure projects including, but not limited to, towers, facades, birdcages, spheres, suspended scaffolds, refineries, dams, power stations, bridges, water towers or stand pipes, water digesters, hoardings, stair towers, and rolling scaffolds; the range of Scafom-rux is significant.
Recent projects have included vast petrochemical and industrial refining plants, historic landmarks, large-scale modern urban projects, festivals such as Dominator in the Netherlands, and more glitzy tenders with the likes of F1 Vegas and the PGA Tour.
The supply chain is rich with logistics, warehousing, and sub-contractor partnerships established worldwide: "We're vertically integrated and manufacture our own scaffolding gear, giving us superior quality control and full backward compatibility," explains McGinnis.
Offering the most comprehensive portfolio in scaffolding systems, Scafom-rux's inventive spirit and more than 40 years of experience have designed and built the safest scaffolding solutions, maintaining the highest standards in durability and sustainability.
Complemented by additional services like professional training, technical engineering, and scaffold rental, the entire Scafom-rux team is dedicated to understanding the needs and requirements of scaffolding professionals to provide the best possible solution for every scaffolding project worldwide.
McGinnis believes the company's versatility is one of its greatest strengths, which results in a bewildering array of exciting projects.
"We are a turnkey supplier, so we manufacture and distribute all of our own materials to customers, which also makes us a great company for specialized solutions since we can adapt to customer specifications better than any of our rivals," he adds.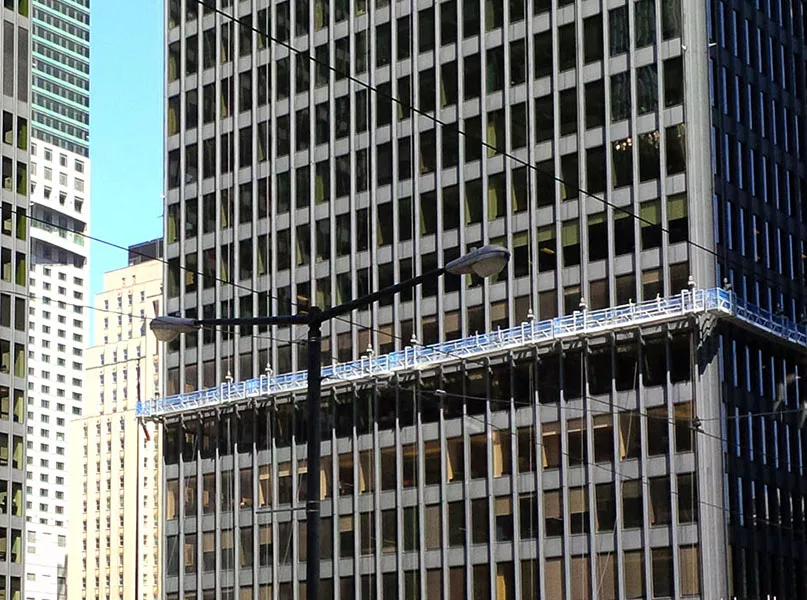 RESTORATIVE PROJECTS
The second largest fortress in Europe, the Ehrenbreitstein Fortress in the city of Koblenz, Germany, has 1,000 years of history within its walls, but those same walls were experiencing degradation and needed urgent restoration.
The owner of the fortress – the state of Rhineland Palatinate under the auspices of the Koblenz branch of the Landesbetriebs für Liegenschafts-und Baubetreuung – had to really dip into their pockets for the restoration work in the face of an enormous scaffolding challenge, which Scafom-rux products played a key role in solving.
Utilizing the modular ringlock scaffolding 'Variant', a system that features high flexibility, adapting to the structure to be scaffolded was made easy. 1,325m2 were used on the retaining wall, and the structure was designed as a suspended scaffold with inner brackets, braced and supported with 405 meters of lattice girders.
A trusted and highly expert list of contractors was enlisted to train a new generation of scaffolders on the flexibility benefits of the Scafom-rux system, and the Ehrenbreitstein project, with its many rock ledges, corners, and edges, was simply ideal for training purposes.
DOW PROJECT
A major project for Scafom-rux in 2022 was with customer KAEFER in Tarragona, Spain, in the form of a chemical plant owned by Dow, which was to be temporarily shut down for maintenance work for six months. As is often the case when maintenance work needs to be carried out on large industrial sites, scaffolding is required.
KAEFER rented a total of 440 tonnes of RINGSAFF© modular scaffolding material from Scafom-rux for this project. That means a total of 13 truckloads of scaffolding material, which had to arrive at the chemical plant in just two fortnightly batches. And that was not enough of a challenge, as the high safety requirements in chemical plants also apply to the scaffolding used there. In the case of the plant in Tarragona, this meant that the scaffolding material had to be particularly clean to avoid contamination, and these new scaffolding components had to be specifically approved for Dow plants.
"A great example to showcase the way in which Scafom-rux works together with customers is the project we had recently with Dow in one of their refineries in Spain," explains McGinnis.
"The highest safety standards are paramount for each scaffolder, of course, but even more so in industries like chemical, or oil and gas.
"On top of that, schedules are very tight since every day of a downtime that is required for the maintenance of the plant costs a lot of money to the customer," McGinnis adds.
Scafom-rux managed to deliver 22 trucks of material in 15 days, exactly in time and with all the required components. Every day, a different set of scaffold parts was needed, and Scafom-rux managed the availability of the required parts as well as the logistics, thus enabling their construction partner to work fast and on schedule to assemble the scaffold construction.
The project in Tarragona required more than 300 scaffolders at the chemical plant, erecting more than 350,000m3 of scaffolding.
The work was planned so precisely that the shutdown of the plant could go off without a hitch, and with the support of Dow staff, Scafom-rux engineers could conduct training sessions with KAEFER technicians and scaffolders in advance to help with the smooth running of the project. For optimum cost efficiency, all rented scaffolding material could simply be returned to Scafom-rux at the end of the project.
"Since our RINGSCAFF© modular scaffold was used for the first time in a Dow plant, it also had to go through the approval process beforehand. And it paid off: RINGSCAFF© scaffolding material is now approved for all Dow production sites throughout Europe," beamed McGinnis.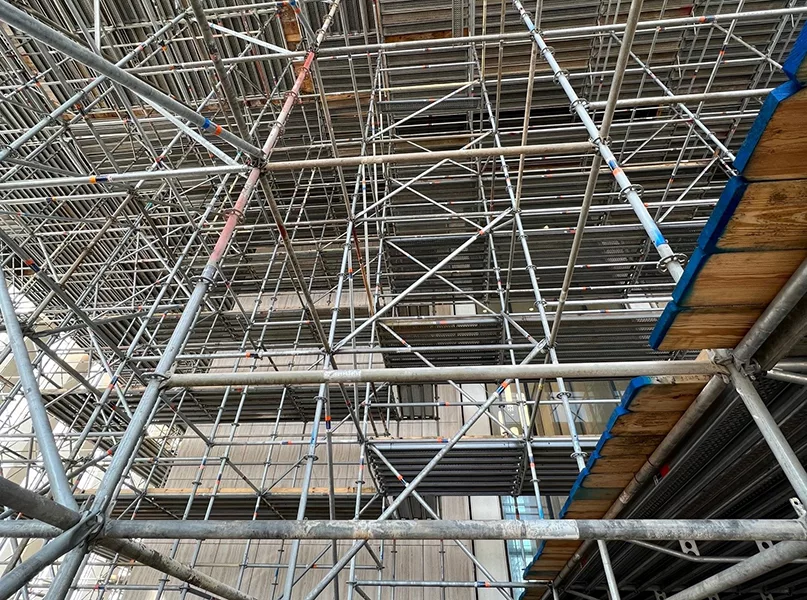 PIONEERS IN THE INDUSTRY
Ringlock modular scaffolds are fast becoming one of the world's most popular types of scaffolding systems. They are used in infrastructure and construction projects as well as in the mining, chemical, oil and gas, energy, and maritime industries.
As far as the basic structure is concerned, the ringlock scaffolding systems of the different manufacturers are quite similar, with the great advantage offered by RINGSCAFF© being that different modular scaffolding systems can be mixed within one scaffold assembly.
With the client's needs in mind always, the business is also using the latest technology to solve any scaffolding challenge, something the business is proud of.
"We have started the use of 3D modeling to help customers see a true picture of the worksite with our scaffolding in place and the best most efficient ways to build around obstacles or obstructions.
"Being a pioneer in the development and production of modern scaffolding systems, like RINGSCAFF©, Scafom-rux is constantly looking for ways to further improve the quality and durability of our repeatedly certified products," McGinnis explains.
Approved for mixing by the DIBt, the highest recognized technical authority based in Germany, this innovative solution can mix with three modular scaffolding systems from other manufacturers.
The future is also bright when it comes to new production facilities, with European operations set to receive a real boom.
"In the upcoming years, one main area for key investments will be the continuous expansion of automation in our production. Just this year, we opened a brand-new factory in Turkey, and we will continue to invest in our production sites all over the world," he concludes.