Commercial Vehicle Group Inc. has a passion for its people. Rich Tajer, President for Global Electrical Systems, tells us how employees are the driving force behind the company's relentless growth.
FOSTERING A CULTURE OF BELONGING
Founded in 2000, Commercial Vehicle Group Inc. (CVG) is a global supplier and manufacturer of electric vehicle (EV) assemblies, electrical wire harnesses, seating systems, mechanical assemblies, structures, plastic products, industrial automation, and robotic assemblies, as well as the transportation, warehousing, construction equipment, industrial, e-commerce, and recreational vehicle markets.
Additionally, the company has bold aspirations to aggressively grow organically and inorganically over the next five years, and it is well on its way.
As President of CVG's Global Electrical Systems business unit, Rich Tajer spearheads this drive towards greater success, as the company has grown from its original mission of being a CAB system integrator for heavy goods vehicles (HGVs) to focus on being a system solution provider by placing good people in notable positions and creating forward momentum. Assessing, meeting, and then exceeding customer needs is key to growth, and the team at CVG is bringing this all together.
"Customer needs change over time, and we have evolved by servicing and providing solutions for a range of markets in our industry. As a result, we sell different products and services through each of our business units," opens Tajer.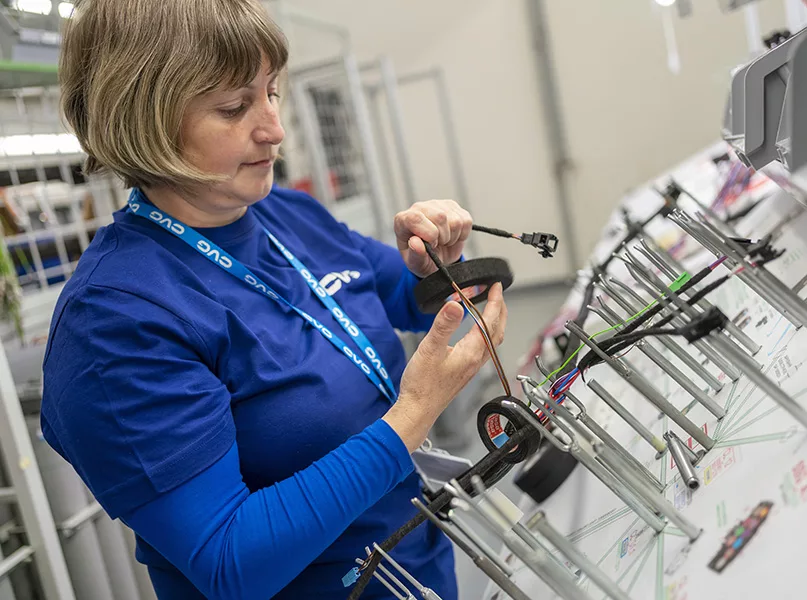 From servicing the HGV cab market, the company has expanded the entire system to create four business units that each have an individual focus. The different capabilities comprise industrial automation, vehicle solutions, aftermarket and accessories, and electrical systems.
Regarding electrical systems, this was previously positioned as an ancillary subset of CVG; however, with a talented team under Tajer's leadership, it has become a key part of the company's operations and growth. This is reflected in the development of the electrical wire harnesses distribution box on an EV truck frame, which is currently being developed at CVG's new tech innovation center in Phoenix, Arizona, with additional centers in the pipeline.
With the expansion of its capabilities, CVG has strengthened its global reach with operations across the Asia Pacific region in Shanghai, Australia, Thailand, and India. The company's influence in Europe, meanwhile, is further bolstered by operations in the Czech Republic, Ukraine, the UK, as well as Morocco in Africa.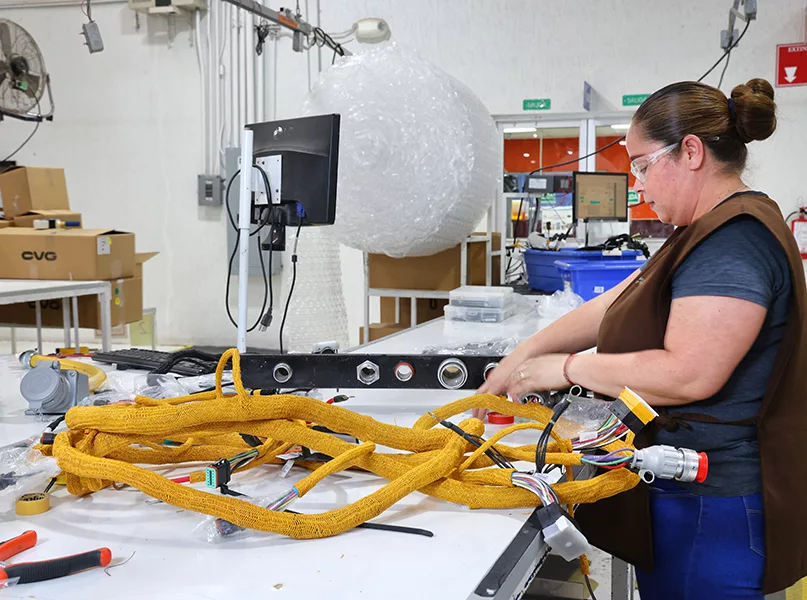 THE POWER BEHIND THE PROJECTS
When speaking to Tajer, it is immediately clear that recruiting and retaining the best talents who possess a positive entrepreneurial attitude is at the core of CVG's success. Indeed, the power of each individual team member is recognized immediately, starting with the hiring process.
"I interview people differently than most. I place the candidate's CV aside as I want to see who they are, what their character is like, and ensure they align with our values," Tajer reflects.
"I also want them to interview me, like a bilateral interview; it's a more relaxed and genuine atmosphere."
The correct hiring process is crucial to maintaining CVG's reputation for fast and reliable services, as it is heralded as not only a parts supplier, but a solutions provider.
"In the EV systems space, many companies only do build-to-print projects. At CVG, we actually help a customer solve their problems and take their ideas to production exceptionally quickly," Tajer explains.
This expertise is reflected in the organization's plans to expand its global footprint across Mexico and Africa, with the recent construction of a manufacturing plant in Tangier, Morocco, further reinforcing the company's transition into global electrification.
The plant will encompass approximately 30,000 square feet (sqft) of manufacturing space and produce electrical wire harnesses for the global automotive sector, as well as many other industries such as agriculture, construction, and more.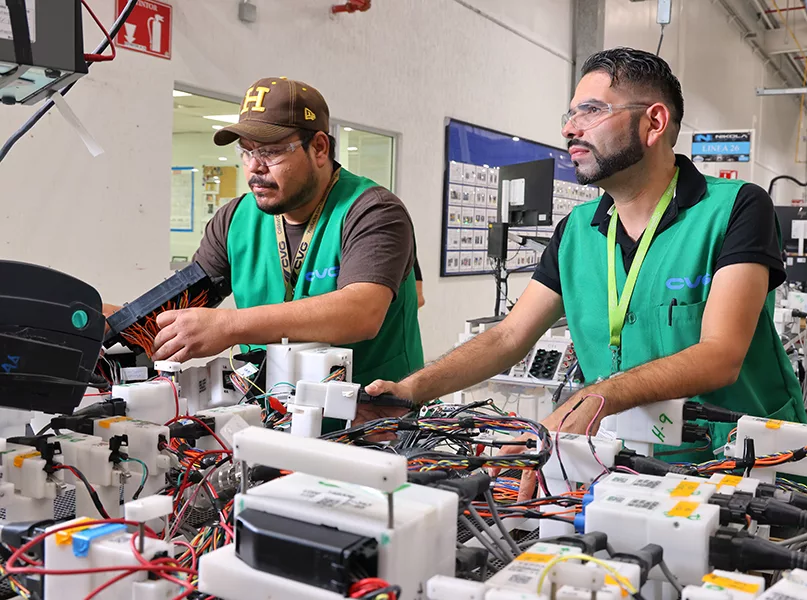 The Tangier manufacturing plant will also have many advantageous effects on the local economy, creating job opportunities and simultaneously growing CVG's talent pool. Tajer wants to ensure that the company has the right people to execute the project.
"The hiring process in Morocco centers around taking the new plant to the next level and executing future growth, rather than simply running it."
Similarly, the expansion of CVG's manufacturing capabilities in Mexico also nurtures the cultivation of talent in the industry space. With the recent opening of the new plant in Aldama, CVG is creating a dynamic and forward-thinking team to manage a 90,000 sqft manufacturing facility.
Opening in July of this year, the Aldama plant demonstrates the acceleration of the EV market in Mexico, as CVG is one of the first manufacturers capable of delivering complete electrical systems. The plant was also launched to support production for secured business, with potential for future capacity growth.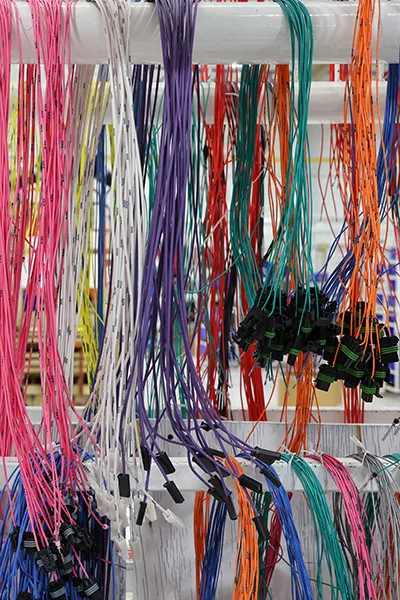 HARNESSING DEVELOPMENT OPPORTUNITIES
CVG looks forward to engaging in innovative technology as the industry progresses. Namely, it is working with several autonomous vehicle manufacturers, and by developing their systems, is becoming an integral cog in driving the industry forward.
"We continually invest in the importance of the three Ps: people, products, profit; we're bringing in really good people, and we're working on interesting, exciting products, all while delivering profit that allows us to reinvest in our employees and capabilities," Tajer states.
This strategy gives CVG the ability to expand, be part of a positive change in the vehicle manufacturing industry, and ensure that the company hires the best people possible. To retain staff, CVG recognizes and values every member of the team. From the front end of the business, the organization's sales team is rewarded for achieving certain objectives and goals, with bonuses assigned via a recognition program.
The manufacturing team also receives added benefits, which demonstrate the company's appreciation of each employee's contributions. Tajer believes that every team member should be equally valued.
"The way we develop business isn't exclusively due to a sales or manufacturing person; they may be the tip of the spear, but we must also recognize the whole organization and ensure everybody wins when the company wins," he emphasizes.
Tajer also recently launched a personal development plan, which he hopes will eventually be implemented across the entire organization to help employees achieve their long-term goals. "We are investing in our employees by helping them on their career path, which results in greater staff engagement within the organization."
This aligns with CVG's future plans as the company seeks to hire more staff members and grow its global footprint of manufacturing plants.
"The next biggest challenge we have is people. It's about onboarding the right people who are aligned with where we're going. I'm excited about what we're doing," Tajer concludes.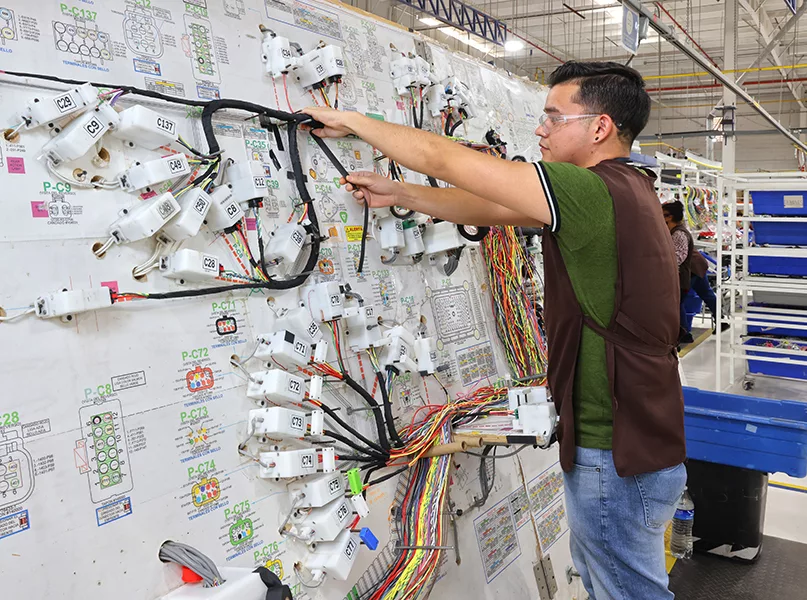 COMMERCIAL VEHICLE GROUP INC. PARTNERS