Greener building solutions are on the rise. We spoke to Matthew Tokarik, Vice President, and Jessica Rowe Bald, Vice President of Sales, at Subterra Renewables, about the firm answering the demand in the North American energy and construction sector.
INTRODUCTION
The topic of sustainability has grown substantially in the last two decades.
From general conversation between friends and family about recycling waste or walking during daily commutes, to international summits between corporations and countries, discussing carbon-capture projects or use of electricity over fossil fuels, being and promoting the environmentally friendly has become the norm worldwide.
In the sphere of construction and energy, green buildings have come to be a major focus of architectural firms and city planning. The notion of maximizing sustainability and minimizing energy wastage has led many companies to revolutionize the construction sector, placing environmentally friendly practices at the fore.
The Canada-based company Subterra Renewables embodies this progressive attitude towards construction and energy.
The firm specializes in developing, acquiring, and operating thermal energy systems using the latest geothermal and heat recovery technology. Its primary aim and purpose is to help building developers reduce costs while meeting the unique energy needs and carbon reduction targets of their building projects. The company has created a financing platform to fund the development of renewable energy projects. Its goal is to facilitate the adoption of geothermal heating and cooling systems and foster a community of industry professionals willing to work together in a bid to create a sustainable future.
Matthew Tokarik, Vice President of Subterra, has been working for the company for almost three years.
"I have a technical background as an engineer," Tokarik begins. "My professional career has been devoted to the green building space, where I continue to focus my efforts in this business."
Tokarik obtained a master's degree in building engineering and found his speciality lay in the areas of energy consultation and work on building projects – with specific focus on carbon reduction.
From a student engineer for sustainable transport planning, to a Founding Partner of a building performance and consulting company, Building Energy Consultant for Morrison Hershfield, and Sessional Instructor of building physics and sustainability at two universities, Tokarik finds himself leading a career in the exact field that he has both the passion and training for.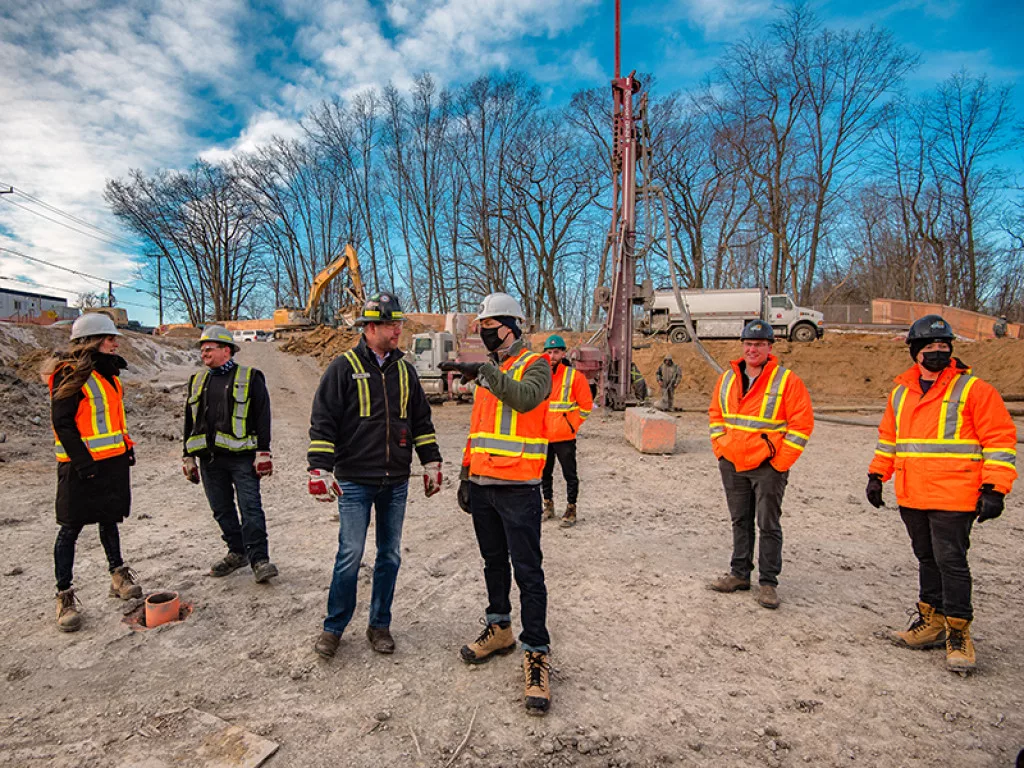 SUSTAINABILITY AND VALUE
Geothermal and other green solutions have become far more prevalent than ever before. Newly planned developments are switching from older means of construction to the latest, greenest, and most efficient construction processes – developments that Subterra specializes in providing.
"In leading cities like Toronto, Vancouver, and New York, there is a political and social drive to push towards green solutions; geothermal being one of these. Geothermal is constantly named as one of the solutions needed to move towards our long-term carbon reduction targets," Tokarik tells us.
This shift and rise in demand to meet sustainability targets makes Subterra the answer to many construction-related sustainability objectives, and it has access to all it needs to meet this demand.
Meeting this demand is exemplified in the firm's ability to go above and beyond when carrying out the completion of company client projects, such as the Manderley (Toronto, Ontario), Vibe (Burlington, Ontario), and the Birchcliff Urban Townhomes (Scarborough, Ontario).
The myriad of projects led by Subterra each maximize the environmentally friendly potential of each building – an aspect of business Subterra promotes above all.
"At the federal level, we have committed to the target set by the Paris Agreement in 2015, which aims towards a significant carbon reduction by 2050," Tokarik informs us.
"When you switch to geothermal heating and cooling, you are switching to an efficient electrically driven solution that can take advantage of a low-carbon grid supported by renewably generated energy, and you are reducing on-site fossil-fuel combustion."
A primary barrier to entry for geothermal systems is the increased upfront capital. However, over a 30-year life cycle that includes operating and maintenance costs, the system is cheaper overall. It is an investment in technology for the betterment of the future in the long term.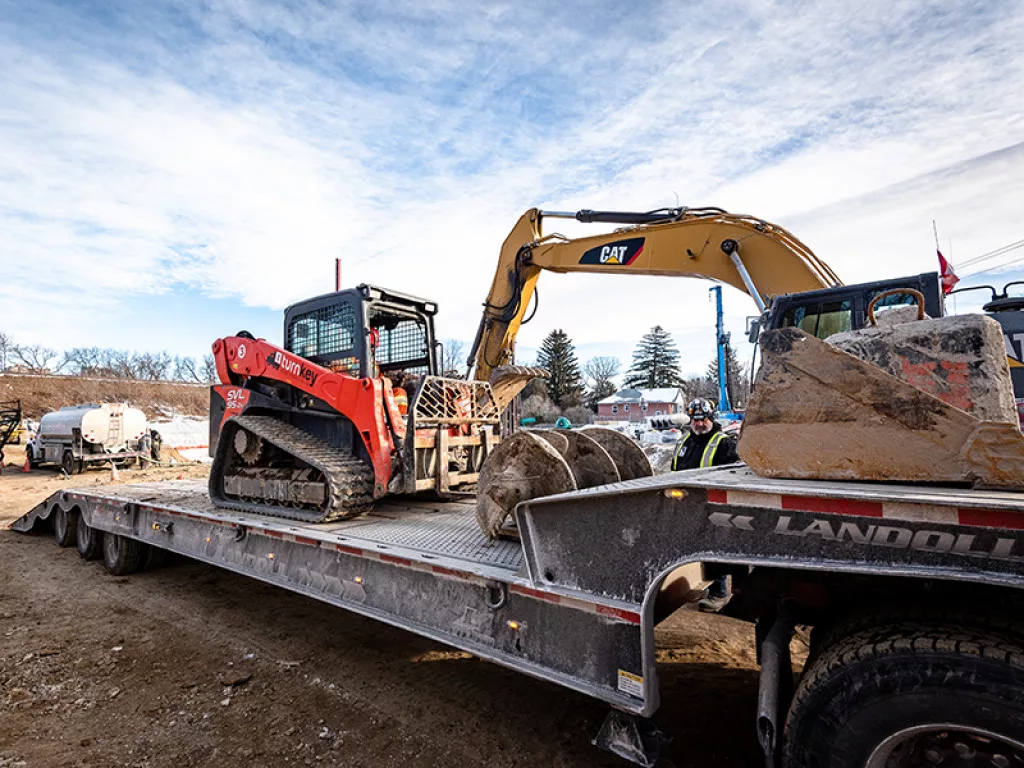 OPERATIONS AND FUTURE GROWTH
A contributing factor to the success of Subterra is the various supply chain partnerships the company has cultivated and maintained over its many years of service. These partnerships have proven invaluable, and are of paramount importance to the firm's overall operation.
"We have multiple important and key partnerships," Tokarik assures us.
"Mechanical distributors, piping and grouting distributors, those who supply drills and other necessary tools, the list goes on. On top of this, we spend a lot of time dealing with designers, construction managers, lawyers, and other individuals key to the real estate development processes. We operate as integrators to bring products and processes into place.
"Our supply chain partners are extremely important for the timing and delivery of company projects. They have to be on time and able to supply when we need it – an aspect of service they never fail to achieve."
Subterra Renewables is backed by Forum Equity Partners, an alternative asset manager and private capital investor, with a long history developing and managing complex energy infrastructure, and real estate assets. Subterra's relationship with Forum provides access to creative capital that allows the firm to be nimble and meet the needs of a diverse client base. Over the past two decades, Forum has been active in a number of large-scale projects including a multi-phase student housing project at York University, and the Toronto City Airport Pedestrian Tunnel.
"We have partnered with Turnkey Site Solutions who deliver geothermal drilling and shoring projects," Tokarik informs us.
These reliable supply chain partnerships help Subterra reinforce and achieve its company mission: to create change in local communities through reducing greenhouse gas emissions in built environments. The firm partners with its clients to enable them to meet and exceed the challenges and opportunities of the future. Subterra's aim is to deliver exceptional service to clients, partners, residents, and society overall in order to increase sustainability and promote environmental and human wellbeing into the future.
And proceeding into this future, Subterra has planned to improve several aspects of its operation.
"We will strengthen the operational delivery of our products and services led by clear-cut quantifiable targets," Tokarik informs us.
"We plan to expand our service offering coast-to-coast across Canada and into the US market. Our expansion is in response to the many market signals we have seen indicating the demand for geothermal."
With sustainability at the fore, Subterra remains at the frontline of environmentally friendly construction and energy solutions. The continual growth of greener demand yields a promising future for Subterra, and it is safe to say that the firm is one to watch in the next few years of this ever progressive and advancing decade.