Atlantic Sapphire is leading the way in sustainable salmon farming. We learn more from Johan Andreassen, CEO.
INTRODUCTION
Today, the food and drink sector is responsible for 25 percent of greenhouse gas (GHG) emissions that are warming our world. A greener planet begins with ocean-safe, sustainable seafood that keeps the seas blue and the planet green. And that's exactly what Atlantic Sapphire does.
Norway is the world's largest salmon producer, and as a nation has remained at the forefront of the sustainable development and evolution of the industry. Atlantic Sapphire, a company that champions innovation as its core value, and the drive to provoke change, has both these qualities built deeply into its DNA. Aiming to revolutionize the way that conventional salmon is farmed, Atlantic Sapphire firmly believes that by pioneering Bluehouse™ salmon farming locally in the US, there will follow a global transformation for protein production. Despite facing operational challenges, Atlantic Sapphire has continued to show a willingness to change and adapt to a completely new organizational structure, with the ultimate goal of raising healthy, happy salmon in its Bluehouse™ facility.
Coming from a family of fishermen, Johan Andreassen, co-founder and CEO of Atlantic Sapphire, naturally found himself growing up around the ocean and the fishing industry. Today, he identifies himself as a sustainable salmon entrepreneur. Originally from Norway, he has been involved in the sustainable development of the industry since the beginning of his career.
"Together with Bjorn-Vegard Lovik, my business partner and co-founder, we had the idea to help shape the salmon farming industry toward a more sustainable future," Andreassen explains. "Initially, we established Villa Organic, Norway's first organic salmon farming company, with the revolutionary use of cleaner fish to fight sea lice in net-pen salmon farming without the use of pharmaceuticals or chemicals.
"However, we knew there had to be a better alternative, and we partnered with Thue Holm, co-founder of Atlantic Sapphire, who had extensive experience in recirculating aquaculture systems (RAS) and worked to build a commercial pilot of a Bluehouse™ to eliminate farming with net pens in remote areas."
Think of Bluehouse™ essentially as a greenhouse. Where a greenhouse gives plants an ideal space to thrive in optimal conditions, Atlantic Sapphire's Bluehouse™ does the same thing, but for fish.
In their land based Bluehouse™ in Homestead (Florida), the salmon swim healthy, happy, and stress-free. This fish farm of the future means we can all feast away while our oceans continue to thrive.
Andreassen strongly believes that the salmon farming industry is a highly exciting space to be active in. As an incessant demand for healthy sources of protein such as salmon only continues to grow, he remains thrilled to be a part of this sustainable change. Atlantic Sapphire is a company that is pioneering land-raised salmon farming with its proprietary Bluehouse™. Sustainability is at the centre of all forms of production, from farming to the distribution of the product.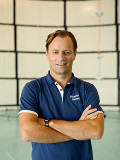 "We reduce GHG emissions by eliminating airfreight transportation. Our production has minimal impact on the ocean, we don't have salmon escapes and we recirculate 99 percent of the water we use while all aquaculture waste is treated and can be recycled for other purposes, instead of sitting on the seabed."
In terms of the company's supply chain operations, such as packaging, feed, raw material utilization and by-products, there remain many opportunities for more environmentally sustainable practices.
For some of these processes, Atlantic Sapphire already has agreements and logistics in place, and they are looking to continue to constantly explore more diverse options in these areas. Some of these have featured in the news recently, which include the intention to construct a feed plant in close proximity to the Bluehouse™ by Skretting, who is currently the world's largest salmon feed producer.
Founded in 2010, Atlantic Sapphire is headquartered in Norway and listed on the Oslo Stock Exchange, as well as the US OTCQX market since 2021, and has continued to grow ever since. The Homestead Bluehouse™ began construction in 2017 and is currently in Phase Two of its long-term development plan. It currently holds around 166 employees, who are highly engaged in their mission to innovate and revolutionize the market with a heathier and eco-friendlier protein source.
The product line at Atlantic Sapphire now includes both fresh salmon and smoked salmon, with more products promised to arrive further down the road. Atlantic Sapphire's Bluehouse™ Salmon from the Miami Bluehouse™ is sold all across North America in grocery stores such as Publix, Sprouts, Safeway, and more. Alongside this growth, the company's client base now extends to food service and retailers across the US and Canada.
Atlantic Sapphire prides itself on the way in which it has carved out an impressive degree of separation from the direct competition. The biggest factor setting Atlantic Sapphire and its Bluehouse™ technology apart from competitors is the unique ability to use the naturally given resources that the water from the Florida aquifers represent, to farm sustainable salmon at scale. It was always the goal to be based in the US for the company, as it is the world's largest market for salmon and therefore became the key factor in the decision-making process to establish its Bluehouse™ in Florida. Another influential component was the underground aquifer located beneath the state. Florida's aquifer system allows an ample supply of freshwater, saltwater, and safe return of treated wastewater to be slowly recycled by nature. Raising fish on land means no antibiotics, no pesticides, no hormones, no risk of escape, and no contamination of coastal areas, and using untapped water from the aquifer means impressively there are zero microplastics or other harmful particles found in ocean-farmed fish.
"Because we use around 95 percent saltwater, we also conserve fresh water that can be used for drinking water and irrigation. Florida's unique geology gives us the ability to dispose our treated wastewater to the boulder zone 3,000 feet underground where mother nature will filter it back to pure salt water before it goes back into the Atlantic Ocean in thousands of years," Andreassen concludes.
Atlantic Sapphire has invested significantly in Bluehouse™ technology, aiming to meet its objective of offering an environment that is ideal for salmon, eliminating stress and allowing the fish to thrive as they grow. The revolutionary technology at work with the Bluehouse™ initiative includes a complex assortment of controls for water chemistry, temperature, salinity, current and lighting. There are more than 28 different parameters being monitored and analyzed in real time across all tanks and systems.
"Knowing that our systems have an average 95:5 ratio of water to fish, it is important to highlight that water is recycled every half-hour and removed every 10 days, while oxygen is added to the water," Andreassen explains.
Another method employed is the use of artificial intelligence (AI) to optimize feeding, as well as to maximize efficiency and growth ratios. All this is overseen from a control room, allowing staff to visually and analytically monitor system conditions and fish health and performance 24 hours a day.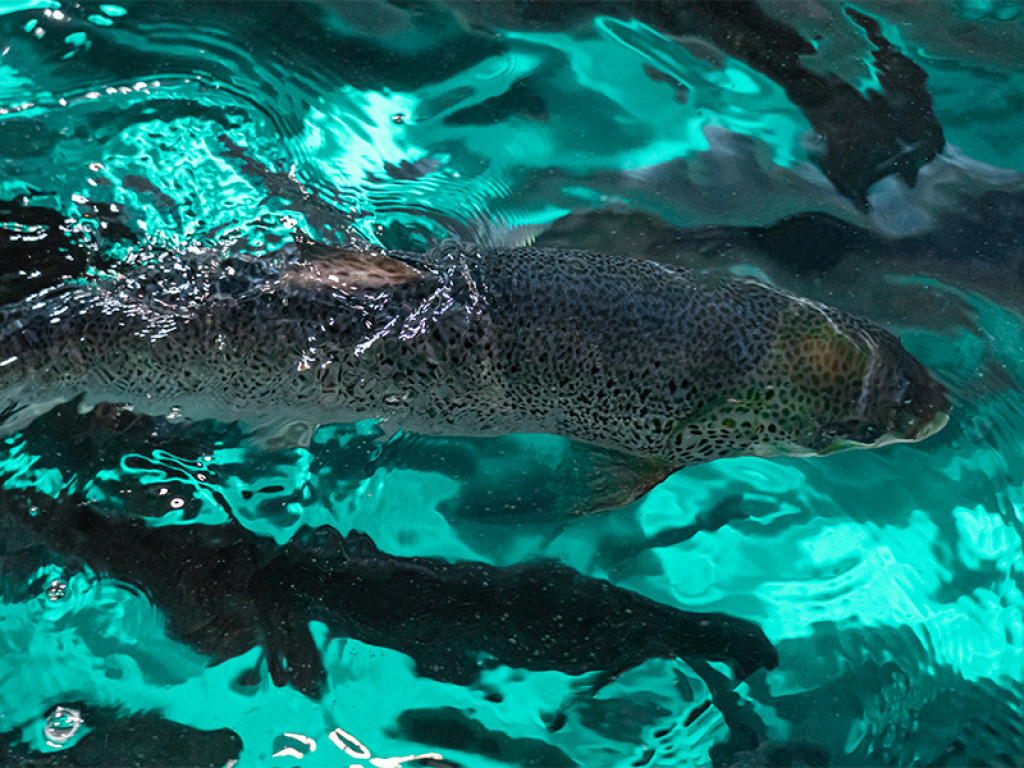 LOOKING FORWARD
In the US, more than 90 percent of the salmon consumed is imported. While US salmon demand is the world's largest in terms of total volume and is increasing year over year (not considering the exceptional impact of COVID-19), per capita consumption is still lower than many European nations. Andreassen explains how, "this gives us huge room for growth and the opportunity to reduce the existing deficit in production in the country. Consumers are showing increasing interest in healthy, sustainable protein, and sustainably raising salmon is a key part of the solution."
A crucial element of Atlantic Sapphire's mission is "to remove marine-derived ingredients from our feed, to eliminate completely our impact on the oceans". The initial first step in this process was to introduce algal oil to start replacing fish oil. The company has already replaced 25 percent and will continue working towards this figure, in line with its 2025 sustainability goals.
Atlantic Sapphire is currently engaged in a major $225 million expansion development. "This phase two expansion is part of our multi-phase development plan as well as part of our long-term goal to increase our capacity to targeted harvest volumes of 220,000 tons by 2031."
"At Atlantic Sapphire, we aim to raise awareness about sustainable salmon farming in the US and to supply millions of people with a healthy, sustainable, and delicious product. As we increase harvest volumes in our Bluehouse™ we will be able to provide more and more Bluehouse™ Salmon meals to the American market," Andreassen adds.
The role of product development at Atlantic Sapphire is a key component to the company's success story. Market trends continue to indicate a strong desire to include seafood and especially salmon in people's diets, which the company is continuing to capitalize on.
"Some segments are driven by the health benefits, others by convenience, but whatever the underlying reason, we see an opportunity to offer our high-quality Bluehouse™ salmon in different ways. For instance, seasoned portions, planks, salmon burgers and others can all be part of our product offering," details Andreassen.
Looking ahead to the company's key priorities for the coming year, Atlantic Sapphire is aiming to hit several specific targets, such as reaching 'steady state' production, whilst continuing the construction of its phase two expansion to 25,000 tons of capacity. Later in April this year they plan to publish the company's latest ESG (Environmental Social Governance) report, which will thoroughly detail all proposed plans for future goals, expansion and general diversification, covering all existing aspects of the company going forward.
As Atlantic Sapphire's exciting growth continues at such a rapid trajectory, there are also plans to launch additional salmon products this year, including a ready-to-eat Smoked Bluehouse™ Salmon. Atlantic Sapphire continues to manufacture seafood that's safe for our seas, alongside the production of protein that's better for our planet.