Osmow's Shawarma has captured North America by storm with its modern take on traditional Mediterranean cuisine. We talk with Ben Osmow, CEO and Head of Franchise, about how the restaurant is rapidly expanding while still keeping its family-run origins.
YOUR GO-TO SHAWARMA SPOT
The sight of the vertical spinning machinery of a shawarma rotisserie has become an iconic image in the minds of many, with the unmistakable smell of the roasting meat making mouths water since the early 18th century.
Bursting with a marinade of Mediterranean herbs and spices, tender shawarma meat is thinly sliced, grilled, and added to a pita wrap with a multitude of fillings available to enhance the unmistakable flavor.
Shawarma is a type of dish that many cultures originating from the Middle East have enjoyed and personalized with their own unique twists for countless years. While it has become known as a casual way of eating in many modern-day cities, these flavors and traditions represent the beauty and history of the Mediterranean region and have brought people together over fond memories attached to the dish.
Whether on a crowded street in Tel Aviv or in the comfort of your own home, shawarma is an incredible way to experience the century-old flavors of the Middle East.
BRINGING SHAWARMA TO NORTH AMERICA
More than 20 years ago, Sam Osmow, Founder of Osmow's Shawarma (Osmow's), immigrated to Canada from Egypt. Immediately, he saw an untapped opportunity to bring his native roots to the Canadian landscape, blending traditional Egyptian cuisine with a North American palate.
He, therefore, took the plunge and filled a void in the current fast-casual culinary market by opening the first Osmow's restaurant in Streetsville, Ontario, Canada, in 2001.
Today, Osmow's is one of North America's fastest-growing quick-service restaurant (QSR) chains, boasting 160 outlets and counting.
The company's flavorful dishes, topped with signature sauces, are a modern take on a classic Mediterranean and Middle Eastern dish and have proven to be a huge hit with its ever-expanding customer base.
A proud family-run operation, Osmow's is now overseen by Sam, his son Ben, CEO and Head of Franchising, and his daughter Bernadette, President and Chief Marketing Officer, alongside a dedicated team of professionals who come equipped with years of QSR experience.
"Food and beverage is the best industry to be in! It is always exciting and has infinite potential," opens Ben.
"Whether you are directly in the industry or not, you inevitably have an interest in what's new and exciting within it," he enthuses.
The restaurant industry is a notoriously difficult industry to find long-term success in, but Osmow's has triumphed over the years, sticking true to its motto: we're makin' what you're cravin'.
"It is a fast-paced environment that brings out the best in true entrepreneurs, which we consider ourselves," comments Ben.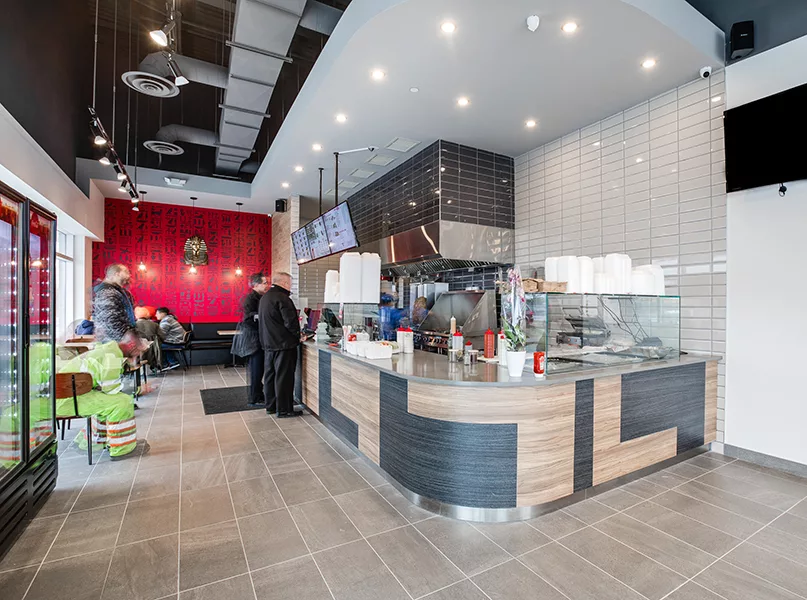 WHY OSMOW'S?
At Osmow's, it's not only about great and accessible food, but also celebrating culture, diversity, the tradition of sharing a meal with loved ones, and the ability to connect with others and appreciate the joy of eating together.
"Our biggest differentiator is that we are the largest shawarma brand in Canada and the biggest pioneer within our space. We have created National Shawarma Day along with a series of new menu items," explains Ben.
Additionally, shawarma is prepared a little differently at Osmow's. Once the marinated meat is delicately carved, it is grilled to caramelized perfection and then served on the ROCKS™ (on rice), with STIX™ (fries), or classically wrapped in a thin pita bread.
Along with this unique method of preparation, Osmow's also produces all of the food in a proprietary production facility before it is distributed to restaurants. The company purchases raw ingredients (protein such as chicken, lamb, and beef, along with packaging, sauces, etc.) and then makes the products in-house.
This way of producing food and sending it to stores ensures that the franchise owners, who are incredibly important to the growth and success of the company, do not have to worry about the supply chain.
"Our commissary allows us to create our own products exactly how we like them and standardize consistency across the brand," informs Ben.
REVOLUTIONARY FRANCHISEES
Osmow's treats its franchisees and team like family, always giving people the benefit of the doubt and creating a culture where every detail is discussed with the team.
The success of Osmow's has been attributed to the hard work and dedication of its revolutionary franchisees and employees who make up the company.
Having an important hand in what the restaurant chain is today, several employees have even been converted into franchisees, and several franchisees have been able to own more than one location due to the success experienced.
"We have partnered with franchisees and have seen them grow from one restaurant all the way up to 15," excites Ben.
With an initial investment of roughly USD$450,000 to open a restaurant, average sales are then very high, considering the market, at roughly USD$1 million per year. A franchisee can, therefore, ultimately get a return on investment (ROI) in just two years and see significant profits.
"We are expanding with our existing franchisees who are performing well and excited about their opportunities to grow," comments Ben.
"Our multi-unit franchising course helps franchisees to develop a plan for the future and prepare well in advance," he continues.
Osmow's' head office supports its franchisees across their operations, going above and beyond to ensure they are in the best position to continue their success. This close working relationship and people-centric approach means the team spirit at the company remains true to its family origins as it continues to enjoy accelerated growth.
"We over-invest in marketing every year to make sure the brand is known, and our franchisees can be as successful as possible, hence why most of them have become multi-unit owners," furthers Ben.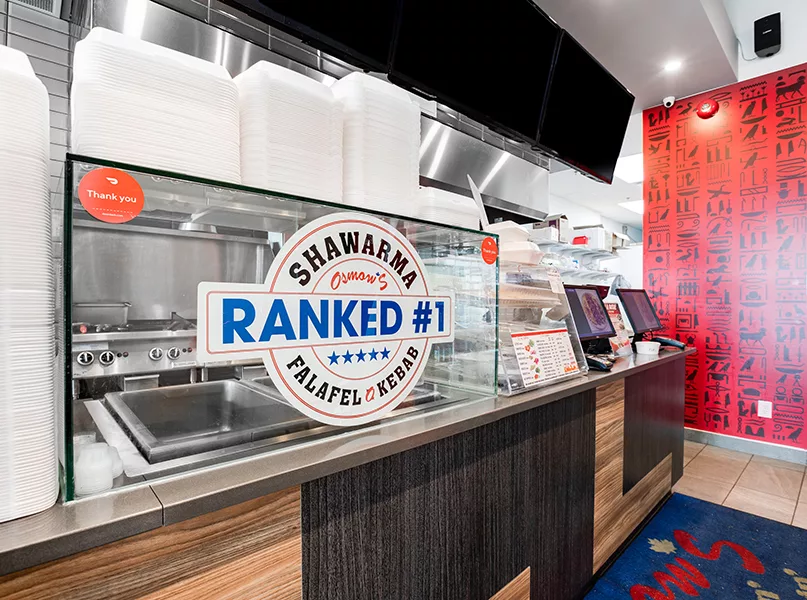 THE IMPORTANCE OF PROCUREMENT
Strategic sourcing is of major importance to Osmow's in order to meet the current and future needs of its products and help maintain the balance of its supply chain operations.
Furthermore, this strategy has helped tremendously in risk management by diversifying the company's products, reducing the impact of disruptions, and providing a significant advantage over competitors.
Prince Bhatt, the Procurement Manager of Osmow's, holds close relationships with these partners, ensuring that both the supplier and the company mutually benefit from the partnership.
"As Osmow's' procurement lead, I understand where to collaborate with our suppliers to combine our strengths and meet our goals," opens Prince.
"Our purpose is to create a supplier partnership that delivers on time and meets our daily needs.
"We strategically procure raw proteins and spices to supply our commissary to make finished fine-marinated proteins. Similarly, we procure packaging items, food commodities, etc., and redistribute them to the individual franchises across North America," he expands.
Many of these items that Osmow's strategically sources come from across the globe, while also maintaining supply chain flexibility and helping ramp up products to meet the needs of its many customers.
"Our suppliers play an equivalent role in Osmow's' growth, and I consider them major players in our company's success," notes Prince.
By focusing on the long-term outlook of Osmow's' business objectives and vision, Prince and the company prioritize building relationships with suppliers beyond just the individual transaction.
"We maintain very regular communication with all these crucial vendors and receive regular feedback; our suppliers are treated like partners," comments Prince.
"I certainly believe that this is the way forward for Osmow's' procurement to become the business client of choice for any supplier," he continues.
These healthy relationships have allowed the company to improve and streamline its supply chain and positively impact its tactical sourcing.
Additionally, to ensure a positive impact on the procurement network and to make the most of the benefits that assist stakeholders within the supply chain, Prince has undertaken some essential steps.
These include ensuring volume by gauging the correct forecast to the supplier in order to help them maintain the inventory level, a strict supplier selection process to uphold high standards, and cost analysis to guarantee that the company's sourcing strategy is aligned with its budget to control the expenditure on the product.
The immense importance of healthy relationships with partners within the supply chain to continue to grow Osmow's' services and reach is extremely evident. This strategic and tactical sourcing has helped the company with cost savings, improved customer satisfaction, and has built a sustainable competitive advantage in today's QSR world.
"We stay competitive and ensure continuous engagement with our suppliers on a weekly basis, forecast any shortages in the current complex supply chain scenario, and ensure the maintenance of our quality standards and Osmow's' reputation," adds Prince.
THE OSMOW'S HOPE FUND CHARITY
Not only does Osmow's strive to provide delicious and nutritious food for its customers, but the company also created its own charity in 2020, the Osmow's Hope Fund Charity, to help make a difference one meal at a time for those in need.
"This charity is one we built to help others in third-world countries, as we ourselves are originally from a third-world country," explains Ben.
"We want to help others have the opportunity to rise above adversity and be in the position where they can support others as well," he continues.
Since the launch of the charity, it has been able to feed over 2,200 children daily in places of learning in India and Zambia, and has raised over CAD$200,000 to ensure that no child has to go to school hungry.
The charity's vision entails removing hunger and other absent basic necessities of life as an obstacle to the advancements of developing communities, and its goal is to continue to tell the story of the areas that the company serves, using its platform to bring awareness and change.
Additionally, Osmow's has worked with homeless shelters and food banks throughout the Greater Toronto area to give back some of the success that it has earned over the years, with the ultimate mission of progressing communities both locally and abroad.
"We would like to promote more success stories like the one we have been lucky enough to live ourselves," says Ben.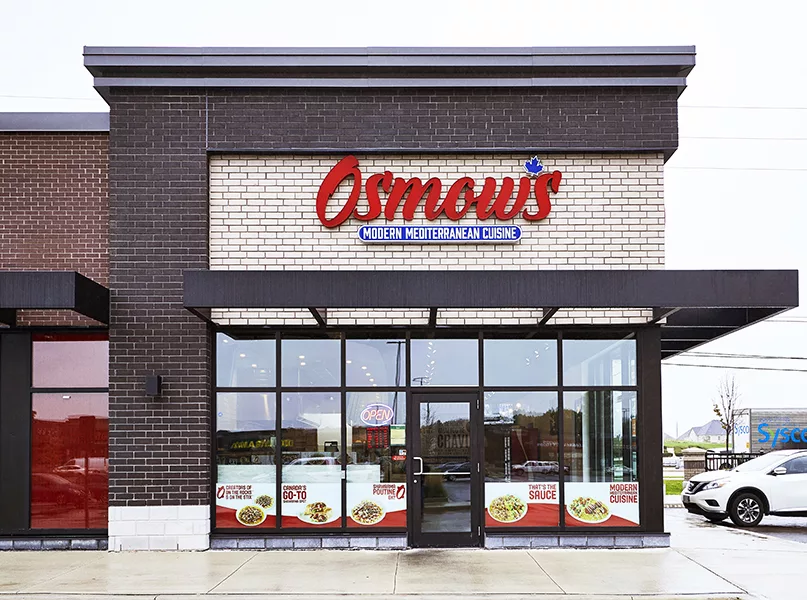 FUTURE OF SHAWARMA
The shawarama craze is not going anywhere anytime soon.
This modern take on traditional Mediterranean cuisine is unlike any other, blending together rich flavors and cultural significance for a uniquely beloved dish that customers and foodies of all ages and demographics delight in.
The future is bright for Osmow's as the company continues to look towards expanding even further across North America over the coming years.
"We are opening 20 franchisee restaurants in 2024 and will have another 10 sign on to help us achieve these goals," excites Ben.
Currently opening an average of 30 to 35 stores per year, Osmow's is aiming for a total of 200 outlets by the end of 2024, with a primary focus on expansion within the US.
The first US restaurant was opened in Miami in 2022, with the second in New York in 2023, along with two more planned for the state of Florida in Q1 2024. The company is currently planning for a second production facility to cater to its rapid expansion.
"Ultimately, we are excited about expanding into new markets and finding some amazing additional franchise partners," comments Ben.
Along with additional restaurants in the US, Osmow's has begun seeking spaces within populous food courts and airports to further its reach even more for those looking for great flavor on the go.
Osmow's has built a time-tested and steadfast reputation for using the highest quality ingredients in order to deliver traditional recipes that are freshly interpreted and served with passion to guests.
With a vision of becoming the leading Mediterranean QSR franchise that presents diverse, flavorful, and healthier menu options to consumers everywhere while also delivering exceptional customer service, Osmow's has created a positive impact in communities both locally and abroad and produced business excellence.
Osmow's' ultimate goal is to become the world's largest Mediterranean and Middle Eastern food franchise by maximizing its benefits to franchisees, value to customers, and service to communities. The company is well on its way to accomplishing this and much more.
OSMOW'S SHAWARMA PARTNER