The vast breadth of Canada makes air travel a national necessity. We take a look at Air Transat and speak to COO, Marc-Philippe Lumpé about the airline's post-COVID-19 recovery plan and the promising future ahead.
EVOLVING CANADIAN AVIATION
"There is certainly a lot of potential in the Canadian airline market for a variety of reasons. One of them is the dynamism of the Canadian economy and society, and another more obvious reason is the country's vast size. Aviation is a necessity here; it takes just about an hour longer to fly from Montreal to London than to Vancouver!"
Montreal is a strategically located hub for aviation. Quebec's position on the east side makes it a prime Canadian location for transport and logistics of all kinds, ranging from extensive harbor and shipping connections to air freight and connecting flights, all of which have free range across the Atlantic to Europe, as well as major urban hubs in the US. It is the size of Canada that makes aviation so critical across the country, and key players in the space are recognizing the true potential of the industry. One such player is Air Transat.
Based in Montreal, Air Transat is Canada's number one leisure airline, employing close to 5,000 members of staff across its entire operation. The company, part of the larger Transat group, flies to international destinations in the Americas and Europe, offers domestic and connecting flights, and carries more than five million passengers every year.
"We have achieved worldwide recognition as a holiday travel provider and been voted North America's Best Leisure Airline by passengers at the Skytrax World Airline Awards last year," COO Marc-Philippe Lumpé tells us. "We fly to both international and Canadian destinations, striving to serve our customers with enthusiasm and friendliness at every stage of their trip or stay, emphasizing safety throughout."
On top of this people-centered focus, Air Transat has been Travelife Certified since 2018, renewing its fleet with the greenest aircraft in its category as part of a commitment to a healthier environment, knowing that this is essential to its operations and the magnificent destinations it serves.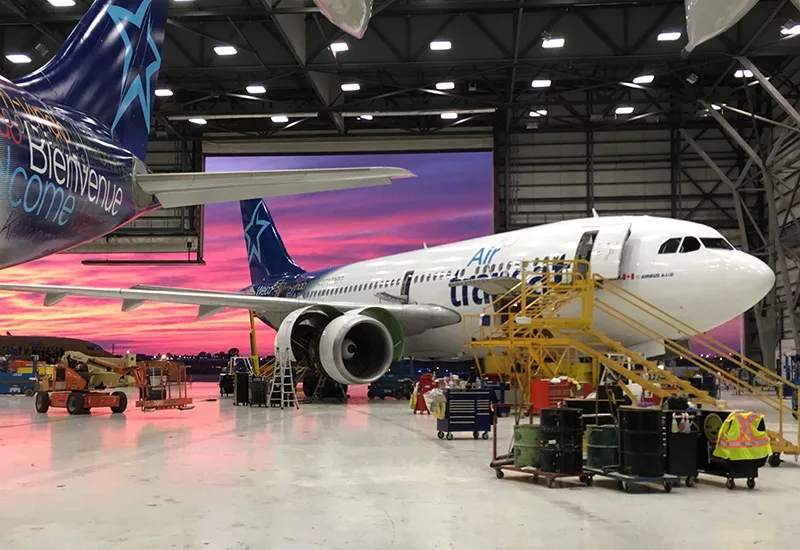 A LIFE ON THE AIRLINE
For Lumpé, the aviation sector is one of continuous evolution and great promise, requiring a keen eye for business adaptation. It is also an industry that he has worked in throughout his entire professional career.
"I started off as an airline pilot for Lufthansa, Airbus 320 family, and I did this while studying for a master's degree in Economics and Business Administration in Germany, moving on to a PhD in Leadership and Organisation at Cranfield University in the UK," he says.
"I took a life-changing decision to join Air Berlin in 2006, which at the time was the second-largest German carrier for a number of years. At Air Berlin, I held several roles but was primarily the Senior Vice President of Quality, Safety and Corporate Process Management."
Following this, Lumpé was hired by business consultation firm Kearney, as a consultant for approximately three years, before this role led him back into the airline industry to work for Thomas Cook Group (Thomas Cook).
At Thomas Cook, Lumpé held three roles, the first in fleet management regarding aircraft purchasing, moving on to a senior management position to support the program management office at the company headquarters in London, UK, and thereafter becoming a Senior Program Manager in the Group Maintenance Organisation.
"I was then contacted by the COO of Qatar Airways whom I had known from my earlier career, and he needed somebody to help him set up the operations center in Qatar," Lumpé explains. "So, I took a position in Qatar that led me to be Vice President of the Integrated Operations Center, leading a huge transformation program that included the implementation of a new software suite for the operational management of the airline."
After this, Qatar Airways asked Lumpé to take control of the crew resources department, managing all cabin and flight crew amounting to around 18,000 people. This also involved putting into action the crew side of the new operational management software suite.
"In 2019, I got an offer from Virgin Atlantic that I could not refuse," Lumpé muses. "It was the position of Senior Vice President of Airline Operations, and I came to the UK just as COVID-19 struck; the timing was certainly not ideal, but we made the best out of the situation and kept the airline alive throughout this most challenging period.
In 2022, Lumpé went on to accept a position at Air Transat where he is currently COO, an executive figure of the division responsible for the management of all operations areas, encompassing flight operations, maintenance, cabin services including catering, ground operations, and all related support areas such as safety and security, crew resource planning and operational control.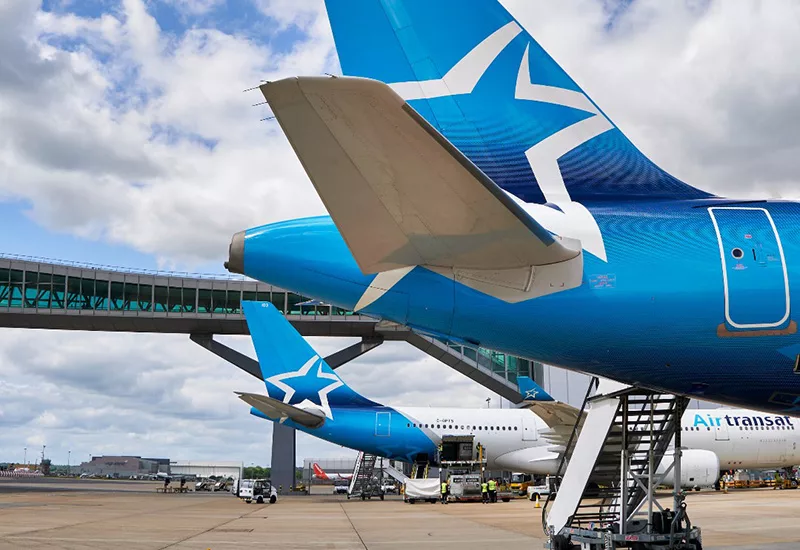 IMPROVING COMMERCIAL VIABILITY
Today, Air Transat's fleet measures at 34 aircraft with a steep growth path foreseen in the years ahead. According to Lumpé, the company's strategic plan encompasses increased fleet numbers and further expansion initiatives in the wake of the highly impactful COVID-19 pandemic.
"Like the rest of the industry, we had a very challenging year across 2022, as the traffic returned post-pandemic. It came back a lot quicker and more intensely than people thought; everyone assumed that it would occur in 2023, but it happened a year early," Lumpé elaborates. "This of course put huge stress on all operational areas. The delays and service shortcomings passengers had to witness globally in 2022 were a direct consequence of this. Although the system has not fully stabilized, we do believe that this summer will be significantly better than last year.
"We are currently executing our strategic transformation plan which is focused on an increase in connecting traffic and both a widening and densification of the network. Also, we are actively developing strategic partnerships with airlines like Porter, a medium-sized player in Canadian aviation that recently purchased 100 Embraer jets to grow its fleet."
All these developments mean that the requirements of the operations division are changing quite drastically.
To address these changing requirements and drive an increase in efficiency, a company-wide transformation program has been put in place.
"In reference to our geographic location and the guidance and inspiration of the North Star, we called it Polaris. The strategic goals of Polaris are an increase in aircraft utilization and an optimization of employee productivity while driving and enhancing employee engagement and satisfaction.
"One of the main enablers in this space is digitalization which has huge potential throughout the whole airline, but in particular in maintenance. Artificial intelligence (AI) is finally at a stage where it can be used to solve real-world problems and will be a game changer. Truly optimized preventive maintenance, for example, the holy grail in aircraft maintenance, is at our fingertips," Lumpé explains. "With this approach, it is possible to find the sweet spot where you change a part before it breaks without wasting any useful life of the part.
"Digitalization has a lot of potential in other parts of the company, too. Management of ground operations processes, disruption management and cockpit processes are just a few examples of the countless opportunities digitalization offers," he continues. "Fully leveraging these opportunities is the key to unlocking the company's full potential."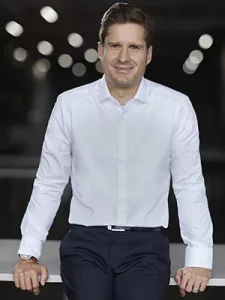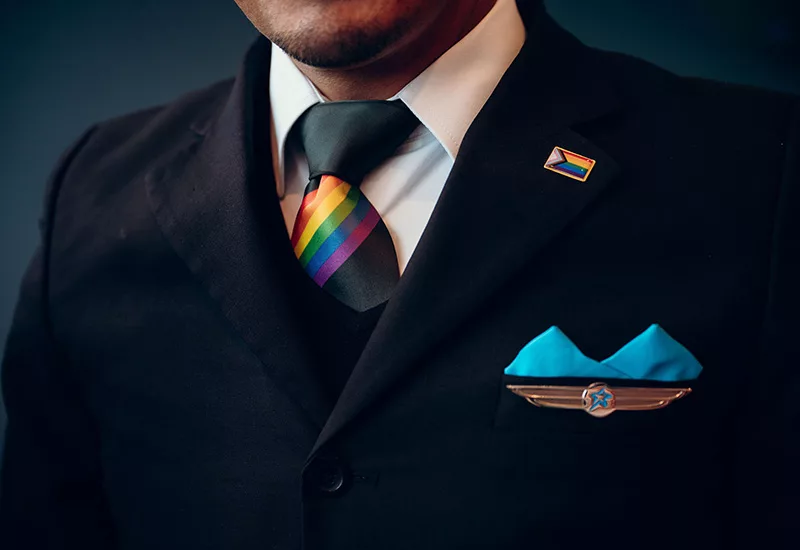 IMPLEMENTING INITIATIVES
Moving ahead into a future centered around growth, Air Transat is focusing on this internal transformation for its airline operations activities. The transformation program was put in place at the beginning of 2023 and aims to span two years, driving more than 100 initiatives.
The program is set up to be very interactive between the company's employees and management, setting up a back-and-forth between the two in order to create a continuous feedback loop from all levels of the business.
"What this means from an employee perspective is that you will always be able to see your initiatives coming in – you will always be prepared and most importantly, you can influence the program itself with your suggestions and feedback. This last point is crucial as it ensures that the program does not have any blind spots, a problem that you frequently encounter if programs of this magnitude are driven top down," Lumpé tells us.
"Another very important point is that this approach ensures that employees are fully engaged as a huge part of the program is coming directly from themselves. Transformational change without full employee engagement invariably fails and will never achieve any long-lasting impact. It is also part of our DNA as employee satisfaction is always very much at the fore of our thoughts," he says.
All these initiatives ensure that Air Transat will be uniquely positioned to fully leverage its strategic location as a hub between the Americas and Europe. "Building on our historic strength in the leisure travel market and developing into a true network carrier, Air Transat will offer travelers more choice and therefore contribute to a vibrant Canadian aviation market," Lumpé explains.
Financially, things are boding well for the company. With steady and strong demand, Air Transat is on an upward trajectory and is moving toward a return to profitability. To reduce the burden of its debt and improve its financial situation, Air Transat is also in the process of optimizing the capital structure of the company in several phases.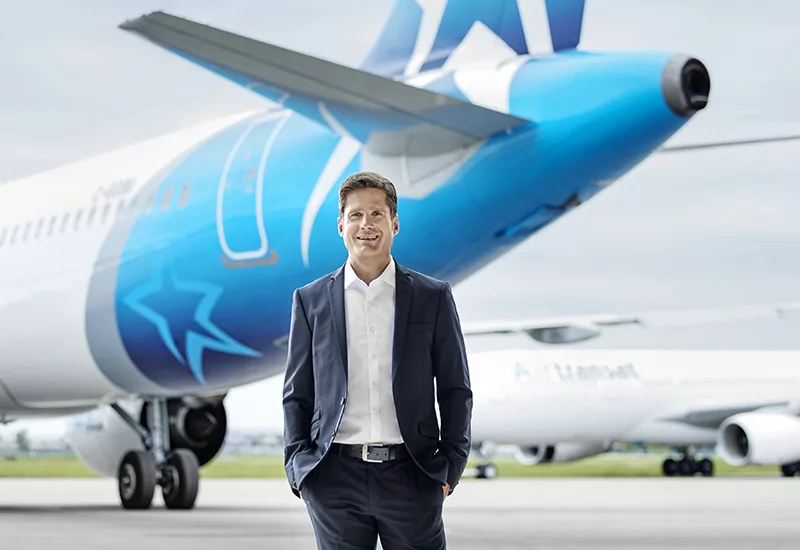 AIR TRANSAT PARTNERS