At its core, South Jersey Industries provides safe, reliable, affordable energy services, ensuring the safety of its employees, customers and the communities it serves. We discover more with Leonard Brinson, Senior Vice President and Chief Information Officer.
LEADING THE WAY
Climate change is a modern challenge that affects us all.
As an established energy provider to more than 725,000 customers, South Jersey Industries (SJI) takes great pride in being directly involved in creating a clean energy future for the communities it serves, in the face of the current climate crisis that threatens to engulf our world.  
The company is working hard to achieve carbon-neutral operations by 2040 through a combination of energy efficiency, clean energy and carbon reduction initiatives.
"While we are confident that natural gas will continue to play a role in future energy delivery, we are also excited about our portfolio of innovative renewable energy projects and initiatives," opens Leonard Brinson Jr., SVP and CIO of SJI. 
Furthermore, SJI is an energy infrastructure holding company based in Folsom, New Jersey, delivering energy services to customers through two primary subsidiaries: SJI Utilities (SJIU) and SJI Energy Enterprises (SJIEE).
SJIU currently houses SJI's regulated natural gas utility operations, delivering safe, reliable and affordable natural gas to residential, commercial and industrial customers across New Jersey via its South Jersey Gas and Elizabethtown Gas subsidiaries.
Alongside this, SJIEE houses the company's non-utility operations primarily focused on clean energy development, decarbonization via renewable energy production, and energy management activities.
"Together, our team of over 1,100 employees drives growth for our business, delivers our purpose, and brings us closer to achieving our vision of a clean energy future," Brinson sets out.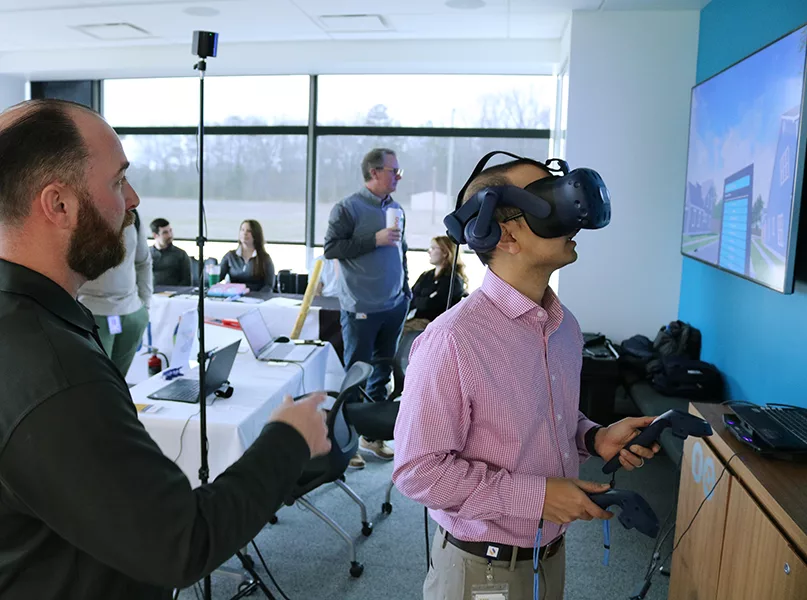 SHARING AND CARING FOR ALL
A lot has changed at SJI throughout the company's distinguished history. Still, one thing that remains the same is the company's commitment to its customers, the communities it serves, and the environment which we all share.
Through its utility subsidiaries, SJI plans to commit $1 million each year for five years in support of local communities.
"Our employees also spend a significant number of hours serving local communities at food distribution centers, community centers and schools," states Brinson.
"In addition, we're committed to our employee's health, well-being, and development. We offer flexible work environments, employee resource groups and other professional development and personal well-being programs to help employees feel like their best selves," he adds.
Elsewhere, continuing to differentiate itself from the vast competition in the industry, SJI's carbon reduction goals are some of the most aggressive among all gas utility companies in the US, putting the company ahead of schedule for state and regional clean energy initiatives.
SJI will continue to invest time and human and financial resources into these key strategic areas of importance, mirroring the core values of the company's culture of care that it has meticulously nurtured throughout its history.
INFORMATION TECHNOLOGY AND SAFETY
Throughout Brinson's tenure at SJI, one of his proudest accomplishments has been integrating IT into every facet of the organization.
"While our geographic information system (GIS) continues to be adopted by SJI's various departments and teams, the system has played its most significant role in our utilities' safety operations. We've also now created a detailed digital twin of our underground infrastructure through GIS," he affirms.
As a result, technicians can pinpoint the exact locations of underground pipes, connections, system shutoff valves and customers. Service management software also enables operations teams to record and view where, when and how pipes are repaired after damage due to severe weather events.
"For our utilities' leak detection teams, the technology allows them to access maps showing the precise size and type of pipe involved, the locations of cut-off switches and which residences and businesses are affected."
In addition to creating utility-level safety solutions, SJI deploys cybersecurity systems using a defense-in-depth approach, continuously assessing, improving and strengthening its external and internal posture to identify and prevent attacks.
Similarly, the company constantly leverages its relationships with government and industry peers in several cybersecurity programs to maintain situational awareness of threats and vulnerabilities.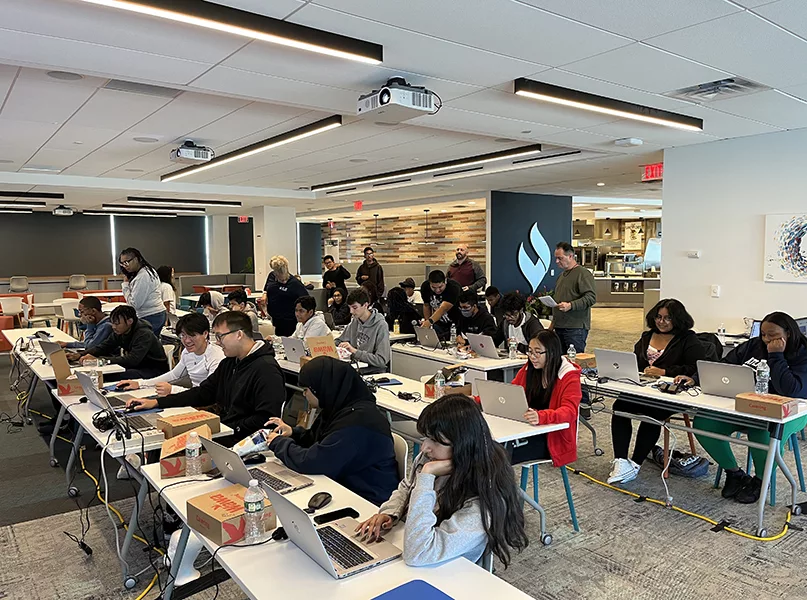 EDUCATING THE NEXT GENERATION
In addition to Brinson's passion for integrating IT into the fabric of the organization's business, he remains equally enthusiastic about making science, technology, engineering, and mathematics (STEM) educational and professional opportunities accessible to the local youth population.
Since 2021, SJI has partnered with the Mark Cuban Foundation to host free, introductory artificial intelligence (AI) bootcamps for high school students based within its utilities' service territories.
Over the course of four half-day sessions, students learn what AI is and is not, and how this technology manifests in their daily lives. So far, South Jersey Gas and Elizabethtown Gas have delivered the program to 75 students.
"At present, we are working with Bergen Community College and Atlantic Cape Community College on the development of a cybersecurity program that will help students start in high school and extend their studies to college," he describes.
Along the way, the students in these programs can register for internships with SJI and other local businesses. The company also welcomes several students each year to participate in its IGNITE Internship Program, many of whom then work in Brinson's department as information technology interns.
AIMING FOR CARBON NEUTRALITY
At its core, SJI is committed to continually reducing greenhouse gas emissions and looks forward to achieving carbon-neutral operations by 2040. The company plans to reach these benchmarks through three primary initiatives: infrastructure modernization, clean energy investments, and increased energy efficiency and conservation programs.
"Our investments in clean and renewable energy are the most exciting of these initiatives," Brinson adds passionately.
By investing in renewable energy technologies such as solar, fuel cells, green hydrogen and renewable natural gas (RNG), SJI generates positive environmental outcomes that would otherwise not be possible via other alternative methods.
For example, as a result of its development partner REV LNG's strategic partnership to develop a portfolio of over 40 renewable energy facilities at dairy farms nationwide, SJI is now positioned optimally to become a national leader in waste-to-energy projects by 2025.
"With a long history of developing solar energy, we have also completed the installation of multiple solar arrays at our corporate headquarters and field operations facilities."
Moreover, SJI is pursuing RNG opportunities at several New Jersey-based landfill and wastewater treatment facilities.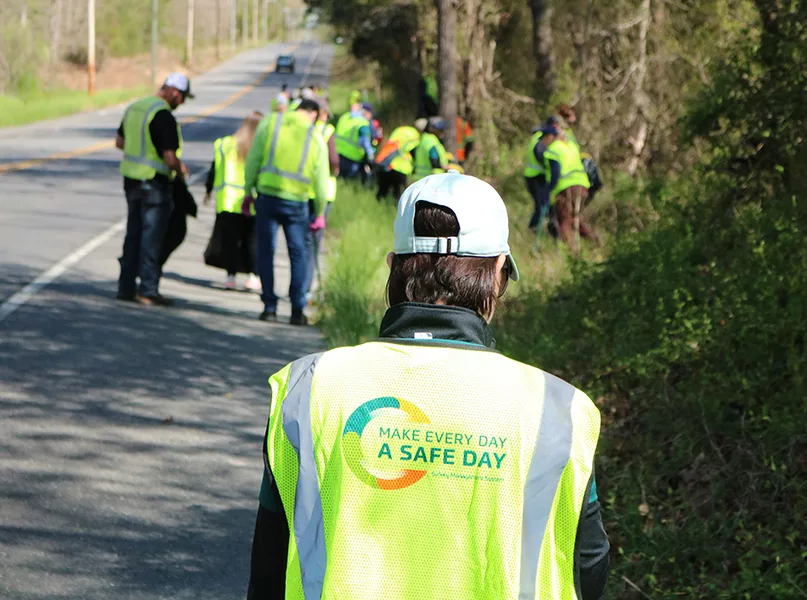 RESPONSIBLE COMMUNITY LEADERS
Consistent with its commitment to delivering clean energy solutions and meaningful community support, SJI places great importance on its corporate social responsibility (CSR) practices and initiatives.
Since 2018, SJI's internal Environmental, Social and Governance (ESG) Management Committee has stringently supported the company's commitment to diversity, equity and inclusion, safety, climate, health, human rights, human capital management and community support strategies.
In addition, the committee has enhanced SJI's alignment and ability to deliver on its CSR initiatives, including corporate and employee charitable giving, employee volunteerism, economic development, community partnerships and energy efficiency and sustainability projects.
"As we implement CSR practices into our organization's framework, we will continue to monitor the success of our efforts and areas for improvement in our annual ESG report," declares Brinson.
Each year, SJI's primary mission remains the same: to deliver safe, reliable, affordable clean energy to the many customers who depend on the company on a daily basis.
"Moving forward, we will continue to deliver on this promise while also concentrating our investments on current and future clean energy initiatives and solidifying our place as an advocate for our employees and the communities we serve," he concludes enthusiastically.