R.S. Andrews brings critical services to homes across Atlanta and beyond. We speak to Dari Payrow, President of the company, about operating as a key player in regional HVAC and more.
SERVING ATLANTA SINCE 1968
"R.S. Andrews was founded in 1968. We've been delivering smiles every day since."
For Dari Payrow, President of R.S. Andrews and orator of the opening statement, it is the customer's journey and experience that lies at the fore of the company's operation.
Based in the US and headquartered in Atlanta, Georgia, R.S. Andrews is a family-run service provider offering heating, ventilation, and air conditioning (HVAC), electrical, plumbing, duct cleaning, and insulation services for businesses or Atlanta-area homes, carrying a reputation backed by industry excellence.
R.S. Andrews employs over 200 people, with a secondary location in Bluffton, South Carolina. Combined, the company's team of honest, hardworking employees ensure that R.S. Andrews ranks among the best in the business from both a capability and professional standpoint. Part of this professionalism materializes in the way that the company values its clients.
"In the field, we arrive when promised, get right to work, and we're not finished until the client is delighted," Payrow tells us.
"While doing so, we treat our customers with the care which we'd expect of our own family. Integrity is not a commodity or a word we take lightly. That's why we provide up-front, no-surprise pricing before any work begins, so the client is in control every step of the way."
Evidently, R.S. Andrews has operated in such a way since its establishment 55 years ago. To this day, the company remains proud of the decades of expert and dependable home comfort services it has provided to countless homeowners throughout the Greater Atlanta area, Savannah, and the Hilton Head area of South Carolina.
R.S. Andrews' customer-first philosophy and unmatched knowledge of heating, air conditioning, electrical, and plumbing systems certainly places it at the head of the industry as the right choice for all HVAC service needs. But according to Payrow, nothing embodies the team's culture, pride, and dedication more than "Smiley," the familiar mascot who appears at local events and gatherings.
"Our motto, "Story After Story, We Deliver Smiles," is the principle we live and work by," he says. "Our team is known for brightening our customer's days, and we often say that many of them have a smile bigger than Smiley's! Leaving a smile on a customer's face at the end of a job will always be our greatest accomplishment.
"All fun aside, we're grateful for the opportunities our customers have given us to be of service to the community. We love being their air conditioning, heating, plumbing, and electrical contractor of choice!"
R.S. Andrews holds the belief that strong relationships are the foundation of business success. Moreover, client testimonials attest to the company's dedication in providing the absolute best service to all its customers.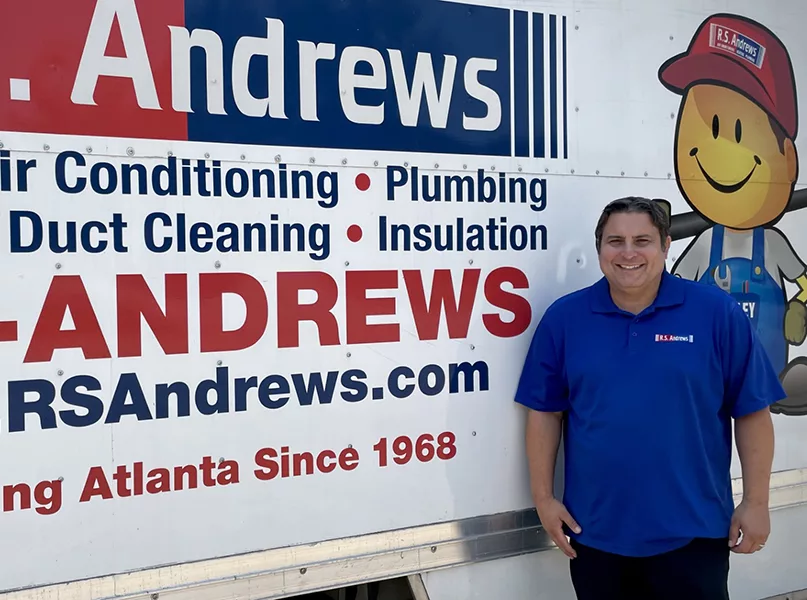 OPPORTUNITY IN ATLANTA
According to Payrow, one of the largest issues the US faces is a shortage of skilled tradesmen, coupled with surging home prices. Despite this, Atlanta's job market remains robust and the region's cost of living is less than in other cities its size, making Atlanta an attractive location to buy into.
"I believe it's our duty to create opportunities for those who are willing to do the work to access the opportunities this industry presents. That's why we make training and growing our people a core value at R. S. Andrews," he elaborates. "While other cities are losing population, Atlanta is gaining new families every day."
The city is a strategic hub for business in the Southeast and across the country. It boasts great economic opportunities as well as the combination of Hartsfield International Airport and the Savannah Port, making reasoning behind Atlanta's expected growth easy to see.
This growth then leads directly to opportunities for companies in a multitude of sectors, including home services. For R.S. Andrews, this goes hand-in-hand with a present and foreseeable demand for HVAC, electrical, and plumbing services in the industry.
When it comes to the latter, R.S. Andrews' licensed plumbers deliver smiles to customers with excellent service, upfront pricing, and a 100 percent satisfaction guarantee. Additionally, R.S. Andrews is committed to providing quality 24-hour emergency plumbing services in case customers experience a plumbing issue outside of standard business hours. Available around the clock, R.S. Andrews' plumbing specialists are able to respond to emergency calls from homeowners near Savannah, Roswell, Decatur, and Marietta, to solve a range of issues spanning burst pipes, water heater leaks, and much more.
Then there is Atlanta's climate and the demands that follow. Atlanta is no stranger to a slew of weather throughout the year. Because of this, it's crucial that homeowners have a reliable HVAC system ready to kick in to meet whatever their needs may be, from heating in the winter to air conditioning in the hot summer months. For a whole range of services, R.S. Andrews' team of professionals can provide top-notch services such as installations and repairs.
Due to the necessity of HVAC systems in the region, R.S. Andrews also provides 24-hour emergency HVAC services in the area, responding to related issues professionally, on-demand, and with the customer in mind, always.
"Yet what's seldom spoken of is what that opportunity demands," Payrow continues. "This is not a nine-to-five business. It's not work that can get phoned in, either. Success in trades such as ours requires an investment of time, effort, and persistence. Most of all, it demands a servant's heart. How far you go and how high you reach will be defined by how well you serve your team and your customers. That's why R.S. Andrews really does aim to deliver smiles on every call, every day."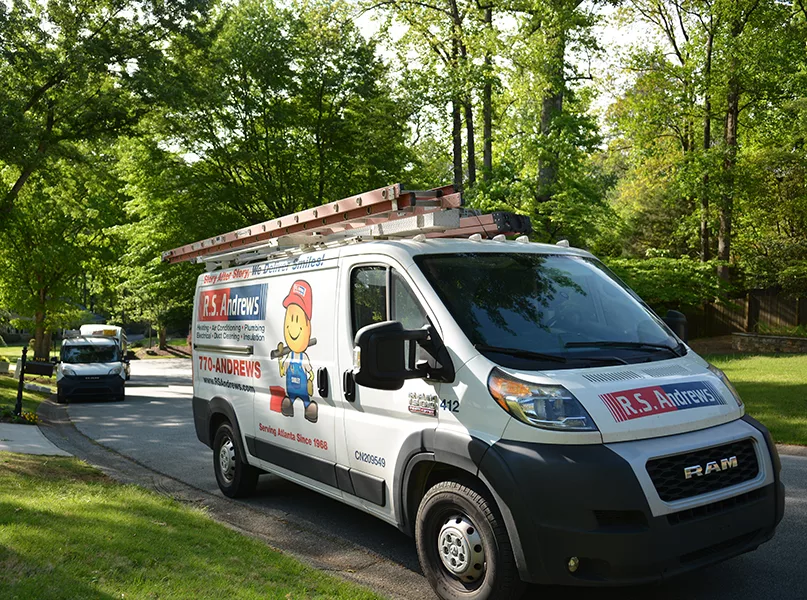 DOUBLE-DIGIT DEVELOPMENT
There is an enduring and practical mindset that runs throughout R.S. Andrews – the company is only as good as the team that delivers its promise. It is Payrow's goal to create a positive workplace that invites participation, recognizes contributions, and offers advancement to all employees who perform. In light of this, R.S. Andrews regularly recognizes and rewards the service contributions made by its office support, customer service representative (CSR), and dispatch teams with awards relating to service improvement, and achieving goals.
This company-wide recognition of efforts and continued professionalism is matched by the rate of growth the company is experiencing.
"R.S. Andrews continues experiencing double-digit percentage growth organically," Payrow explains. "While adding acquisitions in both Atlanta and Bluffton, our most important growth investment is in our people. We continue investing internally to support our enhanced skills and capabilities to ensure every R.S. Andrews professional delivers the most advanced solutions possible."
At the same time, R.S. Andrews also continues watching for the right companies to acquire in the Atlanta and Bluffton markets. The company's longer-term plans involve adding elite brands that mesh with its existing family culture under the company's umbrella through acquisitions and expanding in new markets.
"We believe in the power of synergies," Payrow says. "That's why R.S. Andrews actively seeks out partnerships with vendors that can contribute cost-effective solutions to support the growth of our residential and commercial customer base. Another benefit of expanded partnerships is that we're able to provide even better work experience for our team."
With an eye on growth in the year to come, R.S. Andrews is expanding its employee base, planning to establish a new, larger facility, and adding a training center to increase operational professionalism.
"Growth is good for the company, good for our team, and good for the families and businesses we serve. I want to put R.S. Andrews in a primed position for growth in 2024 and beyond," Payrow adds.
"The ultimate reason R.S. Andrews should always be your first call when you have a heating, air conditioning, electrical, or plumbing problem or question is that we are fully committed to giving you the best service and best customer experience every time you call. So, call R.S. Andrews today and find out what your neighbors already know: Story After Story, We Deliver Smiles!"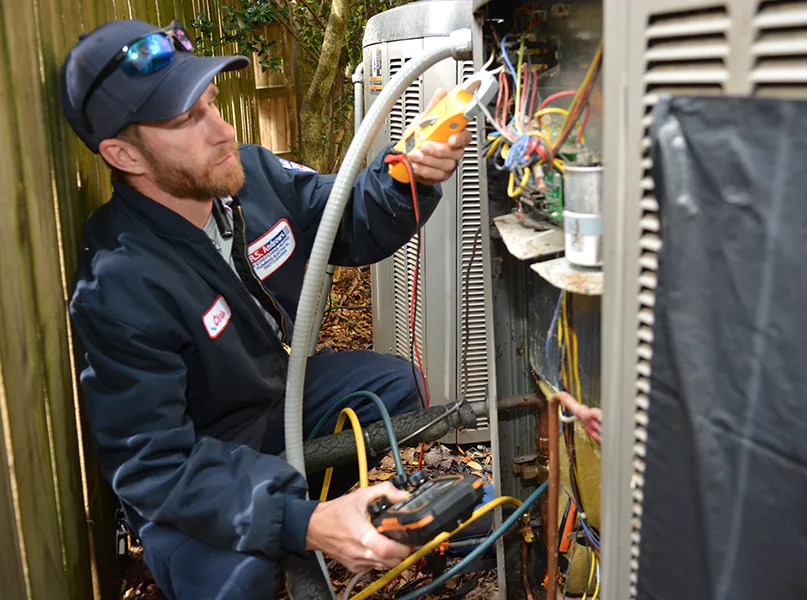 R.S. ANDREWS PARTNER