Safe, economic, and sustainable, rail is the undisputed leader of land transportation. At the vanguard of modern rail solutions and freight innovation, we hit the railroads with the Executive Team behind Trinity Industries, Inc.
INTRODUCTION
"The North American rail system is the envy of the world in terms of moving freight."
As rail receives increasing attention as a favored means of land-based freight transportation, Trinity Industries, Inc. (Trinity) is the visionary organization to encapsulate efficiency, visibility, and resiliency – both throughout its expansive portfolio of railcar products and services, and within the workings of the company itself.
Trinity has operated as a major player in the North American supply chain for more than 85 years, originally founded by Ray Wallace, and followed by his son Tim Wallace, who presided over the company until 2018. Now, under the leadership of President and CEO, Jean Savage, Trinity performs as a wholly rail-focused entity.
"The company has a long history in diversified industrial products," she explains. "Now, Trinity is one of the top five railcar lessors in North America, and we also specialize in new railcar manufacturing and maintenance."
Joining Savage is Eric Marchetto, Executive Vice President, Chief Financial Officer, and orator of the opening statement, and Gregg Mitchell, Trinity's Executive Vice President and Chief Commercial Officer.
In recent years, Trinity's core quality of resiliency has proved paramount, as the freight rail industry continues to weather a volatile market environment, impacted by the COVID-19 pandemic and attendant supply chain disruption, and now facing eight percent inflation and the effects of the Russia-Ukraine conflict, whose full impact is yet to be fully realized.
"Though this could potentially take away some of our growth opportunity, the market is still improving – which is always more exciting than challenging," Marchetto shares confidently.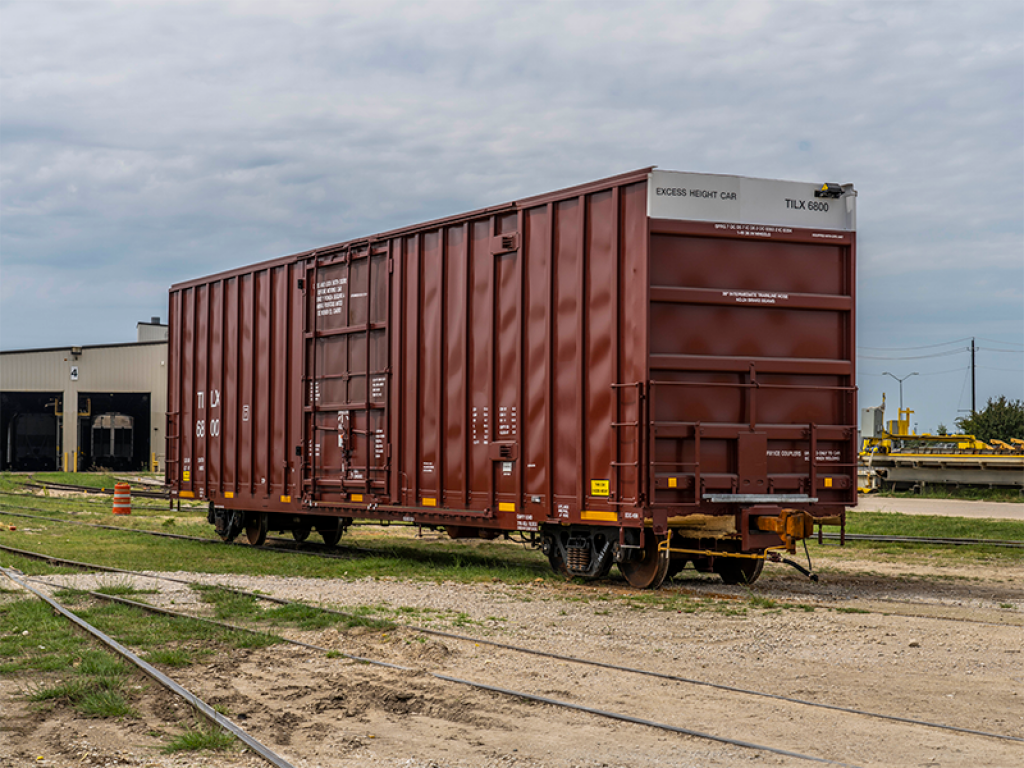 FROM MANUFACTURING TO MAINTENANCE AND BEYOND
As a leading freight railcar lessor, Trinity's leasing division is a primary component of the company's offering, in keeping with the shifting dynamic of railcar ownership in the industry.
"In the past, the railroads owned a lot of the railcars alongside some of the major customers, but now railcar lessors own roughly 50 percent of the cars in the U.S., while railroads own approximately 30 percent," Savage explains.
As Trinity increasingly builds and then leases its railcars, within the past 25 years its fleet has grown significantly, expanding from 8,000 railcars and $4-500 million of invested capital, to 130,000 railcars and roughly $8 billion in invested capital.
Today, aside from these physical assets and tangible market offerings, Trinity is dedicated in its pursuit of becoming a truly service-oriented enterprise, demonstrating an unwavering commitment to people both through its customers and company culture.
"We service a lot of customers under a broad group," says Marchetto. "Sure, we're an equipment leasing business, but more than that, we're a service business that is in constant contact with our customers.
"There's a lot of expertise that goes into managing a rail portfolio, and we're able to do that more efficiently for our customers while bringing a higher level of service," he adds. This is best evidenced by Trinity's forward-thinking adoption of advanced technologies that leverage industry innovation to deliver true transparency for the customer experience and significantly heighten service levels.
With an established legacy and unrivalled reputation for building, selling, leasing, administering and maintaining railcars, Trinity's foray into the service experience for rail customers effectively gives the company a truly competitive edge as the complete solution – a one-stop-shop for all customers' rail needs.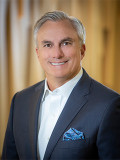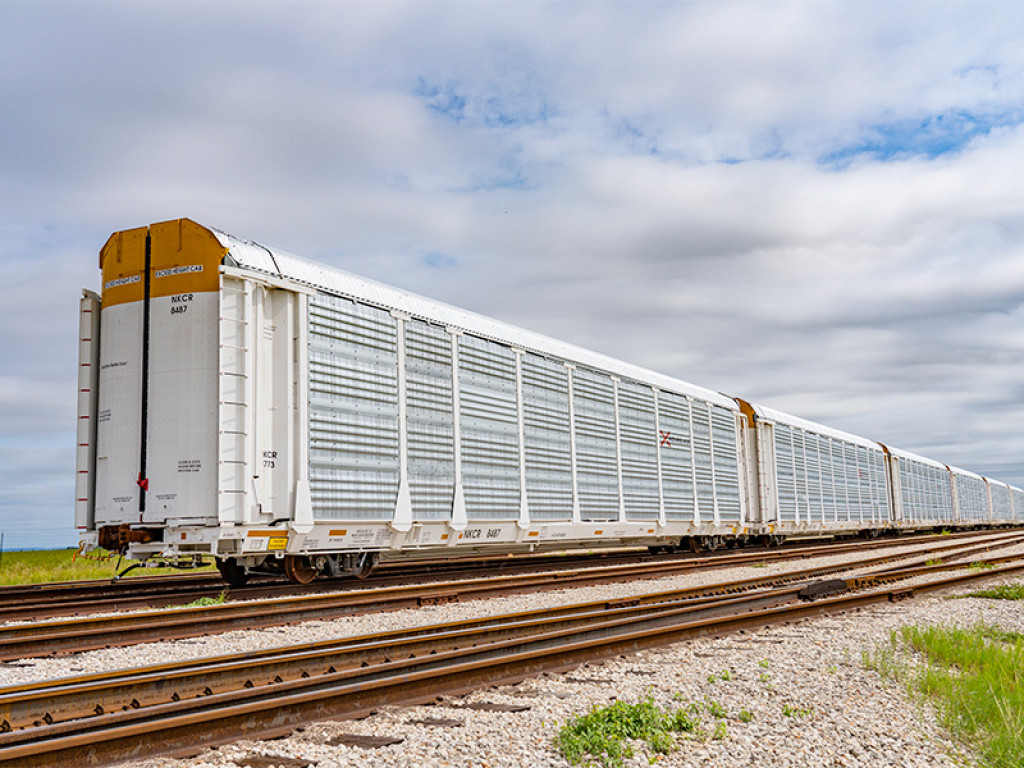 WHY RAIL?
Aside from the major shift in railcar ownership as industry players lean more towards leasing assets, freight rail has also witnessed a decline in modal share, which is related to the implementation of precision scheduled railroading (PSR) across the Class I railroads that has restricted growth by enforcing a focus on metrics.
"In 2006 in the U.S., rail had 33 percent of modal share, and by 2019 we had 27 percent. Since the Great Recession while all other modes of transportation went up by 20 percent, rail volumes remained nearly constant," Savage outlines.
As freight continues to increase despite the modal share, for Mitchell, by "unlocking rail sustainability advantages", the company has made a mission of questioning how this can be improved, for what Trinity believes to be the most efficient land-based mode of transportation.
Indeed, it is widely acknowledged that, in spite of these declining figures in modal share, rail today stands as a clear frontrunner in terms of safety, economically competitive efficiency, and crucially, environmental sustainability.
"In a world with high fuel prices, labor shortages, and where people are more sensitive than ever to environmental issues – rail wins on all of those issues," states Marchetto.
With environmental concerns growing in significance, faced with the context of climate change, ESG has become a major focus of Trinity's offering to its customers. As Mitchell informs us, recent surveys have shown that more than 50 percent of all respondents will use ESG as an indicator in making logistics and procurement decisions in today's world, thereby offering Trinity a real opportunity to advance the field.
Industrial players in rail have become well-versed in statistics that support its status as a leader in environmentally-friendly freight transportation, which currently accounts for just six-tenths of one percent of greenhouse gas (GHG) emissions according to the U.S. Environmental Protection Agency.
Such common figures include the estimation that if just 25 percent of truck traffic in long-haul freight movements were to use rail instead, it would result in a 13-million-ton reduction of GHG emissions.
Similarly, it is often remarked that with rail transportation, just one gallon of fuel can transport one ton of freight 480 miles – a clear winner compared to truck transport.
Trinity also recognizes the major role that rail plays within the energy supply chain, as a vital mode of transportation for commodities in a country blessed with a wealth of natural resources – whether in coal, natural gas, crude oil, or agricultural products. Catering to the explosive growth of the energy sector has historically been, and continues to be, one of the industry's greatest tasks; from transporting its largest commodity of coal, to playing a role in expediting more environmentally friendly energy resources.
"The U.S. is an energy superstar, with major competitiveness on the global stage," comments Marchetto. "U.S. natural gas as an energy resource and feedstock has propelled U.S. energy production and the U.S. chemical complex. Coal remains the single largest commodity moved by rail. Energy is a major piece of our portfolio, but our business and our outlook for the industry goes beyond crude oil and coal production. From that standpoint, rail can play a major role."
Within the company itself, sustainability is a significant consideration in Trinity's manufacturing work, best embodied by the company's recent launch of a sustainable railcar conversion program. This initiative repurposes underutilized railcars into a different cartype, while preserving much of the raw material into the new car.
"For customers that are driving sustainability, this creates a great opportunity for them to take existing real assets in undercarriage and utilize them for a different need," says Mitchell.
"Our engineers are always thinking about how to make new cars work for customers' problems, particularly in terms of how it affects ESG. Our sustainable conversions lower GHG because we're already reusing 10,000 lbs of material and this program is only just starting," Savage tells us excitedly.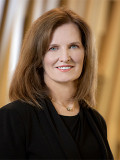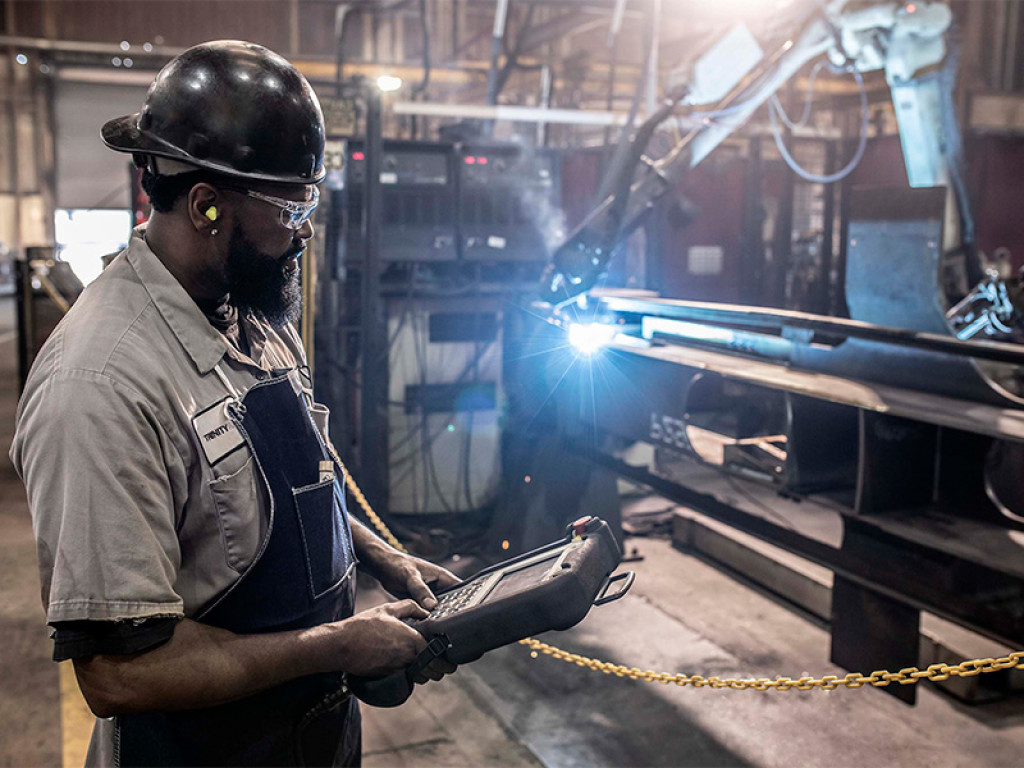 UNPARALLELED CUSTOMER COMMITMENT
Trinity's ability to model its offering to customer demand thanks to its expert operational capabilities, as seen with facilitating ESG commitments, encapsulates the company's core belief in remaining versatile.
"Since we don't provide a standard product, we are always trying to solve customers' problems to give them the most value," Savage says. "Our people are always listening and responding to problems very quickly – you can't force that quality, it's something you have naturally and that's part of our culture here at Trinity."
This is reflected by the customer loyalty that Trinity has fostered over the course of its operation.
"Over the past 25 years, we have been growing with our customers while acquiring new ones along the way, and it's been incredibly rewarding from that standpoint," says Marchetto.
"We like to say that we have a rail platform to help the customer fulfill their needs," affirms Mitchell. This feeds into Trinity's growing emphasis on the service division of the business.
"Our industry needs to do a better job of raising the service levels against other modes of transportation," Marchetto continues. "Where we can improve in our service to shippers is reducing the variability and volatility in timing."
As Marchetto suggests, at Trinity it is just as much about identifying and responding to the customer's individual problems, as it is in the wider playing field of the industry as a whole.
This people-centric stance in dedication to the needs of the customer translates across all levels of the Trinity enterprise, particularly in the company's commitments to its industry-leading workforce. Indeed, at Trinity, the people make the greatest difference.
It is an area of focus that has well and truly risen to the fore over the course of the COVID-19 pandemic, as the company's team united to navigate challenging market conditions in spite of the healthcare risks.
"Our market was hit really hard during the second quarter of 2020. Freight activity was down by 25 percent, compared to the same period in 2019. It's been an unprecedented decline that we've seen," says Marchetto.
Much of the Trinity workforce was unable to work from home and continued to operate while implementing safety procedures that were soon copied across the board to allow everyone's safe return to work, resulting in an overall improvement in safety measures. The pandemic heightened Trinity's safety protocols and drove a change in philosophy centered on resiliency.
"Our team really came together to make sure that we were successful and supported people during that difficult time," Savage comments proudly.
"We owe a lot to those staff members for getting us through this pandemic. They were resilient, flexible, and took it in stride while continuing to deliver essential products to customers. I'm really proud of what the team did," she adds.
During this time, a can-do attitude and never losing sight of the customer proved essential ingredients for success. Savage herself has championed a major transition towards a collaborative working ethos, reinforcing Trinity's people-centric culture at a time when the company's leaders had to re-align their management styles to adapt to new staff joining during remote working, who were unfamiliar with the team and company.
"Before, as a diversified industrial company, we were very siloed, but now with a rail focus, it's all about collaborating and working as a team. That's starting to take hold and we've made real progress there."
Savage adheres to a style of leadership honed during her military service and peppered with the experience that she has gained during previous tenures at both heavy industrial firm Parker Hannifin, and Progress Rail.
"The values for someone in the military really match well with those at Trinity. What I learned from the military was the servant leadership style – you are there to take the roadblocks away that let people do their job and unleash their talents.
"In those first years in the rail industry I had to learn many ways of doing business with different rules and regulations," she recalls, mastering the spirit of resiliency and versatility that is so central to Trinity today.
As Trinity's first female CEO following Tim Wallace's retirement after 45 years of service, Savage has also witnessed the welcome diversification of the people behind the industry.
"When I went to a conference back in 2002, I would be one of maybe two or three women. Now, about 25 percent of that room are female," she says.
EMBRACING INNOVATION AT TRINITY
Informing Trinity's position on innovation, this understanding of the customer and their needs represents a crucial starting point to fuel future progress, by listening to and identifying their pain points.
Mitchell is particularly alert to the fact that fostering a connection with customers is a critical foundation to solicit ideas for innovation. After all, progress is futile without first understanding where it is needed.
"Our customers have three primary complaints. First, it's difficult to control the cost when moving commodities across great distances," he outlines.
"Second, it's consistency, in that you can't always count on freight being where you need it to be, so certainty is important. The third is complexity – in today's world of changing market conditions and supply chain congestion, it is becoming more difficult for supply chains to optimize the equipment they have."
As a result, innovation at Trinity is leveraged to address the question of how the company can go to market to make it easier to use rail, while also improving the rail shipper's experience.
This is best evidenced by technological advances that are setting a precedent for the industry.
"Technology is one area where rail is quite far behind, as we are trying to get on par with the trucking industry and provide the customers with a better experience," says Savage. Two of the company's innovative technological products are critical in this regard: Trinsight™ and RailPulse.
As one of Trinity's latest innovations, Trinsight™ uses software to provide shippers with invaluable visibility for their railcar. The technology is similar to that used in trucking to bring the industry on par using data connectivity. The innovation enabled through Trinsight™ marks a significant departure from the data provided by wayside readers that the railroads have traditionally relied on, with typically just 80 percent accuracy.
"Trinsight™ is our web-based platform that helps our customers see their freight and railcars regardless of whose railroad it's on. It's starting to change the way that people do their business and is simplified to make their experience better," outlines Mitchell.
"We can help shippers through transparency, visibility and real-time telematics, by providing them with information on the condition of the railcar and its exact location within their supply chain."
For Mitchell, Trinsight™ returns to the key advantage of rail in terms of economic efficiency.
"Imagine the amount of dollars saved if a supply chain leader can reduce or improve the turn of equipment and optimize the entire chain through real-time visibility."
Not only does this allow more astute decision-making, but it opens up the possibility for a host of other applications, arguably most crucially in resolving disputes between the railroads and shippers by creating detailed views of freight movement.
Complementary to Trinsight™, Trinity is a founder of a coalition that is building an open-architect platform (RailPulse) to enhance supply chain visibility in allowing customers to bring their own devices to the system. The combination of the two provides a unique differentiator in the technological prowess that Trinity can offer.
"We can also take the existing car location message (CLM) data that the railroads provide and reverse that information with the data we're providing in real-time to give a complete supply chain visibility tool for our customers. That's very unique in today's world," Mitchell explains.
While Trinsight™ is the analytical tool, RailPulse is the platform where the critical data resides. It is this combination of CLM with telematics that differentiates RailPulse as a standout solution in supply chain efficiency.
RailPulse is the result of an industry coalition, where transport leaders collaborated to address how technology could be brought into a real-time environment to make the rail industry more accessible and easier to use, eliminating unpredictability and uncertainty.
Crucially, the coalition behind RailPulse assembles the Class I railroads, shippers, railcar lessors, and short line railroads – each of which are evenly represented by four board seats to ensure each category has an equal stake in the concept, to guarantee that it works for the whole industry.
"This is a game-changer for the industry and probably the most exciting thing that's going on right now," says Mitchell.
With cutting edge sensor capabilities and cargo tracking, Trinity is delivering rail's technological future through RailPulse.
Meanwhile, for Savage, the years ahead for Trinity will center on its all-important people, as the crucial ingredient that will keep the wheel's turning for the company's future.
"We are focused on developing the next set of leaders – we're here to help guide and set strategy to develop who's going to come next," Savage says. "We must ensure that talents are unleashed, and people are equipped with the skillsets they need to lead the company."