We examine the energy industry within North America and speak with Steve Mims, Vice President and General Manager at Shawcor, to find out more.
INTRODUCTION
"The energy industry in North America is in unique times."
That much is clear. For Steve Mims, Vice President and General Manager in Shawcor's Integrity Management Group, he is well aware of how much the sector has changed in recent years. The COVID-19 pandemic caused a significant pullback in activity during 2020.
"In recent years, the US has strived to become a leader in energy export," explains Mims.
"That focus has shifted into a more conservative approach after the COVID-19 pandemic and the change in political landscape. Energy infrastructure will always be a need across North America. It will continue to evolve and the companies that can evolve with it will be successful."
Shawcor is a leading energy and infrastructure technology firm that specializes in products, services and solutions utilized in oil and gas, water and wastewater, fuel, transportation and industrial applications.
Mims, who leads Shawcor Inspection Services (SIS), has over 15 years of experience in the oil and gas industry and possesses extensive non-destructive examination capability with a robust technical background. He is a proud US Army Veteran who served two combat tours in Afghanistan in 2002 and 2004.
Mims points to the recent construction of a 900-mile, 20-inch NGL pipeline as being a particularly influential project. The pipeline spans across Montana, Wyoming, Colorado and Kansas.
"Our Real-Time Radiography (RTR) system was chosen as the primary inspection tool, differentiated by its digital package," he says. "It is a proprietary, state-of-the-art system that provides high quality digital images of welds with reduced radiation."
To Mims, it is clear that field service remains a key priority. "We put a focus on integrity, quality, safety and technology.
"Our field service personnel are constantly in front of our clients with unique challenges in adverse working conditions," he adds. "Therefore, we hold ourselves to the highest standards to operate with the utmost integrity, and we equip our team with training and tools that allow them to perform their duties and deliver quality results in a safe working environment."
Shawcor continues to evolve as a company in order to better reflect its enduring values of integrity, technology and execution to meet the needs of tomorrow. Shawcor is set to advance its ESG performance, both internally and externally by evaluating its footprint, actioning improvements and innovating to enable its customers to reduce their footprint.
Mims' division, Shawcor Inspection Services (SIS), recently achieved a significant safety milestone which saw one year without a recordable injury. For over 365 days, not a single SIS team member incurred an injury which required medical treatment beyond basic first aid.
This milestone underlined SIS's commitment and intention to provide a workplace that is safe for all employees and clients. This commitment is showcased through the Incident and Injury Free philosophy designed to provide consistent guidance and instruction to its global operations. This achievement is a direct result of SIS employees' ongoing commitment to safety awareness and practices.
"Our team makes safety a priority every day, which ultimately ensures the safe completion of projects and the return of each of our employees to their families," says Mims. "Safety remains the ultimate bottom line."
The pipeline infrastructure of North America has continued to expand rapidly for over 100 years. At the same time, it has continued to age with much of it over 30 years old. Shawcor helps operators to expand its pipeline networks safely, repair them effectively and reduce failure-related downtime considerably.
The organization works closely with global operators, contractors and manufacturers of oil and gas production facilities, pipelines and utility systems in order to reduce risk, maintain integrity and extend the service life of client assets. SIS identifies and resolves points of failure quickly and effectively regardless of the stage in the asset's lifecycle, from the design phase to decommissioning.
Through engineering design, non-destructive testing (NDT), innovative inspection techniques, continuous monitoring and data management, the firm evaluates pipeline failure or the potential of failure which determines the safest limits of operations. SIS analyzes mechanical damage, defines the safest conditions, identifies roadblocks to long-term operation and helps ensure they are accounted for before installation or repair. The company provides full-service integrity assurance for every element of your gathering, processing and transmission infrastructure. With its comprehensive range of services, the company is an experienced, hands-on technological and problem-solving resource for pipeline operators in high consequence areas as well as wide-open spaces.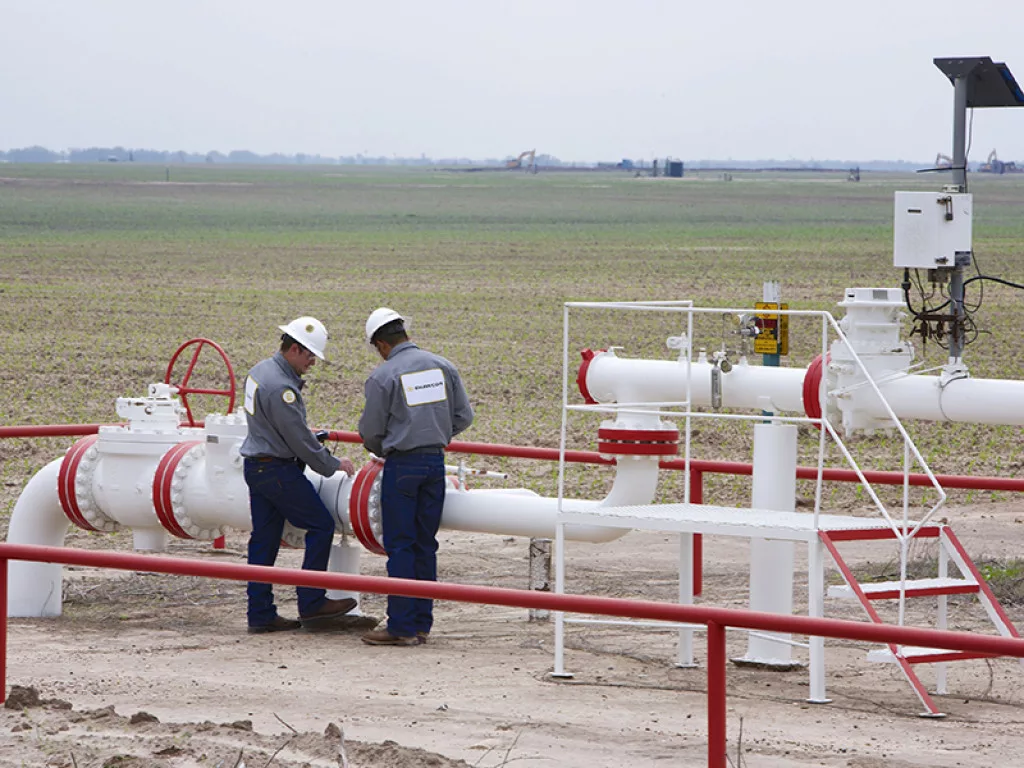 PRODUCTS AND SERVICES
As oil and gas fields are developing away from final consumption markets, onshore gathering, transmission and distribution pipelines aren't just getting larger but are increasingly put in a range of different challenging and remote locations.
Oil and gas also continue to be sourced from offshore fields. Offshore pipelines are growing in number and length and are being laid deeper, with increasingly high operating temperatures. To ensure consistent, safe and efficient performance in these extreme environments, Shawcor provides a comprehensive range of products and services.
Shawcor works closely with global operators, contractors and manufacturers of oil and gas production facilities, pipelines, and utility systems to reduce risk, maintain integrity and extend the service life of client assets. Shawcor delivers the technology and service required to boost reliability and assure flexibility, speed and performance. Through Shawcor, operations can go further and deeper than ever before.
Mims is clear about what sets his organization apart from competitors. "We focus on being a dependable and valuable partner for our clients," he says. "We have the technology, experience and subject matter experts to support our clients with solutions no matter how big, small or unique their challenge may be."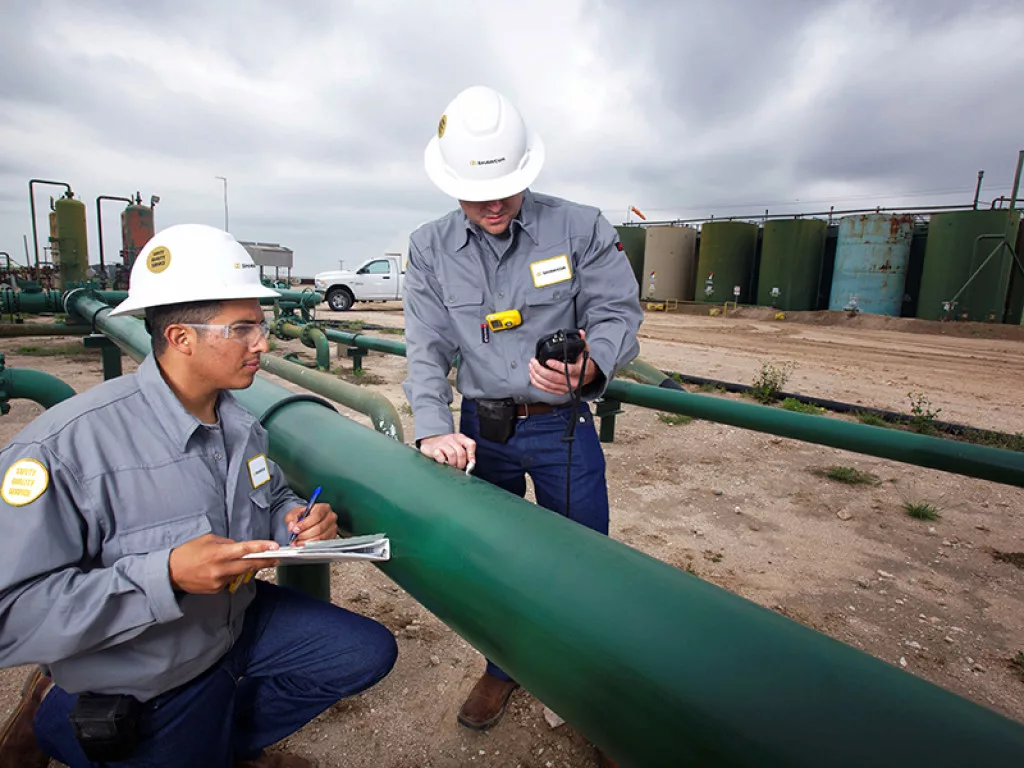 OFFSHORE INSPECTION SERVICES
Shawcor ensures pipeline assets run reliably and efficiently for the duration of the offshore operation. From initial install through project completion, its full suite of inspection and monitoring services mitigates the risk of failure by better deflecting points of failure on assets such as offshore risers, trunklines and flowlines. Shawcor's market-leading NDT services and expertise help maximize safety and operational uptime through even the most challenging and disruptive environments. Through its automated ultrasonic testing, Shawcor's new generation platform features automatic sizing, calibration and set up functions which reduces time and helps repeatability. Its next generation real-time radiography equipment offers improved sensitivity and accelerated speed of inspection.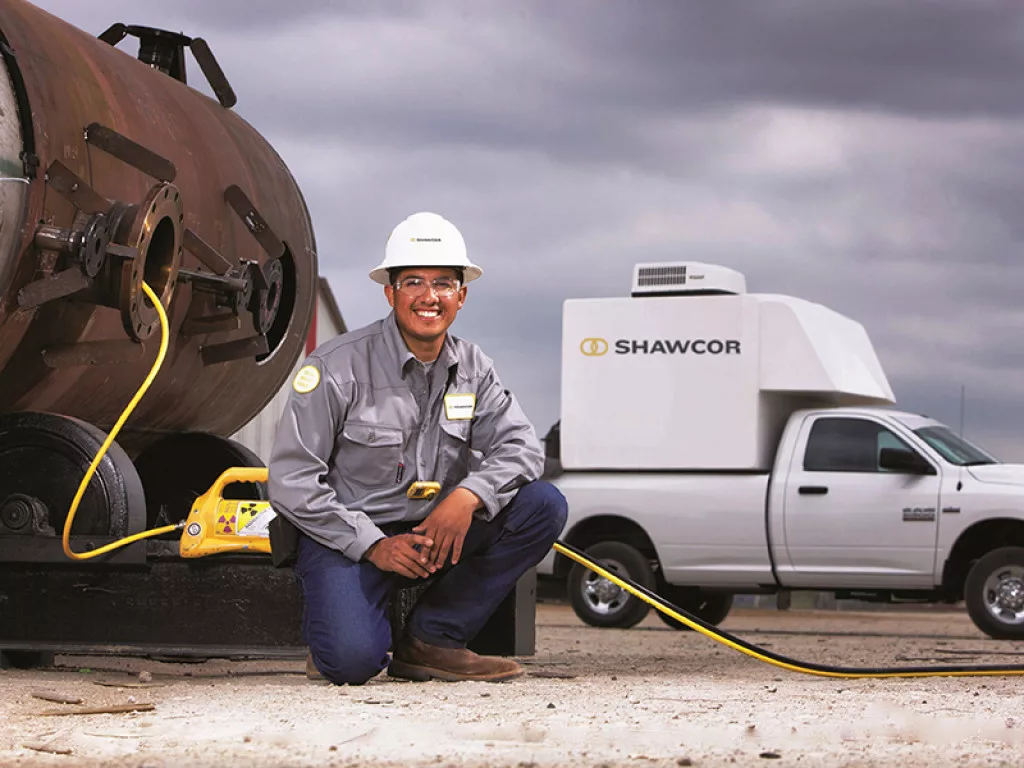 ONSHORE INSPECTION SERVICES
Shawcor conducts non-destructive testing and inspections of gathering pipelines, highly-regulated interstate large-diameter pipelines, wellheads, well pad assets, gas plants, stations and other energy infrastructure to ensure they are maintained as safe, efficient and dependable as the day they were installed.
As regulations expand to encompass more assets, there is an increasing demand for inspection personnel. However, finding additional resources is becoming more challenging.
This is where iLINE comes in. iLINE data-empowered solutions utilize digital technologies with built-in expertise to get operations on the right track.
Time spent travelling to and from the sites consumes valuable resources, as well as more people onsite adds to HSE exposure. iLINE Weld Advisor allows personnel already on-site to capture the data necessary for an inspector to do a remote analysis.
iLINE is a digital solution with built-in expertise that optimizes construction processes, enhances safety and achieves lower costs. Inspection images are transmitted to the cloud, which reduces field personnel while enhancing efficiency. iLINE Weld Advisor enables its clients to provide feedback to the in-field inspection crew.
The instant feedback is available in a traceable form-based inspection report, and the audit is verifiable with a readily populated report routed for approval. The whole process ensures the weld inspection process is complete.
"iLINE Weld Advisor is an exciting new technology and proprietary software for Shawcor," explains Mims. "With this solution, we are able to provide remote real-time access to results from our digitally enabled weld inspection systems so that the asset owners can securely view and audit data from anywhere in the world."
With the future in mind, Mims is clear where his priorities lie over the coming years.
"One of our key priorities going into 2021 will be to continue the evolution of our digital platform and service offerings," he says. "We see a number of clients with a growing need to support the integrity and condition of their existing infrastructure, and we will continue to innovate to deliver on this need."