We chart the course of an organization making a significant impact on the local marine industry with Jennifer Downing, Executive Director of New Bedford Ocean Cluster.
AT THE CENTER OF MARINE INDUSTRY INNOVATION AND GROWTH
At the center of driving marine industry innovation and growth at the Port of New Bedford is the New Bedford Ocean Cluster (NBOC), a non-profit organization (NPO) created to leverage the City of New Bedford's coastal position and extensive ocean economy and knowledge base to attract investment, support the formation and growth of maritime businesses, and foster initiatives that can create economic and community impact from the sustainable use of ocean resources.  
Ports are at the center of offshore wind development, and the Port of New Bedford possesses a number of advantages that position it to be a leading hub for offshore wind and ocean innovation.
"The Port of New Bedford checks a lot of boxes for offshore wind: deep water, no height restrictions, ready infrastructure, and a diverse array of services to support everything from marshalling and staging to long-term operations and maintenance," introduces Jennifer Downing, Executive Director of New Bedford Ocean Cluster.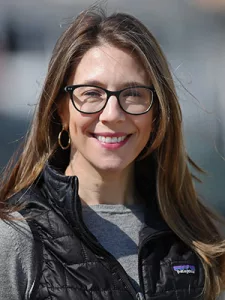 New Bedford also has geographic proximity on its side, as it is the closest full-service port to the largest offshore wind Federal lease area.
"Due to our success in commercial fishing, we have a robust cluster of established marine businesses and shoreside services in the Port of New Bedford, which is also advantageous for offshore wind. Our existing network of businesses is in an excellent position to contribute," clarifies Downing.
Multiple ports are needed all along the East Coast to create an industry at scale to address climate change and meaningfully add to the US economy, and the Port of New Bedford is in a strong position to do both.
"The offshore wind industry presents an exciting opportunity for ports and their associated supply chains up and down the East Coast to integrate services and export products in new ways which carries with it potential to generate significant economic opportunity and local wealth."
Launched in late 2021, the NBOC is an early-stage NPO with a big mission, and in a relatively short period, it has gained a lot of momentum and global brand recognition.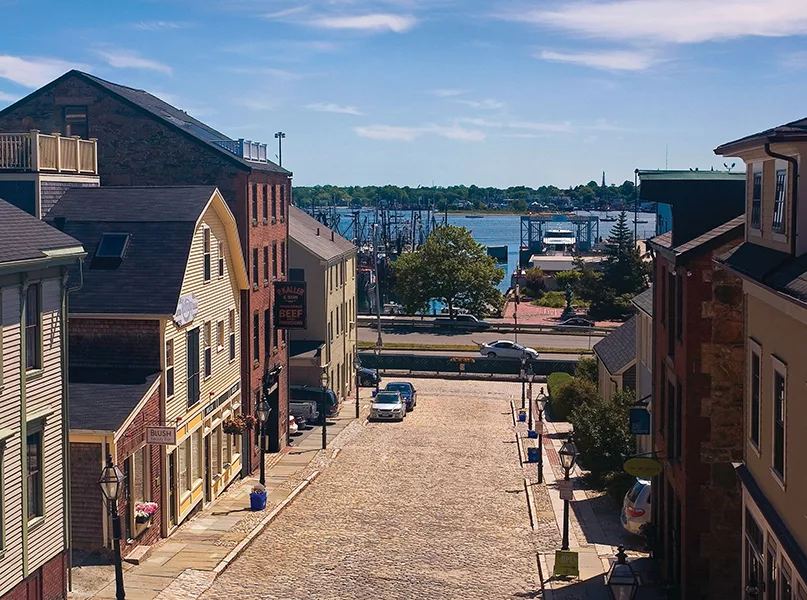 A WAVE OF STRATEGIES
"We work collaboratively with the private sector, public sectors, and academic institutions to position New Bedford and Southeastern Massachusetts to be a leading ocean economy through the advancement of four interrelated marine pillars: aquaculture, commercial fishing and processing, innovation and technology, and offshore renewable energy," says Downing.
The Port of New Bedford has had a solid and successful commercial fishing and processing industry for generations.
"We see tremendous opportunity to utilize innovation and technology to further advance and modernize the commercial fishing industry but also launch emerging industries like aquaculture in the port. There are opportunities for the fishing industry to work in offshore wind. For example, vessels can be upgraded, and crews trained to do project surveys and safety work. In parts of the world, pilot projects are being launched to integrate aquaculture production with offshore wind.
"We have four industry pillars at the NBOC; while we want to see each prosper, we also seek to facilitate their intersection whenever possible. That industry convergence will create a true ocean economy in the Port of New Bedford. It's ambitious but incredibly exciting," Downing explains.
The NBOC was modeled after other successful ocean clusters in Europe and other areas of the world that have used the economic principle of clustering to make their coastal community more profitable, efficient, and sustainable.
"We are not beginning from an experimental idea; we have seen how ocean cluster organizations like the Iceland Ocean Cluster, with which the NBOC has a formal partnership agreement, have successfully introduced new market opportunities to existing industries. When you look at effective ocean clusters, they have been efficacious conveners and clearinghouses of information. They have also successfully facilitated networking and collaboration between industries," notes Downing.
"Ocean cluster organizations have supported technology transfer across various platforms to start new and support existing businesses. They also have a role in marketing and promoting an area to increase visibility and attract commercial investment.
"It is a model and strategy that works, and we're excited to be replicating it in the greater New Bedford region," she adds.
PORT PROJECTS
To continue to support long-term growth is of utmost importance to NBOC. The organization wants to make the Port of New Bedford a model for commercial collaboration between port industries. Most significantly, commercial fishing and offshore wind.
"We want New Bedford to remain the number one commercial fishing port in the U.S. and leading hub for offshore wind," says Downing. One particular project highlights the relationship between the port and its supply chain.
"With support from Vineyard Wind, we started a project called Act Local to support the development of a diverse and equitable local supply chain for the offshore wind industry and to make certain that industries like commercial fishing can effectively coordinate and engage with offshore wind," enthuses Downing.
Vineyard Wind is developing the first commercial-scale offshore wind project in the U.S. The Act Local program was launched to support Vineyard Wind's commitment to "Look Local First", the Developer's promise to contract and have their top-tier suppliers contract local people and businesses wherever possible. Today, the project is expanding to support other developer's future offshore wind projects.
An outreach and information-sharing initiative, the Act Local program is connecting Offshore Wind Developers, Original Equipment Manufacturers (OEMs), and top-tier suppliers with local people and businesses that can support projects.
The NBOC is trying to ascertain the scope of work for the projects and what the workforce may need, translating that to the local community and putting businesses and workers that have the potential to work in the offshore wind industry together.
"We are trying to understand what the industry needs by way of skills, products, and services," she reveals.
"So that we can inform the community, make connections, and localize this potentially game-changing industry. The NBOC also hosts periodic Community Outreach Forums and supports local job fairs and Meet-the-Buyers events.
"We continue to grow the project with feedback from other offshore wind developers and experienced companies in the industry. We are excited about its potential to actively educate and involve the local community and impact local economic development," Downing affirms.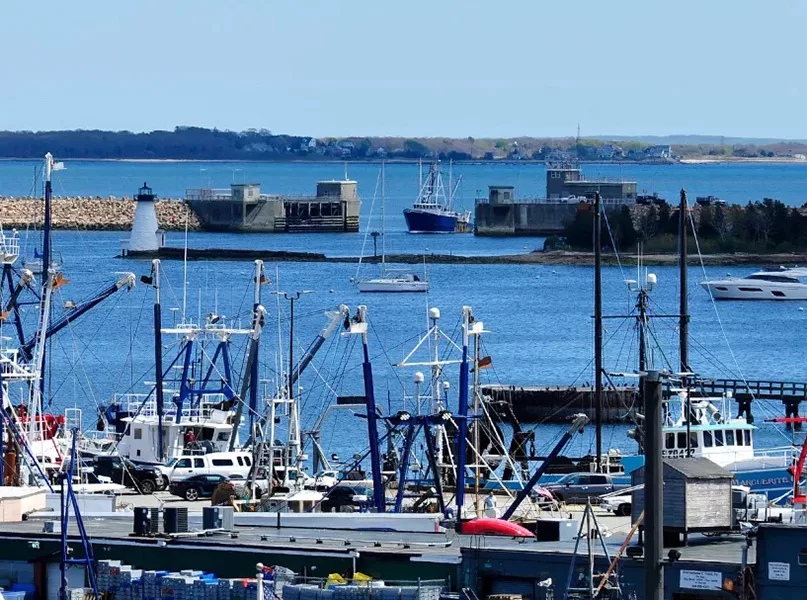 ON THE HORIZON
New Bedford is the primary marshaling and staging base for the Vineyard Wind 1 project, and the New Bedford Marine Commerce Terminal, managed by the Massachusetts Clean Energy Center, is the main facility where this work occurs. SouthCoast Wind will lease the facility for its two projects – SouthCoast Wind One and SouthCoast Wind Two. Therefore, it will remain a busy and active port in the coming years.
"Avengrid Renewables also has a project in the pipeline called Commonwealth Wind, and it has committed to having a control center in the Port of New Bedford. Given the strengths of our Port, we have a significant role to play in the long-term operations and maintenance of wind projects," Downing observes.
Indeed, NBOC anticipates more industry activity within the Port, even if projects do not necessarily contribute directly to the Massachusetts grid.
"In addition to marshalling and long-term operations and maintenance, the Port of New Bedford is also becoming a center for research and workforce training and development," she details.
"We have a strong network of colleges and universities in Southeastern Massachusetts. The University of Massachusetts, Dartmouth's School for Marine Science & Technology, has been at the forefront of cooperative fisheries and offshore wind industry research. It is a huge asset to advancing the local blue economy. Bristol Community College, which has offered offshore wind courses and certificates for several years, is opening the National Offshore Wind Institute (NOWI) in New Bedford this fall and will offer a comprehensive suite of industry training, including full Global Wind Organization (GWO) training offerings, virtual reality simulations, HUET, OPITO, STCW, and more.
"We plan on working closely with our academic and training partners to support their work and facilitate connections with industry to ensure the area offers demand-driven training and projects that will contribute to the growth of the local workforce and supply chain."
The NBOC continues to support the local content needs of the Vineyard Wind 1 project but is also looking ahead to the next project(s) that will be approved as part of the Commonwealth's fourth offshore wind solicitation process rolling out in 2024.
"We need to continue to plug into the industry here in the U.S. and beyond." The NBOC also regularly hosts and participates in international offshore wind trade missions to explore partnerships and investment opportunities. NBOC has hosted delegations from England, Canada, Belgium and Denmark to date.
"We want the world to know that we are here to support their projects and that they know the many strengths and advantages of the Port of New Bedford and the surrounding area," Downing finishes.
---
GLOBAL GOALS FOR NEW BEDFORD OCEAN CLUSTER
Already, NBOC has hosted international delegations in New Bedford and has been invited to be part of international trade missions. In fact, Downing is heading to Norway this month to participate in an offshore wind trade mission.
"The NBOC served as the Local Business Association in a Danish offshore trade wind mission this past spring and took along six companies from New Bedford to be part of that experience. We will continue to emphasize our role and ensure we actively attend these conferences and participate in global forums," states Downing.
NBOC is in an advantageous position to continue advancing what it is achieving with offshore wind, deepen the work it is doing with aquaculture and in the innovation and technology space, and expand its relationships with the commercial fishing industry in New Bedford.
"The key priority for us is to further define our work across all four of our pillars in the coming year."