As a comprehensive network of companies, The Concert Stuff Group is the company of choice for live events solutions. Co-Founder and CEO, Jim Brammer tells us more.
NINE SEPARATE ENTITIES MAKE THE CONCERT STUFF GROUP
The Concert Stuff Group (CSG) comprises a comprehensive system of nine separate entities that create some of the best live events North America has to offer. Providing a vast range of services and solutions, the work of each individual company culminates in creating the ultimate live experience for thousands of patrons.  
CSG was first established in 1986, when partners Jim Brammer and Jeff Cranfill started a company that would become Special Event Services (SES), operating from Brammer's garage.
SES soon grew to become a leading production solutions organization. From here, Brammer identified gaps in the live entertainment market, resulting in the creation of nine separate operating companies that each target a separate need within the industry.
By 2019, CSG grew to create a comprehensive network of live entertainment production services companies, all encapsulated under the CSG moniker.
The question of 'what can we do to make this better?' was a question that often crossed Brammer's mind and inspired the group of companies that have emerged today.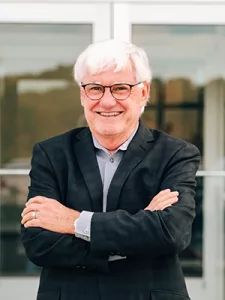 "The name Concert Stuff came about one afternoon during a discussion with our former media director and Michael. I was growing frustrated at the rather limited pace of our media footprint. I put forth the idea that I could establish one comprehensive brand that could consolidate our message across all nine companies in less than 24 hours.
"They asked what I would call it, and I said it's unimportant, but for the purposes of this discussion we'll call it www.ConcertStuff.com, and the name stuck," opens Jim Brammer, Co-founder and CEO of CSG.
Having all nine companies under a single banner means that every aspect of the live entertainment field is covered, making the overall experience easier and more customizable for CSG clients.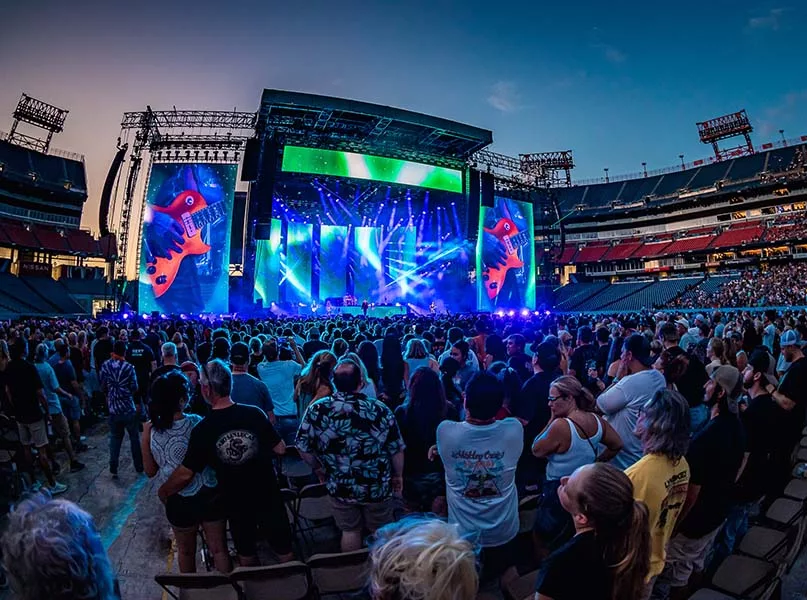 THE STAR OF THE SHOW
Since Brammer first entered the live events scene, the industry has changed considerably; having initially been a small sector of the music industry, the live entertainment market grew to become an industry in its own right, given its tremendous socio-economic impact.
"Just this year in North America alone, Taylor Swift and Ed Sheeran created several billion dollars in direct and indirect revenue. Thanks to Live Nation and AEG, along with several other large promoters, the industry has become legitimized and a necessary component of worldwide culture," Brammer tells us.
By offering nine distinct operating companies, CSG can bring an integrated but also customized approach to each live event.
"I hesitate to call it 'one-stop shopping' because it's much more complex than that; however, it does begin with one phone call," Brammer admits.
As the first of nine companies, SES is at the forefront of CSG's operations, bringing together proficiency in audio, lighting, video, staging, design and live event production.
SES has grown to become a multimillion-dollar company with over 50 dedicated employees. Alongside SES, SET and G2 Structures have grown to become multimillion-dollar companies as well. Brammer refers to them as the BIG 3 or his 3-legged stool, and with over 500 employees across the CSG brand, the BIG 3 are at the forefront of the CSG train.
REBIRTHING LIVE MUSIC
Since the COVID-19 pandemic, the live events industry, not only in North America but across the world, has rebounded well, given that it brought the entire sector to an abrupt halt.
Therefore, CSG had to think outside the box in bringing its customers the live music experience that people so desperately craved.
To rejuvenate the live music sector, the company helped create a 'drive-in' concert at North Carolina's Charlotte Motor Speedway, following a call with the manager of the rock band, The Avett Brothers.
Having visited the speedway, Brammer and the rest of the team quickly realized its potential for a fantastic and safe music venue, particularly due to the sizeable LED board on the back stretch of the speedway – one of the largest LED boards in the country, measuring 200 feet (ft) long and 50ft tall.
The drive-in project was one of the most ambitious projects CSG had undertaken to date, juggling many different components to make the operation successful. Fortunately, the team came up with the idea to embed the audio in the video and broadcast it on an FM radio channel so that audio and video would be in sync anywhere throughout the venue.
"Picture a regular rock stadium concert with huge arrays of loudspeakers at a very loud volume… we didn't have that. We had 1,550 vehicles sitting in front of the stage, watching the concert on a huge LED screen, all listening to The Avett Brothers on their FM radios, it was a very nice and controlled vibe," Brammer recalls.
To add to this, the concert was also streamed live to thousands of The Avett Brothers' fans around the world, with many tuning in to witness this fantastic and once-in-a-lifetime event.
"It was a remarkable thing during a truly dark time in our industry."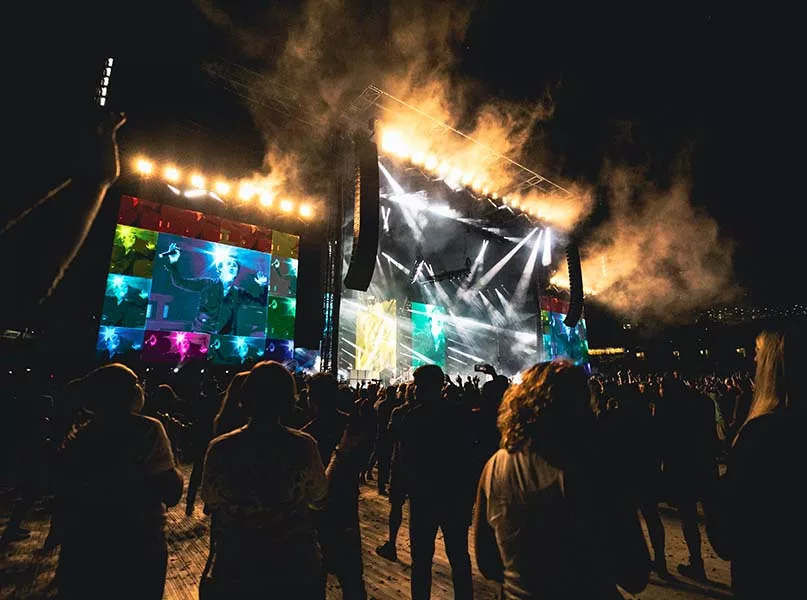 REACHING NEW HEIGHTS
As the world progresses from the stagnant pandemic period, CSG has much to look forward to.
"The trajectory we're on post-pandemic is a much steeper trajectory than pre-pandemic and shows no signs of flattening out anytime soon," Brammer highlights.
Presently, CSG is working on its biggest project yet in terms of scope and visibility, materializing in the TGL Virtual Golf Venue for Tomorrow World Sports.
The company was initially bought on to assist with the rigging grid structure; however, CSG's involvement was expanded to overseeing video, audio, and lighting.
Consequently, the organization is excited to do the first live broadcast for Tomorrow World Sports on January 9th 2024, creating a spectacle that cannot be missed.
Although the live events horizon has many challenges, the company is channeling its efforts into recruitment as Brammer believes that CSG is only limited by its access to human resource.
"We need good people to go with the great people we already have."
Fundamentally, CSG looks forward to innovating the industry to solve such arising difficulties and ultimately elevate the live events experience to new heights.
"This is a very dynamic business, and each day brings new challenges, and that's our forte, bringing solutions to large-scale, live events," concludes Brammer.
THE CONCERT STUFF GROUP PARTNER