With a rich company culture and an advanced in-house supply chain service, Turner Construction is becoming a key player in North America's construction and property development industry. Toronto General Manager, Stuart Smith Jr. tells us more.
INTRODUCTION
Spearheading the North American construction industry, Turner Construction (Turner) has been transforming skylines since 1902. Having pioneered steel-reinforced concrete and earning recognition for undertaking large and complex projects, the company fosters innovation and embraces emerging technologies to create a renowned client experience.  
Across North America, the organization's success in construction management services spans a vast multitude of major markets, including commercial higher education, data centers, aviation, sports and entertainment facilities, civic facilities, municipal facilities, as well as federal government projects across North America.
Such advanced construction and engineering capabilities, Turner is well-positioned within the industry to handle the fluctuations of a changing market.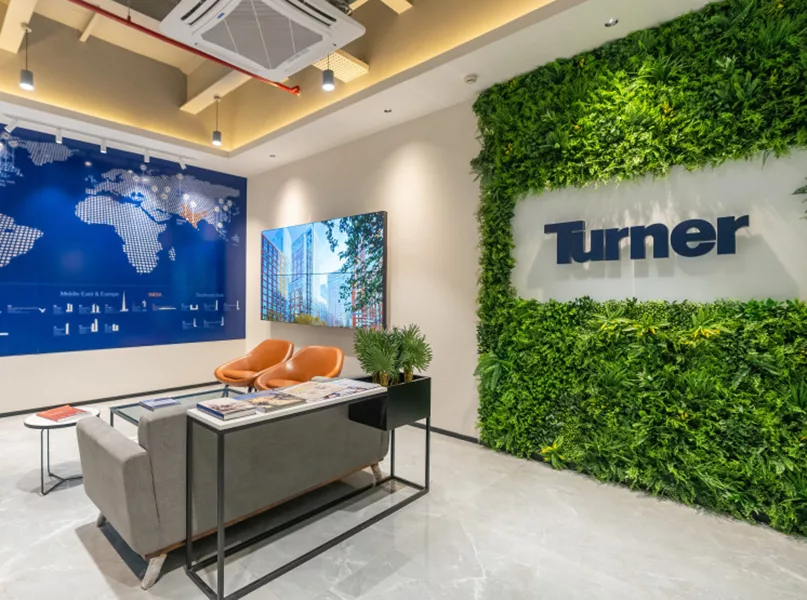 "The Canadian market is tremendously busy, but I believe that the industry adapts very quickly. This is particularly true with what has happened over the last four years, including the COVID-19 pandemic, where the Canadian market was able to adapt and continue to expand. This demonstrates the strength of the Canadian construction industry," begins Stuart Smith Jr., General Manager of Turner Construction.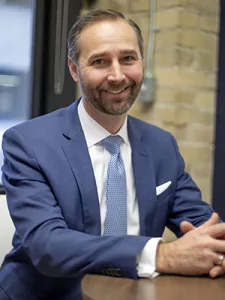 FIT FOR PURPOSE
Turner has earned recognition for undertaking large, complex projects, fostering innovation, embracing emerging technologies, and making a difference for their clients, employees, and the community in which they serve. Turner provides a complete range of construction and program management services including design-build, integrated project delivery (IPD), and integrated preconstruction estimating, constructability analysis, and target value design.
A particularly ambitious operation at near completion is the 777 Bay Lab Fit-Out project, totaling an impressive $22 million. The fit-out will include a top-quality research lab and office space across two levels, and the project consists of base building upgrades to address air dispersal, pressurization requirements, mechanical exhausts, fire protection and more.
Other components of the lab fit-out include the design and construction of a 16,000 square foot (sqft) Class 2 Biosafety Level (CL2) lab space with wet labs and a comprehensive lab space that will accommodate microscopy rooms, cold rooms, and biowaste facilities.
In counterpart, 5,000 sqft of dry labs will also be constructed to house workstations, offices and support spaces, alongside 96 workstations on the floor below.
Further afield, Toronto's Manulife 44 Charles project will see the comprehensive waterproofing and upgrading of the existing façade on the south side of the Manulife Center. The project forecasts the installation of backlit glazing, exterior cladding, and a refinishing of the existing precast columns, amongst other features of landscaping throughout. Upon completion in June 2024, Turner's work will transform the 44 Charles entrance into a modern luxury space for residents.
Closer to home, Turner is proud to be a part of the Serverfarm TOR 2.1 Data Center, located in North York, Ontario. The project includes the construction of a new two-storey 66,242 sqft data center with eight megawatts (MW) total load capacity, however, the initial four MW will be for the build-out of the second-floor space.
Additionally, the operation will comprise rammed aggregate piers, shallow concrete foundations, and a steel structure, which is wrapped in Tilt-wall concrete panels. Moreover, electrical and mechanical systems will be constructed to support the data hall needs including medium-voltage (MV) transformers, low-voltage (LV) switchgear, back-up generators, amongst more.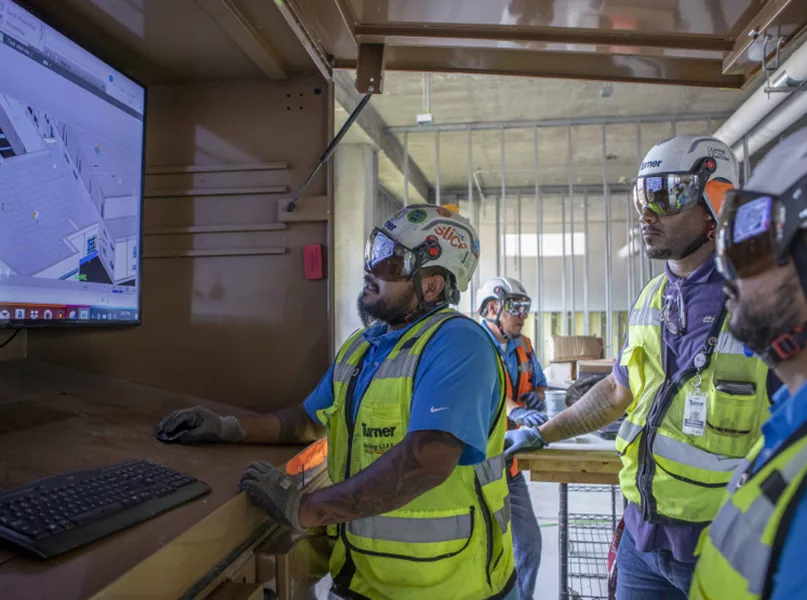 ONE-STOP SHOP FOR PROCUREMENT
To meet the increasing demands of its customers, Turner rebranded its supply chain operation SourceBlue: an in-house procurement brand. The re-branding occurred as part of an extensive strategic initiative to advance the supply chain planning and procurement experience of Turner's clients.
The wholly-owned subsidiary represents an internal one-stop shop for all its clients, suppliers, employees, and partners.
"It's a major differentiator for us, as it greatly helps ensure that major mechanical equipment and systems are delivered quickly, through a highly unique programme, helping streamline operations," Smith highlights.
"We directly purchase major mechanical electrical equipment, as well as architectural apparatus, to guarantee that we can achieve or better our project schedules, which is a huge benefit in the data center market."
Thus, with the rebranding of SourceBlue, Turner has become recognized for the efficient management of complex projects, fostering innovation, and responding to emerging technologies.
CARING COMPANY CULTURE
"Our culture, approach, and philosophy truly separate us from the competition. We possess a strong focus on caring for people not only in our own organization but throughout the industry as a whole."
Evidently, Turner cares deeply for the experience of its clients and staff, as wants to ensure that each experience on a project site is unique and positive, placing its clients in an even greater industry position.
"It's about client and employee experience, whilst delivering best-in-class service. It is also due to the rich company culture and workforce ethos that staff feel empowered to proactively support the business's growth, as well as challenge themselves and the rest of their team to develop their careers," Smith observes.
Therefore, Turner works hard to provide significant opportunity for individuals to understand construction processes on a broader and more global scale, creating opportunities for its employees to experience an international mindset.
"Whether it's through training sessions that are held across North America or collaborative events with other employees, our focus is truly on our people and caring for the industry," he adds.
BEING A GREEN BUILDER
A primary concern for care and positivity is seamlessly translated in its environmental social governance (ESG) policy, as it aims to make a meaningful impact on the industry and the world. This is packaged in Turner's 2030 Commitment.
"Being a green builder means more than just constructing green buildings. In 2019, Turner committed to sustainability by pledging to reduce our jobsite carbon emission and water consumption by 50 percent by the year 2030," emphasises Smith.
Turner is the first construction business in North America to implement a metering program that tracks fuel, water, and off-hour usage. As such, the organization is able to make data-driven decisions that guarantee a reduced impact on the environment and cost-savings.
As part of the metering program, Turner tracks all CO2 emissions and water consumption in its projects using Building OS, a data visualization software that displays live utility consumption and fuel metrics.
Having access to real-time data enables teams to address unnecessary utility consumption, ultimately saving electricity, water, and money for each project. For operations that have a particular focus on ecological responsibility, Turner's metering program is an effective and affordable way to heighten project team engagement, monitor utility costs, and further strengthen sustainability goals.
Looking on the horizon, Turner is focusing on a substantial growth trajectory, striving to double in size in Canada over the next three years.
"We are significantly growing our involvement in ensuring the appropriate engagement with diverse trade partners and a diverse workforce, to guarantee that we have a positive impact on the communities in which we operate," Smith culminates.
TURNER CONSTRUCTION PARTNERS