We take a deep dive into the deep foundation specialists, Morris-Shea, and discover the company's involvement in critical infrastructure projects with Vice President, Richard Shea.
DEDICATION TO DEEP FOUNDATIONS
Deep foundations are essential for safety and maintaining the integrity of a building.
There are various reasons why a deep foundation is desirable for structural stability, including weak, compressible or undocumented soils, as well as soil liquefaction.
Throughout the US, Caribbean, and South America, deep foundation systems are installed by Morris-Shea for many of the world's largest energy, manufacturing, and industrial projects.
"We now work across the entire continental US and Hawaii, as well as numerous island countries in the Caribbean, and have even performed work in Suriname and Mexico," opens Vice President, Richard Shea.
The company was founded in 1969 as a heavy civil contractor by Shea's father, Dick, who at 81 years old remains very active in the business along with two of his other sons, Bill and Steve.
"I tend to take on the energy, oil and gas projects that are usually located west of Alabama, Bill handles everything up the east coast, and we split the jobs that are nearby. Our younger brother, Steve, runs our equipment and trucking," Shea tells us.
Morris-Shea began by primarily focusing on bridge construction for the new interstates and highways in the southeast of the US.
However, by the time these interstates and highways had been completed in the mid-1980s, and bridge construction became less abundant and profitable as a result, the company shifted to the deep foundation work it is known for today.
"There were a lot of new pulp and paper mills being built in the southeast. Our clients were typically large engineering, procurement and construction (EPC) contractors such as Fluor, Brown & Root, BE&K and J.A. Jones," Shea details.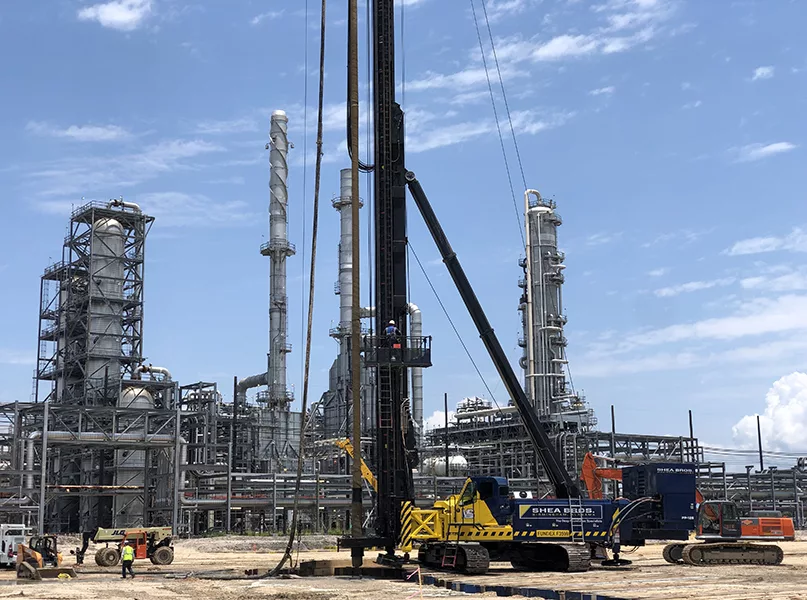 DEWAAL PILE SYSTEM
In 1992, following a trip to Germany for bauma, the world's largest construction trade fair, Morris-Shea negotiated a licensing agreement with DeWaal for its new drill displacement pile system, covering the entire western hemisphere.
The DeWaal pile system provides foundation support for all types of structures, including high-rise buildings, hospitals, water treatment, manufacturing, industrial and petrochemical facilities.
"Shortly thereafter, we started purchasing machines from Europe that were specially built to install the DeWaal pile system," says Shea, who has worked for the company since 1992 after graduating from college.
"We have grown from one drill rig to nearly 30 since I began working for Morris-Shea."
Today, it is one of the largest foundation contractors in the US, based in Harpersville, Alabama (AL) and complemented by Shea Brothers Engineering LLC, an engineering company that works solely for Morris-Shea.
Additional yards and fabrication shops are maintained by Morris-Shea in Lake Charles, Louisiana (LA) and Angleton, Texas (TX), each of which is equipped with three robotic cage making machines along with a further two in Harvey, LA.
Reinforcing steel cages are manufactured by Morris-Shea for installation in most deep foundation applications. Construction of each pile is completed when drill tenders outfit a prefabricated steel cage with alignment spacers and place it into the concrete in the drilled hole.
"We perform our own reinforcing cage fabrication for jobs. Cages are tack welded at every intersection rather than being hand tied on projects," Shea explains.
"This creates a much higher quality cage and saves a lot of laborers having to be on site. We deliver cages to jobs as needed to minimize the required amount of site laydown."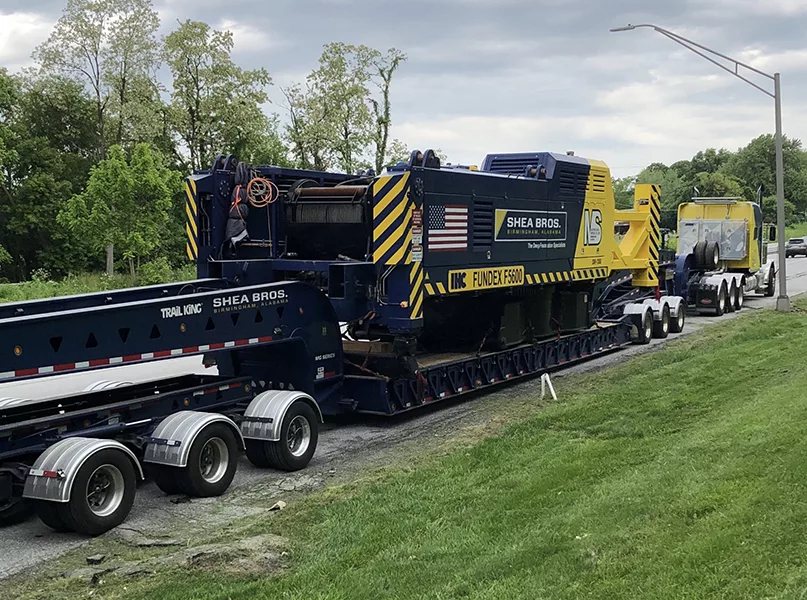 FORD FOUNDATIONS
Morris-Shea's backlog of projects, perhaps the biggest to date in the company's history, includes the recent installation of deep foundations at Ford's expansive new electric vehicle (EV) manufacturing facility near Stanton, Tennessee.
Nearly 10,000 DeWaal piles were drilled in sites throughout the complex, ideal for the soil profiles found at the job site, as well as more than 600 rigid inclusions.
Installation of the DeWaal pile system was performed in a single pass process that densified the soil, improved shaft friction, and increased overall pile capacity.
"That project was originally designed on drilled shafts, however, we offered a value engineered alternate to drilled shafts and collaborated with the owner's engineers to implement the design," outlines Shea.
Value engineering accounts for around 75 percent of the work carried out by Morris-Shea, whose design-build services allow the company to provide savings to clients while improving margins.
The DeWaal piles minimized contamination and disposal concerns, eliminated the expenses associated with waste removal in conventional drilled shaft applications, and provided the necessary load strength requirements.
Morris-Shea was able to successfully convert all but one building on-site over to DeWaal piles, which proved to be faster and less expensive than the drilled shaft design.
"We ended up doing around 80 percent of the total foundation work on the Ford project, and we also performed shoring on two portions of the stamping plant," Shea states.
ACTIVE INSTALLATIONS
Elsewhere, in Port Sulphur, LA (30 miles south of New Orleans), the company is actively working on the Plaquemine LNG export terminal, owned by Venture Global.
Morris-Shea is installing a total of 24,000 DeWaal piles in the first phase of the plant, which is being constructed by KZJV, a joint venture between Zachry Group and KBR.
A further 18,000 piles could be installed by Morris-Shea should it be selected for Phase Two, which is yet to be awarded.
"We have 11 rigs on site installing up to 150 piles per day, as well as three concrete plants and 75 trucks dedicated to our operation," Shea informs us.
"Phase One will be completed in August, and Phase Two could stretch into 2024. We've been verbally told that we will be awarded the work, but don't have the change order yet."
Another four Morris-Shea rigs are currently working on the installation of 27,000 piles and a large sheet pile supported excavation for the third stage of Cheniere's Corpus Christi Liquefaction (CCL) facility, which continues to be built by Betchel.
Once construction is complete, it will add approximately 10+ million tons per annum (mtpa) of production capacity to CCL, bringing the facility's total nominal capacity to more than 25 mtpa.
"This is about an 18-month job for us. There is a lot of site work to perform, so we are unable to use more rigs," notes Shea.
The company is also working at Novelis' aluminium recycling and rolling plant in Bay Minette, AL, which is one of the state's most prominent construction projects supporting the growing demand for aluminium beverage packaging and automotive solutions.
A $70 million job, Morris-Shea offered a value engineered proposal to change the foundation from DeWaal piles with very large pile caps to high capacity, large diameter, continuous flight auger (CFA) piles, which reduced the schedule, required fewer drill rigs and reduced the pile cap concrete by around 20,000 cubic yards (CY).
"We will be using the 24 inch (in) and 36in diameter CFA piles, and will also construct well over 1,000 feet (ft) of shoring walls for support of deep excavations which range from 17 to 40ft deep. Shoring walls will be performed using a 70-ton excavator equipped with a KEMSOLID Sword, which is similar to a trencher.
"Neat cement grout will be pumped down each side of the sword and create a 24in wide, 43ft max depth soil-cement wall in the ground, with wide flange beams placed vertically every four to six feet depending on the retained height."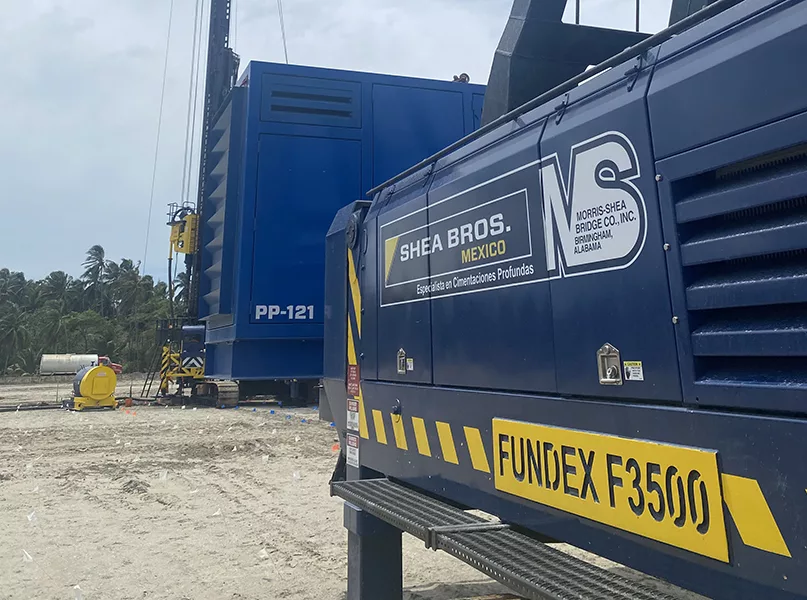 EQUIPPED FOR THE FUTURE
As well as working extensively on a number of deep foundation projects, Morris-Shea has invested heavily in machinery and equipment.
Since October 2022, the company has ordered four new Fundex drill rigs (two F3500s, F2800 and F5600), two used Fundex machines (F2200 and F2800), a new Woltman 90DR, and a KLEMM 806 to name a few.
"We have two Bauer BG28s and a Liebherr LRB355 on rental purchase, as well as the KEMSOLID Sword and a big STS grouting plant that is fully automated. We've also purchased a couple of lattice boom crawler cranes such as the Kobelco CK1100 and the Link-Belt 218," Shea adds.
Morris-Shea likewise keeps a large inventory of spare parts in stock at its equipment yard in Harpersville, including engines, hydraulic pumps, winches, cylinders and electrical components, to try and prevent delays amid supply chain issues.
Even though machinery and equipment are very expensive, and lead times are longer than normal due to ongoing supply chain shortages, the biggest challenge that faces the construction industry is finding enough qualified workers, according to Shea.
"Labor is the most difficult challenge that we face daily. Our crews all travel full time, so it's even harder for us to locate and retail labor than most construction firms that do not travel outside of their home area," he acknowledges.
Morris-Shea therefore offers competitive wages and great benefits to its employees, and equally provides value to clients and project owners with competitive prices, schedules, and an excellent safety record in order to keep its pipeline of work full.
"We are swamped right now, but our jobs are much shorter in duration than those of our clients or typical general contractors, so we have to be on the hunt for new work all the time," emphasizes Shea.
Having lost out on a significant body of work during the COVID-19 pandemic, the biggest risk for Morris-Shea would be for any more projects to be cancelled in the event of a recession.
For this reason, the company now maintains separate project pipelines for commercial and oil and gas projects, the latter of which is more susceptible to cancellations or delays due to the current price of oil, to be more resilient in the future.
MORRIS-SHEA PARTNERS