A force in Boston and the surrounding area, Principal Mike Weber highlights how Gaston Electrical has expanded from humble beginnings to become an industry leader in electrical and low voltage contracting services.
ENACTING ELECTRICAL EFFICIENCY AND EMPOWERING TEAMS
As an exclusively family-owned enterprise, until recently becoming part of the EMCOR family of companies in 2022, Gaston Electrical (Gaston) heralds the advantage of having been managed by the same family for nearly nine decades.
Looking at its impressive history, the company was established in 1934 by Phil Gaston, and then led by Ernest Weber, the grandfather of Mike Weber, the current President of Gaston.
After returning from World War II, Ernest devotedly ran the business until the mid 1980s with a small crew that primarily focused on service projects for a range of local clients.
Following this, Bill Weber Sr., Weber's father, took over the helm, elevating the company to the next level by growing its manpower and taking on more comprehensive tenant fit-up work.
Subsequently, in 2007, Mike and his brother, Bill Jr., bought Gaston from their father and strategically grew the company's client base and workforce to become one of the largest electrical and low voltage contractors in New England. As a result of this growth and success, in 2022, Gaston was sold to EMCOR – a global leader in electrical and mechanical construction, industrial and energy infrastructure, and building services.
Mike has been involved in the Gaston enterprise for a long time, having worked there from a young age.
"I drove the delivery van in the summers throughout high school and worked as a summer helper in the field throughout college," says Weber.
"After graduating from Boston College in 2002, I entered the International Brotherhood of Electrical Workers (IBEW) Electrical Union and began my five-year apprenticeship, working at Gaston the entire time," he adds.
Building commercial properties always interested Weber, which combined with managing the company alongside his brother Bill, has proven to be a rewarding experience.
Throughout their time at Gaston, the brothers have worked in a multitude of roles, including Estimator, Purchasing Agent, Project Manager, and more, which has helped Weber understand and appreciate every level of the business and recognize the importance of building the right team of employees.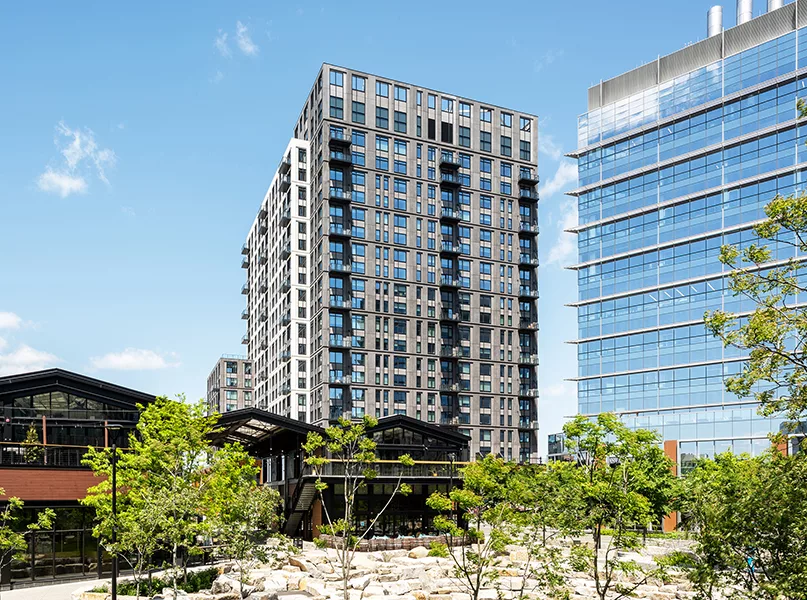 THE POWER OF THREE
Primarily covering the Greater Boston market, Gaston operates within the electrical construction services segment of EMCOR and currently employs over 375 field electricians/technicians and 60 office staff.
Centered around all things electrical and low voltage, the company can be broken down into three separate divisions: electrical construction, low voltage, and service.
"We are a comprehensive company that rarely involves subcontractors, so if your building has a need for electrical or low voltage systems, we perform the work," Weber explains.
Looking more closely at the company's three divisions, the electrical construction subsect is consistently dedicated to a culture of responsibility, professionalism, and reliability at every step of the construction process. Thus, the combined strength of experience throughout the company ensures that knowledgeable planning, management, and execution is consistently achieved.
Meanwhile, Gaston's low voltage division designs and installs specialized network systems for new construction and facility upgrades, while ensuring the highest levels of communication and connectivity with its major stakeholders, employees, and clients.
The company's Service Managers expertly complete end-user and fast-track projects, while remaining on call to mitigate urgent situations for its customers – supported by a team of skilled electricians, low voltage technicians, and a large fleet of service vans.
Each division of Gaston performs across numerous sectors, including ground-up new construction, tenant interior fit-outs, lab and life science, hospital and medical offices, hotels, restaurants, higher education and university buildings, multi-family residential projects, and theatres, to name a few.
Gaston's repertoire serves an increasingly diverse client base, valuing internal and external clients with equal measure. Externally, the company works for top general contractors as well as premier building ownership groups and developers in the area.
"Internally, our customers are our amazing colleagues. We're accountable for every person in the office, as well as field personnel who depend on us to help plan their next installation," Weber comments.
STAYING UP TO DATE
When positioned within the wider landscape of electrical construction, it is a highly exciting time in the industry, as innovation is driving the market forward at a rapid pace.
"When I started in the field in 2000, our installation means and methods were very similar to the way things were done 10 to 15 years prior. Simply put, not much had changed. Over the past 10 years, however, we've seen the evolution of prefabrication and the benefits it can lend to a project," Weber recalls.
This is further supported by emerging technologies in the construction space that have aided the company's efficiencies and productivity immensely. Examples of such technologies include labor tracking software and enterprise resource planning (ERP) systems that help track cost codes and link directly to on-site labor hours.
Moreover, digital modeling software such as Revit and Bluebeam are also leveraged to help Gaston's teams draw installations for prefabrication well in advance and help the team reach optimum success.
Another trend dominating the industry in the northeast of the country is the electrification of commercial buildings. This occurs as building owners and universities are distancing themselves from fossil fuels.
As such, facilities are being designed so that electricity can drive large mechanical systems, thus negating the use of oil and gas, resulting in more complex electrical services and larger, more diverse electrical installations.
Due to the diversity of the industry in the last decade, the market across the northeast (specifically Boston, and Cambridge) has been active in providing a vast range of project types, including leading-edge life sciences, world-class hospitals, top-tier universities, and financial and commercial institutions.
"The growth of Boston and surrounding areas has been palpable, and it's been really rewarding to work with so many of these groups," Weber remarks.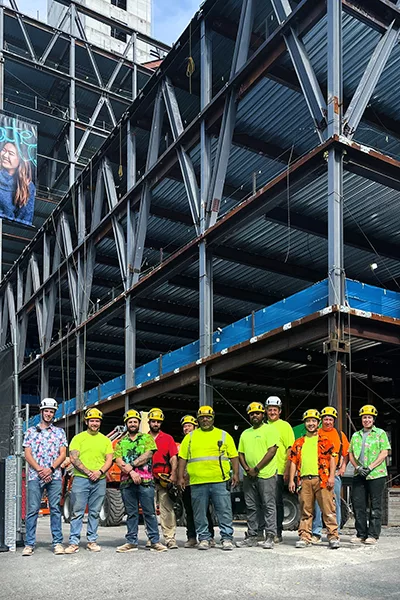 DEVOTED TO SUCCESS
At the core of Gaston's success is its people, as they constitute the company's well-earned reputation.
Whether clients need a single outlet installed in a conference room, a converged network for a new campus, or design assistance for a new high-rise building – it's Gaston's people that make the difference.
Indeed, its employees are at the forefront of technological and processing improvement, with a can-do attitude that builds trust with customers to deliver state-of-the-art projects.
"As leaders, we do our best to put our employees in a position that enables them to work at the top level of their expertise, and empower them to make a difference on projects or the company as a whole," Weber highlights.
Due to the pride it holds in its staff, Gaston has various ways of recognizing its employees' contributions. For example, the company holds frequent staff gatherings to give thanks and develop team comradery, which is one of the organization's outstanding differentiators.
However, with so many employees working at various sites across the region, it can be difficult to convene the whole company at once. Therefore, annual staff outings present a great opportunity to bring together both the office and field teams for a fun afternoon.
"We round out this engagement with our field teams by taking an active and visible role in important yearly industry events such as Women in Construction Week, National Safety Week, and National Mental Awareness Month."
To add to this, the company also promotes diversity and inclusion programs with project partners at each site, via the Associated General Contractors of Massachusetts (AGCMA) and its Committee for Diversity and Inclusion (CFDI). Internally, Gaston has a motivated group of employees who volunteer to help strengthen and maintain the company culture, known as the CORE Crew (Community, Outreach, Recreation, and Entertainment).
Elsewhere, Gaston greatly focuses on technology and ongoing safety training, which includes actively using social media channels to share updates on projects, recognizing employees and project partners for their accomplishments, and educating the market on the company's culture, services, and capabilities.
"Our clients expect us to operate safely and at the leading edge of the construction industry and we pride ourselves on that," Weber asserts.
FIT FOR PURPOSE
One of Gaston's flagship projects includes the recently-completed Boston University Center for Computing & Data Sciences – a 19 story, 350,000 square foot (sqft) building for which the organization completed the core, shell, and fit-out over a two-year period.
This new building, opened in December 2022, is heralded as the largest green building in Boston and has made a dramatic change to the city's skyline with its iconic design.
Gaston's project portfolio also boasts the sleek Park 151 (Parcel I) at Cambridge Crossing in Cambridge, Massachusetts, a brand new 20-story residential building, fitted with 480 apartments.
Gaston performed all the electrical, telecoms, security, and audio-visual systems for the building. Notably, it also completed multiple other core and shell and tenant fit-up projects within Cambridge Crossing, which is one of the largest master-planned developments in the Greater Boston region in recent years.
With such impressive construction feats in its repertoire, Gaston is looking forward to continuing its upward trajectory with additional noteworthy projects across New England.
Namely, the company has recently begun a project for the MIT School of Architecture and Planning. The adaptive reuse project is taking place at the Metropolitan Storage Warehouse building which was built in 1895, and is listed on the National Register of Historic Places.
"This dynamic project will preserve the historic character of the building while upgrading all its systems to meet 21st century higher education programming standards," Weber adds.
Furthermore, the company has just begun work on the infrastructure, core and shell for a five-building campus in North Cambridge, just steps from the Alewife Station, a busy Massachusetts Bay Transportation Authority (MBTA) hub. Thus, the company is making a positive contribution to the city's campus-like environment and helping bolster the wider community of Cambridge.
"All of these projects are a testament to the fact that our customers are coming to us with large, complex proposals because they know our talented people possess the knowledge and hard-working attitude to get them done the right way," Weber shares.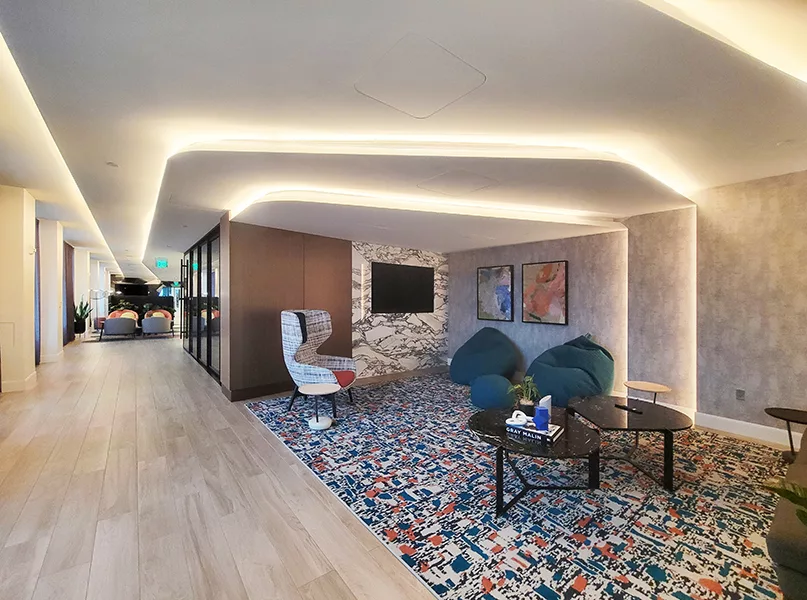 PROVIDING THE PERFECT SUPPORT
Gaston's impressive operational capabilities would not be possible without its supply partners, who ensure that targets and expectations are routinely met.
"We consider our distributors, manufacturers, and factory representatives as true partners, as they are vital to the success of our operations.
"With long lead times for equipment from manufacturers, we especially depend on our partners today for creative solutions to meet each project's budget and timeline," he observes.
Whether it's the smallest form of support, such as a pallet of CAT6 cable or a large order of conduit, Gaston's suppliers are responsible for helping at every stage to sufficiently deliver its projects.
To ensure the best supply partners possible, the company has a list of specific vendors it uses for equipment and supplies. The list is carefully curated to ensure Gaston consistently receives fair pricing and excellent customer service.
Progressing into 2024, the company will persevere with its focus on the safety and well-being of its employees and project partners, as well as furthering the development of its BIM, design, and prefabrication processes. Although Gaston is already well-positioned in these areas, it endeavors to be best-in-class.
"We are good at many things, and we try to stay focused on what we're good at. But we also continually ask ourselves – what small, incremental improvements can we make today that will help us tomorrow? How can we get better by one percent on each project?" concludes Weber.
GASTON ELECTRICAL PARTNERS