Delivering industry-disrupting solutions in distributed energy systems and RNG, EnTech Solutions is accelerating the clean energy future. We discuss resilient, smart energy with Paul Kane, Vice President of Renewable Fuels.
INTRODUCTION
"We are constantly pushing the edge of what's possible and redefining what's possible for our clients."
EnTech Solutions (EnTech) was born from a vision to bring clean energy solutions into the future.
As a division of Faith Technologies Incorporated (FTI), EnTech is breaking new ground in the business of renewables, natural gas and sustainable fuels.
EnTech specializes in distributed energy, eMobility charging, innovative sustainable fuel technologies and asset management for businesses looking for reliable, clean energy solutions. This entails end-to-end microgrid development, installations and optimization.
As the orator of the opening statement, Paul Kane touches on the concept of innovation that is the essential crux underpinning EnTech's continual success on the North American energy stage.
Kane oversees a key segment of EnTech's operations as the Vice President of Renewable Fuels. He brings to the role a wealth of experience in both project development and engineering, procurement and construction (EPC) project execution, gained during his prior tenure at CB&I – a leading contractor in both the oil and gas and renewable energy (RE) spaces.
When CB&I acquired leading process technologies provider Lummus Technology, Kane became familiar with the realm of sustainable and clean fields projects, overseeing the engineering and modularization of components destined for large-scale energy projects.
Kane joined the FTI organization in 2018, and the EnTech division of the business was introduced the following year.
"We formed EnTech Solutions as the renewable energy (RE) business unit of the overall FTI company," he notes.
Operations within EnTech itself are divided into three major areas of focus. The first pertains to distributed energy, delivering systems that ensure customers are always benefitting from the highest value, least expensive and most reliable electricity. Second, the company is a full-solution eMobility infrastructure provider, developing innovative and scalable charging solutions for customers across the US.
Kane also supervises the other primary unit, what he refers to as "the gas side of the business." This unit is the sustainable fuels division which encompasses the work in renewable natural gas (RNG); green hydrogen and other clean fuel projects.
Throughout all channels of business, EnTech upholds a continuous commitment to developing the latest technologies, providing world-class opportunities for its people and its resources.
The newest division within FTI, EnTech is bolstered by half a century of energy experience from the wider FTI business. This equips EnTech with the expertise and technological prowess to take energy solutions to the next level, elevating clean energy resources.
"Innovation is at the core of everything we do," comments Kane. "Microgrids, RNG and green hydrogen – these are all still fairly new concepts to the energy industry that will play a large part in the energy transition."
Without innovation, EnTech would not deliver comprehensive and differentiated capabilities to provide solutions tailored to their customers' individual demands.
"Every client has different challenges, and every facility is unique, so if you're unable to innovate and provide creative, sustainable solutions, then you're probably not achieving business success for the long term," surmises Kane.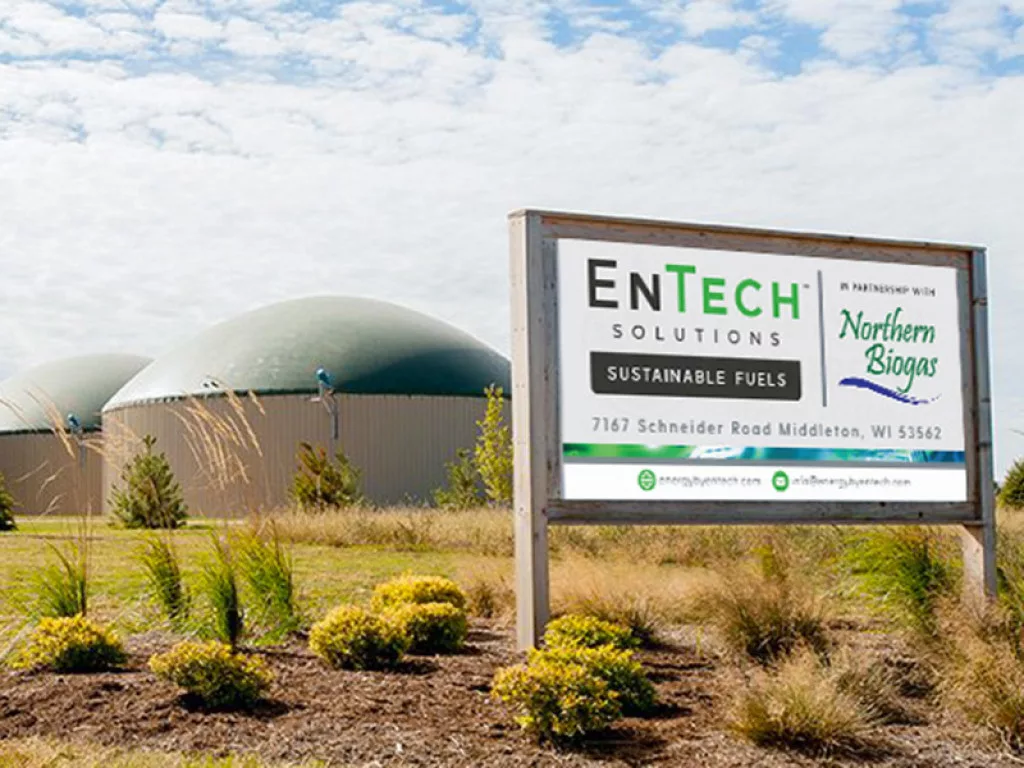 HITTING THE GAS – WASTE-TO-ENERGY
As a major component of the company's renewable fuels business, EnTech is taking great strides in the RNG industry. EnTech works from project conception to commissioning and transforming waste into a clean and renewable gas source.
EnTech's greater penetration into the RNG industry reflects a movement gaining momentum across North America. In the past five years alone, the number of RNG projects undertaken across the country has practically doubled, according to a 2020 report by Wood Mackenzie.
This comes as RNG – a pipeline-quality gas that is interchangeable with conventional natural gas – receives increasing attention as an eco-friendly and reliable alternative to fossil fuels that can effectively power natural gas vehicles.
Today, a record number of Americans are relying on natural gas as a clean-burning fuel that can be used across a host of applications. Although the chemical compounds of both natural gas and RNG are the same and can substitute each other, the environmental impact of the two fuels differs greatly. RNG is the cleaner alternative due to the many sources that can produce it – whether agricultural waste or captured methane gas offloaded by the decomposition at landfill sites.
Essentially, as biogas is processed and purified, RNG boasts a lower carbon intensity (CI) rating than fossil fuel natural gas. This reduced CI score translates to an overall reduction in greenhouse gas (GHG) emissions and methane avoidance. When used in vehicles, natural gas emits six to 11 percent lower levels of GHGs than gasoline throughout the fuel life cycle.
In addition, studies show significantly lower GHG emissions from RNG compared to conventional fossil fuel natural gas.
Within this dynamic area of activity, in late 2020, EnTech acquired an active biogas facility in the town of Springfield, Dane County, Wisconsin. As such, EnTech significantly expanded its clean energy portfolio with the commitment to providing a sustainable energy future by working with local agriculture and county officials.
At this facility, anaerobic digestion is used to convert organic waste from local dairy farms into RNG. A key component in the regional ecosystem, the biogas plant also utilizes advanced filtration technology to reduce phosphorus in the watershed. Caused by overfertilization, the phosphorus found in farm water runoff can be harmful to nearby water bodies.
This agricultural partnership is also significant to the dairy farming community for counteracting the harmful effects of methane – the second most abundant greenhouse gas (GHG) after carbon dioxide. Indeed, according to EPA.gov, the agricultural sector alone accounts for 10 percent of US GHG emissions.
"Partnering with farmers and community members, our team of RNG experts has proven experience in anaerobic digestion and modular gas processing solutions to help drive value throughout the project life cycle," Kane states. "This is a great example of what can be done at other digester sites to produce RNG from biogas streams."
Today, EnTech has partnered with four farm families in this project, gathering manure from more than 4,000 cows to process in air-tight digester tanks. While this process produces a significant amount of biogas, those emissions are captured within the digester rather than released into the atmosphere.
That same biogas stream also holds the potential to be transformed into RNG, offsetting the dependence on fossil fuel-based natural gas with the potential to reduce emissions by more than 11,000 metric tons of carbon dioxide equivalent per year.
Research shows that when all-climate benefits are considered together, RNG from dairy manure can reduce GHG emissions by up to 400 percent when it is used to replace traditional vehicle fuels.
In recognition of this potential, EnTech has repurposed the plant into an RNG facility within this past year. That same feedstock of agricultural waste is now processed into RNG and injected into an interstate pipeline used for transportation fuel on the West Coast.
"We sell the RNG that we're producing at that facility for use in vehicle fleets, to help the end-users reach net-zero goals for their carbon emissions," says Kane.
The pivot into RNG at the facility was born from shifting priorities within the renewable market. EnTech concluded that producing RNG would bring more value compared to the renewable electricity that the existing system had previously generated.
Above all, not only does this facility produce clean energy, but it also runs on it. The site is becoming carbon neutral through the installation of a microgrid to power the electrical demand of the facility.
"To add to the facility's sustainability, EnTech integrated distributed energy technology which produces clean energy for the site," says Kane.
Demanding large capacity, EnTech's DCentrlQ™ microgrid platform provided the perfect solution. Taking advantage of the microgrid's batteries and inverters, the system was paired with solar panels to effectively add a further 2.8 Megawatts (MW) of clean power. This translates to enough energy to power over 400 homes.
"This was a huge investment that we made in acquiring that facility and then expanding it into a complete solution, adding a microgrid to offset our dependence on fossil fuel energy from a power plant and power the facility with renewable electricity."
The microgrid system is then monitored remotely through the advanced software of the EnTech Energy Center™, and used to power equipment throughout the plant, including the dryers used to remove moisture from the biogas and compressors.
In the West Coast marketplace where this RNG is destined, the CI score of the gas determines its value. Every environmental improvement made in the production of that source is reflected in its market value as indicated by the CI score. In turn, the CI values attributed to the RNG can also help various industrial clients reduce the overall carbon footprint of their operations.
"By producing RE at the facility, via microgrid technology, the RNG's CI score will improve, making the fuel more valuable in the marketplace," Kane explains.
"Overall, the facility will reduce emissions by more than 13,500 metric tons of carbon dioxide equivalent per year. This reduction equates to removing the emissions of nearly 34 million miles driven by passenger vehicles."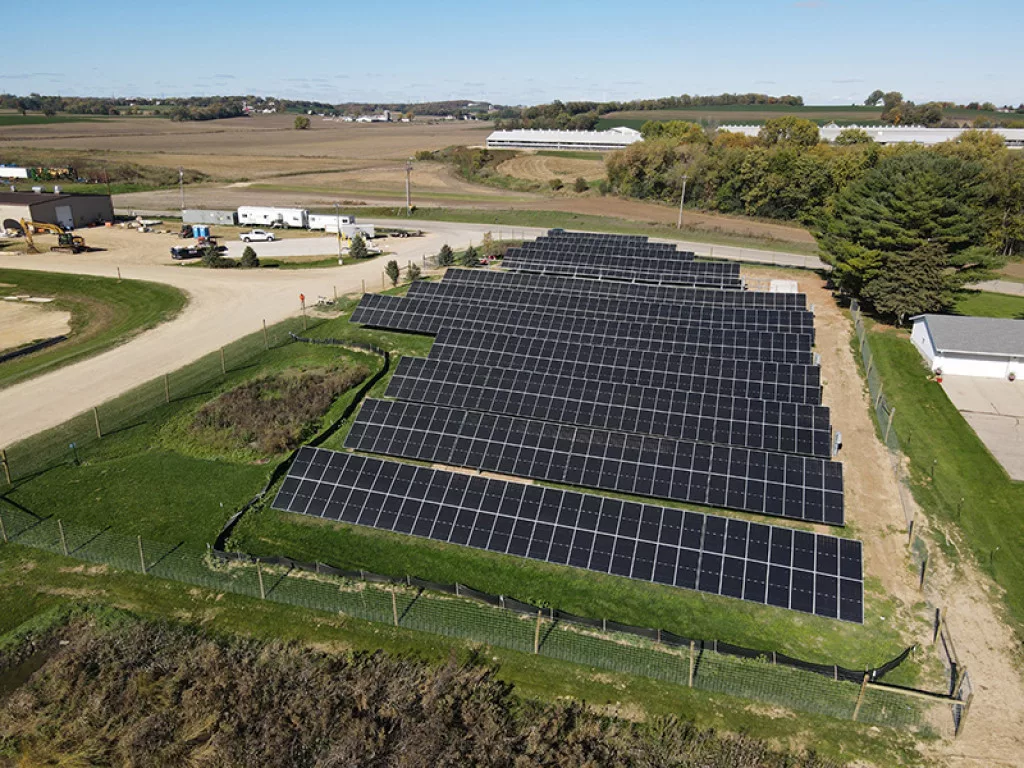 THE COMPLETE SOLUTION
As a champion of a clean energy future, it is a complete solution that EnTech provides, centered on the pillars of resilient, smart, and economical power.
"The solutions that we provide are not only technology solutions to help companies better operate their assets, but they are also EPC solutions where we can work with people in the industry to provide them with a total solution from product development through engineering and design, fabrication, modularization and then construction and commissioning," Kane explains.
This cements EnTech's position as a reliable and trusted partner, effectively serving as the one touchpoint of accountability for all major projects in delivering a total energy solution.
EnTech's pursuits are devised with the farmer and the end-user in mind. Such undertakings and innovations would be futile if they did not add value to the agricultural community and a client's business.
In the current energy climate where sustainable development goals (SDGs) and commitments to decarbonize and reach net zero are growing rapidly, there is ample market demand for EnTech to answer. Such declarations have become commonplace to a whole generation of corporate entities, and it is these companies and businesses that EnTech is primed to serve.
"In the renewable energy business, there's a huge push from energy corporations to achieve net-zero and decarbonize parts of their portfolio," Kane comments.
"The answers that we have developed in the RNG space help our partners and clients achieve net-zero goals by reducing their carbon emissions."
As evidenced by the company's foray into the RNG space, EnTech diversifies beyond electrification, providing companies with resilient energy solutions that enable a greater level of autonomy, controlling their energy destiny and the costs involved.
EnTech Solutions utilizes proprietary energy modeling and optimization software to ensure intelligent, comprehensive, and resilient electricity is delivered from an infrastructure that prioritizes the use of all available resources, such as renewables, storage and the utility grid.
"We continue to bring industry-disrupting energy solutions to the market, breaking out our offerings and continuously optimizing our systems," Kane states.
As a tech-fueled enterprise, EnTech leverages leading software to deliver customized energy solutions to clients.
Energy DNA™ is the company's energy modeling software, effectively used to model a customer's electrical load to assess the feasibility of distributed energy resources – whether in microgrids, solar battery storage, EV charging and more. The tool is invaluable in energy project planning, allowing EnTech to quickly and efficiently run iterations of solar, storage, EV charging, grid-tied and backup scenarios.
This software helps their customers take control of their energy future and unlocks the possibilities of distributed energy.
Complementary to this, the EnTech Energy Center software provides advanced optimization capabilities that help to drive businesses forward. Offering full visibility and control of microgrids, the platform provides instantaneous performance information utilizing machine learning and artificial intelligence.
As the foundation of the EnTech digital energy platform, EnTech Energy Center acts as the nucleus of the system, providing critical and instant information on performance levels across both the system and at the component level controlling the relevant microgrid.
EnTech Energy Center prioritizes all assets in real-time to ensure customers are receiving the highest value, least expensive and most reliable electricity from all available energy sources.
EnTech's microgrids embody flexible, resilient and smart solutions that cater to a varied range of energy needs – ideal for when quick deployment is necessary or a larger capacity is required. As an actively managed energy generation and storage system, a microgrid can generate electricity from all major renewable sources. This combination of distributed energy assets allows users to harness and store electricity for later use.
Indeed, across North America alone, the market for microgrids is one defined by healthy growth. As forecasted by Graphical Research, the use of microgrids is expected to escalate significantly by 2027 due to the rising integration of sustainable electrical infrastructure and a growing reliance on RE. The industry outlook, as a whole, is accelerating thanks to the expansion of smart electric networks combined with advanced distributed generation technologies.
EnTech's smart microgrid solutions are at the vanguard of this dynamic market shift. The company's portfolio includes two primary models of microgrid solutions –Xcape™ and DCentrlQ.
A rapidly deployable microgrid solution designed for quick installation, Xcape delivers renewable grid-tied or off-grid power whenever and wherever clients need it.
Xcape operates on power generated from solar panels while storing excess energy in the battery system to meet customers' needs today and in the future.
In other words, Xcape guarantees uninterrupted operations. If solar power is unavailable due to cloud cover or during the night, it will continue to provide resilient power by sourcing electricity from the battery system, the grid, or a clean-fueled generator.
As a smart choice for on-demand access, Xcape is equipped with real-time digital access to energy production and consumption stats, with system intelligence maximizing the use of renewable clean energy. It is also an expandable and scalable solution that can adapt to evolving energy needs.
Meanwhile, for clients in the commercial, light industrial, eMobility charging, agriculture and off-grid sectors, DCentrlQ is an efficient direct current (DC) based microgrid solution providing sustainable and cost-effective energy.
"For clients with larger or more complex needs, EnTech's DCentrlQ is an efficient DC-based solution delivering sustainable energy to help lower your utility costs and provide energy resilience."
DCentrlQ is an integrated distributed energy solution that can support any energy source, load, power system and entry point with an innovative DC technology that reduces system complexities and caters for higher efficiency. Since it is a modular platform, DCentrlQ is easily scalable to power growing energy needs.
"The platform utilizes an architecture that can accommodate nearly any electrical load. Integration is simple, and DCentrlQ units can be built to meet a client's specific needs," he informs us.
With all the solutions that EnTech offers, security is paramount. The company continuously implements next-level security measures to keep both systems and data secure. Constant monitoring and industry-leading safeguards ensure critical infrastructure elements are protected for reliable system operations.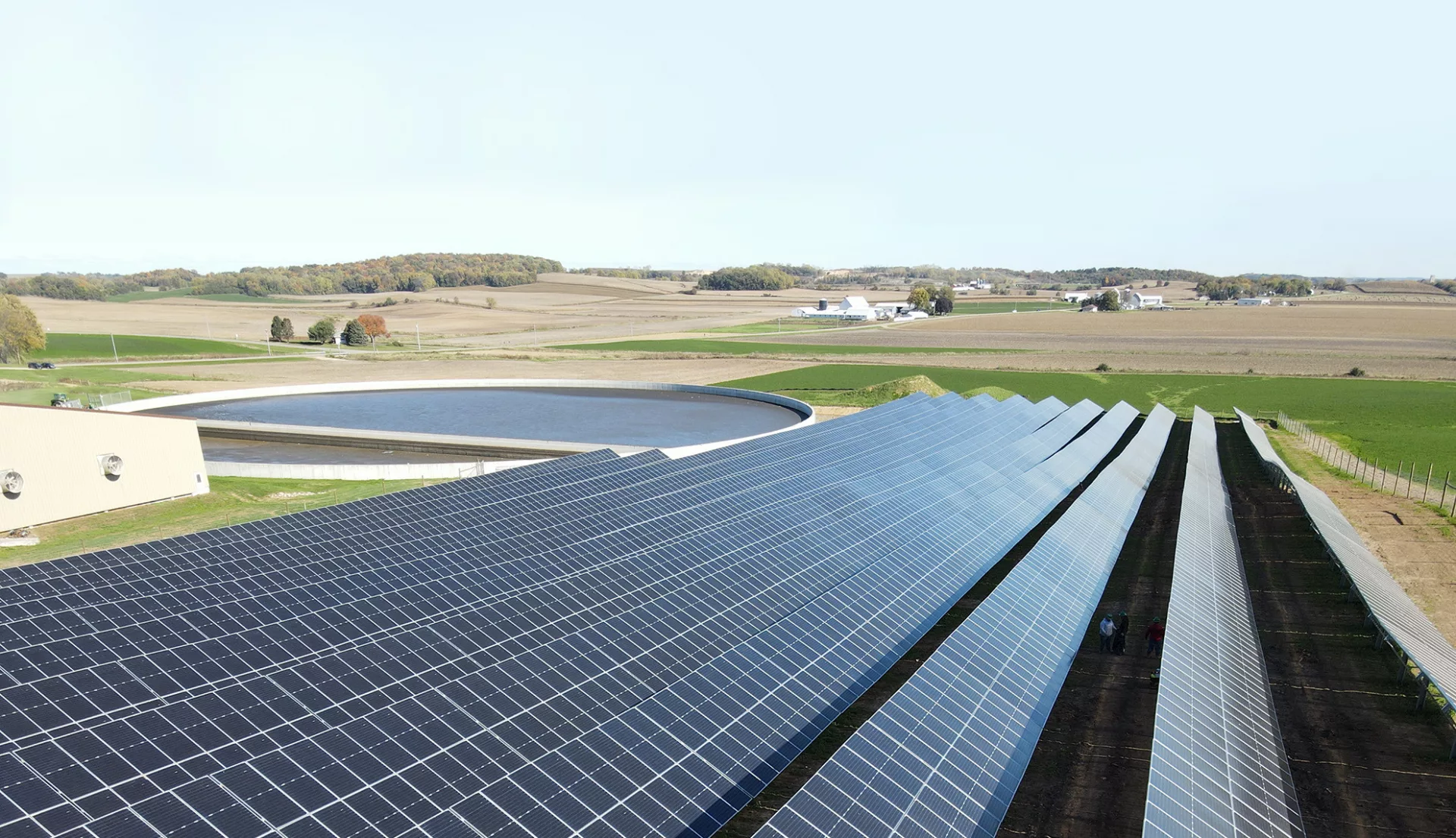 ACCELERATING THE GREEN FUTURE
Across the globe, the call to transition to green energy is deafening. In this realm, the token elements of our everyday lives are changing, from the transport that we take to the petrochemicals found in the clothes we wear and the plastics we use.
In the context of this widespread concern and the many sources of application where clean energy has a role to play, EnTech's growth areas are varied as the company seeks to decarbonize facilities on behalf of its clients on a global scale. Unleashing the potential of green hydrogen will be critical in this regard.
"Green hydrogen is a building block for many clean fuels across the globe where companies are trying to decarbonize their portfolios, so we are looking at how we can use RNG or wind power to provide green hydrogen to such facilities," Kane concludes.
With its industry-leading expertise, advanced suite of solutions and reputation as a trusted and reliable partner, for EnTech Solutions, the future is green.