Encompassing innovation and flexibility with world-class training capabilities and industrial automation services, we speak with CEO of Bell and Howell, Larry Blue.
INTRODUCTION
Running through the headquarters of the next-generation service organization, Bell and Howell, stands a long hallway. Known as 'the Blue Mile', it is the physical embodiment of an esteemed legacy of innovation represented by the company's history, with every foot of the space marked by a plaque representing a Bell and Howell patent.
"If you look at the history of Bell and Howell, this company has pivoted multiple times in the businesses that we're in. Our culture supports this," comments the somewhat appropriately named Larry Blue, CEO of Bell and Howell.
The mile encompasses the spirit of agility and flexibility that Bell and Howell is celebrated for. With a legacy dating back to 1907, it is, unsurprisingly, a long corridor.
Bell and Howell's journey of innovation is mirrored by the career path of its present CEO. An engineer by trade, Blue's working history has witnessed the launch of the pre-cursor to the ethernet at IBM, the development of the first five generations of chip sets for the Direct TV set top box whilst at Hughes, and the first dual mode reader for RFID systems at Matrix before he was headhunted into the ranks of Bell and Howell.
"All of my career has basically been in some form of communications," he tells us. "I joke that I basically devolved from high-speed wireless communications at IBM and satellite communications at Hughes, to doing mail at Bell and Howell."
As Blue suggests, mail is a mainstay of the Bell and Howell business today, alongside "non-mail service businesses". Complementary to building and selling inserters for the mail industry, Bell and Howell's service organization accounts for approximately half of the company's revenue. In addition, Bell and Howell has to date installed over 1,800 automated pickup solutions.
In 2014, Blue was brought into the business to champion a major turnaround, joining part of a new management team as Chief Operating Officer. In the face of a declining mail business suffering from the advent of email and electronic communication, Blue and the executive team were tasked with reviving the company. First on the agenda, was customer research.
"We went out and talked to customers and one of the things they told us was that our equipment was ok, but our service was extremely good," Blue recalls.
"That was an aha moment where we realized we ought to be focusing on service. So, over the next three years, we basically took our 800-man service field technician organization and started to focus them on growth industries as opposed to the mailing industry."
Today, the service side of Bell and Howell provides a broad-based set of services for automation equipment OEMs. In 2016, the company serviced 10 different OEM nameplates, a number that has grown to over 60 today, with eight new deals having been signed this year alone.
By 2018, Bell and Howell had stabilized, thanks to the growth of its service business in the non-mail space. It was during this time that the company diversified into the realm of automated pickup solutions. This now extends to product lines in grocery, general retail and retail pharmacy for prescription pick-ups.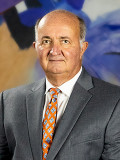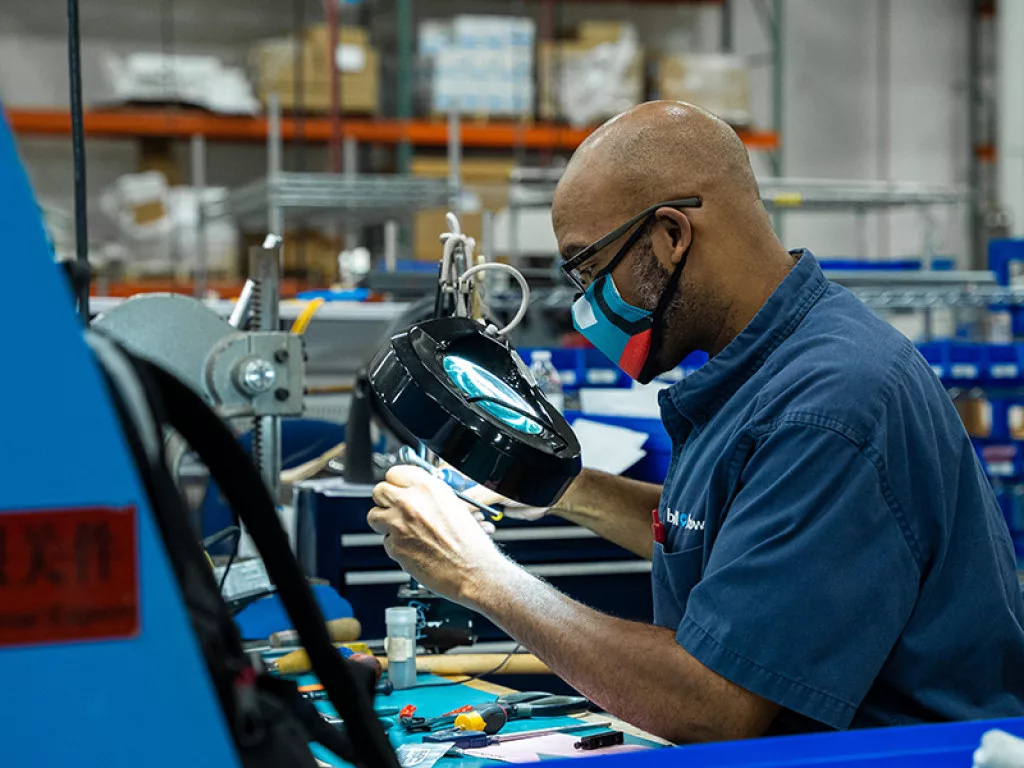 NEW SOLUTIONS
In the same way that Bell and Howell's foray into mail was born from identifying a need for improvement in the market, so too was the company's venture into click and collect solutions, which arose from the recognition that the US was lagging significantly behind other countries in terms of drop off and pick up locations, particularly the UK and Europe. Again, opportunity came calling.
"We saw that as an opportunity in the US and went out and did a survey of companies that were building equipment that could be used in that space," Blue tells us.
Subsequently, Bell and Howell embarked on a partnership with an Estonian company who had developed automated locker systems for delivery collection. Both parties pursued a fruitful distribution opportunity throughout the US up until 2020, with installation serviced and sold for the likes of Walmart, Home Depot, and Canadian Tire.
"That was the start of the business for us. We've since developed our own solutions, as well as continuing to distribute," he explains.
2020 represented a watershed year for Bell and Howell. When the COVID-19 pandemic struck, although traditional retail suffered, the grocery delivery business exploded. This market shift propelled Bell and Howell into the space.
"Pre COVID-19, buying groceries online or picking up in store was less than five percent of the total market. Now, projections are somewhere between 18 and 22 percent as a direct result of the pandemic.
"We have been very successful in the grocery space. At this point we have hardware in five of the top eight grocers in the US and we have some interest from a couple of grocery chains in Europe. That is where our significant growth comes from."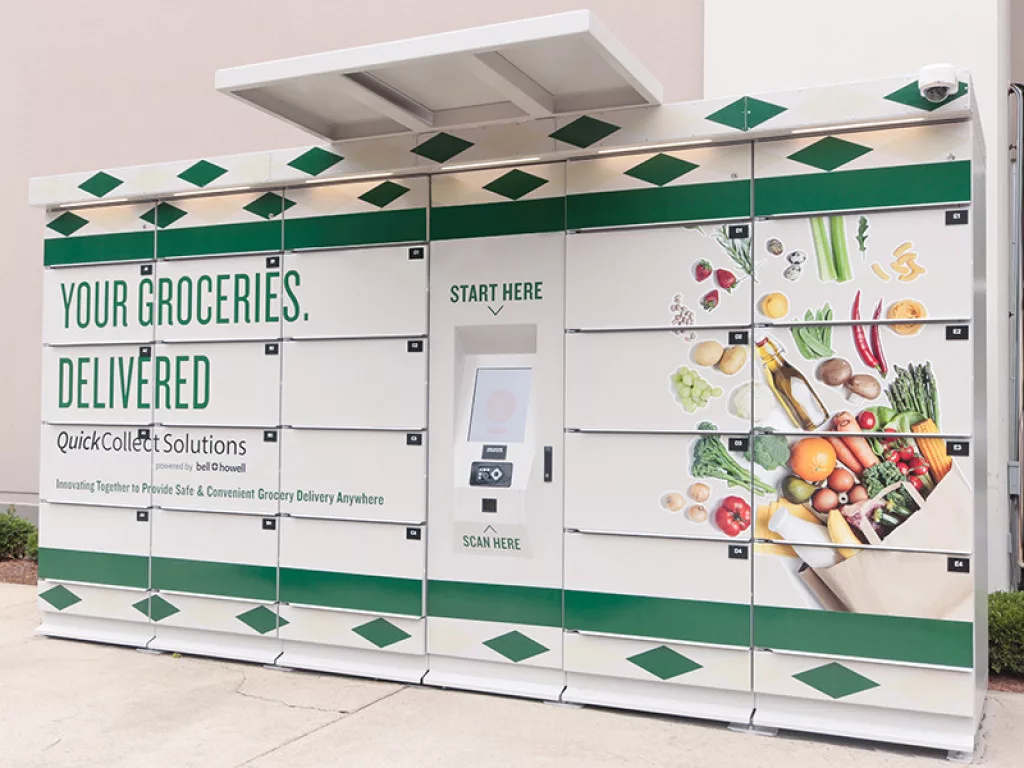 THE BELL AND HOWELL DIFFERENCE
Whether in services, mail, training or click-and-collect, Bell and Howell boasts defining qualities that give it the edge over the competition. Across all segments, skill, capability, and the depth and breadth of the company's geographic distribution stand apart.
The strength in service that guided the Bell and Howell overhaul in 2014 still exists as a key differentiator across the business today.
"In our service business, we work 24/7, 365 days a year, and we can get to almost any zip code in the US in about two hours. A key differentiator is our ability to respond quickly, since our install base of skilled technicians is second to none," Blue comments proudly.
The industry leading skills and capabilities of Bell and Howell technicians are matched by cutting edge mechatronics, software and electronics. Effectively, Bell and Howell's engineering prowess is such that the company can service a diverse breadth of machines.
In addition, for the past 16 years, the Bell and Howell training program has been officially recognized as amongst the top 100 worldwide.
"This year, we are 24th in the world. For the past four years we have been improving by advancing technologically with virtual instructor-led courses, remote monitoring and the launch of a data analytics practice that allows us to perform predictive maintenance," Blue explains.
Flexibility is a cornerstone at Bell and Howell, within both the company's history in navigating successful diversification, and in catering to the needs of its customers. This is best evidenced by the click and collect space, where different consumer buying habits based on varying geographies define the most suitable solution.
"In the click and collect space, we have the broadest product line of anybody out there. In this new market space, a lot of the companies that we compete with have one solution – either lockers or some type of automatic storage and retrieval system (ASRS). They try and force fit that solution into every one of the applications.
"In retail, one size just doesn't fit all – you need to have the variety, and the ability to provide a basic locker, all the way up to a system with five different portals that is basically an automated store in a box."
This is embodied by the company's latest innovation – the multiple portal QuickCollect GO!™ POD. An indoor or outdoor pick-up solution, the product was developed after significant customer analysis that identified the need for a service with several different portals to simultaneously allow loading while serving the consumer.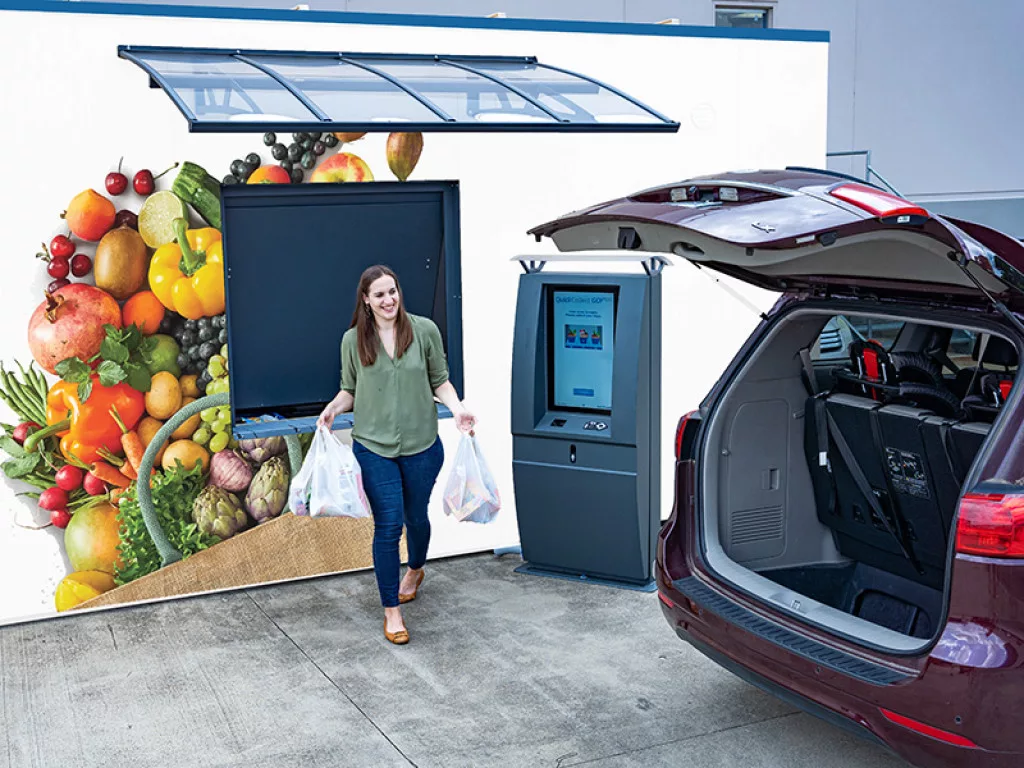 INNOVATION INCORPORATED
Bell and Howell's unsurpassed engineering talent truly lends itself to innovation at the company. It is a concept entrenched into the Bell and Howell's DNA and reflected by its progressive culture.
At the crux of guaranteeing continual innovation, Bell and Howell follows a process launched by the Center for Innovation Management Studies (CIMS) at NC State University in Raleigh, North Carolina.
"This is an essential playbook in terms of how you manage and evaluate innovation. The key is getting our folks to keep coming forward with new ideas – even just small ideas as to how we can improve a process or save money.
"It is these small incremental improvements in processes and products that collectively make a big difference. We encourage that type of thinking," says Blue.
As part of institutionalizing the CIMS process, unleashing people potential is paramount.
Blue advocates for the need to "unlock the engineers", ensuring they don't get so tied up fixing problems or sustaining existing products that no room is left for spending time on new things. This creativity and expertise can then act as the North Star for future endeavors.
For 2022, Bell and Howell will be committed to the widespread rollout of the QuickCollect GO!™ POD, with several orders from major chain stores already queued up. Aside from this, the company will be expanding its OEM customer base for service.
"First and foremost, we're an industrial automation services company. This is a huge area of focus for us, as labor markets are short so wages are going up across the board.
"This forces more companies to consider automation. There's a lot happening in our OEM service organization causing diversification in location, customer base and training, forcing us to do things differently as we continue to take on new OEM customers," he concludes.
With expanding product lines and a growing customer base, the potentially limitless corridor that is Bell and Howell's Blue Mile will only continue to grow.