Sphere is a next-generation entertainment medium that is revolutionizing the future of live events. A striking addition to the Las Vegas skyline, it is also a model for renewable energy use by entertainment venues around the country.
REDEFINING LIVE ENTERTAINMENT
The Las Vegas skyline is one of the most recognizable in the US, brilliantly lit up by neon lights, flamboyant fountain displays, and astonishing architectural wonders.
East of the Las Vegas Strip, the cityscape's most famous and photographed avenue that is home to world-renowned casinos and hotels, there is a bold – and spherical – new landmark that has transformed the skyline.
Part of the Sphere Entertainment Co. portfolio, the first Sphere venue opened in Las Vegas in September 2023 and will host a wide variety of events, including concerts and residencies from the world's biggest artists, Sphere Experiences from leading Hollywood creatives, and premier marquee events.
This impressive spectacle has captured worldwide attention for its stunning visual displays and immersive, cutting-edge technologies that enable audiences to share experiences on an unprecedented scale.
Sphere boasts a 580,000 square foot (sqft) fully-programmable LED exterior – the largest LED screen on Earth – an unparalleled 360-degree canvas capable of showcasing a wide range of impactful artistic and branded content to audiences around the world.
The visually spectacular exterior consists of approximately 1.2 million LED pucks, each containing 48 individual LED diodes, capable of displaying 256 million different colors.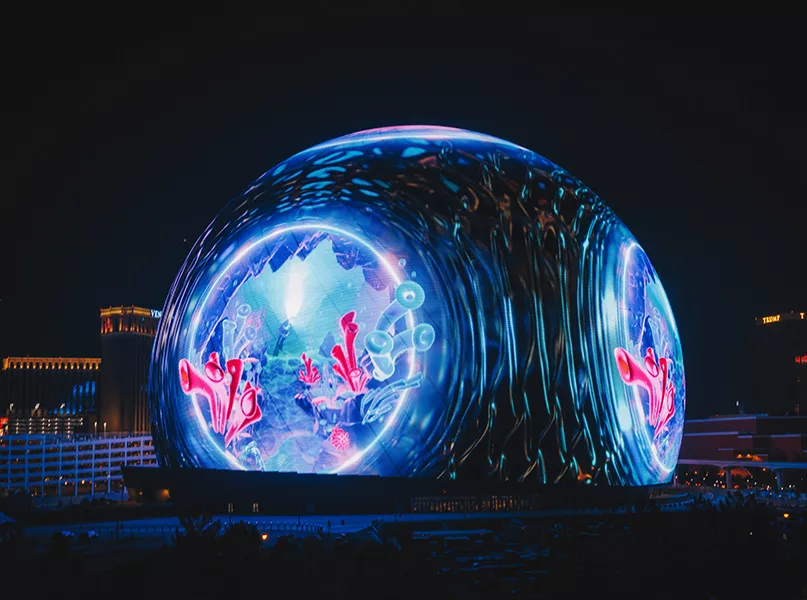 DEDICATED SOLAR POWER
As well as being designed as a vivid, eye-catching new landmark on the Las Vegas skyline that redefines immersive live entertainment, Sphere was also created from the outset with sustainability in mind and sets a new industry standard when it comes to renewable energy.
The venue's awe-inspiring exterior and interior LED screens, for example, utilize the most energy-efficient lighting available today, whilst Sphere's advanced distributed heating and cooling system avoids wasteful reheating.
Sphere's data centers have additionally been designed to conform to state-of-the-art, energy-efficient hot-aisle containment strategies and in-row cooling.
A 25-year agreement with NV Energy, the primary electric utility in Nevada, has also been submitted by Sphere Entertainment Co. which, if approved by the Public Utilities Commission of Nevada, will provide the highest amount of dedicated solar power available to Sphere.
It is also maximizing the amount of available green power serving the venue as part of the agreement, by using a dedicated renewable and battery storage resource being developed by NV Energy.
Sphere will voluntarily acquire certified renewable energy credits for any portion of electricity that is not derived from renewable resources, fully mitigating the impact of all non-renewable power sources and emissions resulting from the creation of electricity for Sphere.
Based on its forecasted usage, Sphere Entertainment Co. estimates that approximately 70 percent of the venue's power will be derived from dedicated solar and battery resources.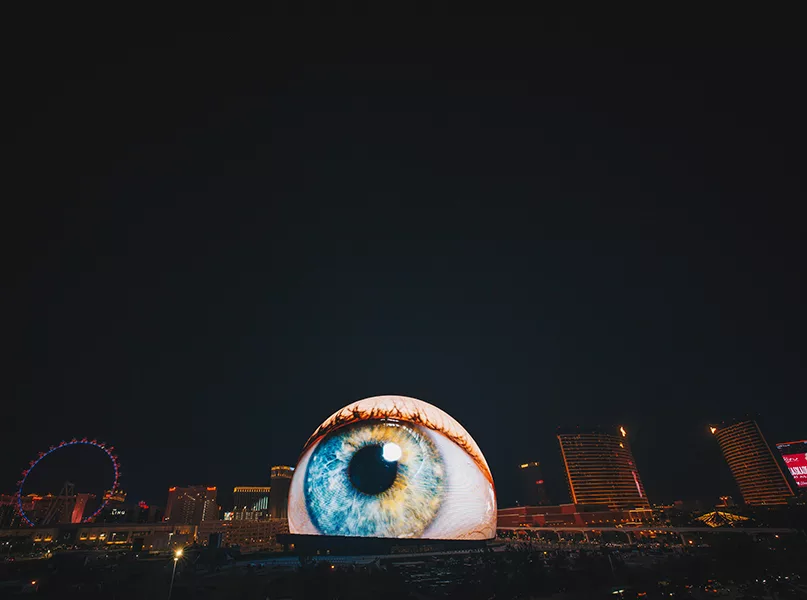 ENERGY-EFFICIENT AMPLIFIERS
In October 2023, Sphere Entertainment Co. also announced that energy-efficient amplification technology leader, Powersoft, has contributed immersive haptic technology and cutting-edge amplifier solutions used in Sphere.
Powersoft's energy-efficient amplifier technology made it the perfect partner to help achieve Sphere's sustainability goals without compromising on audio or haptic quality.
The technology is integrated within the venue's 10,000 revolutionary haptic seats, which were first utilized during Darren Aronofsky's Postcard from Earth.
As part of Sphere Immersive Sound, it also powers the world's most advanced concert-grade audio system with maximum energy efficiency.
Sphere Immersive Sound has set a new benchmark in every aspect of live audio, and tens of thousands of spectators have already been immersed in its crystal-clear, individualized sound.
Developed specifically for the venue's unique curved interior, Sphere Immersive Sound is powered by 167,000 amplification channels provided by Powersoft's compact, ultra-efficient 16-channel amplified solutions integrated into the HOLOPLOT X1 audio system (shown left).
HOLOPLOT X1 leverages Powersoft's energy-efficient innovations, including Power Factor Correction (PFC) and Class-D Pulse Width Modulation (PWM), two technologies that have directly reduced the environmental impact of the audiovisual industry.
The benefits of PFC technology adoption, for example, include a lower carbon footprint and energy savings of approximately 40 percent compared to traditional amplifiers without PFC for the same output.
PWM, meanwhile, transforms energy drawn from the mains at Sphere into usable power that recycles the reactive energy produced by its loudspeakers.
An audiovisual wonder that ignites the senses, Sphere is redefining the future of live entertainment whilst minimizing its environmental impact.