Calgary-based TARA Energy Services have been facilitating oil and gas industries across North America with state-of-the-art equipment for over 20 years. We discuss a greener future with CEO Scott Bissell at a defining moment within the sector.
When CEO and founder of TARA Energy Services, Scott Bissell first entered the oil and gas industry at the age of 17, the industrial landscape was very different from the challenges and trends shaping the sector today.
"This is when I first became passionate about joining such an innovative industry."
Indeed, innovation is a word that has come to define North America's resilient oil and gas sector, as it is forced to adapt to new technologies and propose solutions for a world with changing energy needs.
For TARA, innovation is a guiding tenet propelling the company forward. Without it, TARA would not enjoy such an established reputation as a leading provider of field services and state-of-the-art oil and gas equipment across North America.
Almost a decade after joining the company, Bissell now spearheads the Calgary-based company as a superior provider of production services and well testing for some of the biggest names across North America's oil and gas Industries.
"With over 700 employees and operational offices across Canada and the United States, we are able to facilitate many different basins."
An essential component in the midstream sector, TARA is a trusted provider for the processing, storage and transportation of precious energy commodities. These include natural gas, oil and other usable materials to be distributed to refineries and petrochemical plants.
The company's custom solutions include unique portable midstream capabilities, SAGD, and multi-well flowback operations, as TARA endeavours to meet the varying needs of today's producers.
TARA is tasked with providing production support through a portable, unmanned midstream infrastructure chain, equipped with a sizeable fleet, a well-equipped team and bolstered by 22 years of experience. This is what enables them to excel across all three components of the midstream sector: gathering and processing, transportation, and storage and logistics.
"TARA currently has internally manufactured and introduced the largest process spec-built flow back fleet in all of North America," Bissell informs us.
By manufacturing internally, TARA benefit from an unparalleled versatility and knowledge of their own equipment. Their in-house technicians are of the highest calibre, guaranteeing quality manufacturing and giving the company its edge.
"TARA's equipment is built and certified to an international standard, while the company itself has invested heavily in implementing and improving industry standards relating to safety and environmental requirements."
"Our standard in equipment and quality management sets us strides ahead of our competitors."
In their continued dedication to providing the highest quality equipment for their clients, TARA strikes a fine balance between economizing and ensuring maximum profitability at every level for both the client and the company, whilst also allocating significant funds for investments to further the company.
Although new investments are essential, so is retaining the company's pride in offering competitive prices for their custom services.
"Our focus on optimizations through the creation of financial efficiencies and innovation is a major focal point for our clients when choosing TARA. Our ability to provide efficiencies and uphold the highest standards in flow back always allows our project management to stay below budget."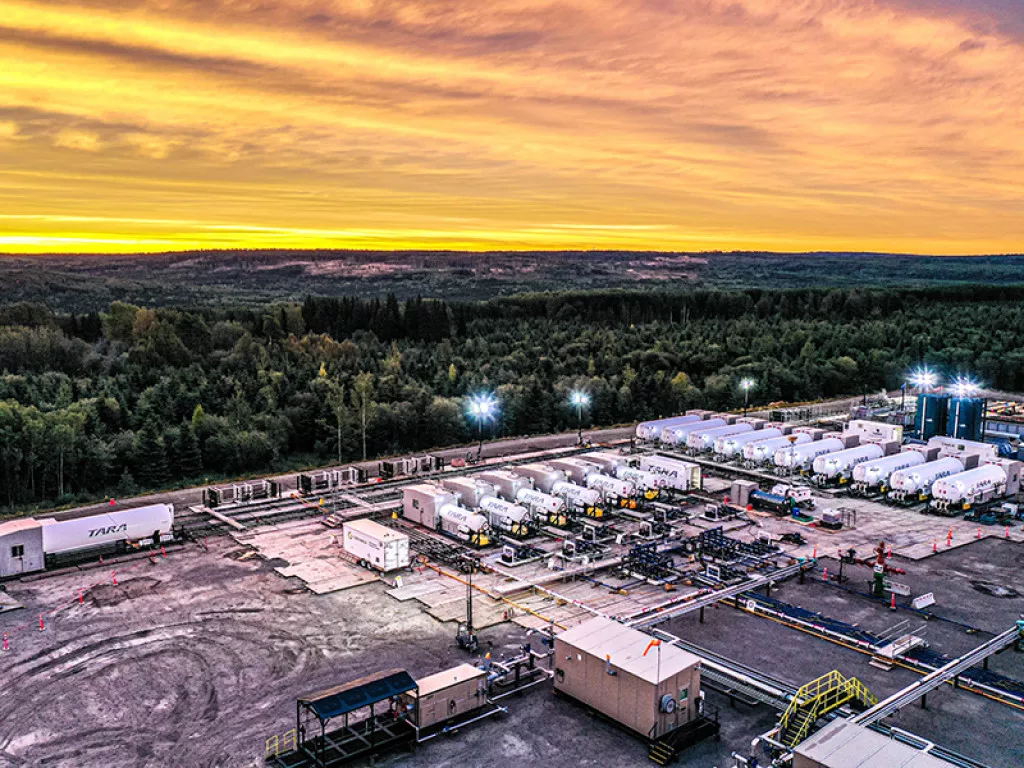 Meanwhile, expansion is still very much on the agenda.
"We are committed and dedicated to extensive capex programs towards the further growth of our fleet."
"We have expanded Canada and have set up a new shop and operational base in FSJ, BC. We are also very focused on developing and growing our North American business into other states."
This is also evidenced by Tara Energy Services' 'Industry Standards Initiative', which comprises the company's various investments intended to improve industry standards, mainly pertaining to environmental and safety requirements. This comes as the result of various mandates resulting from the industry's current environmental concerns.
TARA have reacted admirably, by introducing features such as digital metering, process spec shutdowns, and patent-pending internal separator designs inclusive of mist extracting weir plates and diffusers to decrease greenhouse emissions.
"In focusing on our stewardship, we have also inclined industry standards towards emission mitigation by finding ways to decline environmental impact and ensure sustainability for the future generations to come."
This leaning towards a greener, more sustainable future comes at a time when oil and gas companies must realign their practices to suit a long term reduced demand for petrol and a worldwide effort to reduce our carbon footprint. With this comes an ambitious vision.
"As a leading provider in the industry, sustainability is at the forefront of everything we do. At TARA we have made it our mission to pave the way in true Green Completions through channels of technology and strategic partnerships to achieve our Zero Emissions Strategy."
The same model of sustainability extends to TARA's workforce.
"Our sustainability practices are and have always been to focus on internal development while adding professionals from all aspects of the industry."
"We're very focused on internal development. We like to train and offer development, and we see a four-year plan for how we will develop each of our staff on our platform down the road… Our diversity in executive management experience allows us to continually grow our people and push them to further and develop their careers within TARA."
By pursuing long-term relationships and commitments to the company, both with staff and partners, TARA prioritizes a sustainable approach to the company's future.
With a procurement team based in Canada and the US, TARA works with a "cherry-picked" list of partners that will ensure mutual growth. The same approach and careful consideration apply when working with clients.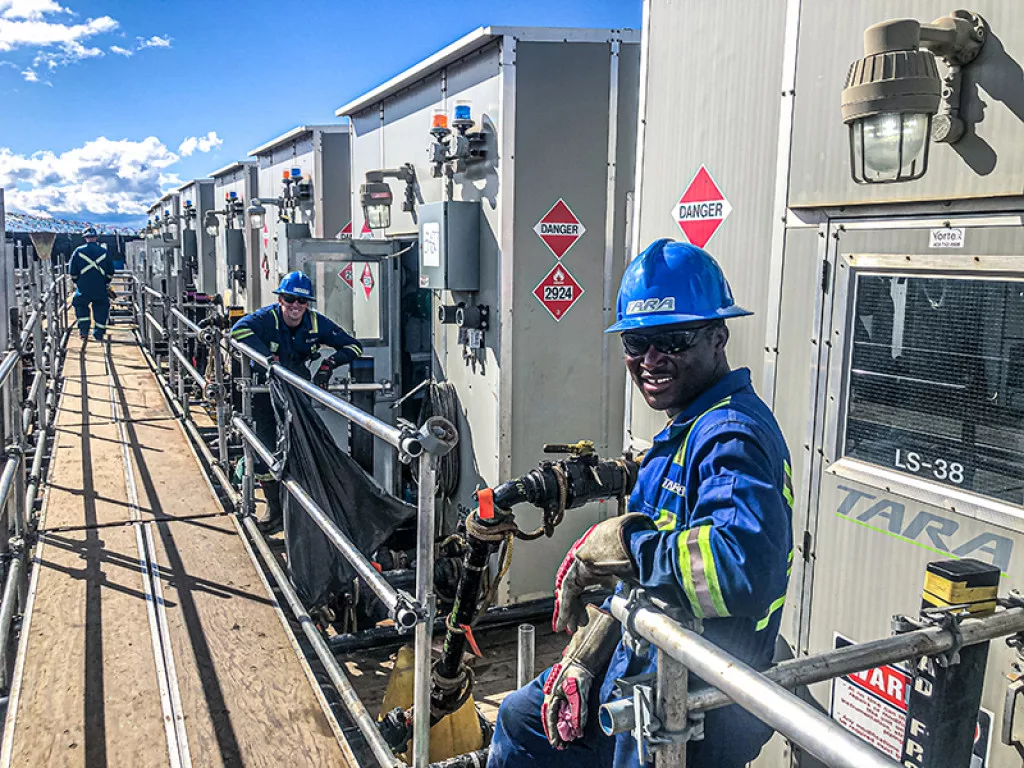 "All of our clients are considered working partners. We take an approach of really understanding their end goals and strategize how we can we help streamline their projects to execute below budget, but at higher standards."
"Our supply chain department is very key to our many successes and is a large focus of TARA."
Indeed, strength in solidarity and partnerships are needed now more than ever as the pandemic threatens an unprecedented downturn for the industry.
Bissell himself defines the industry's current state as a time of "much consolidation", as oil and gas companies worldwide confront the effects of the pandemic.
According to a report published by Deloitte, in April 2019, global oil demand fell by 25 percent. Remarkably, the industry underwent a remarkable recovery and has since cut its losses to just 8 percent.
This is an industry that is accustomed to surviving the peaks and troughs of economic cycles. Indeed, even before the pandemic oil and gas companies were weathering market headwinds.
Although the downfall resulting from this pandemic leaves many energy companies facing uncertainty, contributed to by the longer-term decline in petroleum demand, COVID-19 has merely accelerated the arrival of the new energy future.
Bissell is therefore optimistic in his outlook and welcomes the potential that comes with this time of upheaval.
"With the pandemic and large decline in commodity prices both variables have created much difficulty in market but have also presented much opportunity. TARA is excited to continue to bring forward new innovations and welcome the challenges of today's market."
The normalization of economic activity remains a vague prospect in the distant future, however forecasts for 2021 suggest that oil demand will recover.
By prioritizing new investments towards a greener future, TARA embodies and supports an ethos that will continue to survive.