It's UPS®, but not as you know it. Jeff McCorstin, President of Global Freight Forwarding at UPS Supply Chain Solutions®, tells us how the world's largest package delivery company is helping businesses control their supply chains.
THE SURPRISE PACKAGE
"With more than three decades at UPS® under my belt, I would say that I bleed brown!"
It was 1990 when Jeff McCorstin originally began his esteemed career at UPS®, one of the world's largest package delivery companies, as a peak season package delivery driver.
Though UPS® is famous for delivering packages all over the planet with legendary precision, it turns out that the company also offers an unexpected wealth of services and expertise to help streamline global supply chains.
Indeed, McCorstin today has progressed to the role of President of Global Freight Forwarding at UPS Supply Chain Solutions®, the freight and logistics arm of UPS® that manages every aspect of global supply chains.
"My responsibilities continued to grow in line with our company's direction, and it made sense to be involved with the supply chain solutions industry, where we assist customers with their global supply networks and their need for more than express small parcel delivery," he tells us.
"It truly allows us to provide end-to-end supply chain solutions on behalf of our important customers."
The best supply chains stay in constant motion, and UPS Supply Chain Solutions® keeps them humming along by helping customers control three fundamentals: the doing, the seeing, and the optimizing.
Global Freight Forwarding, overseen by McCorstin, is one of four businesses that comprise UPS Supply Chain Solutions®, along with Global Logistics and Distribution, Mail Innovations, and Coyote Logistics, each with several of their own services and capabilities to meet the ever-changing needs of customers.
Global Freight Forwarding services provided by UPS Supply Chain Solutions® are easily accessible, highly reliable, and extremely flexible for balancing speed and cost-efficiency requirements.
"Under my area of responsibility, we offer several services that support our customers' needs, such as international air freight, North American air freight, ocean freight, and customs brokerage," informs McCorstin.
"With our Global Freight Forwarding solutions, we accommodate the needs and challenges that our customers come to expect."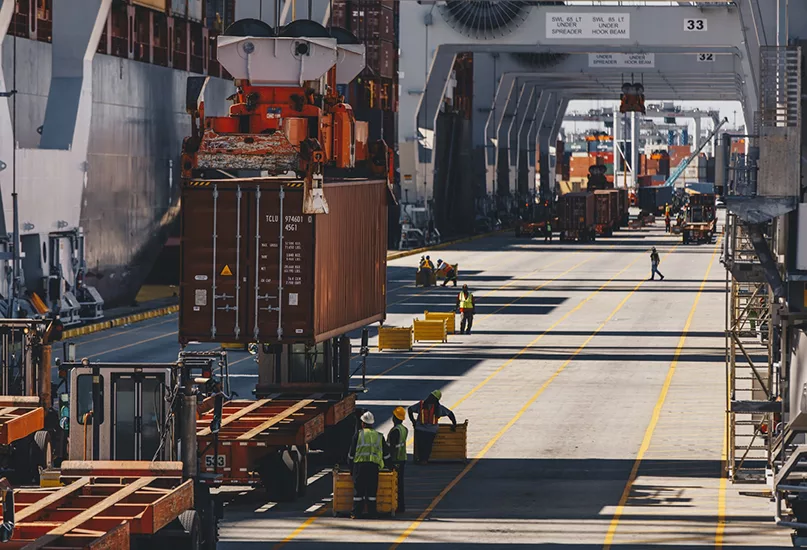 AIR FREIGHT SERVICES
Within international air freight, UPS Supply Chain Solutions® stands as a top 10 air forwarder whose large global fleet and extensive carrier partnerships ensure access to flights around the world.
From urgent, next-flight-out service to door-to-door service within one to five business days, UPS Supply Chain Solutions® has a trusted network of airline flights, charters, and strategic partners to get cargo to where it's needed, when it's needed, and on budget.
Serving more than 14,000 origins and destinations worldwide, this global presence and scale assists UPS Supply Chain Solutions® in acquiring international air freight capacity.
Efficiently and economically moving goods within and between the US, Canada and Puerto Rico, meanwhile, is the company's North American air freight service.
"We have a North American air freight product which is a heavyweight next-day, second-day and third-day defined service, as well as a Trade Direct® Cross Border service offering in the US, Mexico and Canada," McCorstin states.
Cross Border is one of three Trade Direct® services that allow UPS Supply Chain Solutions® to meet international supply chain needs, complemented by Trade Direct® Air and Trade Direct® Ocean.
Leveraging the breadth and reliability of the UPS® global network, Trade Direct® handles freight consolidation via air, ocean and ground transportation, customs clearance, and direct delivery to multiple addresses within the destination country, all through a single source.
By consolidating individual shipments to the same destination country into just one shipment, UPS Supply Chain Solutions® can cut customs clearance times.
"One of the values of being both an asset-based provider in our small parcels business, and a freight forwarder in our supply chain solutions business, is to offer a one-to-many solution – we call it Trade Direct®."
"A customer can make a single shipment that has multiple recipients for final delivery; we can clear customs as a single shipment then drop it off into our small parcel network for the final recipients to receive their goods," McCorstin elaborates.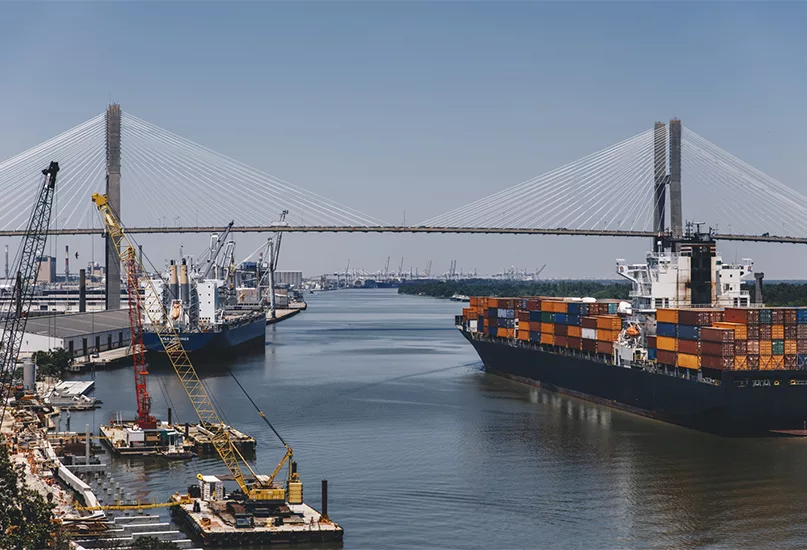 NEXT LEVEL SHIPPING
By sea, UPS Supply Chain Solutions® is one of the world's top non-vessel operating common carriers (NVOCCs), with contracted space allocation with major global carriers to ensure access, competitive rates, and reliability.
Ocean freight is moved across more than 2,300 shipping lanes daily by UPS Supply Chain Solutions®, who as an experienced NVOCC provides up-to-the-minute customs expertise, visibility and communication every step of the way for those considering expanding to new markets.
The company's value-added ocean freight services can take shipping to the next level, bolstered by strong expertise and network infrastructure around the world, and best-in-class visibility tools to provide end-to-end control.
"We support our customers at the origin with a purchase order management service. In essence, we are the eyes and ears for customers that need to consolidate multiple vendors' projects into an ocean container but do not have people in the country," explains McCorstin.
Having been in transportation and logistics for more than a century, UPS Supply Chain Solutions® is likewise used to being on the front lines of customs brokerage, helping to inform and lead compliance policy, support public affairs, and ensure the best interests of both customers and the trade community are well represented.
As one of the world's largest customs brokers, UPS Supply Chain Solutions® has close relationships with customs agencies, superior timeliness, a wide breadth of in-depth solutions, and ensures its customers' needs are heard by not just following the rules but helping to make them.
The company also has a range of innovative multimodal services, including sea-air, rail from Asia to Europe, ocean LCL (less than container load) and preferred LCL to name a few.
These multimodal services ensure the right balance of speed and economy, as they are often less expensive than air freight yet faster than ocean freight, making them a perfect transportation alternative.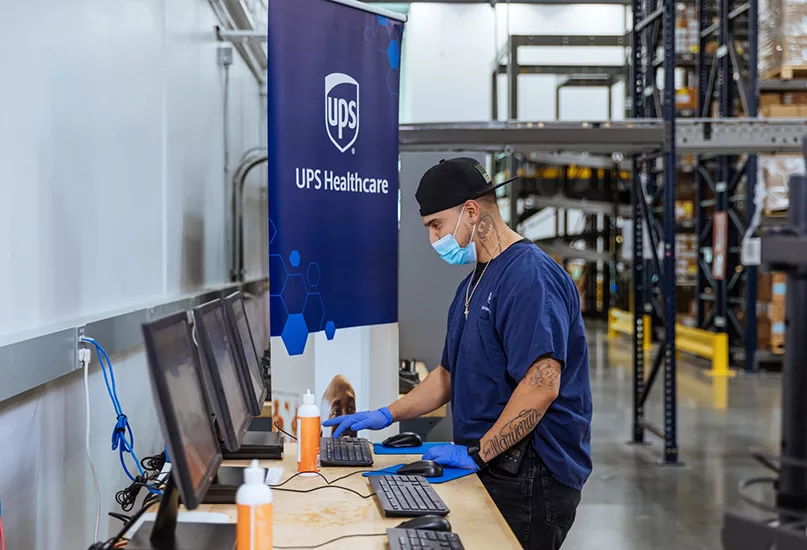 INSPIRATIONAL LEADERSHIP
UPS Supply Chain Solutions® has more than 115 years of transportation and logistics experience, whose global footprint, breadth of perspective, competencies, and capabilities are proven to help businesses of all sizes to deliver the right balance of speed and cost-efficiency.
But what sets the company as a whole apart is the 550,000 UPSers around the world, including more than 12,000 Global Freight Forwarding employees, that make it happen every day and exceed customer expectations.
"Empowering our staff with the autonomy to not only bring their unique selves to work but to make decisions that will support our customers' needs is a must."
People are the most important asset at UPS Supply Chain Solutions®, as demonstrated by the company's leadership model, which is designed to build a culture that retains and grows its employees.
"We have a leadership model that is all about the head, heart, and hands. The head is about strategy – can you solve complex problems? Are you innovative? Do you think outside the box?" McCorstin comments.
"The heart is where I really believe my biggest strength is, and it's all about inspirational leadership and being inclusive. Diversity, equity and inclusion (DEI) means more than just diversity of gender or race; it also means diversity of thoughts and experiences, making sure that we're perceptive, reading the room, and making sure that we are collaborative."
McCorstin has always believed in being a cross-functional collaborative leader, and that hearing multiple people's opinions is the right approach.
The third and final trait that McCorstin leans into as a leader is the hands, which involves delivering results, being accountable, adapting to market conditions, and being a strong team builder.
"I like to try and keep things straightforward with my team and how I communicate with our employees," he affirms.
DECISION MAKING TOOLS
Citing his belief in the simple concepts of tools through technology, processes, and people, McCorstin informs us that UPS Supply Chain Solutions® has been investing in these three areas to make its operations more efficient through improved systems capabilities and make its operators' jobs easier so they can focus on improving the customer experience.
"We're building out our digital fluency and our tools through technology. It arms and empowers our frontline operations teams with good data to be able to make decisions on behalf of our customers on a real-time basis.
"It's about providing better tools for better insights so that our employees around the world can be more proactive and make better decisions. We work with a number of providers, like The DDC Group and Domo, that are about tools through technology," McCorstin notes.
By leveraging updated technologies, UPS Supply Chain Solutions® can better connect its systems to eliminate redundancies and streamline data transfers with customers and vendors.
Then, by taking that data to the next level through improved visualization and data democratization, the company makes decisions significantly closer to real-time than in the past.
"Empowering our operators with agile decision-making tools is one of our top focus areas," reveals McCorstin.
"Our recent collaboration with Domo is taking us into the world of data democratization, where – with the right controls and securities – we can get data to those who need it in an almost seamless manner, with speeds that we've never seen before.
"It's really exciting to see desk workers be able to see live dashboards which highlight where shipments need attention well in advance of actual problems, thus proactively enabling decision-making to avoid impacting transit times," he adds.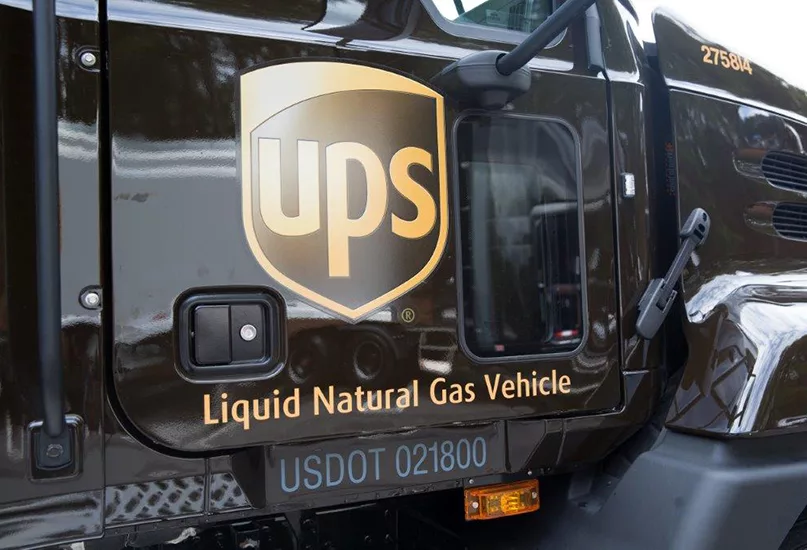 SUSTAINABLE INVESTMENTS
The Global Freight Forwarding business at UPS Supply Chain Solutions® has evidently seen unprecedented investment in recent years, from operating systems to big data tools and even the company's gateway network, with construction recently completed in Chicago and Frankfurt.
A continued focus on sustainability is at the forefront of the company's investments, exemplified by the numerous electric forklifts and compressed natural gas (CNG) vehicles purchased by UPS Supply Chain Solutions® to reduce its carbon footprint and minimize its impact on the environment.
For McCorstin, these investments are not only exciting but show customers and operators that the company is serious about moving into the future of freight forwarding.
UPS Supply Chain Solutions®, together with shareholders, customers, suppliers, communities and employees, cares deeply about sustainability.
The company's culture centers around the values established by the founder of UPS®, Jim Casey, who believed in giving back to the community and being responsible social and environmental stewards.
"Today, we approach sustainability holistically and in alignment with our customer first, people led, innovation driven strategy," states McCorstin.
UPSers know that doing good in the world is also good for business. Thus, sustainability has always been a core value of the company, whose latest sustainability report highlights the progress it is making towards important goals that deliver good in the world, including its goal to achieve carbon neutrality across Scope 1, 2 and 3 emissions by 2050.
PANDEMIC RESPONSE
Another area of investment for UPS Supply Chain Solutions® is in its new, modern office spaces, which accommodate the hybrid working environments popularised during the COVID-19 pandemic.
It was throughout the pandemic that UPS Supply Chain Solutions® also delivered equitable access to critical healthcare services, and worked tirelessly to accelerate vaccine distribution and help keep communities as safe as possible.
The staff and wide range of services played a crucial role in this, as UPS® delivered more than one billion vaccine doses by December 2021.
This impressive milestone was made possible through innovative approaches, one-of-a-kind UPS® Premier tracking technologies, industry-leading cold chain solutions, and an expansive, sophisticated, global network providing UPS® Healthcare services to customers and communities around the world.
Not only did the global UPS® network support healthcare customers and global organizations, but it also joined in public-private partnerships to provide vaccines and cold chain expertise to hard-to-reach countries, ensuring delivery to as many people as possible.
To achieve this, UPS® Healthcare mapped roughly 500 trade lanes to enable seamless worldwide vaccine shipments and used more than three million pounds (lbs) of dry ice to help safely move the vaccines.
"UPS® Healthcare set the global pace for COVID-19 vaccine delivery, supported by the unmatched dedication of UPSers and the company's global logistics capabilities and expertise. Medicines derived from biologics and delivered via cutting-edge cold chain networks represent the future, and UPS® Healthcare is leading the way," McCorstin acclaims.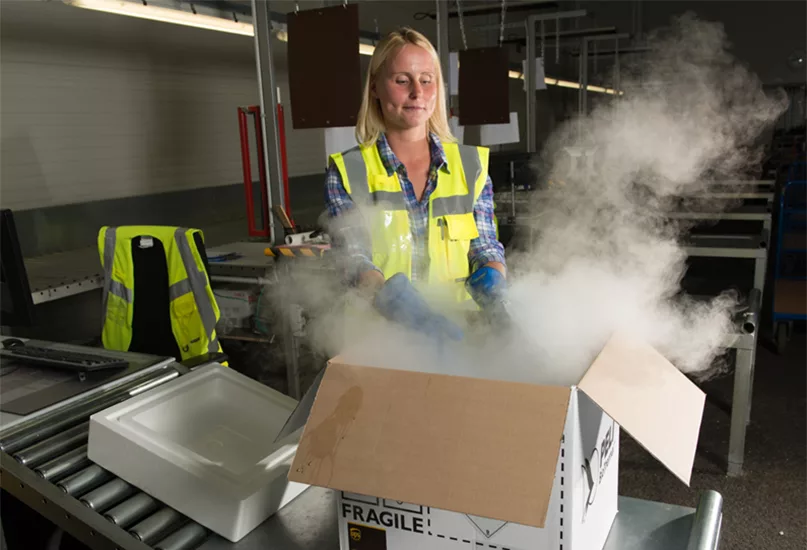 US GOVERNMENT'S PROJECT AIRBRIDGE
Prior to the critical delivery of COVID-19 vaccines, UPS Supply Chain Solutions® was called upon to bring personal protective equipment (PPE) into the US during the pandemic.
This important role came as part of the US Government's Project Airbridge, which was created to shorten the amount of time it takes for medical supply distributors to import PPE and other medical supplies into the country.
UPS Supply Chain Solutions® was sourced by the Federal Emergency Management Agency (FEMA) to bring PPE into the US, where supplies had depleted over recent years.
"We were a major facilitator of US bound PPE over a three-month period at the beginning of the pandemic. Our first dedicated charter flight was in the first week of April, and by the end of June, we did more than 350 dedicated charters, of which more than 200 were for Project Airbridge," shares McCorstin.
As an order of magnitude, every one of these aircraft could handle 100 tons of PPE, which allowed the US to open up at a much faster rate than the rest of the world.
Then came the pivot to COVID-19 test kits, of which hundreds of millions were provided by UPS Supply Chain Solutions® throughout the US.
"The pandemic was the most impactful moment of my career because lives were truly at stake," McCorstin says.
As the world has mercifully emerged from the pandemic, helping customers to navigate constant supply and demand changes in the air and ocean freight markets is paramount for UPS Supply Chain Solutions® in the coming year.
The company is focused on being the global freight forwarder of choice and will therefore also leverage UPS® Browntail air freighters to utilize available capacity and provide better service to customers, as well as leaning into the growing healthcare industry and supporting both enterprise and small and medium-sized businesses (SMBs).
Additionally, UPS Supply Chain Solutions® will continue to help its customers to reassess their supply chains whilst building out a digitally enabled ecosystem, both operationally and from a customer input and visibility perspective.
"It is about moving the world forward by delivering what matters. If the customer is happy, we are happy!" concludes McCorstin.
UPS SUPPLY CHAIN SOLUTIONS® PARTNERS