Experts in all things logistics, The Scarbrough Group specializes in guiding its clients through the intricacies of both international and domestic trade. President and COO, Adam Hill tells us more.
MORE THAN A LOGISTICS PROVIDER.
"The Scarbrough Group is more than a logistics provider; we are a partner."
Founded in 1984, The Scarbrough Group has meticulously grown its global logistics operation one client and employee at a time, as the opening words of President & COO Adam Hill perfectly encapsulates. Whether concerning international freight forwarding, customs brokerage, domestic trucking, or warehousing, The Scarbrough Group manages supply chains differently and innovatively.
This has allowed the company to remain a people-first organization with an unmatched dedication to traditional values and a firm commitment to supporting its communities. Customers, suppliers, and partners can truly expect more from The Scarbrough Group as a prominent and elite logistics provider.
Having joined the Scarbrough Group in 2006, Hill has been assisting in its impressive growth trajectory ever since. While leading Scarbrough International's Customs Product as Director, US Customs Brokerage, he led the organization to become one of the first 20 customs brokers in the US to utilize the Automated Commercial Environment (ACE), the system through which the trade community reports imports and exports, and the government determines admissibility. Along with this, he brought the Simplified Entry Pilot Program to Missouri airports, which has significantly enhanced the security and speed of US Customs release for air freight shipments.
After only his first year on the job as President, Hill guided the Group through the COVID-19 pandemic to its best years to date along with a sustainable growth model that has tripled the size of the firm since Hill took over the day-to-day.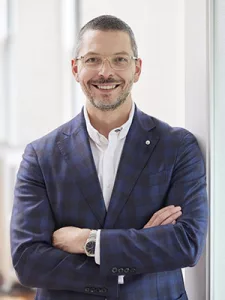 "My initial foray into this industry was an absolute accident, as is the case with most people when entering the logistics industry. I was handpicked to be an intern with Scarbrough International, a Scarbrough Group company from the university I was studying at, and I've remained here ever since," Hill recalls.
Gradually increasing his roles and responsibilities within the company, Hill collected a vast amount of experience within many facets of The Scarbrough Group's operations before taking over as President in 2019.
Elsewhere, as the company has built its sturdy foundations for success on a person-by-person basis, its teams continue to bring their unique talents and perspectives into a dynamic group of supply chain professionals. With this dedication to assembling the ultimate team of industry-leading experts, The Scarbrough Group prides itself on building strong relationships, providing competitive benefits, and encouraging professional growth for everyone at all levels of the company.
Positioned as a vital cog in the overall machine of the broader Scarbrough Group, Scarbrough International Ltd. (Scarbrough) brings together a seamless partnership of customs brokerage and international freight forwarding in a singular and convenient supply chain solution.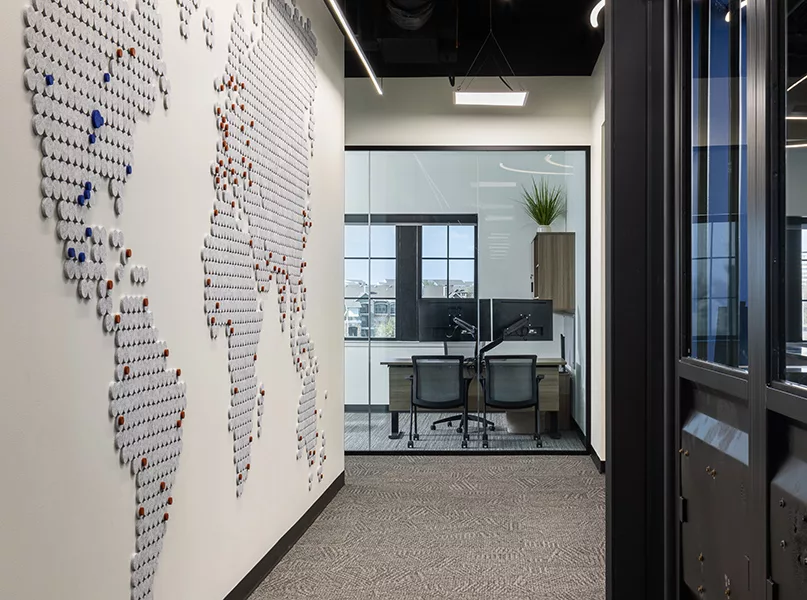 PERFECTING THE PROCESS
Headquartered in the heart of the US, Kansas City, Missouri – Scarbrough is a full-service international and domestic logistics provider with offices throughout the Midwest. With multiple offices across both the US and Mexico and partner offices in numerous countries across the globe, Scarbrough's presence worldwide allows for a superior customer service experience and creates value-added, modernized partnerships.
"Our import and export specialists guide our clients through the intricacies of international trade. With worldwide connections and global business partnerships, we can help your freight arrive on time and within budget every time," Hill acclaims.
Scarbrough's customs brokerage services endeavor to help its client's freight traverse the US, Mexico, and Canada borders with ease, aiming to create a stress-free and smooth process for all parties involved.
"Our brokers work directly with Customs and Border Protection (CBP) and other entities to ensure smooth customs clearance processes. From duties to documentation, we handle all the steps for efficient operations at ports and borders," he tells us.
Elsewhere, Scarbrough's Special Projects Division handles atypical jobs beyond normal freight forwarding. From large equipment to bulk cargo, this team takes on challenges that lie outside the bounds of standard shipping containers. Therefore, as a crucial component of Scarbrough, the Special Projects Division ensures that clients always have resources available for unique logistics services.
Another exciting development Scarbrough is proud to announce is the launching of new lanes to consolidate its freight service, an express operation that delivers freight from ports in both Europe and Asia directly into Kansas City.
"We're a service provider at the end of the day. The tasks that we complete, whether that's moving a piece of freight, clearing a customs entry, or picking an item off the shelf to ship it, are enhanced with added value through our level of service, and this is what truly sets us apart," explains Hill.
BOUNCING BACK FROM ADVERSITY
The last couple of years were truly disastrous for the global logistics industry in the wake of the treacherous consequences brought on by the COVID-19 pandemic.
Whilst these tumultuous times created numerous opportunities for businesses to capitalize during the gradual logistical rebuild, there was also a huge amount of pressure placed on individuals, logistics companies across the world, and global service providers, including the team at Scarbrough.
Finally emerging victoriously from the mire of this global crisis, Scarbrough's growth has now been diligently re-aligned with the figures that the company was recording during 2019 in a pre-COVID-19 world.
"The industry is witnessing a rebalancing after the last few years of absolute insanity," Hill declares.
Existing as a mid-size company, compared to some of the gigantic competitors it shares its industry with, Scarbrough has benefitted from its ability to continue serving a multitude of customers during such a barren period for the sector and has allowed the company to capture new market shares across many areas that were previously unavailable or deemed out of reach.
This has led to broader growth for Scarbrough, as it has continued to increase the size of its teams in parallel to the inflated portfolio of fresh business opportunities and successes.
"We've doubled the headcount of our team and increased our business by almost threefold, so whilst the COVID-19 pandemic was obviously devastating from a human perspective, we've managed to capitalize and eventually prosper in a business sense," he adds.
STRENGTH IN DIVISION
From a single carton to an entire charter, The Scarbrough Group does it all across its five specialized operating companies: Scarbrough International, Scarbrough Consulting, Scarbrough Logistics, Scarbrough Transporation, and Scarbrough Warehousing.
Scarbrough Logistics has helped partners with their domestic transportation needs for more than three decades and quality, accountability, and consistency continue to guide this seamless and smooth asset-based trucking operation.
"Scarbrough Logistics' drivers and dispatchers work to deliver freight to regional destinations. When you need trucking solutions with a personal touch, you can always count on us," declares Hill.
Meanwhile, Scarbrough Transportation provides an array of assorted North American truck brokerage services. From oversized and flatbed loads to full truckloads, this division of the business goes the extra mile to find its client's ideal solution. Scarbrough's transportation brokerage team is ready to make every job easier.
The final two divisions consist of the consulting and warehousing arms of the business, all collated under one giant Scarbrough Group umbrella. Scarbrough Consulting gives supply chain partners the tools they need for compliance, profitability, and efficiency.
"We provide insight into the complexities of end-to-end logistics. From duty drawback consultations to personnel training, our experts use experience and expertise alike to advise a business toward supply chain stability," he finishes.
Alongside this, Scarbrough Warehousing provides storage, compliance, fulfilment, and distribution services from multiple locations strategically placed throughout the US. Through this division, Scarbrough reaches more than 80 percent of the continental US population within a two-day delivery window, complemented by the Scarbrough Warehousing network, which simplifies delivery to businesses and consumers.
Conclusively, the strength of the company truly lies in its ability to pivot and adapt to its client's needs, and this has helped Scarbrough establish itself as a key player in the logistics industry and foreshadows that it will remain the partner of choice for years to come.
SCARBROUGH INTERNATIONAL LTD PARTNER