The supply chain sector is continually evolving to fulfill the demands of growing online retail and e-commerce. We speak to the executive team at Hy-Tek Intralogistics and take a look at the company delivering automated solutions to companies across the US supply chain space
THE FUTURE OF LOGISTICS
We would be lost without the support of the supply chain industry.
With the festive season only days away, it falls on the sector and the myriad players and systems within to fulfill the holiday spirit and connect people with goods and packages en masse. In this industry, using the latest technology and most efficient systems is critical to the long-term success of logistics operations and the supply chain's continued fluidity.
Specialists in systems integration are the masterful minds behind a company's smooth operation, efficiency, and overall business growth, utilizing supply chain expertise to solve complex business problems for companies of all sizes – enter Hy-Tek Intralogistics (Hy-Tek).
THE PERFECT WHEEL
With headquarters in Columbus, Ohio, Hy-Tek provides state of the art distribution and fulfillment solutions to simplify and improve business-to-business (B2B) and business-to-consumer (B2C) growth. Hy-Tek's leading supply chain solutions solve multiple, complex business problems for companies in every state of the US, who work with the Hy-Tek team to delight their customers and create a more efficient warehouse system.
Hy-Tek is the result of various specialized companies that integrated to form the company today. Since 1963, Hy-Tek and its best-in-class industry partners – including manufacturers of industrial equipment, conveyor systems, automated storage and retrieval systems– have provided customers with turnkey solutions. From customized storage systems to pre-assembled buildings and off-the-shelf products, Hy-Tek's experienced team of consultants, software developers, engineers, account managers, operations specialists, installers, controls engineers, and project managers partner with customers to enhance productivity, streamline processes and boost profitability.
Moving into the millennium in 2002, Hy-Tek expanded integrated systems to focus on opportunities across the US, opening an office in Hebron, Kentucky and assembling a team of experts to manage the business.
"20 years ago, our objective was to create what we call the "perfect wheel" because the process was much slower at the time," introduces Sam Grooms, CEO of Hy-Tek. "We were trying to do everything with the logistics services business, from consulting and software to implementation, electrical installation, and programmable logic controller (PLC); anything within the realm of what it takes to produce an integrated system within a distribution center."
For Grooms, it was – and remains – Hy-Tek's imperative to create bespoke, fast-running, and seamless systems. Compared to the company's ramping up of systems development in the early 2000s, the present day offers a far greater wealth of technological opportunity when it comes to implementation and increasing efficiency.
"There was a far more limited range of things to incorporate in the realm of material handling in the past," Grooms affirms. "A perfect example of this is collaborative robotics, unavailable 20 years ago but fully integrated into what we do today. We specialize in optimizing and automating systems within a warehouse or distribution center – this is intralogistics."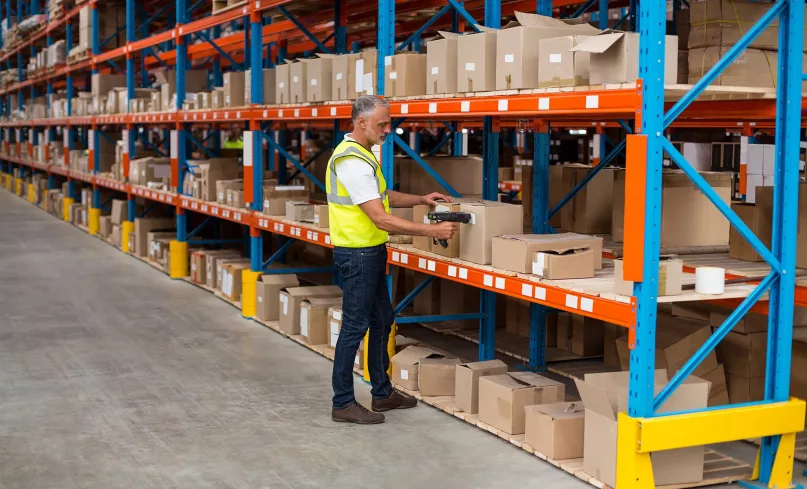 REVOLUTIONARY ROBOTICS
The turn of the decade saw the world collectively experience a new kind of challenge; COVID-19 impacted almost every industry and highlighted to companies the importance of a smooth-running supply chain.
On top of offering its various consulting services and solutions, Hy-Tek has risen to the challenge by supplying businesses with warehouse management systems (WMS), transportation management systems (TMS), enterprise resource planning (ERP) integration, and real-time visibility and reporting software during this period, helping clients refine and evolve their warehouse functionality.
"Of course, the COVID-19 pandemic has been a recent and dramatic period that hangs around the industry, but right now, the supply chain sector is receiving unprecedented notoriety," explains Sandy Stephens, Executive Vice President of Software and Consulting.
"The challenges that you hear in the mainstream media around the supply chain – labor shortages, increasing wages, moving products through transportation networks – have certainly been real, especially in the past two years, but these are the things that Hy-Tek addresses with services and products. In this way, it has been a great time to be operating in the supply chain industry; with notoriety and challenge comes opportunity."
According to Stephens, recent years have seen an unparalleled advancement in robotics that Hy-Tek has leveraged to its advantage and to the success of its partners and customers. Swift, efficient, and reliable picking systems are changing the face of supply chain operations across the US, with COVID-19 proving the need for online retail and e-commerce and consequently fueling the demand for the most advanced logistics systems.
"The pandemic really showed retail companies the necessity of online shopping and the importance of fulfilling e-commerce capability," Stephens continues. "This has created a boom for our business. The number of projects we are currently working on compared to pre-COVID-19 levels is extraordinary."
A secondary effect of the pandemic period has been companies realizing the importance of building inventory to combat potential waning supplies. COVID-19 delivered a huge shock to the supply chain and logistics space, with many businesses around the US unable to replenish dwindling stock during this challenging time.
In light of this, Hy-Tek has and continues to see a dramatic increase in demand for its solutions and believes that this trend will only continue onward and upward, with robotic systems at the forefront.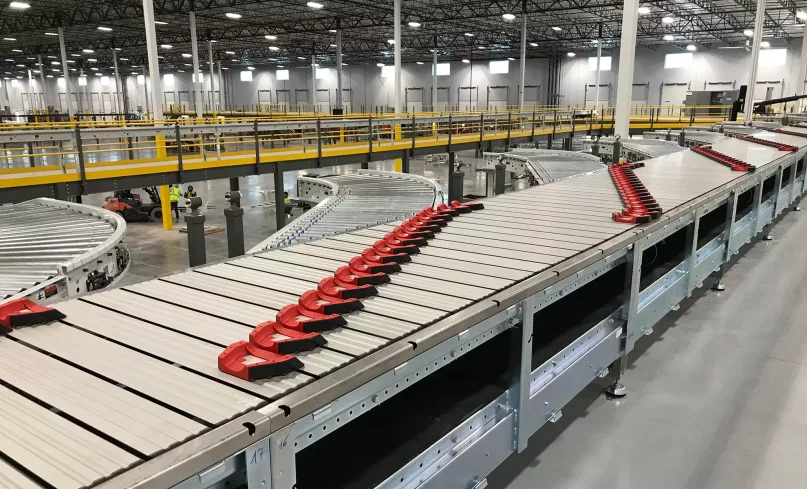 INNOVATION AND EXPANSION
Order picking, the central backbone of any fulfillment center, is becoming increasingly automated through robotics, boosting accuracy and productivity. Robotics is rapidly growing within the e-commerce and distribution space, helping optimize supply chain processes, and it is undoubtedly a time of expansion for Hy-Tek.
Recently, the company celebrated the grand opening of its 20,000-square-foot Innovation Lab, representing a new level of service in the sector.
"Our Innovation Lab includes an 800-location goods-to-person system; many systems in the field operate anywhere from 12,000 to 80,000 pick locations. Therefore, the 800-location Innovation Lab gives customers great insight into how a larger system would perform," explains Donnie Johnson, President of Integrated Systems at Hy-Tek.
"The Innovation Lab is a tremendous demonstration space as well as a research and development lab with a mini distribution center within it. We can receive a product, enter the information into our WMS, and simulate the product movements through a facility. The Innovation Lab boasts five different methods of storage and picking, as well as standard sortation of cartons within the lab."
Hy-Tek's mission is to deliver the right solutions for clients based on where they are today and focus on where they are going. To accomplish this, Hy-Tek uses an integrated platform of expertise and technology called IntraOne. The platform provides flexibility and allows them to adapt to an ever-changing landscape of business requirements and rapidly evolving technology.
A key element of the IntraOne Platform is Hy-Tek's ability to deploy its adaptable software to integrate, manage, balance, optimize and provide a holistic view of all the activity within a facility.
The software combines WCS (conveyor control), WES (optimization and execution), as well as WMS (Warehouse Management) at a site or network level. Additional capabilities like transportation management, cartonization, and carton labeling solutions are also available.
Where Hy-Tek's services and solutions have traditionally served companies operating in retail, e-commerce, manufacturing, and wholesale, the company's core offering is also being deployed in alternative spheres, such as food and beverage and health and beauty.
Whether the need is to modernize a facility or process to boost performance or decrease downtime, Hy-Tek helps improve system efficiency and flexibility that safeguards product integrity while reducing losses from damaged goods. For health and beauty products, visibility and safety are critical to product transportation, and Hy-Tek provides unique solutions that are highly accurate and secure.
"When it comes to medical products, for example, it's crucial to track batches of serial numbers for each product and other details involved in inventory movement; this is not required in retail," Johnson elaborates.
"It's been a great opportunity for Hy-Tek to demonstrate our more advanced capabilities of tracking large quantities of data. This level of specificity allows customers to meet strict reporting requirements such as expiration dates."
RECOGNIZING EXPERTISE
Hy-Tek offers clients the advantage of a dedicated project engineering team and a staff of specialists in project management, system implementation, and integration. Whether in need of a warehouse storage retrofit – or a turnkey integrated system for a new facility – clients can rely on Hy-Tek's professionals to deliver results.
Hy-Tek's work is built for businesses and designed for people. Indeed, over the company's 59 years of business success, people have been at the center of the company and continue to make it what it is today.
"We make sure that they are incentivized throughout the year to reflect this because our success relies on our people," says Mark Bruner, Executive Vice President of Operations. "For example, our customer service teams are engaged from the beginning of the project, and they remain involved to help them optimize their systems and maintain high productivity levels.
"We also focus on social and philanthropic functions to get our employees involved. Our goal is to create new and unique ways to bring everybody together and aim to foster a culture of inclusion, personal relationships, and comradery."
Hy-Tek recognizes that its people are at the center of its operations and the company's future growth. High value is placed on interconnectivity and transparency between the business and its employees, keeping everyone in the loop and up to date.
"We always try to keep our employees informed and looking forward to the next activity, which forms a vital part of Hy-Tek's positive culture. We celebrate our victories and recognize those who have gone above and beyond in what they do because we understand our people are at the core of Hy-Tek's success," states Bruner.
AIMING FOR GROWTH
Hy-Tek's success and growth have been accelerated by its recent acquisitions; Hy-Tek has integrated six new business units in the space of around 15 months. On top of this substantial expansion, the company is continuously improving internal systems to benefit Hy-Tek and its clients.
"In addition to leveraging our scale and standardizing our business systems and processes, we fully intend to become the largest agnostic systems integrator in the US," said Grooms. "Hy-Tek wants to be the best provider for any solution a client can ask for, and we do whatever it takes to see a job done right, fulfilling the need of the client."
HY-TEK INTRALOGISTICS PARTNERS
Shared on Linkedin