We speak to Rob Walpole, Vice President of Delta Cargo, about how the company reaches hundreds of destinations and carries thousands of shipments a day while offering first-class operational performance and customer service.
MOVING THE WORLD
It is undeniable that everything is seemingly moving faster these days, and shipping is no exception.
With the rapid globalization of today's world, the safe and reliable transportation of goods worldwide is of paramount importance to the global economy.
The impact of the cargo and logistics industry has far-reaching international effects that influence each and every sector.
A longstanding player in this key industry is Delta Cargo, paving the way for innovation and growth alongside its time-tested reliability and exceptional standards for service excellence.
With a history that spans nearly a century, Delta Cargo has worked tirelessly to build a reputation for world-class handling, efficient operations, and speedy processing, regardless of the type of cargo.
The company provides top-notch cargo services and specialized handling for a variety of customer needs, transporting everything from fresh flowers to life-saving pharmaceuticals and organs for transplant via Delta Air Lines' (Delta) extensive network.
With the air cargo industry cemented as a key component of the fast-paced global economy now more than ever, Rob Walpole, Vice President of Delta Cargo, delves into the ways the company continues to evolve its business, leveraging the great opportunities technological development can offer to progress the industry, while still remaining true to its origins by ensuring that its customers and the safety of their products are always at the forefront.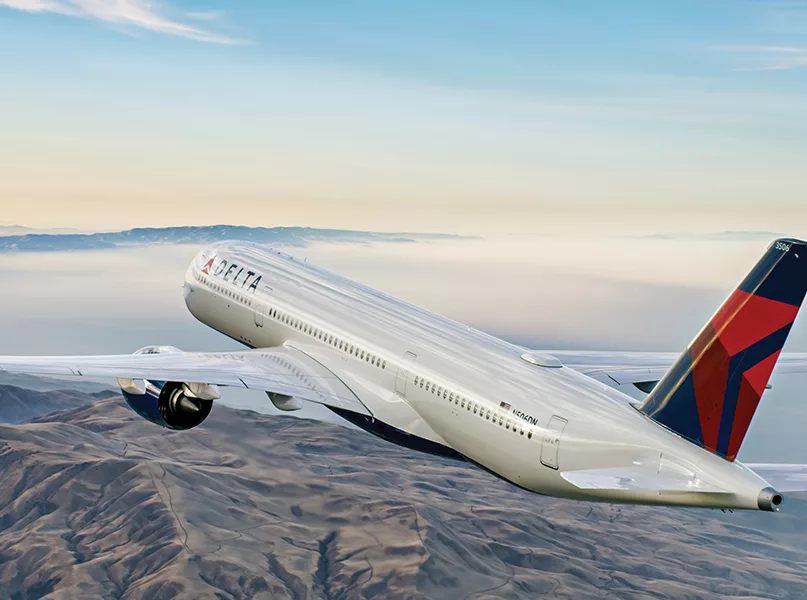 GETTING TO KNOW DELTA CARGO
Walpole has been a part of the Delta Cargo team since 2019 and is responsible for the growth, profitability, and operational performance of the industry-leading business.
A native of Australia, Walpole has an extensive and diverse experience within the supply chain industry. He spent the first part of his career in a variety of manufacturing and supply chain leadership roles in the downstream energy business at Exxon Mobil, spurring his interest in the supply chain industry. Located in Singapore for eight years, he led the Asia-Pacific logistics and supply chain business for BAX Global, and then DB Schenker. Walpole enjoyed an 11 year tenure with DB Schenker, with roles including CEO of Schenker, Inc., the $2.4 billion, 10,000-person US subsidiary of the company.
Prior to joining Delta Cargo, he was Senior Vice President of DP World, a Dubai-based global port operator, where he ran their $2 billion global logistics business.
Given this experience, Walpole is very familiar with the cyclical nature of the supply chain industry and the challenges this brings, and he possesses significant knowledge of its many intricacies.
"This is an incredibly exciting space to be in; there is always something changing and lots of room to adapt and innovate," he opens.
Industry players are always trying to anticipate and react to the various global economic trends that have a widespread impact on supply chains and the actions that companies need to take in response. Currently, this includes an increase in manufacturing near-shoring and more concentration in Southeast Asia and other new markets.
Retail trends, such as the continued growth of the e-commerce sector and growing customer demand for two-day shipping, have required that the industry make changes in order to meet customer expectations. Furthermore, like any industry, the air cargo business is highly impacted by technology developments, including an uptake in third-party platform usage, the need to deliver increased visibility and tracking to end-customers, and the continued need to simplify processes and improve efficiency.
As with many other global sectors, the COVID-19 pandemic was a challenging and unique time for those working in the supply chain business. Huge spikes in demand, manufacturing and supply disruptions across the globe, and the cratering of overall transportation capacity (particularly in the air freight sector) all led to shifts in the traditional modes of transport utilized by companies to ship their products.
"We played a huge part in the shipment of critical goods during the COVID-19 pandemic, including being the first US passenger airline to launch cargo-only flights during this turbulent period and one of the airlines that supported the global vaccine distribution, transporting millions of vital doses worldwide," he explains.
Demand and capacity have been rebalancing throughout 2023 after such a large disruption, and there have been logical impacts on the market.
"During the pandemic, we saw customers moving things via air freight that hadn't typically moved via this mode – refrigerators, paper products, and similar commodities that would usually move via ocean freight. The logical consequence of inventory rebalance is that a more usual commodity split between air and ocean freight has been restored," Walpole adds.
Additionally, some sectors that did not previously leverage ocean transport, such as the technology sector, have begun to move their goods via this mode. There is also still significant growth in freighter capacity in the market, which is expected to normalize come 2024.
With the rebound of air passenger traffic, the traveler load factors are at historic highs, making the management of aircraft belly space more complex than ever, and Delta Cargo is facing the challenge head-on.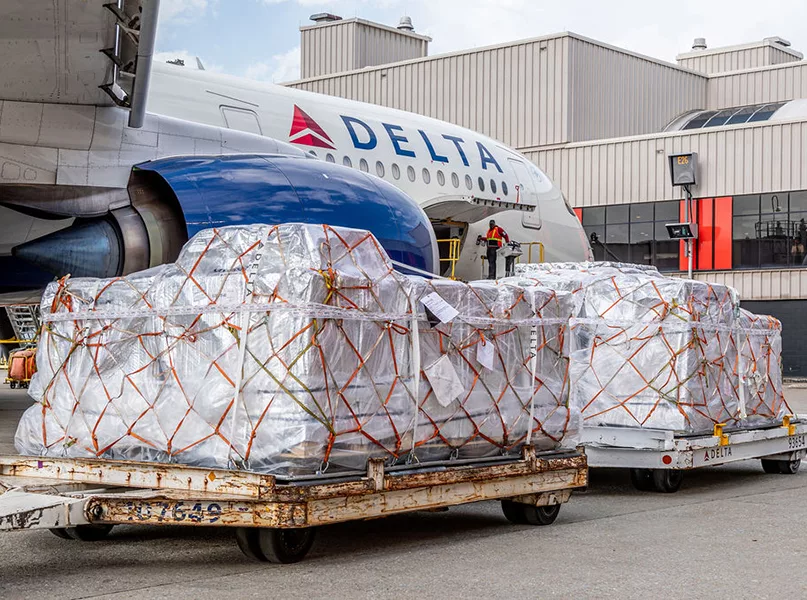 DELTA AIR LINES
Delta expects to serve nearly 200 million travelers this year, operating more than 4,000 daily flights to more than 280 destinations on six continents (as of September 2023).
Within the broader Delta enterprise, the Delta Cargo division transports various goods around the world to support the global supply chains of its customers.
Delta Cargo is known in the industry as a belly operator, which means it does not operate a dedicated freighter network of flights, but instead leverages the space available in the belly space of Delta's passenger aircraft. Prior to the pandemic, nearly half of all international air cargo by weight moved via the belly of passenger planes, according to IATA.
This business model brings incremental revenue to Delta's bottom line without additional costs of operating separate flights.
"Cargo is an important piece of Delta's long-term revenue diversification strategy, and the company is focused on investing and growing in this space," comments Walpole.
The dedicated cargo network planning team works hand-in-hand with their counterparts on the passenger side to ensure that decisions on the company's network and fleet strategy take into consideration the needs of cargo customers and market trends.
This multi-faceted approach requires significant cross-collaboration between the company's divisions to ensure strategic decisions support the airline's business as a whole.
To provide access to an even more expansive network for its customers, Delta Cargo also facilitates line haul trucking to and from its hubs and other stations in its network, using both exclusive-use vehicles (EUVs) and less-than-truckload (LTL) options, providing customers with more options to move their goods more efficiently around the world.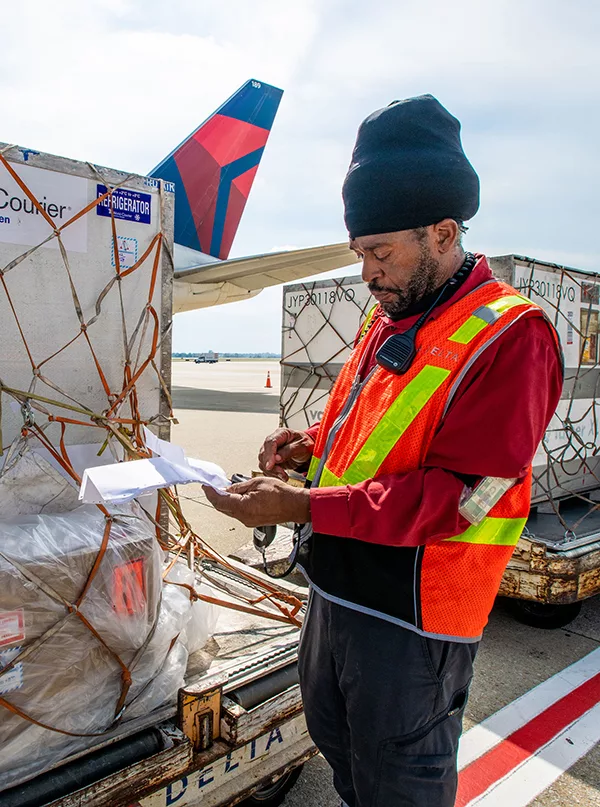 BEGINNING WITH FRESHLY PICKED MUSHROOMS
Delta Cargo started as a domestic mail carrier with the first mail shipment in 1934. It then expanded to regularly scheduled air cargo services in 1946, with the first items shipped being freshly picked mushrooms.
Today, Delta Cargo is made up of 2,100 people worldwide within the broader Delta enterprise. On average, it transports 2.2 billion cargo ton-miles annually, and in 2022, it carried an average of over 3,000 shipments per day across Delta's global network.
The company serves three primary types of customers, with freight forwarders making up the largest segment. These logistics companies help manage supply chain operations for their business-to-business (B2B) clients and facilitate the movement of nearly any kind of client shipment all over the world via various modes of transport. Specialty freight forwarders move goods for specific industries, like equipment for professional sports games, concerts, and other productions. Traditional parcel shipping companies also rely on Delta Cargo to move larger freight and time-critical goods.
Additionally, there are direct customers, many of whom who use Delta Cargo's specialty product lines to ship items that require special handling and care, such as pharmaceuticals, fresh produce, live animals, or high-value goods such as jewelry or diamonds.
The final main customer segment is air mail, which includes traditional postal services who utilize Delta Cargo to deliver letters and packages around the world.
It is of significant importance to Delta Cargo that it enlists the expertise needed to transport every type of cargo in a best-in-class manner. As a prime example, the team in charge of managing the transportation of live animals includes an experienced veterinarian. With this extensive knowledge of the needs and intricacies of transporting live animals, the company is able to achieve daunting tasks such as safely moving large quantities of live baby chicks across the country.
Delta Cargo is the first US global passenger carrier to receive IATA's Center of Excellence for Independent Validators (CEIV) Pharma certification, a high distinction of pharmaceutical handling standards that is critical for operators aiming to serve the sensitive needs of the pharmaceutical industry.
"We know that sometimes the details matter most, and that the difference in a few degrees can save lives when it comes to delivering temperature-sensitive shipments. That's why we invest in compliance with the highest industry standards to safeguard product integrity," Walpole notes.
COMMITMENT TO OPERATIONAL EXCELLENCE
Delta Cargo customers already benefit from Delta's superb operational reliability – the company was recognized as North America's most on-time airline in 2022, a position it has held over the course of many years in the recent past.
"A key priority for us has been to match Delta's world-class performance and the high quality service provided to our passengers with the same level of service predictability for our cargo customers." says Walpole. "Our operational reliability and customer service are the foundation of our reputation and success."
The company is moving the needle when it comes to on-time delivery performance, ensuring reliable freight delivery across its global network.
This is exemplified by Delta Cargo's improvements in its on-time performance metrics. For example, the company currently boasts the highest rating of any belly carrier airline year-to-date according to IATA's standard industry measure (NFD) and has improved its performance over the prior year.
With all the moving pieces involved in the supply chain, things don't always go exactly as planned. When issues arise, Delta Cargo is committed to having the best proactive resolution processes in the industry.
"The most critical thing our customers want to know when something doesn't go as planned is: 'what do we do, and how do we communicate back to our own customers?'" Walpole notes. "We prioritize solving any issues that arise, as exemplified by our investments in dedicated in-house support teams, as well as in technology that enables us to anticipate potential service failures, notify our customers, and more quickly resolve issues. This is one of the most important parts of providing quality customer service."
The company utilizes its Cargo Control Center (CCC), which monitors the heartbeat of Delta Cargo from its Atlanta headquarters, providing a rapid response to any anticipated or confirmed irregular operations and informing other supporting operational teams of actions needed to remedy any issues.
Delta Cargo has established proactive monitoring for premium products to enable quick service recovery for the most time-sensitive and high-value shipments. Its Customer Service Center, which works closely with the CCC, serves as the primary conduit of communication with customers, both assisting in the creation of new bookings as well as servicing existing ones. Additionally, a Customer Escalation Team was created to further improve the speed to resolution when issues arise, working directly with operational teams to resolve reported problems and monitoring affected shipments until delivery.
"Ultimately, we are focused on being the easiest partner for our customers to do business with," comments Walpole. "We've established mechanisms to get direct feedback from customers, and more importantly, act upon it."
To further support its operations with both internal and external parties, the company relies on its Delta Logistics Control Center (DLCC), which serves as a one-stop transportation shop, centralizing and streamlining the movement of various goods and supplies.
This unit of the company plays an important role in connecting and collaborating across teams to ensure efficient operations, working to minimize service issues, provide faster processing times by establishing routing rules, and constantly monitor the market to ensure compliance.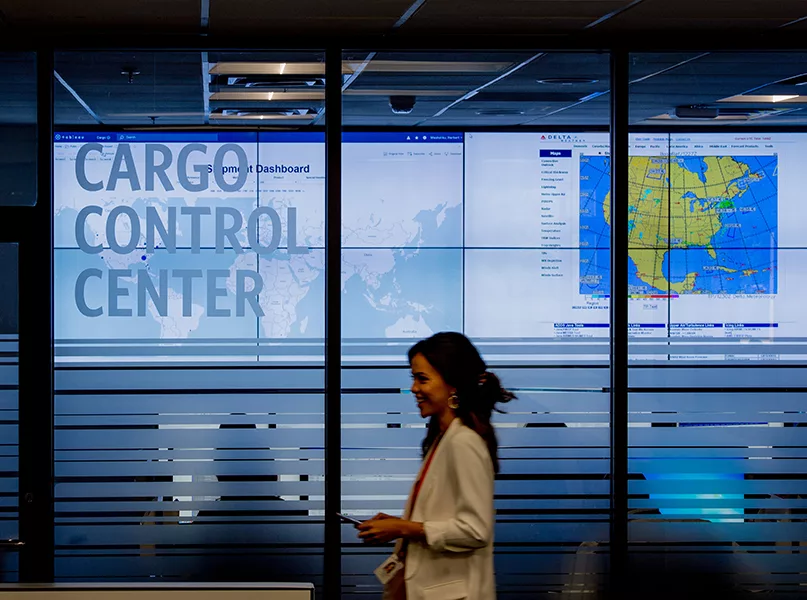 DELTA CARGO PARTNERS