Ty Webb, Senior Vice President of Galileo Technologies tells us about its efficient energy solutions, customized for gas projects all around the globe.
PROVIDING INNOVATIVE GAS SYSTEMS
Since 1987, Galileo Technologies (Galileo) has been a global reference in modular technologies for the production and transportation of compressed natural gas (CNG) and liquefied natural gas (LNG), as well as Bio-CNG and Bio-LNG.
Its product portfolio includes a wide range of gas compressor packages, gas upgrading plants and liquefaction stations, along with the Virtual Pipeline™ gas transportation system which reaches remote communities and industries without a pipeline network connection.
Characterized by its modularity and scalability, Galileo provides solutions for the production, distribution, and consumption of CNG, LNG, renewable natural gas (RNG), and hydrogen (H2). Due to the increase in demand for these products, the company has had to rapidly expand.
Headquartered in Buenos Aires and New Jersey, Galileo also has service centers in Texas, and Le Mans in France. It exports and provides ongoing assistance to customers in 70 countries in Latin America, North America, Europe, Africa, and Asia.
"Galileo introduced and popularized vehicular CNG, innovated in plants for urban CNG distribution networks, introduced plug and play CNG stations and introduced the Virtual Pipeline™ concept," opens Ty Webb, Senior Vice President (SVP).
Webb was motivated to focus his career on advancing technologies within the oil and gas industry by evidence that availability and access to energy are vital to societal development.
"As the US transitioned from a net importer of oil and was preparing to become an importer of natural gas, I truly saw the impact that new technologies could have on everyone. This inspired me to expand their technology to market, ensuring affordable and clean energy was accessible to all," recalls Webb.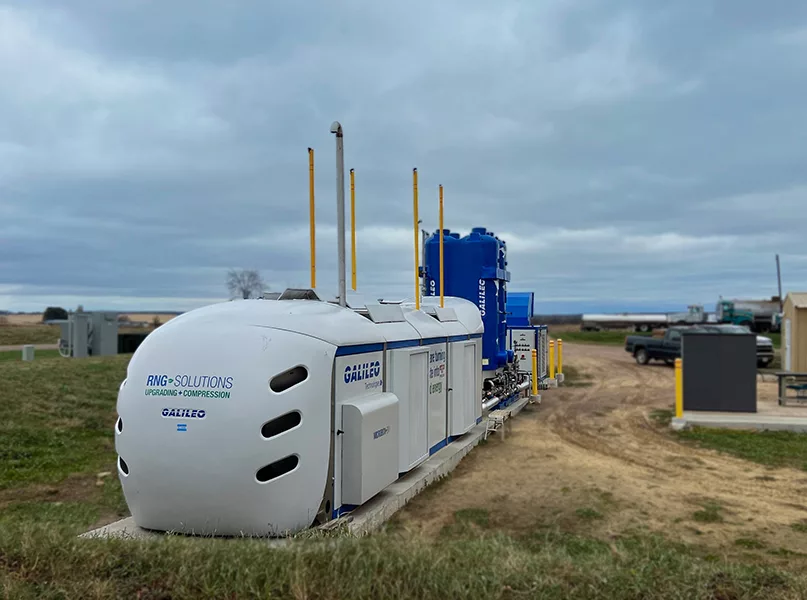 REVOLUTIONIZING THE INDUSTRY
As Galileo continues to illuminate cities and improve the lives of millions, from building the first gas fired power plant, supplied solely by trailers of LNG, to bringing on-demand LNG to the marine industry, the company has launched many innovations such as Galileo's Virtual Pipeline™ concept. Furthermore, Galileo also created the Cyrobox® and is a pioneer in small scale LNG.
"This growth was worldwide, but had a particular impact in South America, Southeast Asia, and Europe due to the availability of natural gas and the desire of these locations to transition towards cleaner burning natural gas in their transportation fleets," Webb reveals.
The largest LNG facility is in Brazil, with a capacity of 490 tons per day. The project consists of two facilities: one for LNG production and the other for regasification for power generation.
"Galileo provided, in total, 40 liquefaction units known as Cyroboxes®, five gas conditioning 'ZPTS®' modules, several LNG transfer units, isotank bays for LNG storage, high pressure shell and tube LNG vaporizers, hot water boilers, boil-off-gas (BOG) compressors and auxiliaries required for the operation," he details.
Despite all the setbacks caused by the COVID-19 pandemic, the company was able to meet its delivery and commissioning deadlines.
"The project shows the breadth of the scope that Galileo's technical team can execute, in addition to the design and manufacture of a vast majority of the equipment on site – all within schedule."
EDGE LNG in Texas is a subsidiary of Galileo's operations in the US. Currently, it has 15 Cyrobox® Trailers 600s and 750s operating with a capacity of 290 tons per day of LNG production.
"These special design trailer units are gas driven by Caterpillar engines and enable the fast redeployment of gas conditioning and liquefaction to help eliminate methane flaring, which is common throughout the world as a primary source of greenhouse gas (GHG) emissions in the oil and gas industry," states Webb.
By continuously developing new technologies for the core markets of LNG, RNG, and H2 Galileo ensures it stays at the forefront of the energy transition. Moreover, the company is part of the European Biogas Association (EBA), where it participates in helping farmers turn their waste into RNG for high pressure filling of CNG fueled vehicles.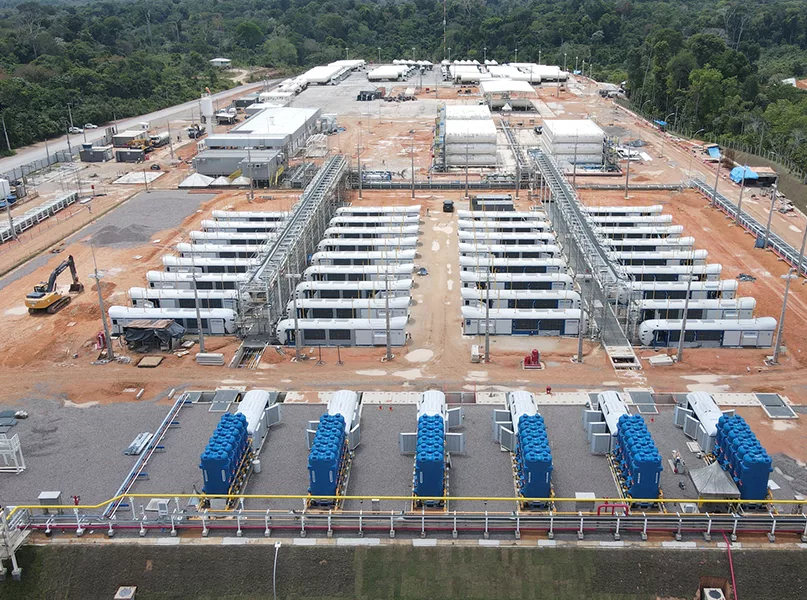 THE PUERTO RICO PROJECT
Galileo has recently completed a project positioned within a sanitary landfill in Puerto Rico. El Coquí Landfill, located in the Municipality of Humacao, is the first source of domestic natural gas generated on the island. The company provided a comprehensive renewable liquefied natural gas (RLNG) plant to Biomas Green Fuels, and it will supply RLNG to industrial clients such as Hewlett-Packard, IPR AstraZeneca, and Banco Popular for electricity generation in their cogeneration (combined heat and power – CHP) systems.
"The plant was put into operation to carry out the conditioning and liquefaction process. 3,000 standard cubic feet per minute (SCFM) of landfill gas (LFG) will be processed daily to produce 20,000 gallons of LNG per day.
"This will be distributed to displace the expensive consumption of imported LNG in private cogeneration plants. In this sense, the Puerto Rico liquefaction facility will be removing 27,090 tons of carbon dioxide (CO2) per year from the atmosphere, which is equivalent to CO2 removed by 4,515 hectares in a year," Webb outlines.
LNG is an important feature for Galileo with the new unit in Puerto Rico and LNG investments across the globe.
"With the start-up of the only local source of fuel on the island, Galileo and our customers see no limit to the possibilities to utilize our unique technologies to help eliminate fugitive methane emissions from landfills, municipal wastewater treatment facilities or livestock and agricultural waste sources," he continues.
Galileo is the only supplier that designs and manufactures a truly turnkey solution to provide either CNG or LNG, plus it has the solutions to ensure these molecules reach the final consumer. Additionally, the company is a provider of the full equipment value chain for these solutions.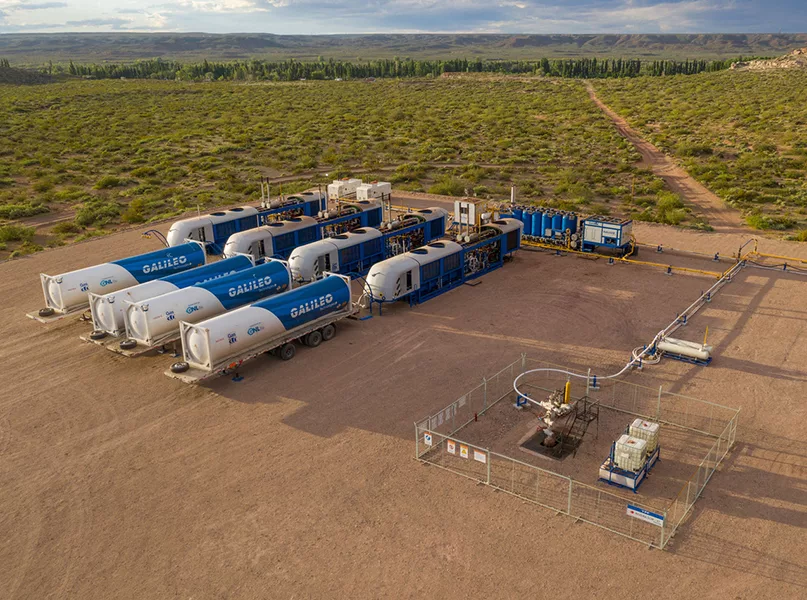 FOCUSED ON FLARE EMISSIONS
As Galileo pledges to reduce flare emissions, it has built the first thermal power plant which is independent from gas pipelines. The company also investigated and developed RNG solutions to turn waste biogas into Bio-CNG, and hydrogen solutions to reduce and mitigate emissions.
Webb highlights Galileo's plans to develop new alternatives for LFG. The unique solution will utilize LFG due to the patented process to efficiently remove contaminants and improve the efficiency of transporting gas to market.
"In the LFG treatment stage, the plant has a CSM upgrading station connected to the landfill to remove a majority of the CO2, volatile organic compounds (VOCs) and hydrogen sulphide (H2S), and an additional ZPTS® station to remove residual CO2 and moisture, upgrading the LFG to liquefaction quality.
"Already converted into RNG or biomethane, the gas is then liquefied by a standard Cryobox® LNG production station and loaded directly into cryogenic iso containers for immediate distribution or it can be loaded into storage containers to be utilized at a later time," explains Webb.
During the liquefaction process of the purified LFG, the nitrogen (N2) is automatically removed without the addition of expensive and technically complex equipment required by other technologies. LNG contains between three and four times more natural gas by volume than CNG, thus drastically reducing the transportation costs of clean burning fuel.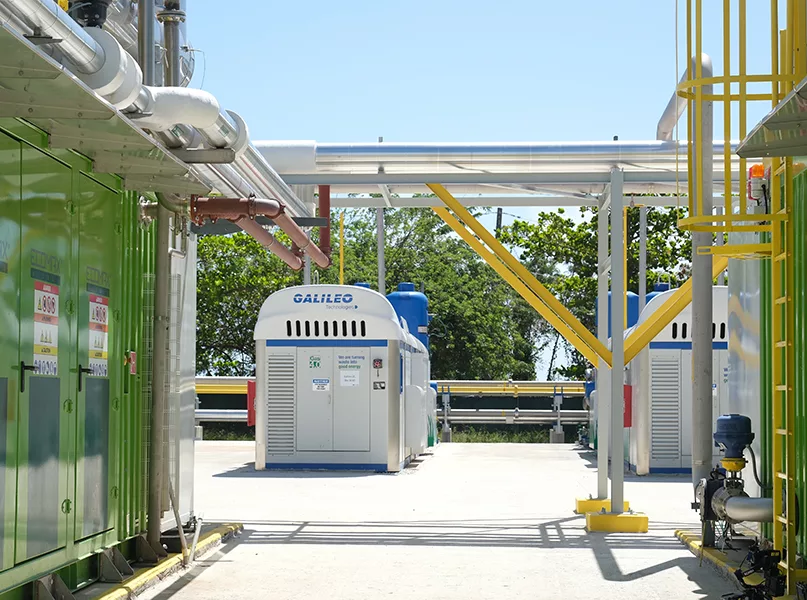 SMART STACK SOLUTIONS
Galileo has solutions that enable the capture of flare gas at the source by utilizing its innovative equipment. This can enable the significant reduction of massive, global sources of GHG emissions. In the US alone, the equivalent of nearly 42 million passenger cars of GHG emissions are flared annually in the form of methane from oil/gas production.
"The US has one of the best managed natural gas industries in the world, therefore it gives an indication of how big a worldwide problem flare gas is and that solutions need to be implemented for a variety of reasons.
"These solutions have a compounding benefit for the environment by removing a major source of GHG emissions and utilizing this captured flare gas in applications which are displacing fuels such as diesel, gasoline or other higher polluting fuels," notes Webb.
Galileo can utilize flare gas, which is typically provided at low pressure and of poor availability and quality and capture directly as CNG or upgrade and produce LNG at the source.
"There is no need to build complex gathering systems or pipelines, just simply connect our complete solution modules and eliminate the problem. Additionally, with the use of our Cryobox® trailer solution with natural gas engines, there is no need for electrical infrastructure on the site, which is rare to have at remote oil and gas wells," Webb concludes.
With an innovative and economical approach to the gas compression and liquefaction sectors, Galileo will continue to be at the forefront of new technologies for years to come.