Thomas Rinald, President of AIM Directional Services, charts the development of directional drilling and the company's comprehensive operations across North America.
CHARTING THE DEVELOPMENT OF DIRECTIONAL DRILLING
I began my journey in directional drilling in 1985 and found it very interesting, challenging, and intriguing."
Since that time, Thomas Rinald, President of AIM Directional Services (AIM), has witnessed a lot of changes throughout the years, mostly in technology, performance, and efficiency.
Drilling rigs, along with directional drilling tools and methods, have come a long way as a result of these changes.
Indeed, what once took months to drill with jetting assemblies, wireline steering tools and rotary drilling assemblies, now takes just a few weeks with measurement while drilling (MWD)/logging while drilling (LWD), steerable motors and rotary steerable systems.
"Most people in the oil and gas industry today don't go back that far, but they have definitely seen remarkable changes within the last decade or so," Rinald continues.
"We're now seeing a higher demand for historical and real-time data in all aspects of operations. Automation, remote operations, and artificial intelligence (AI), just to name a few, are making this industry even more exciting than ever before."
Through several of the industry's ebbs and flows, AIM has likewise made a lot of changes over the last 15 years since Rinald founded the company in 2008 along with CEO, Mike Jensen, and Executive Vice President, Allison Reinert, including the adoption of a business operating system.
"In the beginning, we started and grew as many others did by acquiring more customers, hiring more personnel, and purchasing more tools and equipment to cover jobs. However, even though we did remarkably well in growing the company, we did not have a clear and defined way of how we operated," Rinald reflects.
"We quickly adopted a business operating system, which to this day we have stayed true to."
CLOSE COLLABORATION
From the outset, AIM has stayed committed to vigorously improving its tools, equipment, and processes, with performance and reliability key to the success of both the company and its customers on every job.
AIM's corporate office is located in Corpus Christi, Texas (TX), which is currently the company's primary focus as well as the surrounding states of Louisiana, Oklahoma, and New Mexico.
"We also have drilling locations in areas such as Pennsylvania, West Virginia, Arkansas, Colorado, Utah, Wyoming, Illinois, the Gulf of Mexico, and even across the border into Mexico," adds Rinald.
The corporate office in Corpus Christi complemented by AIM's technology department in Houston, TX, which plays a number of vital roles in the business.
Here, AIM opened its real-time operations center (RTOC) in 2014 to assist with quality assurance and control in the MWD department, before implementing anti-collision and survey management to achieve the most accurate wellbore placement.
The following year, AIM added its remote operation center (ROC) where it runs one of the 12-hour rig-level MWD shifts from Houston.
"Today, approximately 85 to 90 percent of our jobs use just one MWD engineer on location, with our MWD ROC used for day or night operations," outlines Rinald.
In 2018, AIM created its advanced drilling optimization center (ADOC), which is similar to RTOC but for the directional drilling department.
Assisting in the drilling of curves and laterals, ADOC personnel monitor jobs remotely and communicate with the directional drillers and coordinators.
AIM's ADOC and RTOC work closely together, just as the directional drillers and MWD personnel on location do.
"Our command centers, directional and MWD coordinators, and field personnel all work closely as a team to ensure the best quality and performance our service can provide," Rinald tells us.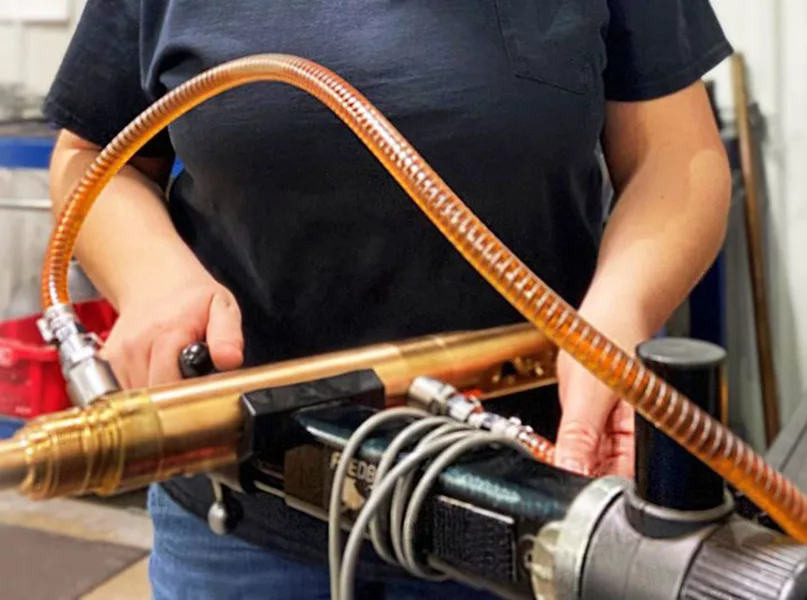 DOWNHOLE OPERATIONS
AIM's downhole operations are broken into two areas, namely its downhole motors and MWD departments.
To begin with, AIM purchased off-the-shelf motors that were popular at the time, but as the company continued to grow, it knew that it needed to design its own motors.
This led to the creation of AIM's Contender Downhole Motors in 2014, and throughout the years, the company has made several improvements.
"We now have our second-generation line of Contender Downhole Motors, which are much stronger and more reliable," shares Rinald.
"Our MWD tools are continually changing to keep up with the latest technologies for our customers' needs."
AIM's repairs and maintenance (R&M) center for both downhole motors and the MWD department is a full-service facility based in Midland, TX, officing several mid-level management personnel for downhole operations as well as some of the sales and remote teams.
Focused on maintaining the highest level of quality assurance and control, the company's downhole motors and MWD departments look for ways to improve AIM's performance and reliability. In doing so, AIM saves its customers time and money in drilling operations.
"We also focus on the reduction of our R&M costs, which in turn helps us control the cost of our services to our customers," Rinald adds.
EXPERIENCED PERSONNEL
AIM has made numerous investments in building and developing a high-performing, customer-centric company.
"We find out the wants and needs of our customers, and set out to achieve or exceed those needs," emphasizes Rinald.
With new technologies, tools, methods, processes, and a collaborative team, AIM plans to continue building and growing the business in areas that best suit the future needs of the company and its customers, having already created a solid foundation for the company over the last 15 years.
However, none of this would have been possible without AIM's team of qualified and experienced personnel, who truly care about the success of the brand.
Most of the team has been with AIM for many years, and some ever since inception, all sharing in the company's vision, mission, and core values.
"We feel that most of the credit goes to the great team we have here today. They are personally invested in our performance and the reputation of the company they represent. They truly are our greatest asset," Rinald concludes proudly.
With various levels of leadership throughout the company, and multiple departments working closely together as a team, AIM has become a better company than ever before.