Delivering durable vessels and riding the wave of change that continues to ripple throughout the maritime industry, is SAFE Boats International. We drop anchor and find out more from CEO, Richard Schwarz.
YOU'RE GOING TO NEED A SAFER BOAT
The US maritime space is undergoing rapid expansion and finds itself at the helm of a tremendous technological transition.
Vessel construction for both commercial and government customers has been increasing and there is a wealth of significant new opportunities on the horizon, with much of this being driven by emerging industries such as offshore wind.
Although offshore wind is a fairly mature industry in Europe, it exists in its infancy throughout the US. Despite this, the continent possesses ambitious plans to develop offshore wind as a key component of its clean energy strategy and this continues to create demand for an entirely new fleet of vessels to support the construction and servicing of new offshore wind turbines.
Across North America, craft operators are also scrutinizing alternative energy options for powering vessels of all sizes, meanwhile hybrid and all-electric vehicles (EVs) are already achieving mass market acceptance.
The demand for greater efficiency and lower carbon intensity in maritime operations is inspiring designers and builders to innovate, which will no doubt usher in significant changes to the industry.
Within this, there has been a steady increase in the use of other technologies in the marine space, including control and perception systems designed for the autonomous operation of vessels.
Poised to effectively capitalize on this seismic change in the industrial landscape is SAFE Boats International (SAFE Boats), as the company innovatively develops strategies to address each of these emerging trends.
"So far, it seems likely that autonomous systems will be used primarily to augment and enhance crew safety and efficiency, but the technology is clearly advancing towards a future which will include greater reliance on true autonomous operations," introduces Richard Schwarz, CEO of SAFE Boats.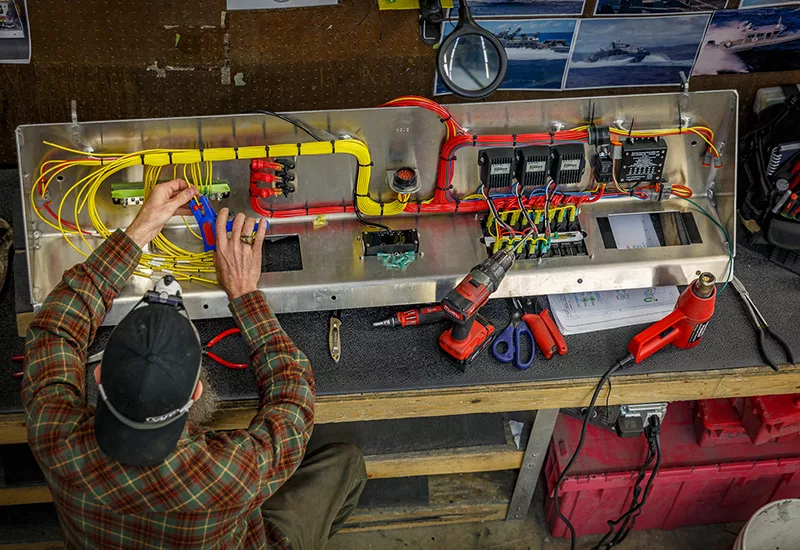 DELIVERING ELITE VESSELS
Every fraction of the business at SAFE Boats starts with the company's mission, "We provide professional mariners with the most capable boats, allowing them to complete their mission, save lives, and protect freedom around the world."
Adhering to this goal, SAFE Boats designs and builds highly reliable and extremely durable aluminum vessels that help keep military, law enforcement, first responders, and commercial mariners safe as they carry out their duties, protect citizens and work to save lives.
Founded in 1996, today the company is headquartered just outside Seattle, Washington in the city of Bremerton, with a second location, the Large Craft Facility, based in nearby Tacoma. The company was named for its pioneering wrap-around collar design, 'Secure Around Flotation Equipped'.
"We currently have 250 employee-owners but are growing rapidly and expect to be closer to 300 by the end of the year," affirms Schwarz.
To date, SAFE Boats has impressively delivered more than 2,500 vessels to the federal government, international customers in 70 countries, and more than 160 state and local agencies throughout the US.
Utilizing a dedicated team of designers, engineers, project managers, builders, craftsmen and trainers, SAFE Boats works as an integrated team to build every vessel. Many of these specifically chosen professionals have extensive field experience, making them perfectly primed to continually deliver the company's now world-renowned premium levels of service.
In addition to delivering high-performing and durable vessels, SAFE Boats also provides customers with outstanding warranty, service and parts support, as well as direct access to a comprehensive in-house support network of trainers, technicians and logisticians.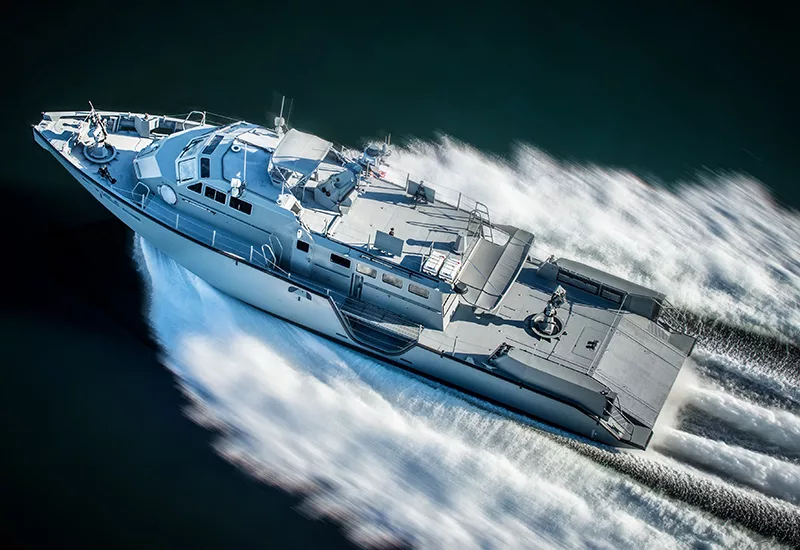 PREVALENT PRODUCTION PARTNERSHIPS
Representing a key portion of its burgeoning portfolio, SAFE Boats has started production of the Mk VI Patrol Boat for the Ukrainian Navy. The US Navy is procuring the vessels as part of an assistance package for Ukraine, consisting of 16 boats authorized by the US Congress.
"We have two boats in production in our Tacoma facility and expect to have a third by the end of May. We will complete the first two vessels this year and will deliver additional vessels in 2024 and 2025," Schwarz tells us.
SAFE Boats has expertly executed a strategy of partnering with other vessel designers and builders around the world. These carefully constructed relationships provide access to other markets for SAFE Boats' products and also give the company the ability to bring world-class designs and capabilities to the US market. These relationships include Diverse Marine in the UK, and Stormer Marine in the Netherlands.
"We look for companies that share a culture and business philosophy that is similar to ours and develop long-term relationships that benefit both organizations."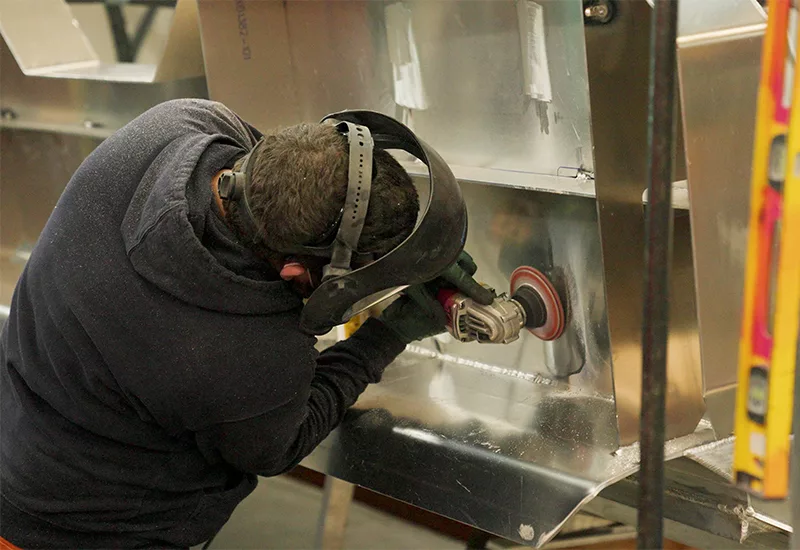 MASTERING A VAST FOOTPRINT
The product of tireless work to expand and develop, SAFE Boats has now established a significant international footprint and has increased its focus on international markets in recent years.
SAFE Boats has provided crafts to international customers through Foreign Military Sales (FMS) contracts with the US Government, as well as direct sales to foreign governments. As a result of this, the company now boasts significant brand recognition around the world and is continuing to leverage its reputation and the ability to provide global support to expand its international customer base.
Furthermore, SAFE Boats has also formed strategic partnerships that respond to the need to address the pressing economic and social pressures facing many of its international customers.
"We are working with customers to implement the co-production of SAFE Boats as well as licensing SAFE Boats' designs when customers require greater local production. This is all part of a strategy that looks at opportunities around the world, whether or not they conform to the way the company has historically conducted business," explains Schwarz.
Elsewhere, SAFE Boats is ramping up production at its Large Craft Facility in Tacoma.
"This is where we are building the Mk VI Patrol Boats for the Ukrainian Navy. We have the first two boats out of the initial eight vessel contract in production and are continuing to hire as we increase to full-rate production," acclaims Schwarz.
Workforce development is becoming one of the most important areas of focus for the company. In the past, SAFE Boats was able to find the skilled workers it needed within the labor market, however, the entire industry is now facing a shortage of talent which is expected to worsen as the current workforce ages.
To counteract this dilemma, SAFE Boats is working with local and regional partners and investing in workforce development in order to ensure that it has the skilled craftspeople who act as the backbone of the company's success. It is the expectation that SAFE Boats' employee ownership model will provide a unique and new way to attract and retain its team.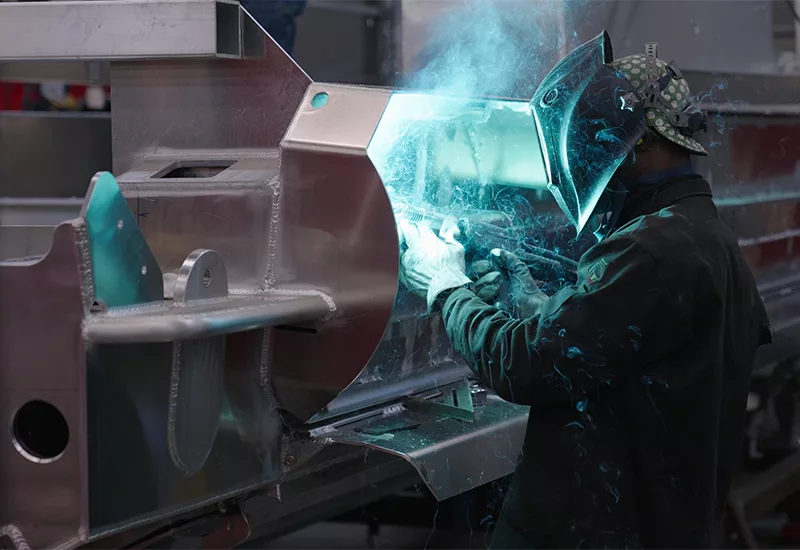 EMPOWERING PEOPLE
Now 100 percent employee-owned through an Employee Stock Ownership Plan (ESOP), all SAFE Boats employees have the opportunity and the obligation to be engaged and active as owners of the company.
Scott Peterson, one of the company's original founders, previously described how, "It has always been our dream and our vision to make SAFE Boats about our team and the community we live in.
"Transitioning to a totally employee-owned company creates the foundation to become a true Northwest legacy. This allows an incredibly talented and dedicated SAFE Boats team to continue supporting the men and women in uniform around the world for generations to come."
The company hopes that its staff will ask questions, solve problems, and challenge themselves and SAFE Boats itself to create a real culture of employee ownership that drives performance, adds value and creates opportunities for the entire team.
Complementing its ownership model, SAFE Boats is committed to creating a diverse and inclusive environment and is increasing its outreach to the community.
"We are working with high schools and technical colleges throughout the region that focus on developing and creating opportunities for the next generation of maritime workers," continues Schwarz.
Frequently described as a mission-focused company, SAFE Boats also knows that its customers deserve the best and that it can deliver world-class products and services that merit their ongoing loyalty and support.
"I am grateful to work with an incredible team and I'm confident that our transition to employee ownership respects and builds upon the company's legacy of leadership and integrity," Schwarz enthuses.
"If the past three years have taught us anything, it is that we are living and doing business in an unpredictable world and we will survive and thrive by being flexible and creative."
SAFE BOATS INTERNATIONAL PARTNERS