Reeve Benaron, co-Founder and co-CEO of global health technology solutions provider Intrivo Diagnostics, assesses the need for US healthcare to lower its carbon footprint.
Q&A WITH REEVE BENARON, CO-FOUNDER AND CO-CEO, INTRIVO DIAGNOSTICS
Why is pressure growing on the US healthcare industry to lower its carbon footprint?
Reeve Benaron, co-Founder and co-CEO (RB): Being honest, the US healthcare industry (and the global one for that matter) has historically been overlooked in terms of its environmental impact. Medicine packaging, COVID-19 test kits, and the medical instruments used in hospital settings are typically seen as exempt for their negative green impact (plastics, non-biodegradable chemicals in products). Saving lives takes priority and precedent.
But things have been intensifying and changing for a while in terms of environmental scrutiny on private medical product suppliers and the practices of US hospitals, which is a good thing. The US healthcare industry is reportedly responsible for 8.5 percent of total carbon emissions in the country, with pollution rates from the sector increasing.
A large bulk of this is from the initial supplier side of products and services. Immense carbon emissions generated from energy-intensive facilities in drug production is commonplace (medicine manufacturing plants also often run 24/7). Then, you have the constant production of new medical devices, i.e., pacemakers, cardiovascular monitoring equipment, hemodialysis machines, and CT scanners, and manufacturers are always trying to outdo one another and lead the way in competitor innovation. Medical devices are always quite quickly upgraded if the budget is available from the healthcare setting and older versions of MedTech are disposed of quite quickly, leading to mass volumes of healthcare e-waste across the US industry.
Also, with the obvious focus being on saving people's lives, healthcare settings are typically quite wasteful and discardable with their medical implements. This is usually for sanitation reasons, but it has strong recycling implications. We also find that wasteful or thoughtless routines are quite commonplace within the provision of food via hospital kitchens.
With this in mind, and the touted 8.5 percent of US carbon emissions generated by the country's healthcare industry, it's clear we have problems to address. That's why we've seen the National Academy of Medicine (NAM) launch the Action Collaborative on Decarbonizing the US Health Sector initiative, and huge US MedTech providers such as Cardinal Health and pharmaceutical firms like Eli Lilly and Company really ramping up their carbon emission sustainability programs, mainly to negate carbon footprints causing issues in RFP/tender processes.
How is climate change affecting the ability of the US health system to deliver safe, effective, and efficient care?
RB: Naturally, it is making provision of medical products and healthcare supply more complicated, as it's another factor for healthcare boardrooms to tackle for external stakeholders. Pharmaceutical companies will have the biggest challenges from regulators, given the scale of pollution created in mass market drug production. But like I say, we can't stop delivering life-saving products and care at scale and speed, so it needs to be a bolt-on to work towards.
From personal experience, with Intrivo Diagnostics and our COVID-19 test kits, along with our digital healthcare platform and companion app, we had to roll out en-masse all the intricate plastic components for testing kits to literally save millions of lives across North America and help control the pandemic. Yet, plastics and emissions come as part of that, so it's the flip side of a coin.
But, more optimistically and cerebrally, the pressure around carbon emissions in my eyes will actually help the US health system achieve more efficient care in the long-term. True sustainability in the healthcare industry will look like better preventive, personalized, person-centered healthcare for the service user. The pressure from regulatory bodies and 'green consumer movements' should push healthcare providers (mainly hospitals) to further invest in MedTech such as e-appointment bookings, e-prescription services, telehealth products, and health information technology portals. This will help healthcare providers over-serving and over-medicating service users, or more ideally, help to give US consumers information on healthy lifestyles and self-management of their ailments and personal health, avoiding having to treat them in the first place. Preventive health services are key for efficient US healthcare and for healthcare sustainability initiatives.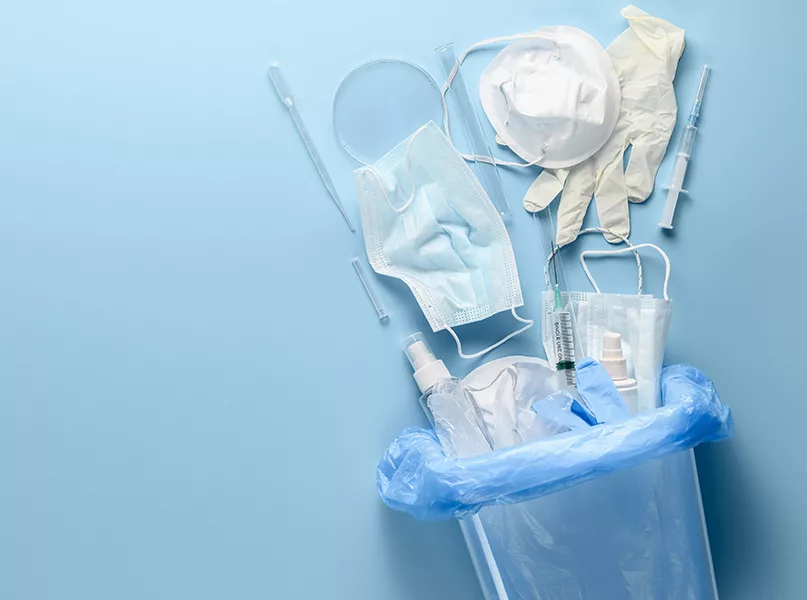 What benefits are there to reducing the carbon footprint of the healthcare ecosystem, and what are hospitals in the US doing to lower theirs?
RB: Carbon curbing initiatives, such as e-waste audits on medical utensils and medical devices, naturally help achieve cost savings in healthcare settings, so that's pretty obvious. Social benefits in my eyes will mainly be a company's marketing strength – where MedTech/pharmaceutical companies are able to prove green credentials to secure tenders or contracts and achieve more revenue.
Tighter recycling processes and policies in US hospitals are steadily coming along. Reusable personal protective equipment (PPE) is pretty significant nowadays, and tendering processes for suppliers to supply drugs and medical devices are tightening up too. Some US hospital kitchens are trying 'Meatless Mondays', but I'm not sure what the carbon efficacy of
that will be!
How much more needs to be done to decarbonize the industry?
RB: Quite a lot is required I believe, and regulatory bodies need to interject with tighter policy enforcement if possible. The main thing is achieving cost efficiency and less waste in hospital settings, and having pharmaceutical companies take polluting production emissions seriously, which will be a huge play-out in the years to come. However, we must all realize saving lives is the priority, and we must still work at pace, excellence, and scale in the US healthcare industry's provision.