We speak to Dr. Jeffrey Kuvin and Dr. Alan Hartman, two key figures from North Shore University Hospital, about how they are working together with the community to raise the standard of healthcare one patient at a time.
CRITICAL CARE WHEN IT MATTERS MOST
As North Shore University Hospital (NSUH) marks its 70th anniversary in 2023, it's impossible to miss the transformation that the Manhasset medical center has undergone.
From humble roots as a community hospital providing care for the North Shore of Nassau County, the humming complex along Community Drive today serves as a regional health hub that treats more than 90,000 patients annually across Long Island, New York City, and beyond – and carries with it a national reputation.
The signs of growth and ambition are visible both inside and out. A gleaming new medical tower has risen on campus: the seven-story, state-of-the-art Petrocelli Surgical Pavilion is poised to open in early 2024. More complex care and services have been added over the last decade, from the Sandra Atlas Bass Heart Hospital (SABHH), which opened its doors in 2017, to an expansive solid organ transplant program, which began with kidney transplants in 2007 and more recently added heart, liver, and lung transplants. NSUH's neurology and neurosurgery programs are nationally recognized in brain and spine care, while its orthopedics was ranked 10th nationally by US News & World Report.
The ambition to deliver the full spectrum of specialty care and the best clinical outcomes has driven NSUH to new heights and attracts elite physicians, surgeons, and researchers from around the globe. Today, NSUH is a Level I trauma center and teaching hospital featuring the Katz Women's Hospital – with the accolades to match. In 2023 alone, the Centers for Medicare and Medicaid Services (CMS) gave NSUH it's highest 5-star rating, while US News & World Report named the hospital number one in New York State and in the top 22 nationally. About five percent of all patients at NSUH travel more than 100 miles to seek care there.
"We take great pride in serving our surrounding communities even as we've grown into a regional and national destination for outstanding medical care," says Jon Sendach, Executive Director of NSUH. "Our reputation already makes us a destination for complex medical procedures, and that coordination of care as part of an integrated health system sets us apart."
NSUH is a member of Northwell Health (Northwell), New York State's largest integrated health system with 21 hospitals, about 900 outpatient facilities, and more than 12,000 affiliated physicians. Seven Northwell hospitals have received 4-star or better ratings from CMS in 2023, led by NSUH. Northwell cares for over two million people annually in the New York metro area, thanks to philanthropic support from the communities the health system serves.
As one of the most diverse and densely populated regions in the world, Downstate New York embodies a community which requires complex and efficient healthcare resources to meet the demand of those who call the region their home. NSUH is an important part of that healthcare mosaic.
NSUH HISTORY AND PATIENT SERVICES
Built upon donated land from the Whitney Estate in 1953, NSUH's roots lie in its dedication to community care. The facility, which once had 169 beds and hosted over 200 doctors and 100 nurses, shortened the distance to immediate and lifesaving care to thousands of local residents at a time of less advanced first-responder care. This commitment to community has been unwavering as NSUH has grown into the 800+ bed facility it is now, hosting over 4,000 physicians and over 2,500 nurses, and celebrating its 70th anniversary.
NSUH proudly works to consistently meet the needs of the sizeable and diverse population of its community with a wide range of medical, surgical, and wellness services that are rated at the very top of the nation. Additionally, NSUH works to reduce barriers to care through financial assistance for patients who require it, and is committed to educating the current and future generations of healthcare professionals through its myriad programs, schools, and institutes.
Those who make up NSUH are committed to searching for new advances in medicine through research, promoting health education, and providing the highest quality clinical care for every individual, regardless of their ability to pay.
NSUH's areas of expertise include heart care, neurosurgery, and obstetrics, and it provides a wide range of services, including hepatology, cancer services, SkyHealth helicopter transport, a transplant center, and much more.
Trusted to provide critical care when it matters most, NSUH brings dedication to everything it does, leading to more patients choosing the hospital over any other in the area and inspiring visionary doctors to come and practice life-changing medicine.
There are a variety of different services, hospitals, and centers that branch from NSUH. These include the award-winning SABHH, the Institute for Neurology and Neurosurgery, groundbreaking organ transplant services, Katz Women's Hospital, orthopedic care from diagnosis to rehabilitation, an exceptional emergency department, and the Comprehensive Wound Healing Center.
Additionally, NSUH offers caregivers support though the Charlotte and Roger Blumencranz Caregiver Center and child life specialists, along with other support groups and therapies for those suffering from Alzheimer's, amputations, bereavement, strokes, and more.
With top-quality care in the heart of the community, NSUH has a multidisciplinary team of experts who excel in a wide range of medical specialties and place the patient at the center of every decision made.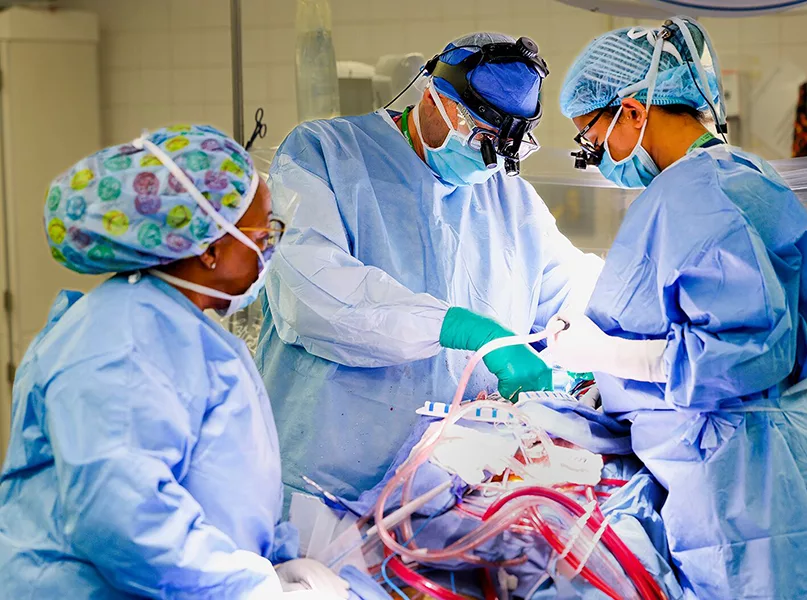 RENOWNED CARDIAC PROGRAM AT THE HEART
While Northwell and NSUH were already well respected in the cardiac space, the establishment of SABHH consolidated care and expanded cardiac services for the region – highlighted by Long Island's first heart transplant in 2018. Fast forward to the end of 2022, and the surgeons at SABHH performed their 100th transplant and NSUH remains Long Island's only heart and lung transplantation center.
Offering state-of-the-art advanced technology, access to clinical trials, and the expertise of a team of nationally recognized specialists, this subsect of NSUH is a premier destination for quaternary cardiac care – from minimally invasive procedures to the most complex, life-changing heart transplants. SABHH has been recognized for its top performance compared to other programs across the country in all quality areas of open-heart surgery by the Society of Thoracic Surgeons, a peer-reviewed rating system that's one of the most respected measures of quality in healthcare. The cardiac hospital was also named one of America's 50 Best Hospitals for Cardiac Surgery by Healthgrades, a leading resource for consumers to find a hospital or doctor.
This cardiac program includes the most experienced heart team in New York, whose unparalleled expertise and skills are advancing medicine and changing lives for the better. Northwell delivered more cardiac care than any other health system in New York State in 2022 with 660,000 ambulatory visits, 38,000 inpatient discharges, 8,700 coronary interventions, 3,900 thoracic surgeries, 3,300 cardiac surgeries, and 2,800 cardiac ablations; SABHH led the way.
"Northwell is the largest provider of healthcare in the region," says Jeffrey Kuvin, MD, Senior Vice President of Cardiology, co-Director SABHH, and Chair of Cardiology at NSUH and the Long Island Jewish Medical Center at Northwell.
"At Northwell, we have more than 300 cardiologists who participate in the care of about 25 percent of all New Yorkers who need cardiac care. SABHH here at NSUH is the quaternary cardiac hub of Northwell. We are committed to the highest quality of cardiac care, using the latest and most advanced medications, therapies and procedures, with a patient-focused, team-based approach."
Recruited to NSUH in 2020 after serving as Section Chief of Cardiovascular Medicine at the Dartmouth Hitchcock Medical Center's Heart and Vascular Center for over 17 years, Dr. Kuvin is a fellow of the American College of Cardiology and the American Heart Association, has extensively lectured, and his research has been widely published.
He has received numerous research and education awards due to his time serving as the principal investigator on numerous clinical studies that focused on a range of cardiovascular diseases.
"SABHH serves as a real beacon for cardiovascular care throughout our system," states Dr. Kuvin.
Dr. Kuvin and Dr. Alan Hartman, Senior Vice President and Executive Director for Cardiovascular and Thoracic Surgery at Northwell, delve into the mission and vision that define the core values of NSUH, the actions that are being taken to deliver exceptional healthcare to those in the community, and the bright future that is being built by those within NSUH who are truly passionate about serving others.
Integral to the structure and continuous upward progression of NSUH, Dr. Kuvin and Dr. Hartman epitomize the passion and tenacity that those at the top of the healthcare industry must possess to succeed in this competitive field.
With more than 30 years of surgical experience and an incredible reputation for taking high-risk cases that others have turned down, Dr. Hartman is one of New York's most sought-after cardiac surgeons. Currently, he oversees one of the state's busiest and most successful cardiothoracic programs across all the Northwell campuses providing cardiovascular and thoracic surgery.
In this crucial role, Dr. Hartman routinely achieves high rankings in the New York State Department of Health's (NYSDOH) reports on cardiac surgery, having among the best outcomes in the state. He also participates in corporate social responsibility (CSR) principles and philosophies, including patient-first, inclusion and diversity, common-sense practices, and women's rights to full reproductive care.
With a vision of making advanced cardiac care accessible to people in all the communities served by NSUH, Dr. Hartman is proud of the focused care and attention he and his team offer to patients and their families – before, during, and after surgery.
He even took the initiative to create the Follow Your Heart program, which sends skilled medical professionals to patients' homes to help with recovery after surgery and reduce hospital readmissions.
Dr. Hartman asserts that the most gratifying thing about his job and decades-long career is simply knowing his patients. Interacting with them and getting to know them and their families is what ultimately provides him with the most satisfaction at the end of the day.
He adds that while some in the medical field may become hardened after many years of practice, he feels just the opposite. Dr. Hartman's driving principle has always been to treat everybody with the respect and due diligence that you would want for yourself and your family.
NORTH SHORE UNIVERSITY HOSPITAL PARTNERS