Ari Melamud, CEO of the recently rebranded Incredo LTD, provides exciting details of the company's first-of-its-kind sugar-based sugar reduction solution, Incredo® Sugar.
Q&A WITH ARI MELAMUD, CEO, INCREDO LTD
Firstly, could you tell us more about your rebrand to Incredo LTD, and the reasons behind it?
Ari Melamud, CEO (AM): The unveiling of the new name, from DouxMatok to Incredo LTD, is based on the company's signature product, Incredo® Sugar, and coincides with Incredo's announcement that it has raised $30 million in a Series C funding round to further support research and development, integrate its product in a variety of applications and accelerate its commercial partnerships.
Now that our flagship product has become commercially available in the US and is gaining more awareness within the industry, we have decided to simplify our communications by unifying our identity under the name 'Incredo' – a single, powerful brand that will be memorable to our customers as we gear up for a period of continuous growth and commercialization.
What is it that makes your flagship product, Incredo Sugar, a first-of-its-kind, clean-label sugar reduction solution?
AM: Our company was formed in 2014 by Professor Avraham Baniel, a famous chemist and professor here in Israel. He was 95 when he invented the technology behind Incredo® Sugar. His son, Eran, founded the company, based on his father's idea. Eran ran the company up until 2021, when I joined as CEO.
Incredo® Sugar, our flagship product, is a first-of-its-kind sugar-based sugar reduction solution, which uses a clever process to maximize the efficiency of sugar delivery to the tongue, whilst maintaining the same level of sweetness. It can reduce the presence of conventional sugar by 30-50 percent in a wide range of food and snacks, without compromising the taste or texture of food.
Remarkably, Incredo® Sugar, like its original counterpart, is made with real cane or beet sugar. We don't use anything synthetic or artificial in the production process.
This process enables Incredo® Sugar to break down and dissolve faster in saliva, creating a higher concentration of sugar on the tongue. Our brain interprets this as more sugar in the food, which results in a delicious sugary experience with substantially less actual sugar.
It's important to remember that it's simply a physical change in the structure of the crystal and that there are no additives or additional chemical processes used.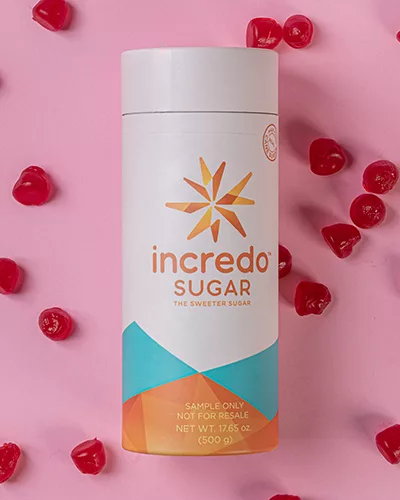 As one of the most promising food innovations, is Incredo Sugar gaining more awareness in the US as a healthier alternative to sugar?
AM: Yes, this latest round of funding follows a successful 2022, when we announced a partnership with Blommer Chocolate Company, and you'll already find Incredo® Sugar in products throughout the States.
As you may be aware, over consumption of sugar causes many illnesses — including obesity and diabetes. Yet, according to the US Department of Agriculture, the average American consumes roughly 17 teaspoons of sugar per day – significantly more than the recommended daily intake of six teaspoons.
In addition, the World Health Organization released a new guideline on non-sugar sweeteners in May, which recommended against their use for weight loss, but also suggested that there may be potential undesirable effects from their long-term use. These include an increased risk of type 2 diabetes, cardiovascular diseases and mortality in adults.
How will you use the latest $30 million of funding you have secured to expand your Incredo Sugar R&D efforts?
AM: The capital raise will help the company expand its research, development and commercialization efforts into Incredo® Sugar in the US, as well as wider into Europe, where it has less presence and visibility than it has there.
This latest round of funding is led by DSM-Firmenich Venturing and Sienna Venture Capital and investments from new investors including Teseo Capital and existing investors Pitango and BlueRed Partners, who led the previous round.
In addition, we have a joint development agreement with Ferrero, which is making great progress.
What are some of the new products that this latest round of funding will be used to help deliver in the US?
AM: Incredo® Sugar is a highly versatile product and can be used in baked goods and spreads as well as sweets and chocolate.
We aren't currently able to make any announcements about potential new products currently, but we hope to do so later this year and look forward to communicating this to readers of North America Outlook.
Equally, how will the funding accelerate the commercialization of Incredo Sugar in 2023, with new and increased availability across the US and beyond?
AM: The funding is a fundamental building block in enabling us to grow our brand in the US and further afield, and to accelerate commercialization, enabling us to grow our partnership with existing manufacturers in the US, and to encourage more brands to join us on our mission for a healthier world and use Incredo® Sugar in their consumer-facing products.
Finally, in what ways will this capital injection help to support the growth of Incredo LTD?
AM: We are on a mission to make the world a healthier place and this injection of capital will enable us to move forward with this vision with increased vigour. With the introduction of Incredo® Sugar, we can empower both delicious taste and improved nutrition, all while helping to curb the overconsumption of sugar. In doing so, we are also responding to consumer demand and market trends.