Flavorsome food and the thrill of pickleball are served up at the unique entertainment complexes of Chicken N Pickle. Joe Palermo, Vice President of Operations, offers insight into the company's expanding footprint and local community involvement.
FUN AND FOOD ON THE COURT
Pickleball is the fastest growing sport in the US.
A curious combination of tennis, badminton and ping pong, pickleball is a paddle sport contested between two to four players, with rules that are easy and fun for people to pick up and play together.
"Pickleball is a sport that's truly for all ages and ability levels," says Joe Palermo, Vice President of Operations at Chicken N Pickle.
Food and fun spills onto the court at Chicken N Pickle's unique indoor/outdoor family-friendly entertainment complexes, whose pickleball courts are complemented by a casual, chef-driven restaurant and sports bar, a variety of yard games and private dining and entertainment spaces.
Established in Kansas City in 2016, it has become a wildly popular destination for families, young adults, private events and corporate gatherings.
To maximize visibility and engagement for all guests, the game yard functions as a town square would – a multidimensional space that can transform throughout the year for outdoor games, live music, watch parties, winter ice skating and more.
"With such active entertainment such as pickleball, yard games, brunch bingo, chef dinners, pop-up shops and live music, customers forget about their cell phones and interact with each other," Palermo tells us.
"Men and women engage in a game that enables people of all skill sets to compete; businesses find a thoughtful, fun curriculum for team building, professional development, and some after-hours recreation that deepens work relationships and enhances productivity; and friends find a place to gather round and watch the big game whilst enjoying drinks from hometown breweries alongside international favorites."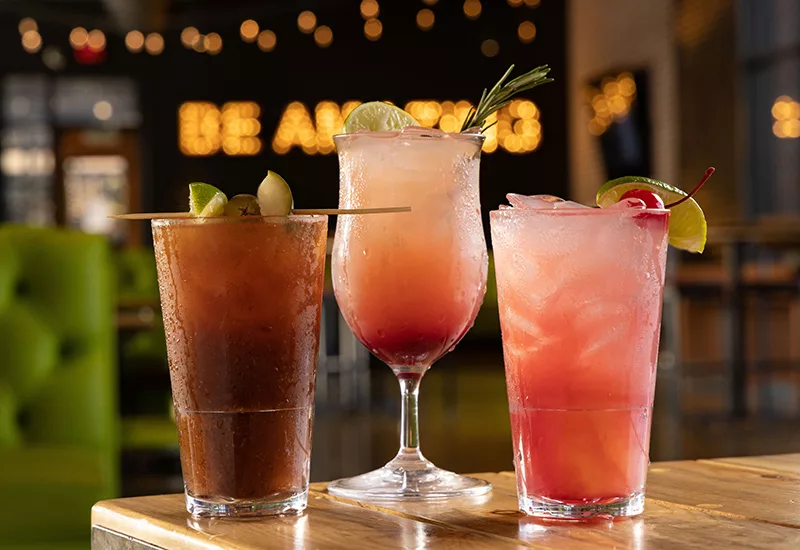 EXPANDING FOOTPRINT
Since opening in 2016, Chicken N Pickle has expanded to Wichita and Overland Park (KS), San Antonio, Grand Prairie and Grapevine (TX), and Oklahoma City (OK).
Seven more locations are currently under development in Allen and Webster (TX), Fishers (IN), Thornton (CO), Henderson (NV), St. Charles (MO), and Glendale (AZ), with the latter two opening this year and the rest projected to open in 2024.
Though not currently franchising, the company is staring rapid expansion in the face and aims to open three to four complexes a year in the foreseeable future.
"Our real estate team studies the area, reviews population density, and focuses on size, price, and timing," informs Palermo.
"We're growing our brand as a young company that is a leader in the pickleball industry, and it's important to let our operations team manage every store. This strategy ensures that our customers have a best-in-class experience."
In line with Chicken N Pickle's expanding footprint, the company has grown to around 1,200 store-level staff members and 54 home office employees as of March 2023.
As the restaurant space continues to evolve, Palermo recognizes that staffing headwinds are challenging all industry leaders to think outside the box, not only to attract top-tier talent but to retain it.
"I've always believed this is an exciting space to work in as a career. Our industry is an anomaly in that team members can move through the ranks and advance to running a multi-billion dollar business without a degree or MBA," he elaborates.
"The life skills obtained in this business create rounded individuals that understand problem solving, time management, communications, and people skills to name a few."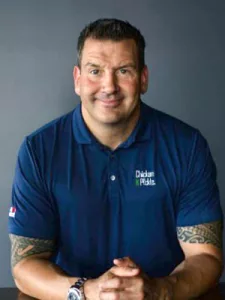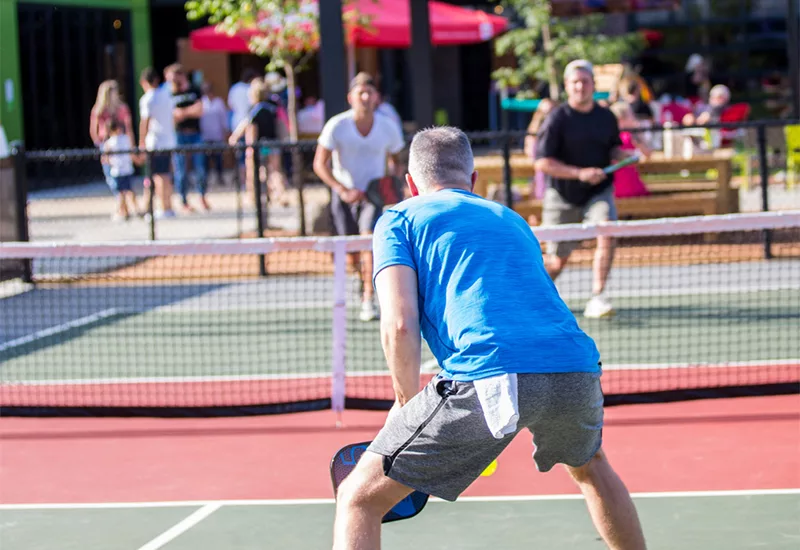 IN LOVE WITH LOCAL
With increasing competition in the pickleball space, the quality of Chicken N Pickle's food is a key differentiator.
The company's kitchens have a focus on farm-to-table offerings with 95 percent of its food menu made from scratch, testament to the local quality and freshness it provides for guests.
"We are so in love with local that we strive to source from local providers, resulting in additive-free, delicious menu items with a low carbon footprint for all food palates," shares Palermo.
"Each property smokes protein daily, including brisket, ribs, pulled pork and chicken wings. The time and energy behind the scenes is enormous, and is a pillar we stand by as an organization."
In his position as Vice President of Operations, which he has held since 2022, Palermo brings a solid track record of successful restaurant operations, knowledge of emerging technologies and trends, and R&D in high-volume restaurants.
As well as providing strategic direction to guide Chicken N Pickle's culinary and restaurant operations, he identifies new technologies and systems to streamline training processes; assesses and improves operational and financial performance; and ensures that departmental decisions and project plans for staffing, development, organization, material efficiency, and facilities are executed in line with the company's business plan and vision.
Recent projects, for example, include the addition of BBQ and pizza/bar shack structures to the company's Grapevine facility, recognizing the need to better serve guests, provide more choice of food and drink, and increase dwell time at the complex.
In Wichita, meanwhile, Chicken N Pickle has air conditioned its pickleball courts to provide more comfortable playing conditions during throughout the year.
Such projects demonstrate the company's entrepreneurial spirit and the unique evolution of its entertainment complexes, both in the kitchen and on the court.
"As an emerging brand, we are forever reviewing ways to evolve our current locations," Palermo emphasizes.
"Overland Park has also just received a $125,000 TV package to help showcase sporting events, as we dip our toes in the sports bar segment."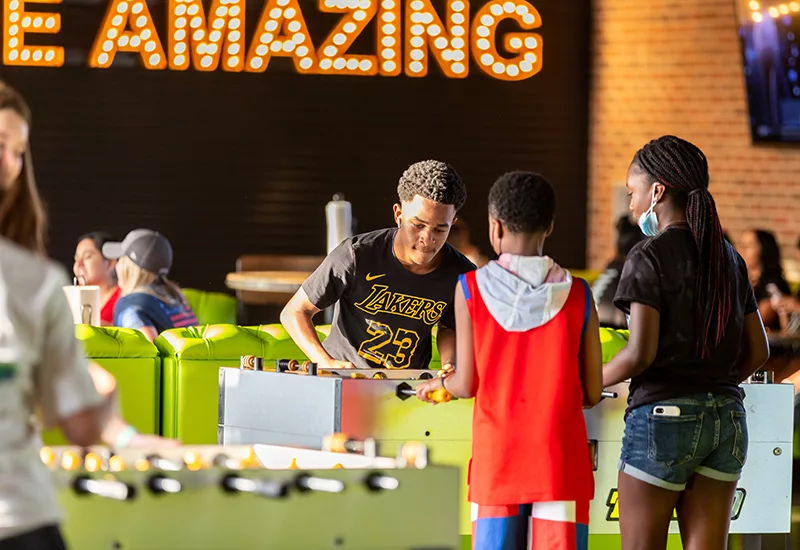 COMMUNITY AT THE CORE
In addition to sourcing local produce, Chicken N Pickle's chef-driven kitchens have an eye towards community and togetherness.
Community is a core value of the company, whose active involvement creates a happier workforce and a more loyal customer base.
"Engagement within our community provides employees with a way to interact outside of work. As a result, employees create stronger bonds and collaborate more successfully when they walk through our doors," says Palermo.
"A close-knit culture and employee satisfaction go hand in hand. We have found that being engaged in the community not only helps us attract and retain customers and employees, but also to network and connect with other local businesses; sometimes, those partnerships create the best kind of positive goodwill!"
Chicken N Pickle participates heavily in philanthropic efforts throughout the community, embracing causes that matter most to guests and giving back to them in meaningful ways.
It is the company's vision to become a recognized leader in the transformation of its communities, by ensuring that all charitable organizations have the ability to reach those in need.
"Through fun and fellowship, we are determined to create unifying bonds of goodness that will ripple throughout our communities and lead to a better world," Palermo affirms.
This mindset is manifested in the Chicken N Pickle Foundation, formed in 2020 to improve the lives of people in the community by partnering with local not-for-profit health and wellness organizations that promote relationship building.
"In the past 12 months, our team has supported thousands in the community. We frequently donate meeting space to charitable organizations to host board meetings, volunteer appreciation nights, and more," Palermo reveals.
"By fostering relationships with local not-for-profits and donating our space, it provides an opportunity for them to focus on team building and creating strong relationships among their teams, so they are better equipped to continue their positive impact in the community."
The company also provides employees with four paid volunteer days each year, and encourages them to use this time to support local not-for-profit organizations.
Much like the sport of pickleball, which brings together people of all ages and abilities on the court, Chicken N Pickle's heart is in the community.