Kodiak Gas Services LLC focuses on providing safety and contract compression services to oil and gas producers and midstream customers throughout the United States. We delve deeper with Vice President of ESG Innovations, Kathy Norris.
INTRODUCTION
"Business is our priority, but safety is our foundation."
It is this opening statement of intent that defines Kodiak Gas Services (Kodiak) as a behemoth of the US oil and gas industry, recognizing that business success starts with a solid safety culture.
Kodiak focuses on providing its contract compression services to oil and gas producers and midstream customers in high-volume gas gathering systems, processing facilities, multi-well gas lift applications, and natural gas transmission systems.
As part of Kodiak's service offering, pad drilling allows midstream companies to create large networks of low-pressure gathering systems that require large compressor stations.
Compressor stations consist of one or more compressors that boost the pressure of gas coming from the location in order to move it to processing facilities. From processing facilities, fractionated methane is transported to end markets including gas utility lines, industrial applications, and liquefied natural gas (LNG) plants.
With the rise of shale oil and the proliferation of hydraulic fracking, the need for compression in oil production has risen dramatically in recent years and is required immediately after the completion of a well in certain basins across the US.
The multi-well gas lift has become the preferred method of artificial lift for many producers and is an integral part of producers' drilling and completion plans, driving demand for larger high-pressure solutions offered by Kodiak.
With many of the easy-to-produce reserves already recovered in North America, producers are exploring tertiary techniques to recover even more of the existing oil reserves. Enhanced oil recovery (EOR) is one such tertiary recovery process by which producers inject heat, steam, or natural gas and CO2 at high pressures to extract and recover as much as 30 to 60 percent more oil from existing wells.
EOR requires specialty compression equipment, and Kodiak offers a fleet of specially engineered natural gas EOR compressors and the expertise to effectively manage customers' EOR efforts.
"At a young age, I was really drawn to where we were getting our power and how the whole world has become reliant on it. That's where I then started investigating and exploring the oil and gas side of it, following my natural curiosity and seeing how we were trying to make changes, to be cleaner and more sustainable as a society," opens Kathy Norris, Vice President of ESG Innovations at Kodiak.
Reflecting on her experience of a career in the oil and gas industry, she is nothing but exuberant, telling us how "working in this field is probably the most exciting time I've had. I feel like we are truly working as a team to try to continue to lower our greenhouse gas (GHG) footprint, and a lot of people don't realize that over the past 20 years, the oil and gas business doubled its output while lowering its GHG emissions by about the same percentage."
At present, Kodiak is the largest privately held contract compression company in the US, which means that it provides not only gas compression that moves the natural gas down the pipeline but provides the people on site to keep the equipment in shape, up to date, totally maintained and always running, which helps to cut the emissions of operations.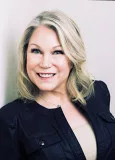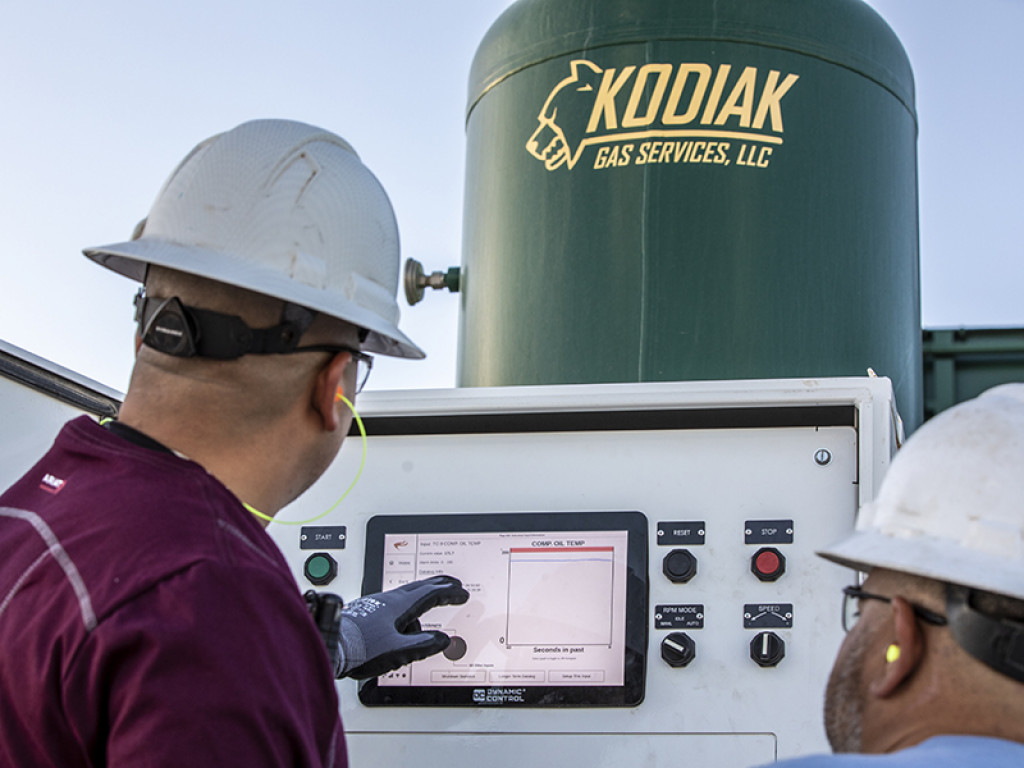 EMBRACING ECOVIEW
One of Kodiak's recent flagship projects is the new GHG emission and real-time operations monitoring system, known as EcoView. This new tool advances operations, reliability and emissions reporting across the company's compression assets.
Kodiak is looking forward to evolving the capabilities of EcoView as customer and industry needs continue to adapt.
"We're particularly excited about our new EcoView system," Norris tells us.
"This new technology basically took our vision of analyzing our equipment for any potential mechanical or operational issues and made it a reality. We now have a leak detection camera that monitors emissions from the engine and detects the levels of any gas leaks so that we can resolve them immediately."
A proprietary data collection and high-fidelity transmission system that monitors emissions and streamlines efficiency for the company's compression assets, EcoView provides Kodiak with unparalleled, comprehensive views of all operational data captured through the 150 sensors on its equipment.
The development of EcoView offers Kodiak's technicians, management, and clients an unprecedented ability to monitor operational data in real-time and enhance the already industry-leading mechanical availability guarantee.
With ESG initiatives front and center for the industry, this technology eliminates the guesswork for Kodiak's customers and drastically increases the accuracy of the data related to the GHG levels they report.
"It has lowered our emissions on site and streamlined our jobs" Norris acclaims.
Through 2022, Kodiak has committed a significant investment to EcoView as part of the company's pledge to sustainably provide critical midstream infrastructure and related compression equipment and services for the US energy sector.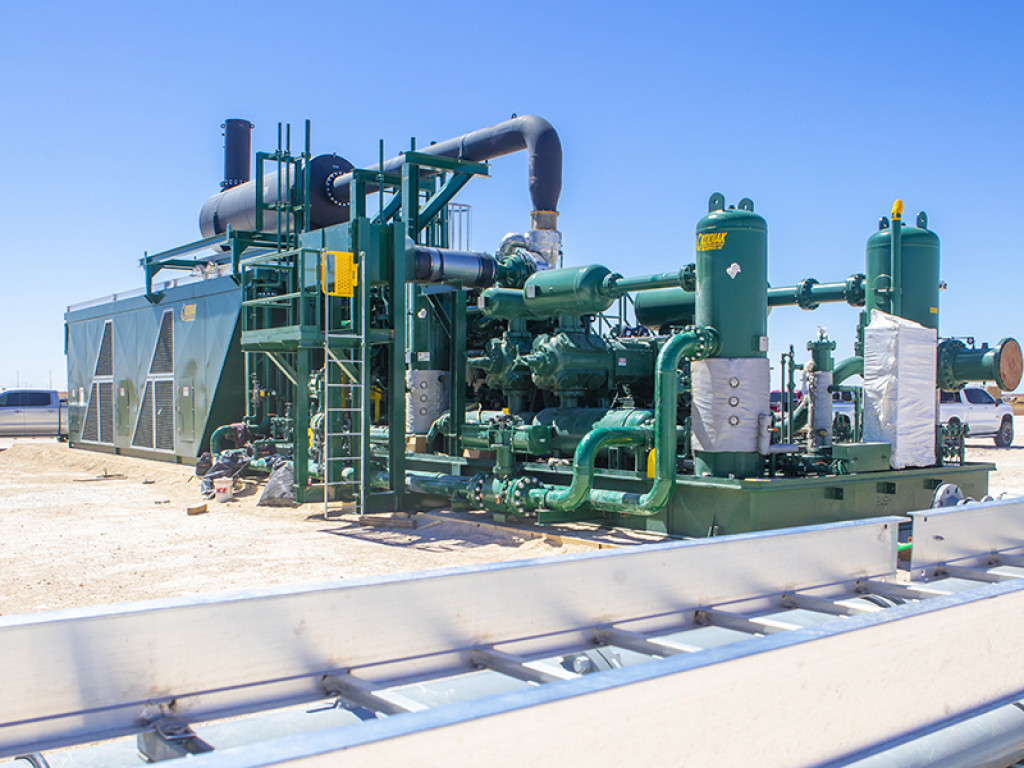 Kodiak units with EcoView technology will gather real-time operations data every second. Approximately five billion data points per compression asset, per year are collected on-site, interpreted within Kodiak's software and associated hardware, and transmitted back to cloud-based servers every 30 seconds.
With this technological advancement, Kodiak can provide its customers with access to instantaneous operational visibility, unmatched anywhere else in the compression industry which will drive both environmental and financial sustainability.
EcoView will enable Kodiak to make truly predictive maintenance a reality through future partnerships with machine learning (ML) companies, driving down costs, improving operational efficiencies, and minimizing the equipment's environmental impact by reducing unplanned downtime incidents.
PRIORITIZING SAFETY
Kodiak's number one asset is its employees, and ensuring their safety. The health and safety of employees and customers remain the key driver of Kodiak's premier Environment Health and Safety (EHS) program.
Kodiak follows a three-pronged approach: balancing safety, productivity, and quality. It is this dynamic safety culture that goes beyond simply checking a box.
"In our company culture, people are number one; we're a company with heart," Norris says proudly.
With in-depth training that addresses industry standards, internal processes and procedures, as well as customer expectations, Kodiak's employees are deployed to job locations prepared to excel at all times.
Kodiak's safety and risk management teams have regular and open dialogue with employees and customers, fostering a strong organizational culture of safety within the company. This includes monthly safety meetings attended by each employee, a behaviour-based safety (BBS) observation program, and workplace hazard identification and correction analysis. This is in addition to training with Personal Protective Equipment (PPE), and regular safety "spot checks" conducted to ensure the HSE program is working and up to date on all applicable laws, rules and regulations.
Kodiak's safety department strives to build strong relationships within its own ranks, as well as with the company's extensive customer base. Regional Safety Specialists administer PEC-based training coupled with training in Kodiak procedures and safety equipment during the hiring process and annually thereafter. To address the dangers of gases, such as H2S, each employee undergoes comprehensive annual training, regardless of H2S levels in their assigned units. This creates flexibility within Kodiak's workforce and allows each employee to recognize changing environments.
Each employee assigned to locations with H2S presence participates in the Respiratory Protection Program, receiving hands-on training on respiratory equipment, medical evaluation, and equipment-specific fit-testing.
Employee training is further supplemented with certification in first aid and CPR, utilizing industry approved techniques. Kodiak recognizes the hazards of the oil and gas industry don't start and stop at the compressor station. Therefore, each employee receives defensive driving training.
To put safety in the hands of the employees, Kodiak has adopted a behavior-based observation program. Introduction to this program is conducted during new hire training and then subsequently, reinforced in the "on the job". Each employee is taught how to recognize behaviors and unsafe conditions that could lead to an incident or damage to property and the environment. Employees can complete the observation electronically or manually, and the program is supported at all levels of leadership within Kodiak.
The company's safety department instructors, under the leadership of Executive Vice President of EH&S Carrie Hodgins, are all certified in PEC Core Compliance, PEC Safeland/Safegulf, PEC H2S Clear, and first aid/CPR.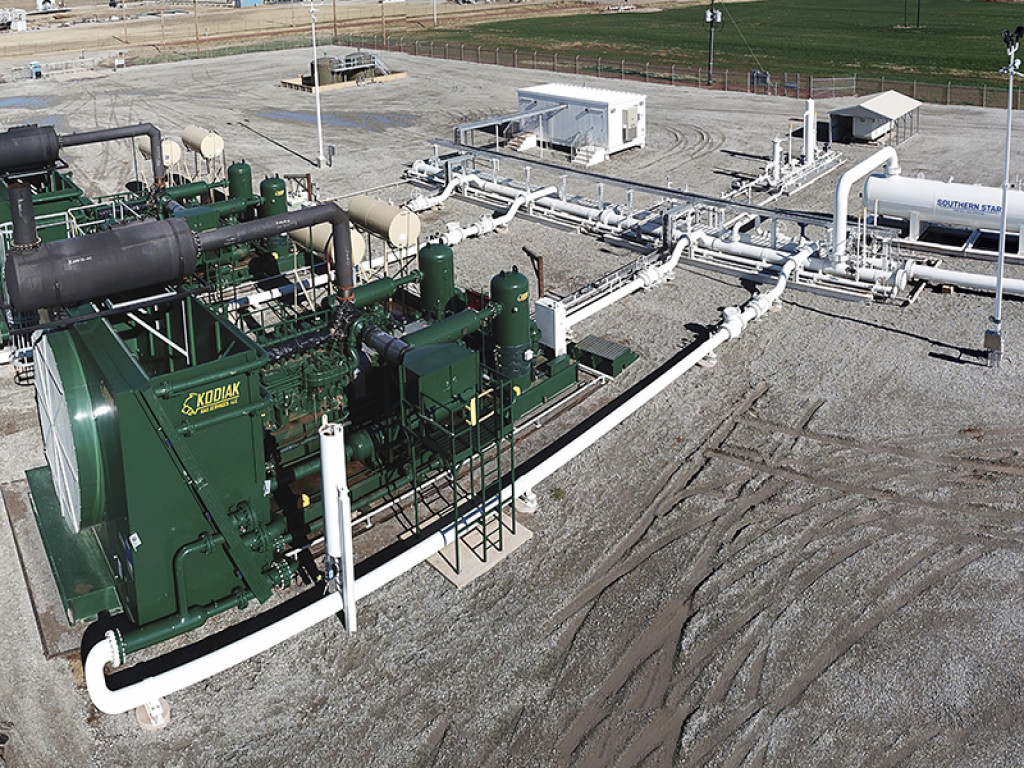 A TRULY BRIGHT FUTURE
The Kodiak family has always had a strong commitment to its people and communities. To help extend the heart of Kodiak to the community at large, the Kodiak Cares Foundation (KCF) was created in 2021 with one key focus: to create positive change by supporting charities, employees, and the overall community in which the company operates and calls "home".
"It is important to remember that electricity is not a natural commodity and must come from somewhere." As we explore ways to improve renewable power sources, natural gas continues to be our most affordable and viable option because it is cleaner than coal and, at this moment, is more reliable than wind or solar.
KODIAK GAS SERVICES PARTNERS