Outlook interviewed Robert Cumming, Director of Environment, and David Redfern, CEO, of Lafarge Eastern Canada for a closer look at how the company is making sustainability a core component of its operations.
INTRODUCTION
Construction has always been at the centre of civilisation and urban planning—that is, for as long as humans have had buildings to build.
From the first wooden forts and lookout towers, to motte-and-bailey castles, and the Great Pyramids of Giza, construction has served as the building blocks of civilisations. And with the unique and innovative designs of the Roman Empire, with grand structures such as the Colosseum and aqueducts, the world saw its first use of an early form of cement en masse.
Today, cement, concrete and other materials dominate the construction industry as primary materials for buildings, bridges, walkways, roads, paths, and a multitude of other structures all over the globe. There is more concrete sold per year than all other building materials combined.
And in Canada, the construction industry has undergone a dramatic change. Due to a mixture of rapidly evolving innovations, a global focus on sustainability, and recent challenges posed by the current COVID-19 pandemic, Canadian construction has renewed itself to align with an ever-advancing sector.
"We'll look back on this time period in 10 years and recognise that the industry was going through a huge shift – the biggest changes in the building materials sector in over 100 years," begins David Redfern, CEO of Lafarge Eastern Canada.
"The change won't happen if we act alone. We must change the 'tragedy of the commons' into 'the power of the commons,'. To do so, we need to activate a framework of partners with governments, developers, NGOs and businesses to act interdependently and to collectively drive a sustainability-focused mindset in our shared-resource system."
Lafarge Canada is the largest Canadian provider of diversified construction materials, as well as being a member of the global group and brand, LafargeHolcim.
The company's Canadian entity is split into the two divisions: Eastern and Western Canada, and functions as a materials supplier while engaging in construction streams such as buildings and housing, infrastructure, energy, and mining. The company prides itself on providing time, cost, performance, innovation, and sustainability benefits to its customers' projects.
Having worked for Lafarge for over twenty years, Redfern has witnessed first-hand recent industry developments and has had the honour of helping the company further its aims and reach new goals. Robert Cumming, Director of Environment for Lafarge Canada, agrees.
"Sustainable construction is the way forward, and Lafarge is definitely headed in the right direction," he tells us.
After completing his chemical engineering degree in 1989, Cumming worked in an engineering firm, and during a part time master's in environmental engineering he developed a passion for the promotion and preservation of sustainability and the environment.
Cumming then joined an environmental services company where he learned the importance of the relationships with stakeholders, partnerships, environmental management systems, and how to increase profits through sustainable thinking.
"Long before sustainability was a widely established goal, I knew that I wanted to focus on making a lighter environmental footprint from within the industrial sector – and to do so efficiently, effectively, and profitably," Cumming says.
"In 2004 I joined Lafarge Canada just as the company was embarking on a circular economy program to repurpose waste materials into fuels. Construction and demolition are mirror images and lend themselves well to circularity."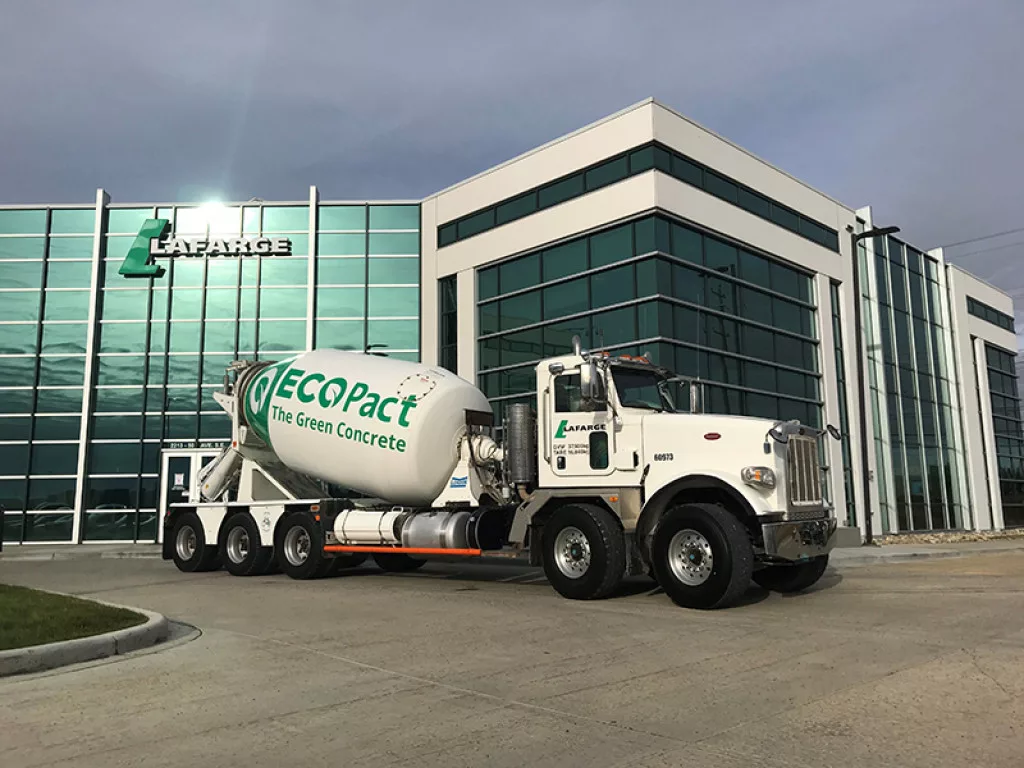 SUSTAINABLE CEMENT SOLUTIONS
Indeed, CEO Redfern and Lafarge Canada attribute the firm's long-standing success and reputation to three key factors: innovation, people-centricity and, critically, sustainability.
With the aim of taking serious actions towards increased sustainability, Lafarge signed a Net Zero Pledge with science-based targets as of September 2020. Having joined the Science Based Targets initiative (SBTi), LafargeHolcim is the first international building materials company to sign the "Business Ambition for 1.5°C" in line with the net zero pathway aim.
A part of this is its 2030 goals that include lowering its target for CO2 in cement production to 475 kilogrammes per tonne and, as of signing the pledge, partnering with SBTi to develop an active plan for aligning climate targets to a 1.5°C future in the sector – paving the way for a greener industry.
"It has been an important priority for our company, especially in recent years. The appointment of our Chief Sustainability Officer, Magali Anderson at the LafargeHolcim level, clearly signalled that sustainability is now a central theme to our company's growth strategy," Redfern elaborates.
"With 60 percent of the world's 2050 infrastructure needs not being built yet, and the simultaneous global imperative to reach net-zero carbon emissions in all walks of life, we see this as an immense opportunity for growth – rewarding our shareholders, our employees, our neighbours, and of course our customers."
Earlier this year Lafarge mapped out the firm's decarbonisation strategy and moved an extra step forward to ensure its 2030 goal and plans were certified by science-based targets. This was to signal to company stakeholders that environmental aims such as decarbonisation are true business aims, not simply aspirational goals without a business case attached to them.
To support this, Lafarge ensures that over 55 percent of its research, conducted by its Lyon, France Labs – the world's largest building materials laboratory – is focused on issues surrounding climate solutions within the industry.
"We are replacing our fossil fuels with low carbon fuels thus avoiding their landfilling (or incineration) and the associated greenhouse gases," Cumming adds. "On top of this, the company is innovating with advanced cement blends further integrating steel and electricity production by-products, investing in energy efficiency, and demonstrating novel carbon capture and utilisation technologies with partners.
"We are also working with our customers and governments to move towards lower carbon procurement and supporting the metrics and performance standards needed to facilitate this. For example, in early 2021, the Canadian Standards Association (CSA) in conjunction with the American Society for Testing & Materials (ASTM) will publish the CarbonStar standard which will allow a consistent means of measuring carbon content in a cubic meter or cubic yard of concrete," concludes Redfern.
Lafarge Canada has also launched the ECOPact product line consisting of low-carbon concrete product offers. This will enable customers to choose lower carbon, greener options that are more financially viable, and suit their specific needs.
Lafarge Eastern Canada already recycles two million metric tonnes of industrial and commercial by-products annually, and the national company is eager to carry out its five international carbon capture pilot projects, including CO2Ment – a project focused around capturing industry greenhouse gases and recycling them into low-carbon fuels for the Western Canada business unit.
Aside from Lafarge's progressive sustainability story, the firm is equally determined on being a people-centric organisation that ensures its employees are proud of and enjoy their work, assuring quality results for its customers, and engaging with the wider community.
"We have a wide array of sponsorships and partnerships with local community leaders. From product donations for the University of Dalhousie's Engineering Building, sponsorship of NGO conferences, donations to various community organisations, and even small hyper-local donations like the Angel Tree Gifts for Kids, in the village of Bath, Ontario," Cumming tells us.
Engaging with local communities is not only a positive company aim, but also a necessity. With a product like concrete which only takes a few hours of transport time before it sets, the firm's concrete plants must be strategically located close to markets. Given transportation costs the aggregate quarries must also be close to the concrete plant – transportation networks are critical to success.
"David Redfern, CEO Lafarge Eastern Canada, has signed a UN declaration with an extensive array of programs to attract and retain women in our organisation and industry. We have also been awarded a place in Canada's Best Diversity Employers awards."
Indeed, Lafarge is one company focused on positive wholesome industry impacts, with a progressive attitude towards advancing business, people, and the environment.
Redfern's leadership embodies these principles.
"I've been with Lafarge for over 20 years, having started as a Supply Chain Manager in 2000. Over those years, I have risen through a multitude of positions spanning many areas of the firm, CEO Redfern explains.
From supply chain, to sales and marketing, to Group Vice President Aggregate Performance Topline, in Paris – where he oversaw the global commercial aggregate product line with operations in 22 countries, strategic assessments, innovation and product development, and team growth – Redfern has placed a great importance on progression and company values.
As CEO, David is now utilising his position, experience, and expertise in the industry to help enact the innovative, people-centric, and sustainable continuation of Lafarge into a new decade.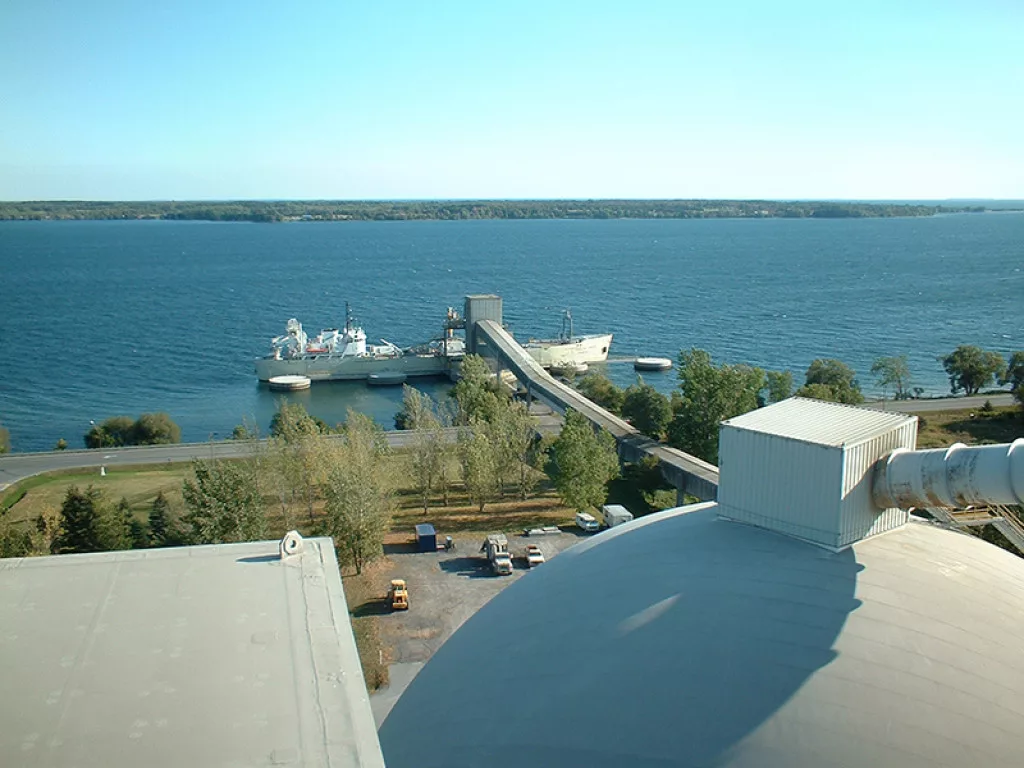 INCORPORATING INNOVATION
The other standout factor, as stated by Redfern, is innovation.
Using the most innovative methods and practices in the construction industry is the key to staying above and apart from the industry competition, and Lafarge incorporates the latest practices into serving its customers to provide the best possible products and experience.
Critical to this is an engaged and highly valued workforce – that is, having the right people, with the right skills, and the right motivation.
"The company stands out from its industry peers because of our employees," Redfern says. "Our people are the key to building our firm's relationships with end-users, communities and customers. They ensure that our partners and community have a memorable experience when dealing with Lafarge, and they themselves believe in and stand behind our products.
"It is because of our employees that our entire brand continues to expand into new products and markets, and consequently thrive."
The firm ensures that it holds onto the tenants of a people-centric business. One example is through its Employee Value Proposition, making it a place where safety comes first – the foundation block upon which all else is built.
The proposition also assures that assignments encompass the company's performance culture, and leadership and career advancements provide empowerment, autonomy, and opportunities to cross-collaborate. It also offers online learning platforms to allow employees to learn at their own speed while also expanding their knowledge and personal toolkit to further their careers.
The Lafarge Leadership Development Program (LLDP) is an 18-months to two-year internship program for bright new graduates to develop their leadership skills while learning on the job.
"It instils a well-rounded understanding of the construction materials industry while reinforcing fundamental leadership principles and practices," says Redfern. "We ensure that we develop a skilled workforce focused on finding sustainability solutions and innovative ways to do things for our customers. Our program is a key element of our Eastern Canada Employee Value Proposition and we are proud to say that we've been recognised as part of Canada's Top Employers for Young People."
When it comes to product innovation, Lafarge is very much an industry protagonist.
"We have developed a robust capability of providing cement and concrete blends that offer superior performance for our customers (for example, set time, strength, and workability), as well as being made with more sustainable methods," Cumming chimes in.
"Through the ECOPact product line, we are providing an important and additional dimension of carbon content to our product range. This is alongside another very promising range of next generation technological development – mineralisation technologies.
"What is not often known about concrete is that if it is crushed and exposed to air it will naturally absorb CO2. This is the opposite of the chemical reaction in cement plants, wherein limestone is heated to form lime and CO2. The exciting prospect exists to someday manufacture limestone aggregates from calcium and CO2 and replace virgin aggregate in concrete mixes such that the concrete becomes carbon negative."
The firm is currently investigating such technological developers in the sector, and optimism remains for the potential for this kind of technology to become fully commercialised in the near future.
Such innovations are indicative of Lafarge Canada's progressive plans for the future.
In Eastern Canada, the goal is to reduce its current kilograms of CO2 per tonne of cement to below the global company's 2030 goal of 475 by 2025, five years early. The firm aims to reduce this even further by 2030.
The company also plans to increase its sustainability solutions as a share of its annual earnings, for example through its new low carbon cement and concrete products and finding new ways for its products to be used in meeting environmental imperatives.
In addition to this, last month LafargeHolcim reaffirmed its commitment to reaching its CO2 reduction goals by 2030 through the launch of its first-ever sustainability-linked bond. The bond is an industry first and also, a testament to LafargeHolcim's leadership position in paving the way forward.
"Lafarge and our employees' purpose, in collaboration with our partners in government, research and business is to build better cities. These goals are our commitment to make that happen." Redfern concludes optimistically.