Pubinno takes good beer seriously. We catch up with CEO, Can Algul, to explore the San Francisco tech start-up's mission to clean up the beer industry.
Q&A WITH CAN ALGUL, CEO, PUBINNO
Tell us about Pubinno – what led to the company's inception?
Can Algul, CEO (CA): It's a fun story! The first product Pubinno ever developed was a self-serving BeerPoint aiming to pour the pints in the best and fastest way possible. It allowed consumers to serve their own beer in less than nine seconds at optimum conditions after completing the payment with a prepaid card. The BeerPoint was designed in 2015 to provide a perfect draft beer experience and service to consumers. It tracked all transactions, enabling breweries and sales outlets to measure sales and take appropriate actions. By digitizing specific aspects of the supply chain, the system helped prevent stock shortages and excess inventory.
BeerPoint's success made us realize that technology could transform one of the world's oldest and most traditional industries. We realized that by integrating data-centered, smart solutions in the draft beer systems, we could serve perfect beer to customers while providing invaluable data to business partners regarding the quality of the beer as well as keeping track of any anomalies that might occur. A year later, the first smart product called Smart Tap I came into play with the aim of building the "Internet of Beer" and transforming the industry with sustainable, traceable, transparent solutions that utilize data and technology.
Now Pubinno is creating value for the entire ecosystem with its smart, connected products – The Smart Tap, Smart Clean and Smart Hub – in over 60 cities across three continents, from Tokyo to Madrid. Powered by patented Artificial Intelligence, and Robotics, our smart solutions are building the "Internet of Beer". Pubinno supports all stakeholders in the entire draft beer ecosystem by enabling them to manage their draft beer operations more efficiently, in excellent quality and prevent unintentional losses in the semi-industrial draft beer sector by making the whole process measurable and traceable. We are currently working with four of the world's TOP 10 breweries.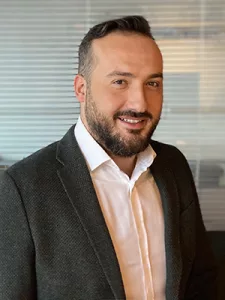 How does Pubbino technology help to deliver the perfect draft beer?
CA: After working as a bartender, I saw the systems pubs/restaurants use to serve beer. I soon realized that the beer industry has been using the same beer tap system since the beginning of the 20th century. Despite many brewers and bar owners expressing dissatisfaction with the system, no one had been able to come up with a solution for the problems of the industry, such as not being able to control the foam level and temperature of the beer, the difficult and time-consuming cleaning of the beer tap, and identifying the cause of anomalies that lead to problems. Data has also always been a missing aspect of the beer industry despite its immense importance in taking business decisions, checking the quality of the beer you are selling and more.
Pubinno's Smart Tap powered by patented AI and robotics, controls the flow rate of beer and tracks all the parameters for a draft beer system such as pressure, line cleaning, temperature, keg freshness, etc. to maintain the highest beer quality and consequently to deliver perfect beer taste regardless of time and location. With its user-friendly design, Pubinno Smart Tap also helps bartenders deliver multiple tasks easily during peak hours. The patented robotics mechanism installed in the Smart Taps helps generate savings up to 20 percent per keg and ensures that each beer brand is served with the optimal amount of foam, as foam density and thickness can vary depending on the beer brand.
On the other hand the Smart Clean is a fully automated, AI-powered, and portable draft beer line cleaning system, that has been designed to cope with the chronic problems of the draft beer system, and is suitable for all draft beer lines in order to spread out easily all around the world. Thanks to our patented AquaVibra technology, the Smart Clean conducts a unique line cleaning process for each beer line depending on the usage, beer type, cooling system, and line length for maximum quality with minimum resources.
Meanwhile, Pubinno Smart Hub keeps its users up to date with real-time data. Everyone that uses Pubinno products can instantly access the data on many needs-oriented issues such as sector sales average, brand-based detailed insights, KPI tracking, and keg efficiency. Pubinno also expands its sphere of influence by allowing its customers to optimize their operational processes. It helps brewers to reduce carbon emissions in planning, packaging, and logistics by creating a follow-up and controllable communication environment with the data and insights it provides. Increasing the efficiency of draft beer operations contributes to the sustainability goals of breweries. Smart Hub also offers anomaly detection and alerts to fully assist brewers and pub owners in the proper management of their daily business operations. Thanks to the data provided through the Smart Hub, many bars and restaurants have managed to increase their revenue by 15 percent.
What are the environmental advantages of integrating Pubbino technology into the draft beer ecosystem?
CA: Environmental sustainability is at the core of our technology and everything we do. With the smart technologies we leverage, we enable restaurant/bar owners and beer brands to reduce beer waste. To provide some numbers, Pubinno improves the keg efficiency by an average of 20 percent and supports the beer brands' sustainability goals with its environmentally friendly draft beer experience. According to WWF and SABMiller's report, 50 to 155 liters of water is used from farm to glass to produce one liter of beer; an average of 102.5 liters of water.
Since the first launch, over 54 million pints of perfect beer have been poured from Smart Taps. If this beer was sold with standard, conventional procedures, more than 657 Million liters of water would have been lost. Our goal is to have saved one billion liters of beer for a better future by 2030 while establishing the Internet of Beer with all Pubinno products. In addition to water efficiency, we aim to reduce carbon footprints by changing industry trends and consumer habits while increasing the quality of draft beer.
The Smart Clean is a revolutionizing product not only because it is now possible to fully automate the cleaning process of your draft beer tap, but also because it eliminates the need to depend on third parties in any part of the process. This gives the opportunity to determine the time period of the cleaning in line with industry standards and keep the business up and running during preferred times. What is more, with the Smart Clean 85 percent of physical human touch is omitted and the amount of time required is substantially reduced from over 3 hours to 45 minutes. At the same time, it eliminates the countless car drives the personnel of third parties used to take in order to go to bars and restaurants for the cleaning process which eliminates carbon emission. Last but not least, the Smart Clean saves 25 percent of water used in conventional systems, which makes the beer line cleaning process more sustainable, improves the keg's efficiency by around two percent and at the same time saves 15 percent detergent usage. The automated, fully digitized and traceable process the Smart Clean provides reduces great amounts of carbon emission in the beer industry.
"Since the first launch, over 54 million pints of perfect beer have been poured from Smart Taps"

Can Algul, CEO, Pubinno
What are Pubinno's plans for the future?
CA: We have recently entered the Japanese market, and now we plan to increase our presence and the value we create. Our goal is to expand our product and service offerings to better meet the needs and preferences of Japanese consumers. In 2023, our major plan is to expand into New York City.
We also have ambitious goals for our environmental impact. We plan to have saved one billion liters of beer for a better future by 2030 while establishing the Internet of Beer with all Pubinno products. In addition to water efficiency, we aim to reduce the carbon footprints of enterprises by changing consumer and industry habits while increasing the quality of draft beer. By 2030, our goal is to serve the maximum amount of perfect beer possible whilst maximizing our efforts in saving water and reducing carbon emissions.