Giving workplace gender inequality the boot, we speak with Emily Soloby, Founder of safety boot retailer Juno Jones and Co-owner of the AAA School of Trucking.
Introduction
Personal protective equipment (PPE) that doesn't fit properly is a well-known safety hazard. But for women across many industries, the reality remains that the majority of PPE has been designed with a male frame in mind – from face masks that are not tailored to the typically narrower jawline of a woman's face, to steel-capped boots that are suited only to men's shoe sizes.
Manual workwear designed for a comfortable, safe, female-fit is a step towards gender equality in traditionally male-populated industries. Emily Soloby is an innovator who sought to drive this change, combining comfort, style, and quality performance with the launch of her safety boot company, Juno Jones. We speak with the inspirational entrepreneur to find out more.
---
North America Outlook (NA): What led you to establish your company, Juno Jones?
Emily Soloby, Founder: My background is in law, but my husband Ryan and I have been running the AAA School of Trucking for over a decade. During the early years of running that business, I'd often find myself going from my office to the trucks, and the shoes I was wearing weren't cutting it. I couldn't find boots online or in stores that fit my feet properly, were comfortable, and had the safety features I needed to protect myself.
I began talking to other women in the trucking world, and that quickly branched into construction as well as other fields. Everyone told me the same thing— they needed options. All that was available on the market was "pink it and shrink it" boots that were not truly made with women's needs in mind, or actual men's boots in smaller sizes, which didn't fit well at all, and looked ridiculous.
I'm a lifelong boot lover, but I've also always had an interest in shoemaking, and have studied the craft and made shoes by hand. I knew with my background, I'd be the perfect person to create Juno Jones. The response has been amazing. Our Kickstarter funded the first day that we launched, and we are now carried by Zappos, Duluth Trading Company, and of course our website. We are thrilled that our stylish safety boots can now be found on everyone from welders to women at NASA.
---
NA: As Co-owner of the AAA School of Trucking, are you noticing an uptake in female drivers? How does the school encourage them?
Emily Soloby: We are seeing a slow but steady uptick in female drivers. We are noticing that part of that is due to raised awareness, thanks to organizations like Women in Trucking Association, Inc (WIT), and part is due to many carriers now making an effort to recruit women, and to provide safer and more welcoming environments for them to work in. We work closely with WIT to make sure that the female students at our school have the ongoing community they need once they graduate and are in the working world. We also make every effort to maintain women instructors and administrators to foster an environment of inclusion and to provide a diverse perspective.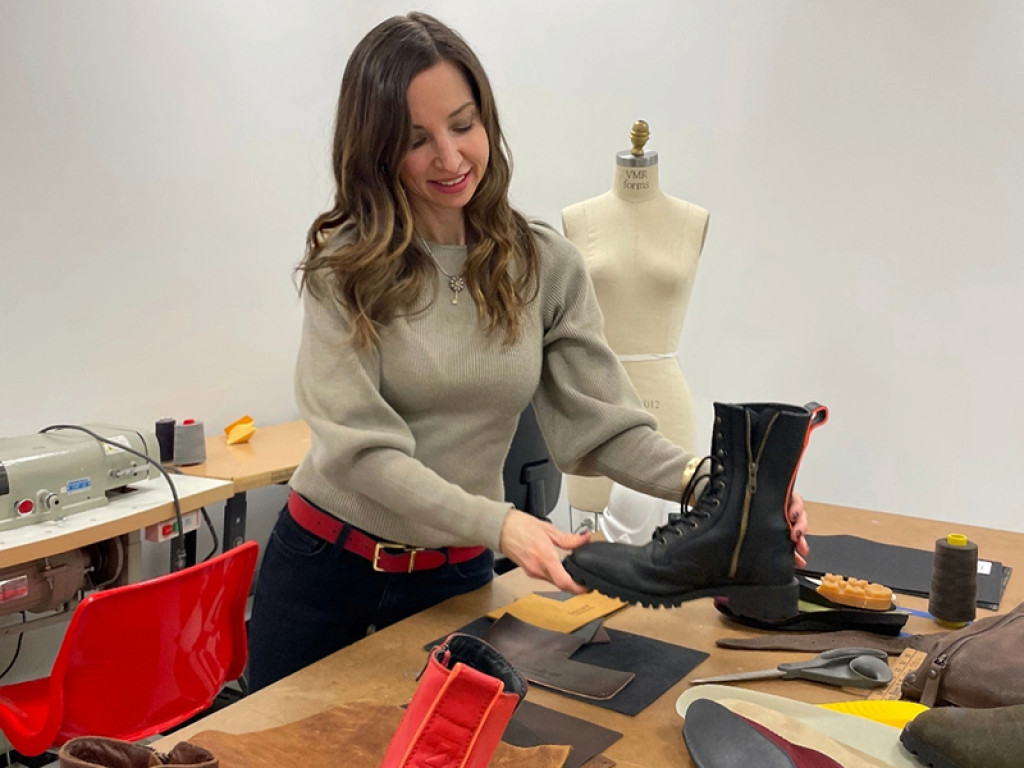 ---
NA: Could you expand on your involvement with Women in Trucking?
Emily Soloby: My company has been a member of Women in Trucking for many years. They have a number of programs to spread the word to women about the trucking industry, and to create community and provide resources to women drivers. I am on the WIT Driver Ambassador Task Force, which is an exciting initiative. We've created a mobile education unit in the form of a gorgeous and empowering tractor trailer named WITney, driven by our ambassador Kellylynn McLaughlin. The unit includes information about the trucking industry, a video testimonial, an interactive quiz, and a display of a typical woman driver's uniform, which of course includes a pair of Juno Jones safety boots.
---
NA: Tell us more about your work with the Hazard Girls Podcast?
Emily Soloby: The Hazard Girls Podcast is a weekly show devoted to sharing the stories of women in male-populated fields. We like to say "male-populated" instead of "male-dominated" because there may be more men than women, but that doesn't necessarily mean they are dominating. Why use a term that assumes they are? Our audience is made up of women across industries who want to be inspired by the stories of other trailblazing women. One part of our goal is to spread the word among women about the career possibilities out there. Another big part of our mission is to inspire, to provide role models, and to show that if other women can, so can you.
---
NA: Finally, what advice do you have for women considering entering traditionally male-populated industries such as transportation or construction?
Emily Soloby: Do it. The time has never been better for women to enter STEM fields and trades. There are more resources and role models than ever before. Thanks to increased awareness about these fields for women, and thanks to diversity initiatives in companies and organizations, things are changing for the better. My main piece of advice would be to find community, and to find a mentor. As women, we are natural leaders, and we are strong and capable. But with the support of other women behind us, we are unstoppable.
---