Hyzon Motors is decarbonizing transport with hydrogen-powered commercial vehicles. President and Interim CEO, Parker Meeks, discusses driving the clean energy transition.
INTRODUCTION
As an industry, transportation is one of the largest contributors to US greenhouse gas (GHG) emissions. The mandate for Hyzon Motors (Hyzon) is therefore clear: to transition vehicles to clean energy and protect the planet for future generations.
Headquartered in Rochester, New York, Hyzon develops zero-emission, hydrogen-powered commercial vehicles with leading fuel cell technology to decarbonize fleets and accelerate the energy transition.
Hyzon prioritizes hydrogen produced from renewable sources, such as waste, renewable gases, solar and wind, and chooses production technologies that are economically viable at a small scale during adoption, with the ability to scale modularly as demand grows.
Renewable resources and scaleable sites, along with local hydrogen production, not only reduce costs but also maximize eligibility for incentives and subsidies.
Working from the inside out, Hyzon's engineers build proprietary fuel cells from the ground up, and apply decades of experience to develop high-performance components that lead to powerful, reliable vehicles.
Today, Hyzon's in-house fuel cell technology unlocks the potential for hydrogen heavy vehicles; tomorrow, Hyzon's proprietary engineering will make hydrogen-powered medium and heavy-duty vehicles viable.
We speak to Parker Meeks, President and Interim CEO of Hyzon, about accelerating the clean energy transition with zero-emission vehicles.
Q&A WITH PARKER MEEKS, PRESIDENT AND INTERIM CEO, HYZON MOTORS
What is your take on the motor vehicle manufacturing industry in North America at the moment?
Parker Meeks, President and Interim CEO (PM): It's no secret that North America is too reliant on diesel-powered vehicles and remains far behind the rest of the world in transitioning to cleaner fuel.
Recent reporting from the International Energy Agency suggests China is dominating in terms of battery-electric truck manufacturing, with North American countries like the US just starting to emerge in the market. Transportation emissions are a massive problem for the future of our continent, as US EPA data estimates that transportation accounted for 27 percent of all American emissions in 2020 – with 83 percent of those emissions coming from light-duty vehicles, medium- and heavy-duty trucks.
So, it's clearly time for North American governments and vehicle manufacturers to prioritize new, environmentally-sustainable solutions for how goods are transported. At Hyzon, we believe hydrogen is the solution to making zero-emission heavy-duty transport, and expect demand in North American markets to follow suit in the years to come as consumers learn more about the benefits of hydrogen fuel cell-powered vehicles.
How are Hyzon's hydrogen-powered commercial vehicles helping to decarbonize transport?
PM: In order to decarbonize transport, zero-emission vehicles must offer customers clear advantages over diesel power.
Hyzon's hydrogen fuel cell-powered trucks are designed to provide fleets with zero compromise in their current power, payload or range, in addition to a near-silent driving experience. Most importantly, our trucks are truly zero-emission and emit only water vapor.
We also understand the future of hydrogen-powered vehicles will be dependent on reliable infrastructure. To that end, Hyzon is investing significantly in developing renewable hydrogen networks close to our customers, reducing the high cost of transporting hydrogen.
We believe in partnering with leaders at every step of the hydrogen value chain to create a flexible and green fueling ecosystem, such as our partnership with Raven SR to create a waste-to-hydrogen production hub in Northern California.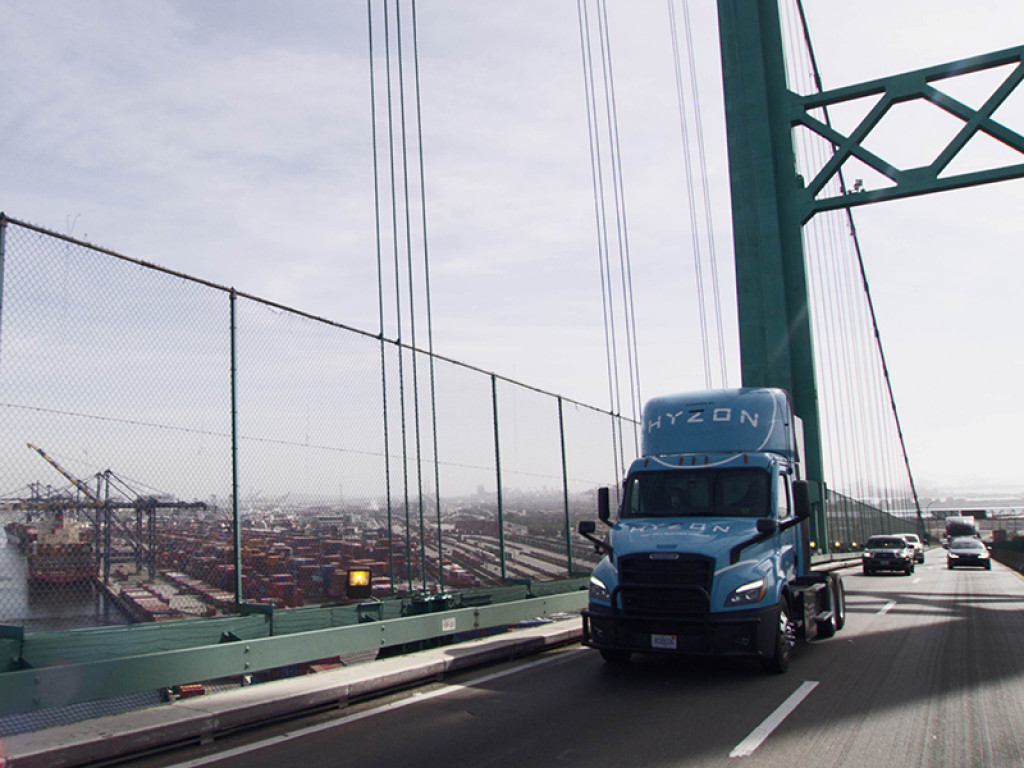 What end-to-end solutions are provided by Hyzon to help operators transition their fleets without having to modify daily operations?
PM: Hyzon's singular goal is to accelerate the transition away from diesel by creating convenience for our customers – and our recently announced Repower program is the latest example of our work towards that goal.
Customers can exchange their used diesel truck chassis for conversion to Hyzon's electric fuel cell operation. With the average order of a new diesel truck being 16 months, our program will allow fleets to get back on the road faster with an extended, cleaner lifetime.
Hyzon guarantees hydrogen access to Repower customers through a mobile refueler, and by establishing a hydrogen production hub near or at the operational location once fully transitioned. These end-to-end solutions also include training, parts, and support provided by Hyzon to ensure the easiest possible transition to zero emissions. Best of all, there is no new vehicle for operators to learn – only a new, zero-emission identity.
To get zero-emission, hydrogen-powered vehicles on the road faster, how important is it for Hyzon to constantly innovate on core technologies?
PM: Innovation is critical to accelerating the transition toward decarbonization. Through aggressive R&D investments, Hyzon plans to maximize its proprietary content in the vehicle, enabling supply chain independence, improving performance, reducing cost, and achieving parity with diesel without subsidies.
Acceleration of our mission also includes taking advantage of new developments related to hydrogen infrastructure and adoption. California is the North American leader in providing incentives and support for zero-emission customers, and Hyzon has worked closely with the state to garner the first-ever certification for a hydrogen-powered truck by the California Air Resources Board.
Together, governments and first movers like Hyzon can innovate on the policies and technologies needed to reach our ambitious climate goals.
By providing zero-emission vehicles, are you confident that Hyzon Motors will accelerate the clean energy transition?
PM: Yes. Transportation is the largest source of planet-warming GHGs in the US and is only worsening. Fortunately, it is an industry that is tangibly recognizing the outdated and unsustainable dependence on diesel-powered vehicles. Our team at Hyzon understands the urgency of our mission and recognizes a growing consensus toward zero-emission vehicles from the public and private sectors.