NASA and the Canadian Space Agency (CSA) are on a mission to launch sustainable food systems for long-duration space flights which can also be utilized on Earth.
THE FINAL FOOD FRONTIER
In a competition that is out of this world, NASA's Deep Space Food Challenge is being launched in a coordinated effort with the Canadian Space Agency (CSA).
As technological advances could allow manned missions to Mars in the future, with a nine-month travel time to the Red Planet, nutritious food production is an essential component. The innovations will also benefit Martian agriculture in facilitating a possible colonization, while having a broader impact on terrestrial food sources.
Innovation and sustainability are key, but there are other criteria to consider – the food must be palatable, nutritious, and safe. There must also be minimal processing time for crew members, and the participants are required to harness the power of space to solve food production challenges.
A nutritious food source is critical for all space exploration missions, especially for those with a longer duration. Moreover, the goal of space-based food systems with maximum and non-wasteful output and minimal input is critical for a sustainable human lunar presence and for future missions to Mars.
The Deep Space Food Challenge has entered Phase 2 for the finalists, which leaves eight selected qualifying teams from the US, with an additional three international teams chosen by NASA and the CSA.
The CSA has chosen four Canadian finalists, in a parallel competition with a separate application and judging process. The Canadian grand prize winner is due to be announced in spring 2024 with a separate prize of CAD$380,000.
Experts at the Johnson Space Center in Houston and the Kennedy Space Center in Florida support the competition in partnership with the Methuselah Foundation – a biomedical charity backing projects on longevity.
As NASA plans to send astronauts further into the cosmos than ever before, the space agency aims to upgrade the production of food Therefore, a $1 million investment for the US winner is in the pipeline to feed the explorers of tomorrow.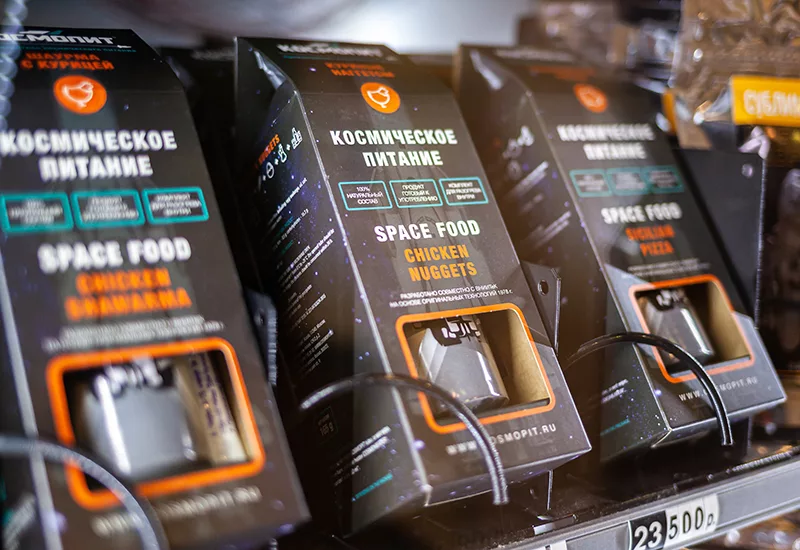 BACK DOWN TO EARTH
The planet is orbiting a crop crisis. Moreover, areas of the globe are already experiencing food scarcity with as many as 828 million of the population unsure of where their next meal is coming from.
In order to create sustainable food sources here on Earth, NASA has extended its Deep Space Challenge to address the terrestrial food insecurity problem.
Global food resources have been exacerbated by a combination of issues which include climate extremes such as flooding and drought, economic shocks such as hyperinflation and rising commodity prices, and conflict.
This is happening to varying degrees around the world. In more extreme environments, there is abject poverty and hunger, and in other more economically and political stable countries there are food shortages on supermarket shelves.
The advanced food systems that the competition finalists are set to develop will have benefits on Earth too. Sustainable solutions to the challenge could enable new avenues for food production around the world, especially in regions where natural disasters disrupt critical infrastructure.
NASA has already begun developing options for the current and future global food insecurity with a series of plant experiments on the International Space Station (ISS). Interestingly, the development cycle of plants is not dependent on spaceflight conditions, as previously evidenced on the ISS. Plants obtained from seeds formed in microgravity did not differ from ordinary earth plants.
Whichever sustainable food system succeeds in nourishing astronauts, one thing is certain – it will be one giant leap for mankind.
---
NASA'S COSMIC COMPANIES
As the competition rockets, we look at the different kind of food innovations designed for lift off.
The eight participating US companies through to Phase 2 are:
• Air Company, New York, manufactured foods. Carbon dioxide exhaled by astronauts is captured from
the air, combined with hydrogen, and produces alcohol via water electrolysis, which is then fed to a type
of edible yeast.
• Far Out Foods, Minnesota, growth systems. The Exo-Garden is a nearly closed-loop self-contained food production system, which can produce a variety of fresh mushrooms and hydroponic vegetables.
• InFynity, Illinois, bioculture/hybrid. A microbial biomass is grown in a novel bioreactor.
• Interstellar Lab, California, growth systems. NUCLEUS is a modular biogenerative system that produces fresh microgreens, vegetables, mushrooms, and insects. It combines autonomous phytotrons to create
a self-sustaining food production system that minimizes water, air, and nutrient inputs.
• Mu Mycology, Oregon, bioculture/hybrid. A closed-loop, modular, liquid media mushroom cultivation system.
• Kernal Deltech, Florida, growth systems. An autonomous device produces an inactivated fungal biomass from well-defined starting materials. The continuous cultivation technique is adaptable to low-gravitational conditions where the culture variables are tightly controlled to maximize biomass yield and product safety.
• Nolux, California, bioculture/hybrid. An artificial photosynthetic system, capable of producing plant
and fugal-based foods.
• SATED, Colorado, manufactured food. Derived from long-shelf-life and in-situ grown ingredients,
is a device designed to operate in zero and low gravity environments.
---
CSA'S COSMIC COMPANIES
The four finalists announced by the CSA to go through to Phase 3, which requires a full system demonstration, are:
Astroyeast Microfarm, Concordia University, space-adapted nutrient and flavor factory, centered around a yeast strain that is adapted to the environment. The production of nutrients and flavor molecules is performed in an automated and optimized bioreactor system.
Canada GOOSE, University of Guelph, Growth Options for Outer Space (GOOSE) is a controlled environment plant chamber, innovating ways to achieve homogenous conditions.
Cricket Rearing, Collection, and Transformation System (CRCTS), McGill University, supporting the growth of tens of thousands of crickets every month, using advanced filters, UVC lamps, and vacuum systems.
Ecoation, Vancouver, CANGrow Modular Indoor Food Production uses technologies to grow diverse foods from strawberries to a mycelial meat substitute – "space bacon".