Preventing food waste is the single most effective solution to reduce global warming. Sylvie Woltering-Valat, Head of Marketing at Cabosse Naturals, highlights cacaofruit as one of the most impactful fruits to fully upcycle.
FIGHTING FOOD WASTE
The US is one of the top 10 chocolate-consuming countries in the world, with the average American consuming approximately 4.5 kilograms (kg) of chocolate annually1.
Despite this, many Americans do not realize that our favorite confectionery comes from the cacaofruit.
Traditionally, the cacaofruit has been harvested for its seeds to use in the manufacture of chocolate. However, the seeds represent only about 30 percent of the fruit, with the remaining pulp and peel discarded once the beans have been harvested, amounting to as much as 10 million tons of waste a year.
Figures show that the average American family wastes nearly $2,000 worth of food a year2. Food waste is central to some of the key challenges facing the world today, including hunger and poverty, climate change, health and well-being, and the sustainability of agriculture and oceans.
It is also a waste of the energy needed to grow, harvest, process and cook food, and waste in landfill can additionally cause methane emissions, a potent greenhouse gas3.
Reducing food waste is therefore the single greatest way of fighting climate change, and a key contributor to the rise in food upcycling. Around the world, about 30 percent of all food, 50 percent of all fruit and vegetables and 70 percent of all cacaofruit goes to waste yearly.
If harvested cacaofruit was used to its fullest, including its pulp and peel, it would reduce the same amount of CO2 as planting 3.5 billion trees per year – that's an area bigger than Texas and Kansas combined.
UPCYCLING CACAOFRUIT
Cabosse Naturals – the global expert in cacaofruit – has started to upcycle this largely undiscovered fruit, creating a range of high quality, 100 percent natural pure cacaofruit ingredients to be used in food manufacture from its waste.
The range unleashes the full power of the cacaofruit by making use of its beans, its dense peel and its fresh and fruity pulp and juice.
Cabosse Naturals is a brand by Barry Callebaut, the world's leading chocolate manufacturer, responsible for one in five of all chocolate and cocoa creations consumed worldwide. We have unlocked a new food and drink category with cacaofruit juice, pulp, concentrate and powder, which can be used in a variety of ways in food and drink manufacture.
We are playing our part in igniting change, helping brands and artisans to create new products which contain upcycled cacaofruit ingredients and empower consumers to make a positive impact with their everyday purchases.
Some pioneering US retailers and brands have already seized the trend, including BevCacao, which is made with Cabosse Naturals' upcycled certified cacaofruit and sold online at Walmart. BevCacao is a functional beverage squeezed from the pulp of the cacaofruit, jam-packed with flavor and nutrients.
Cabosse Naturals predicts more new products containing ingredients from upcycled cacaofruit will soon launch in the US.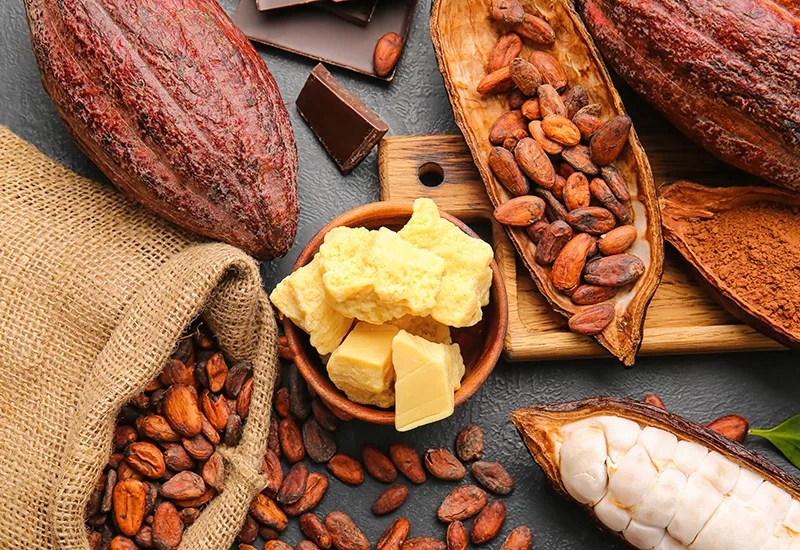 NATURAL RICHNESS
Just like an apple or orange, the cacaofruit has its own uniquely fruity taste, but few people know anything about it, let alone have tasted it.
The cacaofruit's zesty signature flavor is deliciously refreshing and brings complex notes and natural sweetness to ingredients that are very versatile and can be found in a number of consumables, including drinks, ice cream, dairy products, confectionery and snacks.
We have worked on an innovative and unprecedented upcycling supply chain for years to harness the natural richness of this delicious but largely unknown fruit, of which about 14 million tons is harvested around the world.
The journey of the cacaofruit starts in farms in the tropical regions around the Equator. Once ripe, the cacaofruit is harvested by hand, cleaned and opened to remove the seeds from the fresh pulp.
As soon as the cacaofruit is opened, its pulp is immediately pressed into juice to preserve its fresh aromas, then filtered, gently pasteurized and concentrated to obtain the cacaofruit juice concentrate.
The juice makes a refreshingly fruity base for a large range of functional beverages, ready to drink teas, coffees and even beers and kombuchas. It has a light-yellow color with a fruity scent, naturally contains magnesium and potassium, and is a good source of antioxidants, bringing a deliciously exotic flavor to drinks.
Characterized by its golden-brown color and a fruity honey scent, the concentrate is 100 percent pure and free from sweeteners, additives and preservatives, and caters to growing consumer demand for products and ingredients which are kinder to the environment.
---
https://www.barry-callebaut.com/en/manufacturers/cabosse-naturals
1. World Population Review
2. U.S. Department of Agriculture's National Household Food Acquisition and Purchase Survey
3. World Food Programme