Operating beneath the banner of Daifuku North America, we talk to Cory Flemings, Executive Vice President of Sales at Wynright Corporation, about the company supplying solutions in the material handling industry.
INTRODUCTION
If the vast impact of COVID-19 has shown us anything, it is that the supply chain is critical to the continued fluid function of our daily lives, whether that's receiving goods for domestic living, the office, or keeping businesses running day to day and month to month.
Each aspect of the supply chain, from production and shipping to material handling, has become pronounced in the past two years not only due to the pandemic (albeit COVID-19 playing a large part in it), but also the increasingly technological development of countries around the globe. Broader access to technology and the resulting rise in online consumerism has seen an absolute boom in home deliveries ranging from food to clothing and kitchenware.
And the gears behind such a vast wheel of industry are these aspects of the supply chain, each of which plays a core role in getting a product from initial production to end-user in the smoothest and fastest way possible.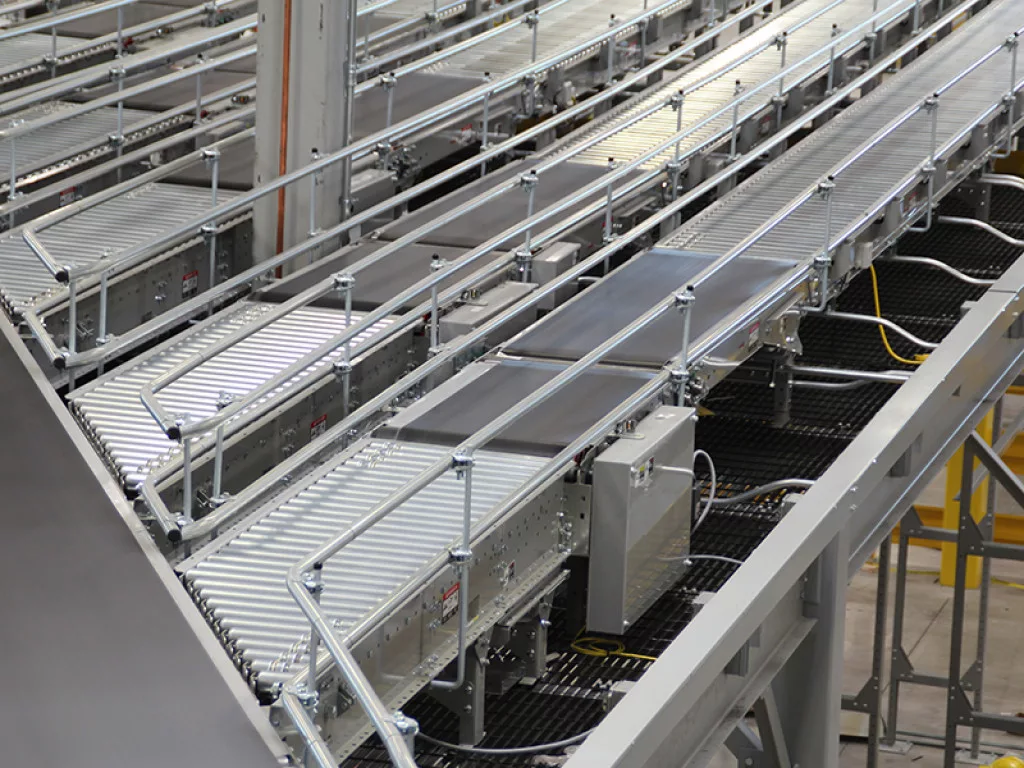 SUPPLYING NORTH AMERICAN SOLUTIONS
Operating as a key player within the space, Wynright Corporation, a Daifuku group company, is a leading provider of intelligent material handling systems for clients across the US.
"According to Modor intelligence reports, the North America automated material handling market was valued at USD 9.862 billion in 2020 and is anticipated to witness a CAGR of 7.73 percent through 2026," begins Cory Flemings, Executive Vice President of Sales at the company. "The US is the driving force in North America growth as many organizations are analyzing their goods to market strategies.
"COVID-19 shutdowns negatively impacted many businesses, but it amplified the adaptation of e-commerce online shopping and brought to light consumer demand and behavioral changes, as well as purchasing patterns. Beyond COVID-19, the e-commerce sector will continue to grow due mainly to urbanization, the desire for convenience and an instant gratification 'I need it now' mentality. As a result, digitized omnichannel business models requiring automation and smart, flexible warehouse solutions are the new normal."
The COVID-19 shutdowns of many businesses also highlighted the industry's reliance on manual labor. According to an AMH market report, around 80 percent of the warehouses in the United States are manually operated, 15 percent are mechanized, and only five percent are fully automated.
"Distribution centers are now expected to support increases in fulfilment volume consisting of more frequent and smaller orders with the same or less labor." Flemings explains. "This factor alone creates a justification case for process automation; but it cuts deeper than this.
"Within this booming environment, employment rates are declining, while new e-commerce centers provide prime wage rates leaving many traditional distribution centers with labor shortages. This is putting a real squeeze on operations costs. Where we used to see a requirement of a two-year ROI for automation, companies are now willing to accept four to five years because they need less dependence upon labor. The inability to get labor could put them out of business."
Wynright is a wholly owned subsidiary of Daifuku North America, and designs, manufactures, integrates and installs a full spectrum of intralogistics solutions, offering both Wynright-branded and third-party equipment to meet the needs of clients that span the US.
"Daifuku is the world's largest material handling system supplier, as rated by Modern Material Handling, for the seventh consecutive year," Flemings informs us. "We have a global network within 26 countries of offices and subsidiaries that offer design, engineering, sales, installation and commissioning of automated storage and materials handling solutions in all major markets.
"Not only are we the largest, but we have also been in the industry for 84 years and bring our reliability and expertise to every solution we develop."
Daifuku's 'total solution experience' includes consulting, planning, design, manufacturing, installation, and maintenance, along with upgrading and retrofitting. The company offers its customers everything within the material handling value chain, ranging from artificial intelligence (AI) based palletizing simulation all the way to the robots necessary to move boxes from locations A to B.
"Unlike many of our competitors we produce all key automated technology in-house: AS/RS, AGVs, Conveyors, sortation, robotics, directed fulfilment, and WCS/WES software," Fleming explains. "We provide solutions for numerous industries across the globe, and in today's market we see much of our activity in the retail and e-commerce sector.
"Other industries we see utilizing automated material handling include pharmaceutical and healthcare, food and beverage, electronics and machinery, logistics services, automated freezers, and even automated, indoor vertical agriculture."
Daifuku has over 11,000 employees, a revenue of $4.5 billion as of the company's 2020 financial year. Collectively, the company puts around two percent of sales back into R&D for the betterment of the business and its services for the future.
"In the US we have had a presence for over 45 years" Flemings continues. "We currently have over 600 service and support engineers and technicians, offer an exceptional client asset management program, and our software and manufacturing are all US based.
"We are the largest material handling company, but this is not the only reason we stand apart in the industry. These reasons are numerous but include many aspects and values that are core and classic to Daifuku. Trust, experience, risk mitigation, in house production, Japanese quality, the fact that we have over a 99.9 percent system accuracy capability, equipment rated for cold storage usage, our designs, and our exceptional service are some that come to mind.
"We stand behind our solutions and follow our words with actions, or as some would say, we 'walk the talk'."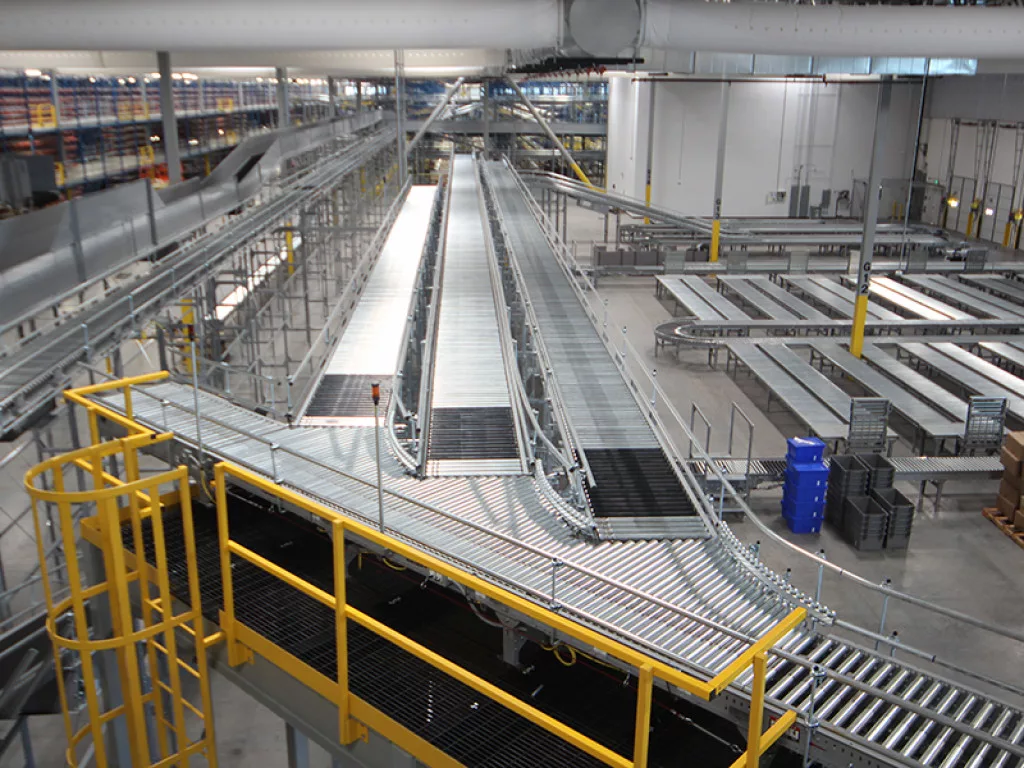 EXECUTIVE EXPERIENCE
Flemings joined Daifuku Wynright as Executive Vice President in July of this year. He Has worked with a number of global companies in the material handling industry.
"In my material handling career, I have had the honor of leading sales for the top organizations in the industry," Flemings says. "I served as Vice President of Sales and Marketing with Knapp Logistics & Automation (Knapp), in Austria. From Knapp I transitioned to Executive Sales Manager for Schaefer Systems International in Germany and following this I co-founded ABCO Automation, an automated systems company that focused on intralogistics systems for the US, Saudi Arabian, and Mexican markets.
"Most recently, I was the Global Sales Director for JBT Corporation's automated guided vehicle division. In June, I joined Wynright as the Executive Vice President of Sales. I am very proud to be a part of the world's largest automated, materials-handling system provider that has held that position for seven years."
Flemings' diverse background and broad sales expertise across complex global organizations has enabled him to lead the charge in solidifying Wynright as the premier solutions provider in the North American region.
And now, for Flemings, he is challenged not only to transform Wynright to respond to its customers in the new post-COVID-19 automation market, but to proactively partner with key Wynright accounts to develop relationships and design data-driven automation solutions helping his customers to prosper.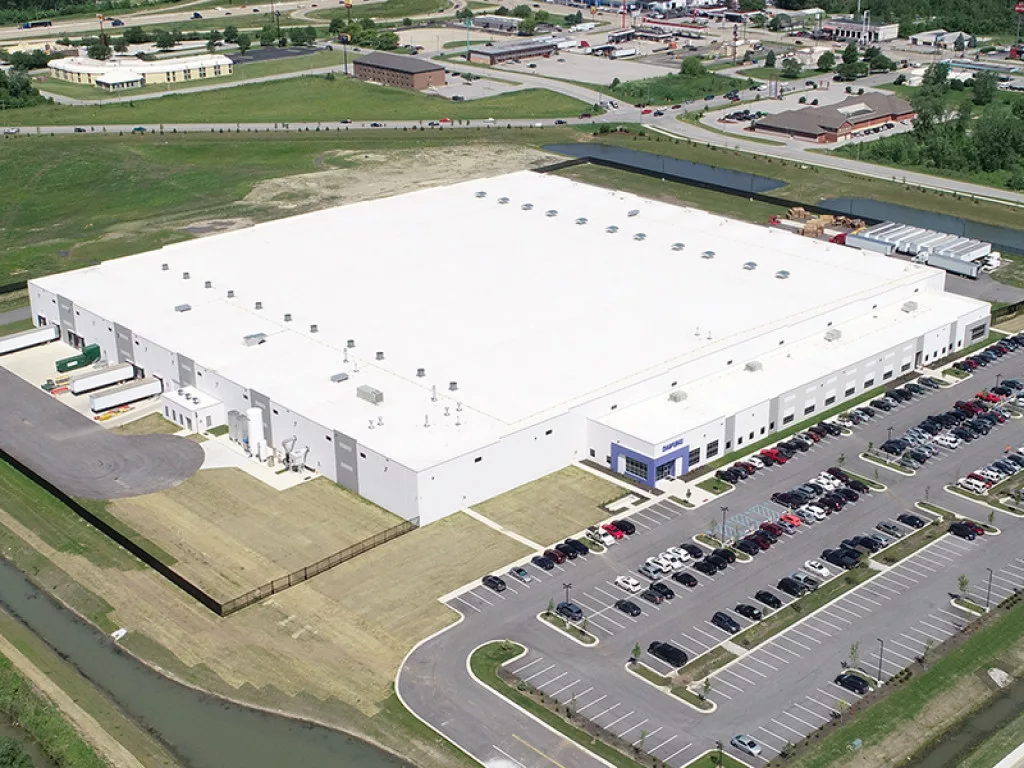 STREAMLINING OPERATIONS AT WYNRIGHT
With regard to this aspiration to increase its technological capacity, Daifuku announced its three-year business plan, "Value Transformation 2023." One of the goals laid out in the plan is the provision of logistic systems that support the digitalization sought by the company's customers.
"Digitization of a warehouse is flexible and may be partially- or fully-automated," Flemings explains. "The degree of automation is dependent upon what is driving the customer's business needs and their appetite for automation. Three things are always in tension with one another: the combination of building space (ft2), labor (FTEs) and capital for automation equipment ($). These three can generate low- medium or high-levels of automation all with the same ROI payback period. We collaborate with our customers to develop custom solutions comfortably meeting their specific needs."
Some examples are as follows: Wynright's systems can address tedious manual activities through automation such as robotic truck loading, unloading and palletizing, and de-palletizing. Robotics are integrated with the conveyance systems enabling clients to overcome their labor challenges.
"When it comes to truck loading, the loading dock in a warehouse has some of the highest worker injury-rates," Flemings tells us. "Unloading cartons from a truck is a tiresome, repetitive, and labor-intensive task. Incorporating robotic truck unloaders and automating this process increases throughput, reduces injuries, and frees up the manhour resources to be utilized for tasks really requiring human thought and interaction."
Another solution with big impact is the automated storage and retrieval system (AS/RS) which helps with high density storage. It eliminates the wide aisles required to maneuver a lift truck in a conventional rack system and the crane system operates in a narrow aisle, leaving more space for storage. Since these cranes can ascend to 131 feet, the cubic storage capacity of these systems can be massive and cut the footprint of the building in half, allowing the DC to get closer to populated areas because less land is required. It also allows for faster, more accurate operations, and a quieter environment. Because computers don't often make mistakes, AS/RS systems store and retrieve products with speed and accuracy reducing inventory problems and eliminate lift truck noise levels contributing to an all-around safer work environment.
Even when it comes to a process such as labeling an automation return on investment is realized. The traditional manual process by which a worker would label a product, such as a carton, after it has been unloaded, can be automated through print and apply technology which streamlines the process, minimizes monotonous and unnecessary work for employees, and at the same time eliminates the chance for human error.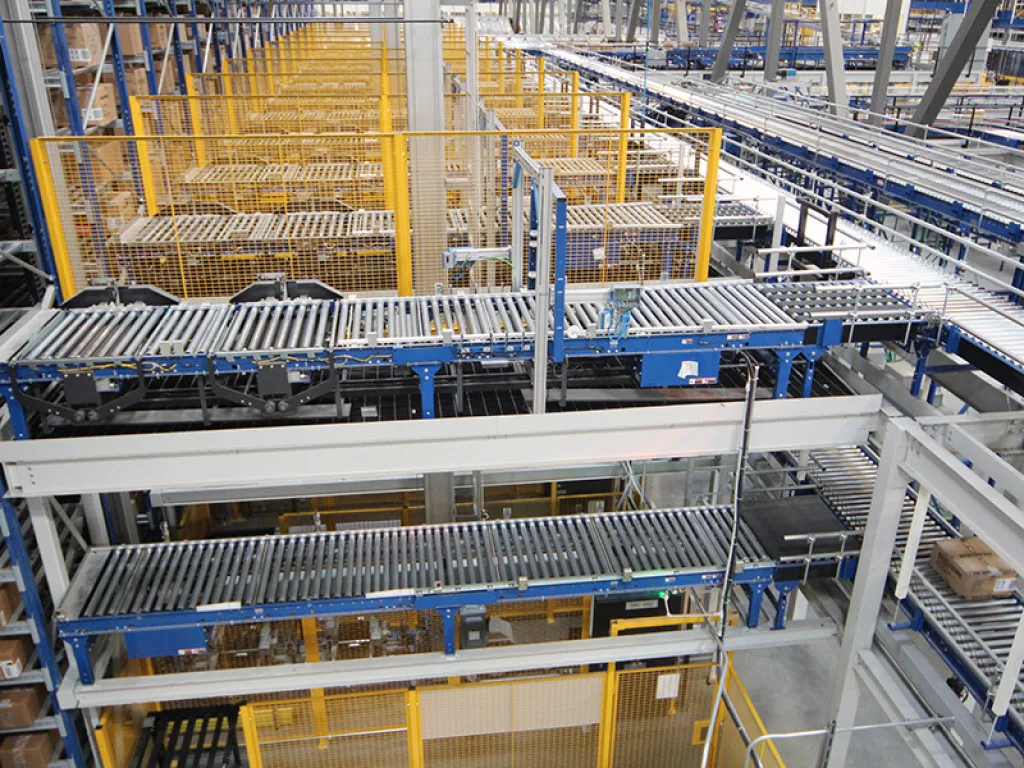 PROMOTING GREEN OPERATION
In the green sphere, Daifuku is taking multiple steps to actively pursue environmental practices. For Wynright, sustainability works best as part of a comprehensive business strategy, and that's why the company is committed to developing products, systems and solutions that support your commitment to energy conservation and sustainability.
For example, Wynright provides systems that reduce sound levels, extend equipment life, lower maintenance requirements, and reduce energy consumption through run-on-demand technology.
"These steps cover multiple actions that are aimed at improving our operations," Flemings says. "We aim to enhance the competitive advantage of our customers while at the same time contribute to the advancement of the community and society, and we strive to further our corporate governance structure through sustainability initiatives.
"Wynright is constantly pursuing six individual initiatives in this respect as well as adhering to the Daifuku Environmental Vision 2050 to enable us to help preserve the environment."
These aforementioned initiatives envelop aspects such as high efficiency lighting, energy-efficient welding processes, the recycling of materials like metals and paper, and choosing green vendors when it comes to waste disposal and much more. Under Daifuku, Wynright goes beyond the standard efforts made to promote sustainability.
HOW WYNRIGHT ENSURES QUALITY AND SAFETY
Wynright strives to establish the highest industry standards for quality and customer service. Continuous improvement is considered an important facet of the company, and meetings are held between company manufacturing facilities and corporate offices in this respect. The meetings emphasize teamwork and allow ideas to be leveraged by all participants.
Wynright is even more dedicated to providing its employees and others associated with a safe working environment in company plants and offices, as well as on all job sites. Safety is the most important value, as well as an integral part of quality control and job efficiency. This year Daifuku North America launched a new campaign, 'Safety Matters', to strive for a zero-accident culture by identifying potential hazards, as well as watching out for team members and integrating safety into its overall daily decisions.
"Safety stands as a driving factor in the development of all of Wynright's products, and we conform to OSHA and ASME standards for all of our manufactured products," Flemings informs us. "Wynright goes to great lengths to incorporate safety precautions within the design and construction of our equipment. Whenever a potential safety problem cannot be eliminated in the design stages of the equipment, we are careful to include proper guarding against potential mishaps. Emergency stops, guard rails, netting, chain guards, and warning labels are representative of the types of built-in safety features provided by Wynright.
"We are also serious about our client's safety. Wynright employs a full-time dedicated corporate safety director responsible for implementing and coordinating a detailed safe plan of action with our clients on every project. Over 80 of our project managers, engineers, and installers are OSHA certified."
THE YEARS AHEAD
Looking further into the decade, Wynright has a multi-pronged plan with which to approach the future of the business. Expansion is a key part of this, especially within North America, to enable the mutual growth of client-partner relationships for the long-term.
"Another key priority is to enable client engagement and learning," Flemings adds. "In this area, we will focus on our North American brand messaging, update our web presence and enhance our innovation center engagement.
"We will also bring our urbanized distribution center functionality and knowledge to North America and share the benefits of smaller footprint multi-level DCs, fully automated solutions, immediate order-filling, full traceability, over a 99.9 percent accuracy of operations, and in-store micro fulfilment.
"This plan will see Wynright's continued success and growth under Daifuku across the US for the long-term."