What does a composable future mean for e-commerce? We discuss this D2C trend with Eberhardt Weber, co-Founder and CEO of the digital commerce platform, Emporix.
Much like mixing and matching the multi-coloured building blocks you'd find in any school, "composable" in software refers to an online architecture composed of modular pieces, which in various combinations provide customized solutions to businesses within e-commerce.
As giants of this industry and one of the leading e-commerce platforms with a revenue in 2022 of $5.6 billion dollars, Shopify is considered a pioneer in composable.
"A composable commerce approach enables businesses to choose best-in-breed vendors who offer robust functionality for the one thing they do, rather than relying on a one-size-fits-all offering," the company explains in its outstanding blog post on the subject.
Originally a term coined by Gartner, one of the world's leading consultancies, the shift towards composable e-commerce is starting to infiltrate the enterprise software space, allowing businesses greater flexibility, consumer insight, and commercial opportunities as a result when it comes to direct-to-consumer (D2C).
WHAT IS D2C? 
According to McKinsey, D2C e-commerce currently presents "the best opportunity for innovative brands to build direct relationships with their customers."
Essentially selling directly to a consumer through a company's own web store, it is growing traction because it avoids wholesalers and third-party retailers, with the chief benefit being improved connectivity to the end-users driven by real-time user insights.
"These insights can help a company answer consumer needs directly, thereby maximizing both the consumers' commitment to the brand and their lifetime value. In the competitive landscape, D2C can act as a defensive measure in the long term," McKinsey suggests.
This increased level of autonomy allows for an immediate share gain, meaning less reliance on those who typically dominate the e-commerce world.
It's easier for some businesses than others to make a successful D2C model, primarily due to the lack of synergy between brand efforts and sales and the fact that these D2C teams form organically and often lack long-term strategies, favoring a 'selling' model over customer lifetime value.
Composable commerce expert Eberhardt Weber is the co-Founder and CEO at Emporix, a digital commerce platform designed for B2B and sophisticated B2C.
Weber outlines that it is not just about sales transactions but about the entire customer experience.
"Having the right technology in place – not just to make an online sales transaction but to manage a complete end-to-end experience for the customer – is one of the key advantages that retailers currently have over manufacturers. In large part, retailers have been forced to accelerate their digital strategies over the COVID-19 pandemic, and the outcome is very slick and effective digital commerce experiences for their customers," he opens.
DEMOCRATIZING TECHNOLOGY 
The democratization of technology typically refers to the process by which access to technology rapidly continues to become more accessible to a wider range of people. Technological advancements and an improved user experience have empowered those outside of the technical industry to access and use technological products and services.
Essentially, this means that the architecture of the customer experience is no longer controlled by developers, as other business functions with superior knowledge of customer needs and motivations can be the architects themselves.
"The good news for all sales channels, however, is that this technology has also been increasingly democratized thanks to advancements in composable enterprise software. The fourth generation of digital commerce is cloud-native and application programming interface (API) driven, which makes it easier than ever to create and take ownership over new online sales channels, whether B2B, B2C, or D2C," Weber continues.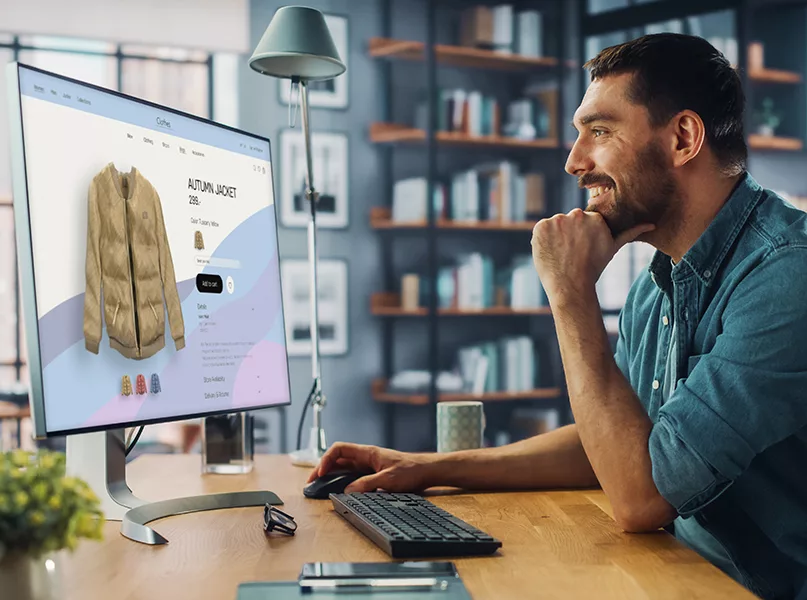 PACKAGED BUSINESS CAPABILITIES
Considered the building blocks of the large solution, packaged business capabilities (PBCs) are connected via APIs.
By Gartner's definition: "PBCs are software components representing a well-defined business capability, functionally recognizable as such by a business user. Technically, a PBC is a bounded collection of a data schema and a set of services, APIs, and event channels. The well-implemented PBCs are functionally complete to ensure autonomy (no critical external dependencies, no need for direct external access to its data). PBCs are meant to be used as building blocks for application product suites and custom-assembled application experiences."
"The core capabilities of an e-commerce platform may still be used but will act more like a "peer" among other solutions than a "core" around which other solutions fit," explains Shopify journalist, Roxanne Voidonicolas.
Bringing with it a flexible and scalable approach, PBCs are used within composable commerce to enable seamless integration of various systems, allowing greater agility and adaptation to market conditions – a massive point of difference.
Businesses need to define a north star
Valtech is a world leader in the realm of digital retail experiences. Having been part of the headless revolution, where businesses began to break free from the traditional monolithic architectures, it has encouraged and urged adaptability in order for their clients to truly achieve their potential goals.
"Often something as predictable as rigid commerce technology, requiring a re-platform initiative, stands in our way and forces innovative thinking way out into the future," says Casper Rasmussen, SVP for Technology at Valtech.
In the company's excellent article on composable architecture, Valtech typically defines the concept of composable commerce as being more easily understood and embraced by the technical teams.
"Business users, especially in fast-paced commerce environments, typically do not understand what headless, composable, or a hybrid is, or how it would benefit them and their long-term goals. When evaluating solutions for a digital transformation, the teams must come together and define a north star that will guide in prioritization, alignment, and success metrics.
In regards to D2C, Weber is all too aware of the importance of including teams outside of technology departments in the strategic implementation of composable, but he maintains that technology skills are vital.
"To take full advantage of a D2C channel, businesses need to start thinking not just as a manufacturer but also as sales and marketing experts and, most importantly, as a technology-led company, and this is no small task. Technology skills such as web and user experience (UX) development will be crucial when developing a customer-facing online presence, ensuring customers and prospects always get the best possible experience."
For a composable approach to truly fly, Weber also suggests that sea change in leadership's thinking is required, but the pot of gold could be waiting for those who embrace this change.
"Design and marketing skills will also play a key role in shaping channel-specific messaging and engaging would-be customers in a way that encourages them to make a purchase, sign up for a mailing list, or whatever the customer call-to-action may be. Once a manufacturer gets into this game, there is no turning back if the new channel is to be a success, so this approach will require a new way of thinking, but get it right, and the rewards will be more than worth it," Weber adds.
COMPOSABLE BUSINESS
Fascinatingly, the idea of composability is not just limited to the realm of e-commerce. Led by the remote working revolution accelerated by the COVID-19 pandemic, this decentralized approach is being adopted as a new organizational structure, bringing an agility to it that will suit many forward-thinking businesses.
Gartner classifies composable business as needing the following components:
Composable thinking
Composable technologies
Composable business architecture
Remarkably, Gartner, the technological research and consulting firm, expects 2023's data to show that organizations embracing composability will outperform their rivals by up to 80 percent when it comes to the deployment of new products and features.
According to Weber, this can only improve the end-user experience and make their time with the brand more valuable.
"By being able to get much closer to customer preferences and habits through their shopping data, manufacturers will theoretically be able to curate much more personalized, targeted experiences for each customer," Weber concludes.