NOVO Health Services focuses on improving the patient experience, infection prevention and cost savings that do not impact service or quality. At the core of this mission is a new flagship facility and transformational merger, as President and CEO Karl Fillip tells us.
LEADERS IN HEALTHCARE LINEN
Growing up around the industry and telling my friends what my family did for a living was always met with a little bewilderment and surprise."
The industry referred to in the fond recollections of Karl Fillip, President and CEO of NOVO Health Services (NOVO), is that of healthcare laundry.
Having clean and hygienic laundry is essential for hospitals, providing a safe environment for patients and staff while preventing the spread of infections.
Fillip often refers to healthcare laundry as a "neglected industry", however, one that flies under the radar and comes with challenges but also tremendous growth opportunities for companies that do things the right way.
"There are plenty of opportunities in healthcare laundry for those that are committed to putting the patient first, being true partners in the supply chain to our clients, and spending the capital needed to stay at the vanguard of infection prevention, patient comfort and safety, while eliminating excess waste and costs," he says.
"Historically, the healthcare laundry space was very disaggregated, but over the past several years a few dominant players have moved the needle considerably in terms of consolidation. At the same time, the amount of automation and product advancements that reduce overall costs while improving the patient experience have allowed early adopters to differentiate themselves and create win-win scenarios for all stakeholders."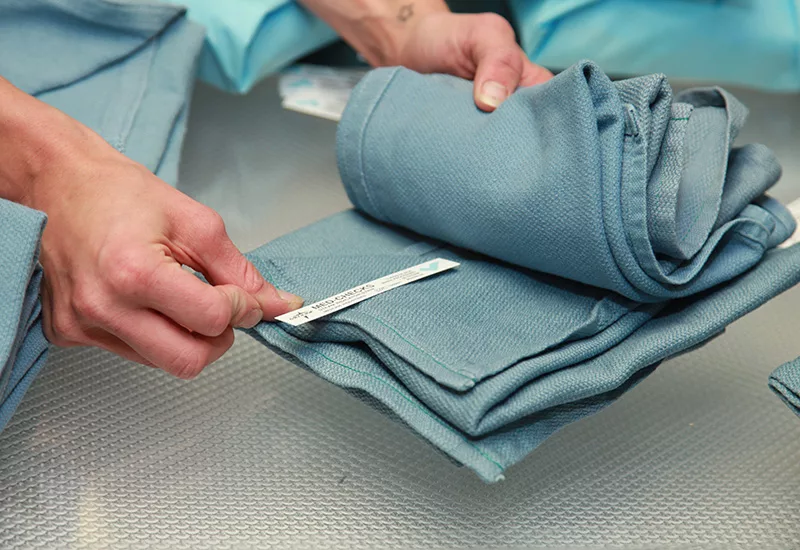 IMPROVING THE PATIENT EXPERIENCE
Headquartered in Atlanta, Georgia, NOVO was established in 2015 by Fillip's father and namesake, Karl Fillip Sr., an industrial and healthcare laundry veteran.
Having sold and ultimately departed his previous healthcare linen business, Fillip Sr. was asked by several former customers to consider opening a new company in partnership with Tuckahoe Holdings (Tuckahoe).
The launch of NOVO represented a unique opportunity for Fillip Sr. to build a new platform, that addressed all of the shortcomings he and the management team had seen in healthcare laundries of the past.
"We spent a lot of time in our customers' shoes, understanding what their pain points were with healthcare linen and where we as a newcomer could provide the most value to the supply chain," says Fillip.
Originally introduced to the team at Tuckahoe whilst working for a private equity firm in New York, Fillip was approached by Tuckahoe with an offer to join his father at NOVO, one of the fastest growing companies in the healthcare linen space generating revenues of over $200 million in 2022, up from $7 million in 2015.
The company provides a complete set of reusable linen products for end markets in both acute and sub-acute care, including bed and bath linens , patient and staff apparel, microfiber and dust control, and cubicle curtains. NOVO's advanced technology product offerings of Cupron Copper and DermaTherapy® linen reduce the incidence of infections.
"We offer management services for in-house linen distribution as well as third party management services for healthcare systems that own their laundries but do not have the internal resources to manage a laundry operation. We also provide sterilization services for reusable textiles and surgical instruments," notes Fillip.
With 12 processing facilities in the Midwest and Southeast, NOVO services over 2,000 clients and has an employee base of over 1,600 associates.
Servicing the healthcare industry means that NOVO has very stable demand and can plan workflows accordingly, on a mission to improve patient outcomes by enhancing their experience and reducing the risk of hospital-associated infections (HAIs).
"Through this mission, we have selected products that improve the patient experience while appropriately managing the average cost to serve a patient. As a result, we have a strong following of clients and over 99 percent customer retention over the company's history," Fillip acclaims.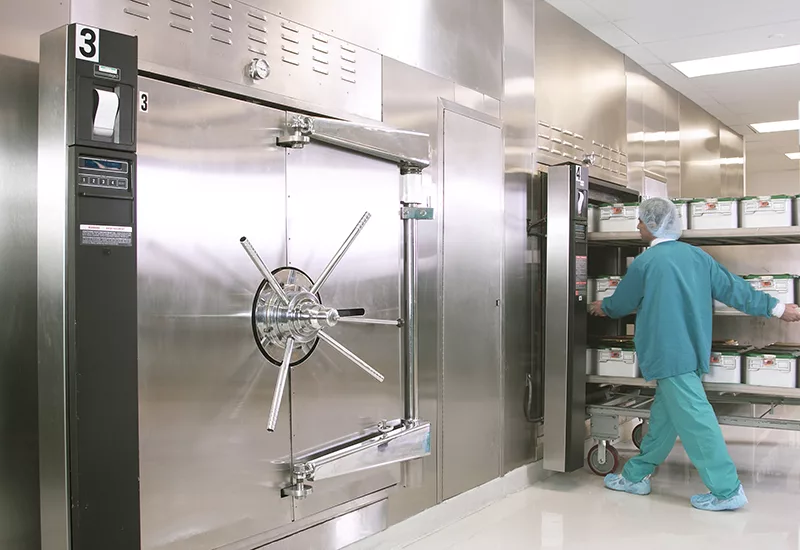 FLAGSHIP FACILITY
Representing a significant investment in this core mission to put the patient experience first is NOVO's new state of the art healthcare laundry processing facility, opened in South Florida in April 2022.
The site, which stands at 80,000 square feet, was designed and constructed with a strong focus on infection prevention and employee well-being.
"This is NOVO's new flagship facility, and the template for all our future plants. A lot of what we built into the plant wasn't just geared towards meeting today's standards of healthcare linen processing, but anticipated changes in the future," outlines Fillip, who was instrumental in designing the facility.
From an infection prevention standpoint, it includes sling loaded pass-through washer extractors, cart washers that use hypochlorous acid which is more environmentally friendly than standard chemicals, and sonic air fans to keep lint to a minimum throughout the day and reduce the risk of contaminating clean linen.
In terms of employee well-being, NOVO recognizes laundry is not an easy job, and that its future is tied to being the best healthcare laundry in the world to work for.
"Laundry is very labor intensive, and with our new plant, we set out a goal of making sure we minimize the amount of fatigue while our associates perform their job," Fillip shares.
"Every machine, including ironers, blanket folders, and small piece folders, receives linen automatically, presented in an ergonomic fashion where the operator never needs to twist, turn, or bend over.
"This is a huge leap forward in terms of employee satisfaction and efficiency gains, as the operators are able to complete their jobs faster with less effort," he continues.
As part of the endeavor, Fillip joined the Healthcare Laundry Accreditation Council (HLAC) board of directors, the body that monitors and accredits laundries that meet the standards of care required to properly serve the healthcare market.
"This allowed me to get a closer look not only at current standards, but where the industry as a whole was likely to go in the future."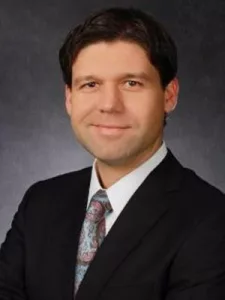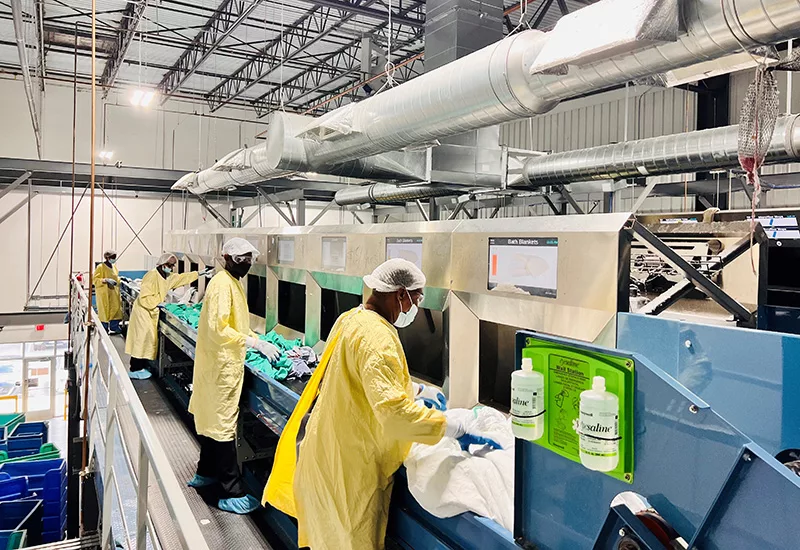 TRANSFORMATIONAL MERGER
Bringing his M&A background to NOVO, Fillip has been able to lead the company to several other acquisitions and joint ventures during his tenure.
This includes a transformational merger in 2020 with Paris Healthcare Linen Services (Paris), a leading regional provider of linen processing and management services, that unlocked the potential of both companies.
"Our cultures were highly aligned, which created a strong foundation for the merger to start from," details Fillip.
"Paris was the number one player in their market and had a reputation as a world-class operator with well-designed and maintained plants."
The merger turned NOVO into a supra-regional competitor and combined two exceptional senior leadership teams.
Paris was owned by David Stern and grew in a conservative fashion over its 30+ year history in healthcare linen, pioneering best practices used throughout the industry and possessing a tremendous amount of talent that NOVO felt could be better utilized with a more aggressive growth strategy.
"NOVO's approach to sales, marketing, and creative partnerships allowed us to combine an ultra-high growth company with a best-in-class operator that brought a tremendous amount of bench strength to the table," Fillip explains.
"This allowed NOVO to continue its growth trajectory by ensuring we had the right people in the right seats. As a result, we've added an additional $40 million of revenue in the two years since the merger, all whilst battling COVID-19 and rampant inflation, and continue to have unlimited growth potential in front of us."
In terms of how the deal came about, Stern was known to the Fillip family for several years and helped Fillip learn the ropes of healthcare laundry upon joining NOVO, even offering him tours of his Paris plants.
The two stayed in regular contact, and Stern, who cared deeply about Paris, set out to find the right home for the hometown business he had built.
It is NOVO's ownership structure and vision that makes it an acquirer of choice for family-owned businesses such as Paris, who are not just looking to sell their business but one day find the right home for their business and employees.
"Based on everything he had learned about me and NOVO, he determined that we were the best strategic fit for his company and the best home for his Paris family. As a result, we privately negotiated and executed the transaction," Fillip informs us.
"I think a big part of what Stern found appealing is we are still a family business at our core. We are far more interested in building a company that serves a purpose and provides the best value possible in our one small piece of the healthcare supply chain.
"Our flexibility allows us to create a win-win structure with our new partners, and we look forward to future partnerships that create as much value for all parties as our merger with Paris."
"We look forward to future partnerships that create as much value for all parties as our merger with Paris"

Karl Fillip, President and CEO, NOVO Health Services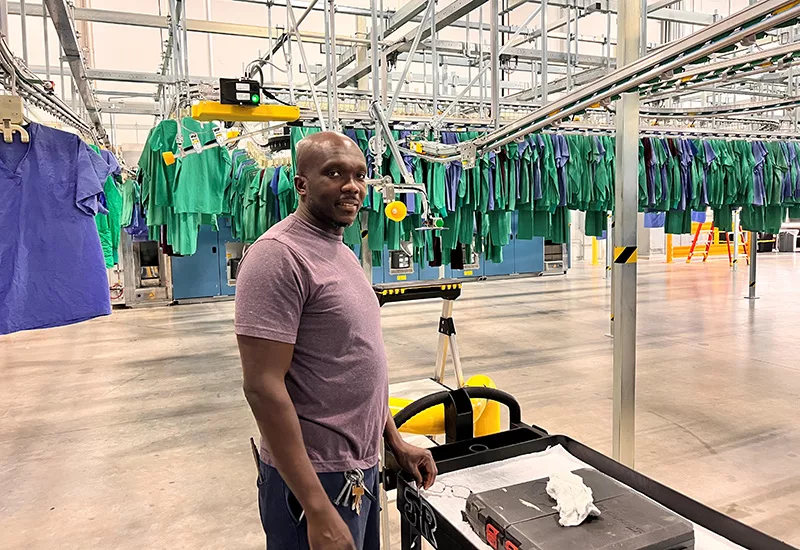 FLAWLESS SERVICE
Another of NOVO's organizational strengths is the partnerships it has with key suppliers, who are critical to the company's ability to serve its customers.
"From making sure we never missed a beat during the COVID-19 pandemic, to ensuring we are able to provide our services at the most competitive prices possible, our vendors are a key component to our success," emphasizes Fillip.
NOVO has worked with chemicals vendors, for example, to create its own proprietary formulations that result in longer linen life, improved cleaning, reduced impact on waste streams, and lower costs.
The company also partnered with Kannegiesser ETECH to integrate ergonomic laundry equipment throughout the new laundry processing facility in Miami, and works with textiles suppliers on a regular basis to design products that improve the patient experience and mitigate the overall cost of serving a patient.
It all ties into NOVO's number one goal of 100 percent customer retention, which can't be achieved without providing a flawless service with best-in-class value propositions for clients.
"Beyond that, we are looking to find additional strategic partners that will allow us to bring our unique strategy of healthcare laundry to additional markets that could benefit from our approach to partnerships, grounded in always finding a way for both parties to achieve their end goals," Fillip concludes.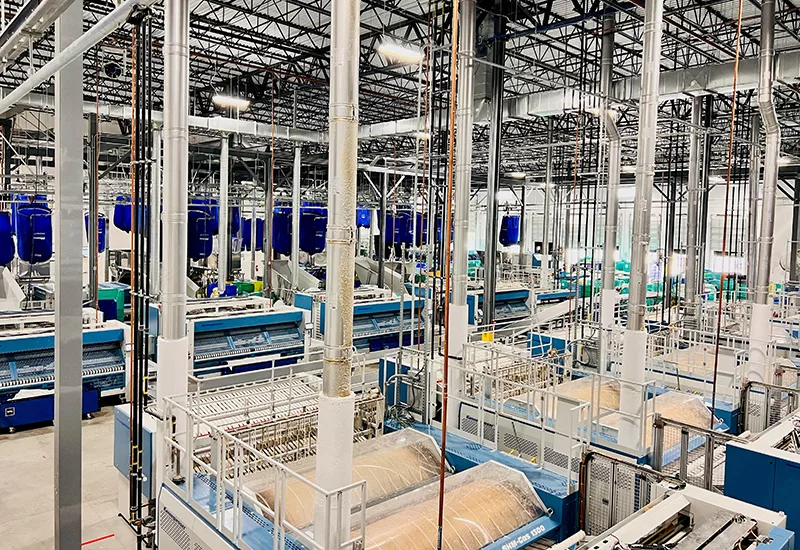 NOVO HEALTH SERVICES PARTNERS