Chris Boase, Senior Vice President at Maviro, discusses the organization's competitive advantage in the North American market.
INTRODUCTION
Maviro is an organization with a difference.
The firm prioritizes an approach that is built around safety, reliability and the promise of guaranteed performance.
Maviro's foundation is driven by a customer focused approach and strategic acquisitions. Formed as a result of the union between three renowned service organizations: Mattawa Industrial Services, Vistec and Envirosystems, Maviro offers specialty industrial services to a wide range of markets within North America, which includes refineries, petrochemical, manufacturing, utility and pulp and paper.
Its services include pigging and decoking, catalyst services, surface prep laser cleaning, specialty chemical cleaning, high-pressure cleaning, and vacuum services. As a result of its expertise and experience, Maviro has become a recognized force in industrial maintenance, industrial projects, as well as major shutdown and turnaround services. Operating with multiple locations across North America, as well as its corporate headquarters in Houston, Texas, Maviro is well equipped to handle projects across the United States and Canada.
Chris Boase is the Senior Vice President at Maviro. He has more than 25 years of experience within the industrial services space across a variety of positions and has come through the ranks in a number of different roles from field operations, as well as being a former owner and founder of Innovative Coke Expulsion "ICE" to supporting operations in his current role with one of the leading specialty industrial services firms within North America.
Having worked in the field since 1993, he provides specialized industrial maintenance and turn-around services to oil refineries, petrochemical plants within Canada and the United States.
Boase believes that what sets the organization apart is its quality equipment and unique bundled specialty service offers which provide immediate benefits for clients. "We are large enough to be effective and responsive with experienced personnel for our customers – however, we are also small enough to have a customized approach that exceeds our clients project expectations," he explains. "We also cross train our people on multiple service lines so when performing bundled services, we maximize the utilization of our manpower and reduce standby time. Further, our ability to manage and communicate realistic predictable timelines and cost speaks to our mandates."
Upon the company's rebrand, Maviro consolidated all of its SCM functions into Epicor.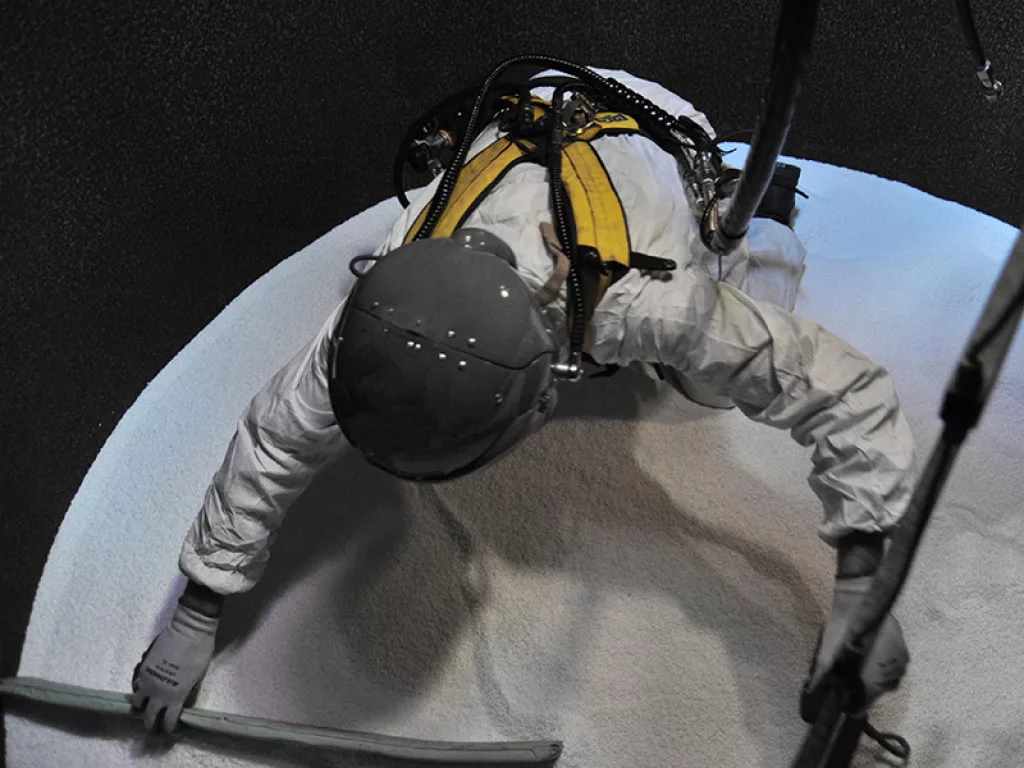 "It has allowed us to reduce the overall number of suppliers and standardize our equipment nationally which reduces our training costs and ties into our cross-trained workforce model. These efficiencies allow us to be very competitive while bidding projects while also maintaining reasonable job margins."
Maviro supplies in-depth pre-commissioning services for plant start-ups, revamps, de-bottlenecking and new construction. From industrial cleaning services which range from formulated chemical cleaning, specialized hydro-lazing, steam blowing and slug flushing to highly controlled pigging and oil flushing. Maviro's team works closely with the industry's leading products and technologies in order to develop effective and measurable commercial cleaning programs for each project.
The Matta-Lift is a new patented Lift technology that accelerates catalyst loading and reduces plant turnaround. The key benefits of the Matta-Lift includes speed, flexibility, safety and savings. It is one of our largest investments' in newer technologies and continues to transform how traditional catalyst changeout operations are conducted, as demonstrated on a recent project in the US that surpassed expectations. Matta-lift can save days off a company's shutdown schedule.
Maviro's team recently completed an inert catalyst change out at large refinery in the Mid-West. The timeline was tight as a result of a critical path of the turnaround, the planners and engineers inquired about inert inspections. Maviro proposed they perform the API inspections using helmet trained inspectors, to speed up the process and related inspection time.
"The time and cost savings were significant, but the facility had never performed this type of work before," explains Boase. "Our SME group from Canada, consisting of our Project Manager Tyler Halliday and both the Maviro and Plant Health and Safety departments conducted countless review meetings to have the client HSE and management give authorization to proceed. They did, even a bit reluctantly and with tremendous oversight, the inspection was well executed without incident. The approach is now considered a best practice within that organization going forward."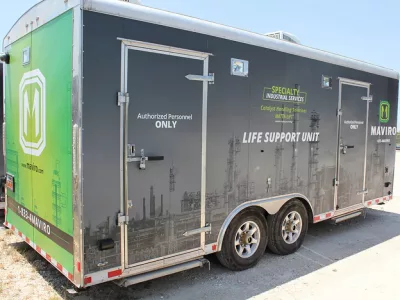 SPECIALTY CHEMICAL CLEANING
Maviro and its subsidiary Rocky Mountain Industrial Services (RMIS) have been performing highly specialized chemical cleaning, consulting, and engineering services since 1997. They provide these services for clients in utility, new construction, Pulp & Paper, and food and beverage industries.
These specialty services include Commissioning, Pre-Service Engineering, Analytical -Off site Tube analysis, Management of wastes generated, Onsite Waste Treatment/disposal, They apply these to boiler cleanings, Piping Systems, as well as, Condensers, Turbines (HP blades foam), Brine Concentrators, Scrubbers, Lube oil coolers, Feedwater heaters and more.
Due to our customer base and familiarity with their needs Maviro is now introducing a new service line to expand our offerings to the major utility market. Slagging is the formation of molten, partially fused, or re-solidified deposits on furnace walls and other surfaces exposed to radiant heat. Over a period of time, a base deposit of slag may also form on boiler tubes. Slag removal can be a constant battle at many solid fuel-fired power plants. Conventional tools include picks, jackhammers, shotguns fired through portholes, hydro-blasting, and CO2-blasting. In many boilers, soot-blowers, and rapping systems only keep slag deposits in check until the next major outage, when more vigorous removal methods – such as charges – can be applied. This is when the seasoned experts, using charges to remove up-to 'Greyhound bus-size' clinkers can be used. "Choosing the right expert is critical," affirms Boase. "One Texas utility, for example, reportedly spent $5 million replacing boiler tubes when the efforts of a new, lower priced contractor went awry.
"Charges have been used in units ranging from packaged boilers up to 1,300-MW central stations. Early applications were limited to large clinkers that bridged the throat and blocked the bottom hoppers. After building their confidence in the bottom hoppers, contractors began to use charges more selectively, moving up into the firebox and ultimately to all sections of tube bundles.
Concussion wave deslagging of the boiler has even been performed online, with the unit turned down to low load. Outside the boiler, charges have been used to clean such power plant components as scrubbers, fly ash silos, and precipitators. Every winter, trainloads of frozen coal are blasted to speed up the unloading process."
Firebox deslagging using the latest binary explosive technology can be achieved without a worker even entering the boiler. Charges are placed on the end of a telescopic pole and inserted through inspection ports and manway doors. The charges initiate a concussion wave, sonic energy, and vibrations that together fracture the slag deposits and allow them to fall into ash extractors in manageable chunks. Firebox deslagging can begin while the boiler is still cooling down around 300F, which by itself cuts a substantial amount of plant downtime.
In tube-bundle regions, remotely placed binary or dynamite charges are not precise enough. Instead, detonation cords, filled with granular explosives in calculated concentrations, are draped throughout the gas path and are ignited in a sequence of time-delayed blasts. If set properly, the detonation cords effectively remove slag from the gas path, as well as from the horizontal surfaces between the tubes, with no tube damage.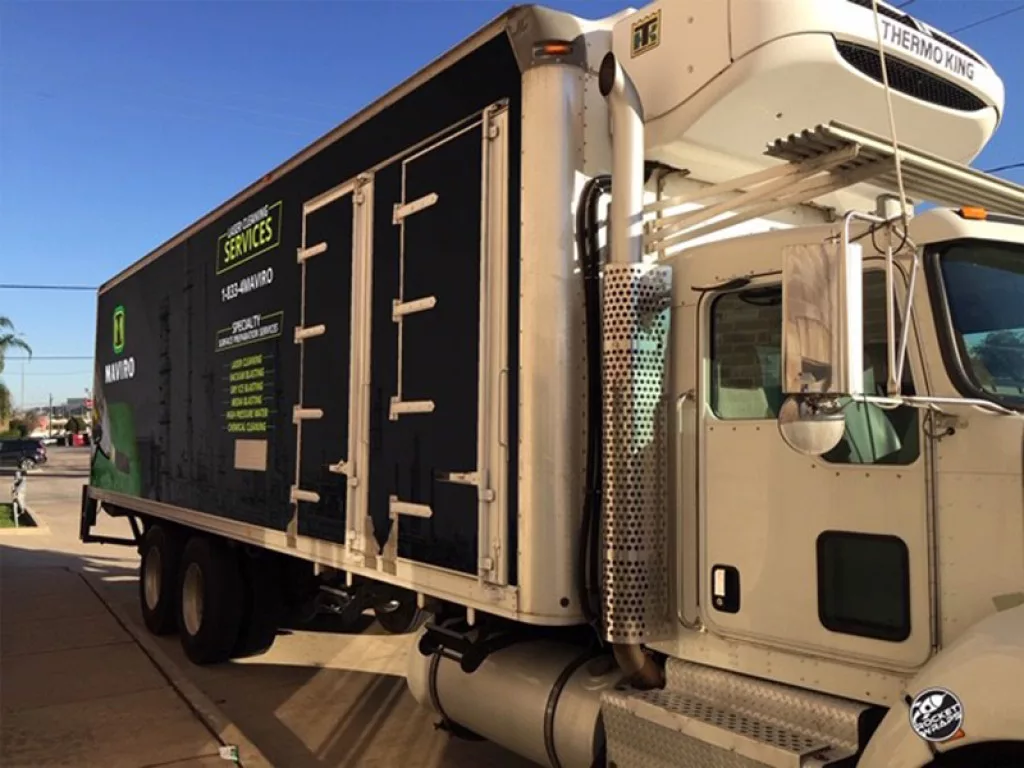 OUR PEOPLE – OUR SAFETY
Talent management is a key pillar to all companies across the world. However, to Boase, the company's staff are a key component to achieving long-term success.
"We believe they are the biggest strength we have as an organization," says Boase. "Empowering our teams instead of micromanaging them improves accountability and customer service, improves job satisfaction and helps you to solve problems faster than in the past.
"We have robust safe work procedures that we follow, but if an employee has an idea or suggests a better way of doing something we encourage this through our 'Bright Idea' program. In this program we reward people for thinking out of the box if it results in a safety, operational efficiency, or completely new service line. Our management structure is very flat, and we expect our managers to be visible in the field."
With the future in mind, management has a clear idea about what the next few years will look like at Maviro.
"Obviously, the number one goal is to finish the year with a strong safety record and ensure everyone goes home safely," he sums up. "With the increased workload due to a large number of projects being delayed from 2020, we look forward to increasing our presence and service offerings to our client base."