We talk turnkey telecoms with Chad Johnson, President and CEO of ADB Companies, whose infrastructure solutions are safely and efficiently addressing demand in the sector.
INTRODUCTION
There is an unprecedented demand for power and telecommunications infrastructure.
The rapid deployment of 5G wireless technologies, and a seemingly endless need for faster internet speeds, is driving telecommunications providers to invest billions of dollars into infrastructure in order to meet this demand.
Likewise, the US government is investing $65 billion to expand high-speed internet in the country, ensuring all Americans have access to important services such as telehealth, virtual education, and remote work.
Proudly building networks, connections and partnerships nationwide within the telecommunications sector, is ADB Companies (ADB). As businesses and communities search for ways to be more efficient and stay connected, ADB is upgrading technology infrastructure to support these needs.
"ADB is a truly turnkey partner to our customers, providing infrastructure solutions from beginning to end," introduces Chad Johnson, President and CEO of ADB since 2014.
"With more than 1,500 members of the 'A-Team' across the US, we have completed projects in nearly every state. We are headquartered just outside of St. Louis, MO and have offices across the country."
ADB, whose client base includes large telecommunications service providers (both wireless and wireline operations), cable TV operators, power companies, regional internet service and telephone providers, government organizations, and data center operators among many others, has four primary lines of business that work seamlessly together in order to fulfil the needs of customers.
"Our Engineering group can design a range of solutions from basic concept to dig-ready, including permitting and project management," Johnson outlines.
"We are also capable of installing nearly any type of wireline infrastructure both underground and aerially, servicing a variety of end customers in the telecom and power space. Our team is highly experienced in all aspects of wireless communications infrastructure development and maintenance from the base of the tower to the top.
"ADB's Technology group specializes in inside-plant networking and commercial audio-visual implementation. We can plan, design, and install a full communications network from the source right to the point where the end user interacts with it," he continues.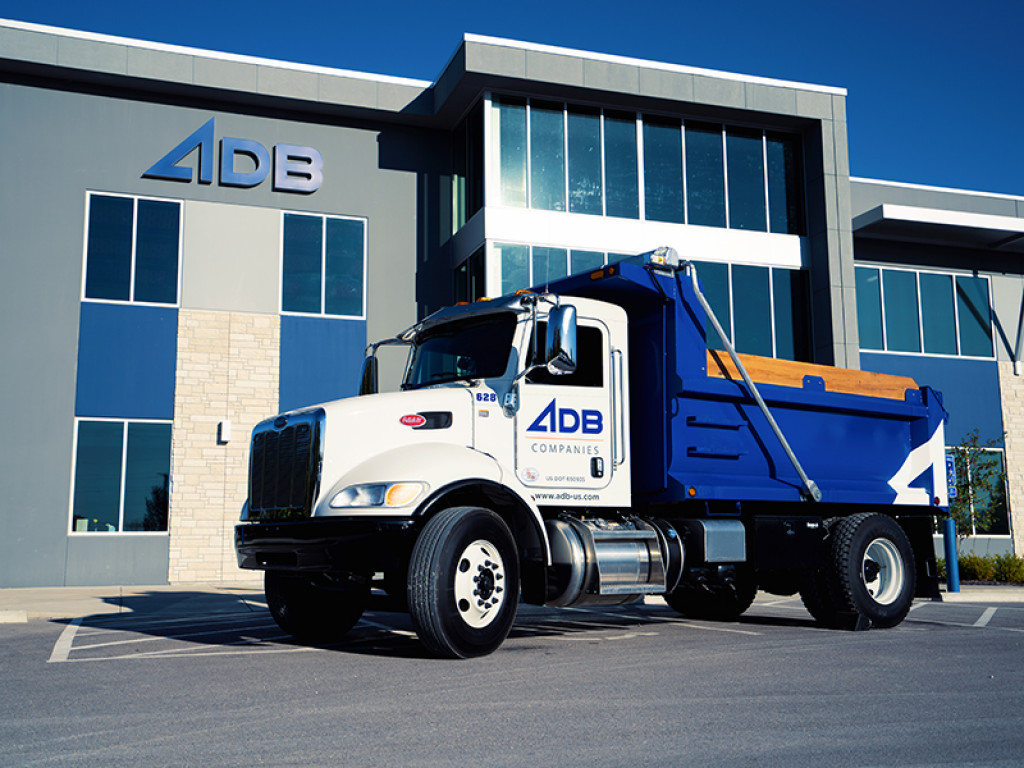 REPUTATION FOR QUALITY
ADB is seeing more activity in the market than ever before, as evidenced by its record-high project backlog.
With a number of exciting projects coming up, ADB is working closely with its customers to help them efficiently build out their utility, electrical, and fiber optic infrastructure.
Johnson highlights a $275 million extensive fiber build-out, awarded following a highly competitive process in which ADB was chosen based on the outstanding value it can provide.
"Our strong reputation for quality work, excellent project management capabilities, world-class culture, and a stellar safety record were all very significant considerations in awarding the work to ADB," he notes.
"We have all the in-house capabilities needed to support a project of this size. With an excellent network of partners to complement the ADB team, we are well-equipped to excel in delivering a world-class project."
ADB's partner network has been absolutely critical to its rapid growth and success, given the unique breadth of products and services the company relies on to provide infrastructure solutions to customers.
Whilst ADB has the ability to perform any part of the job, fluctuations in capacity and equipment availability often require the company to engage with partners in order to meet customer expectations.
"We want to be an easy-button and provide full turnkey solutions in a way that ensures customers are satisfied, not just today, but well into the future," says Johnson.
Having also invested heavily in acquisitions throughout the last 18 months, ADB is now positioned better than ever to serve customers.
"Five companies have been added to the ADB family since the beginning of 2021, giving us the ability to provide additional services and an expanded geographical reach."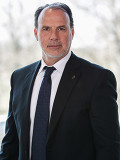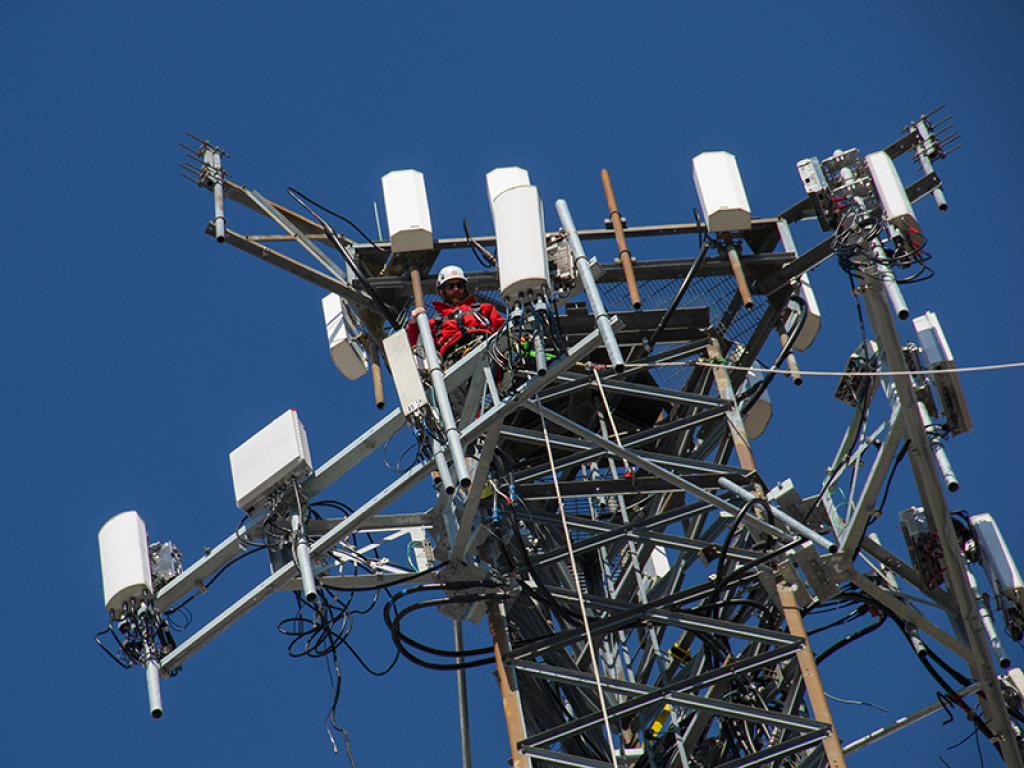 VALUE IN PEOPLE
A customer-centric partner providing innovative solutions, the safety, well-being, and career growth of ADB's team members are the benchmarks of its success.
Exponential growth over the years hasn't come at the expense of staff welfare, and has resulted in ADB having an industry-leading safety record.
"ADB's differentiator is our people, who are driven by our culture and core values. Every single team member is 'ALL IN' for doing the right thing for our customers, and getting home safely to their families every day," Johnson emphasizes.
"All our value is on our people – no question. We don't make products that could be churned out by automated equipment; we provide critical infrastructure that people rely on every day."
Safety (ADB Safe) is one of the company's five cultural pillars, along with health and wellness (ADB Well), development and education (ADB Academy), diversity and inclusion (ADB Together), and social responsibility (ADB Community).
"The pillars, along with our mission and values, define our culture and what it means to be 'ALL IN'," Johnson shares.
Through ADB Community, the company works very closely with a variety of local non-profit organizations and encourages all team members to support community involvement where they live.
ADB has several team members on advisory boards for community organizations, sponsors a significant number of events and activities, and sends out weekly newsletters that outline a variety of volunteer opportunities available for people to participate in.
"As we do with all parts of our business, we develop social responsibility goals through our strategic planning process and deploy these goals through a number of specific objectives that are managed through our balanced scorecard process," Johnson informs us.
"Team and individual performances are not only judged on business financial results, but also on how well we foster our culture and meet our social responsibilities."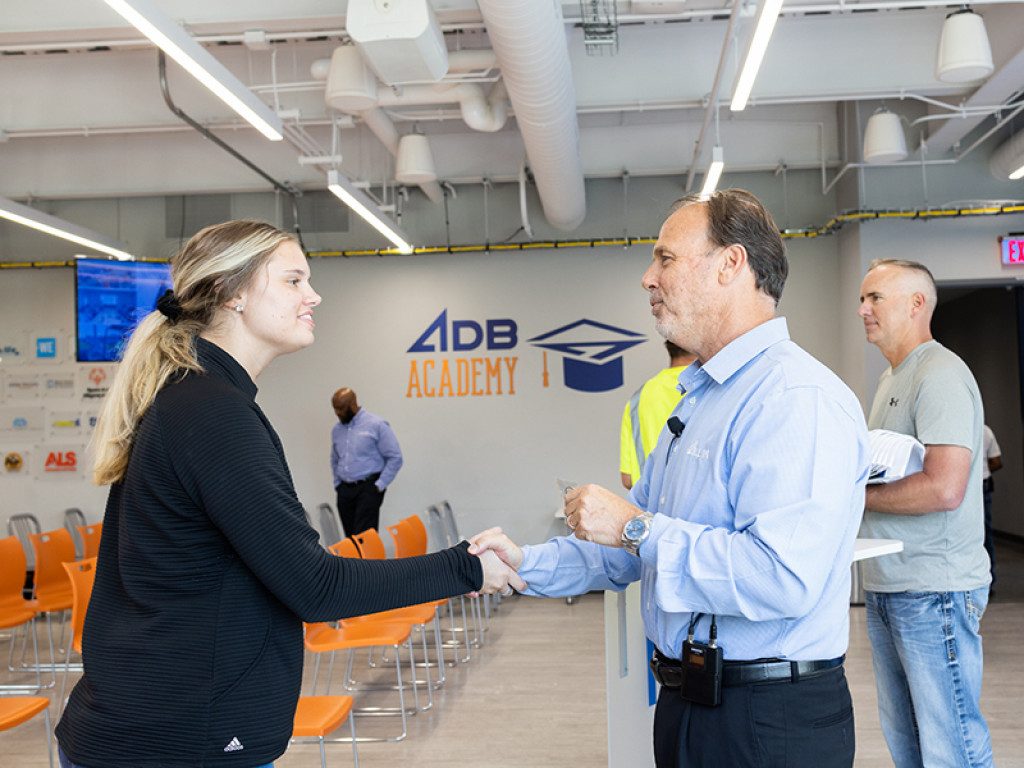 ALL IN
The environments in which ADB works are extremely complex and often very dangerous. As a result, team members are constantly solving problems and finding ways to deliver on customer specifications safely and efficiently.
From team members on the ground or in the air to project managers and team leaders, everyone at ADB needs to be "ALL IN" at all times when it comes to safety, taking care of partners, and embracing the company culture.
This approach is how ADB will continue to succeed, grow, and create amazing opportunities for team members to grow their careers.
"Because successful teamwork is so crucial, and each role extremely valuable, we focus heavily on team member development and strive to promote from within. A significant portion of our leadership team, myself included, started in entry-level field roles," reveals Johnson, who now has over 30 years of experience in the telecommunications industry.
"This gives our leaders a fundamental understanding of our work and helps to encourage valuable communication throughout the organization. In addition, all team members know that they have the opportunity to move into different roles within the business, if they choose, and that the rest of the team will support them."
Johnson's love for the industry, one he is excited to be part of in the age of rapidly changing technology, is rooted in these relationships.
"I have a natural love for building and maintaining relationships, and truly care for people beyond what they simply offer our business," he beams.
"Being part of creating and fostering the amazing culture at ADB has been an incredible journey. It extends beyond our team members, as our community, customers, and partners are all critical to our success and our ability to make a difference."
On making a difference going forwards, ADB has "extremely aggressive" goals for the coming year and beyond, according to Johnson.
"We have plans in place to grow our revenue by more than 25 percent in 2023, and double our business between now and 2025," he says.
Increased geographical density and expanded service offerings, courtesy of ADB's recent acquisitions, will enable the company to offer more of the turnkey solutions that customers need.
With such a fast growth trajectory, however, it would also be easy for ADB to neglect its focus on culture and people.
"We are keeping team members at the center of our strategic plan, and dedicating more resources to training, development, and to our cultural pillars to ensure we don't lose sight of the most important aspects of our business – the people," Johnson concludes.
"As we continue to take ADB to the next level, it's exciting to think about the opportunities each person in our business has to grow their career and how we can help each other along our personal and professional path."
ADB COMPANIES PARTNERS