Fractional aircraft ownership is in vogue for frequent flyers. We speak to Mandar Pendsé, CIO of PlaneSense, about this unique way to fly privately.
FLYING HIGH IN WORLD-CLASS FRACTIONAL AIRCRAFT OWNERSHIP
PlaneSense has led the way in world-class fractional aircraft ownership since 1995.
Growing from one aircraft with a few owners in the Northeast USA to more than 50 airplanes and serving owners across the US, Mandar Pendsé, CIO of PlaneSense, discusses how the company stands above the rest and allows flyers all the luxury and benefits of private aircraft ownership without the hassle of managing the operations of an aircraft. 
Airline passengers came back with a vengeance after the COVID-19 pandemic pinched air mobility in 2020. When the skies reopened, the commercial airline segment was unable to predict the surge in demand and, thus, began cramming passengers into airplanes while cutting routes, resulting in their service quality suffering greatly.
Already an established company with decades of experience and safety excellence, PlaneSense offered a sense of stability to those frustrated with the unreliability and constant rising costs of traditional airlines, seeing tremendous growth throughout 2021 and 2022. For best quality assurance, it has also long operated a vertically integrated model, opting to insource as many functions as possible to ensure the highest of quality.
Private flight provides incredible time efficiencies and statistics from the NBAA show it can give a company a greater opportunity for success. With the added benefit of staff being able to hold meetings in flight, access emails, and conduct work as needed, private aviation offers many advantages to business travel.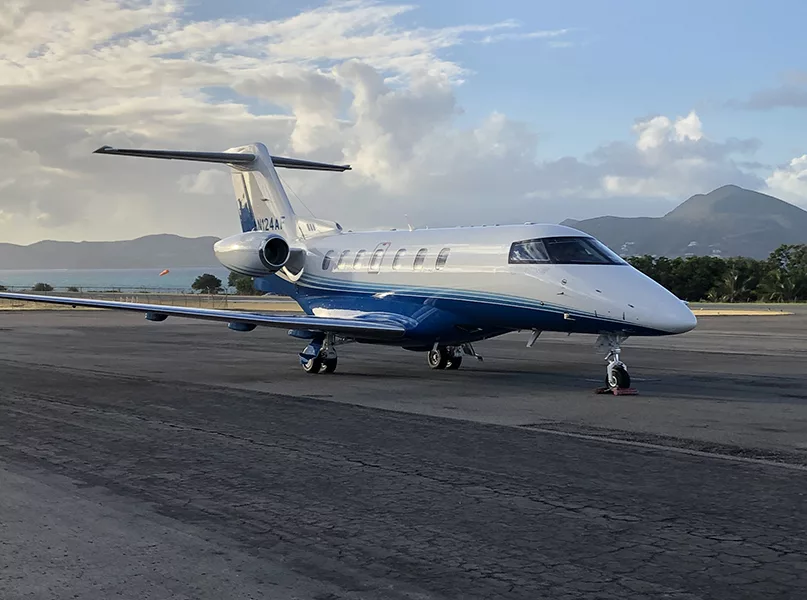 CHARTING A NEW COURSE FOR PRIVATE AVIATION
"We pride ourselves in continually looking for ways to enhance service and provide an exceptional flight experience to our clients. All aspects of the company, from flight ops to maintenance, customer service to IT, all strive towards this goal every day," Mandar Pendsé, CIO of PlaneSense, introduces.
"The program has grown steadily and soundly to become the world's largest civilian fleet of Pilatus PC-12 turboprops and PC-24 twin-engine jets. These state of the art aircraft provide the reliability, convenience, comfort, and versatility that our clients prefer," he continues.
These particular aircrafts are designed for shorter runways, allowing for the usage of smaller executive airports and remote airfields, highlighting how private flying is making waves in the aviation industry, specifically regarding business and leisure travel.
According to the US Department of Transportation, more than 405 million long-distance business trips are taken in the US each year, and of those trips, 64 million are conducted via air travel.
While some may view private flying as an unnecessary luxury or a superfluous expense, in reality, it allows businesses to operate more efficiently and smartly, saving valuable time and money in the long run.
Commercial airlines serve approximately 500 airports, but private aircrafts can reach 10 times more. This makes a massive difference to businesses, as specifically, 80 percent of private business flights travel to small towns and communities that major airlines do not reach.
When calculating the time wasted using commercial airlines, many professionals are turning to private aviation to remain competitive, allowing for both efficiency and a greater opportunity for all-around success.
Currently, the PlaneSense fractional aircraft program serves the US, Canada, Bermuda, the Bahamas, the Caribbean, South America, and Mexico.
CONDUCTING A DIGITAL ORCHESTRA
As a recreational pilot for 30 years and with an extensive computer science and IT background, Pendsé was attracted to the world of commercial airlines and the fractional aviation segment from a young age.
"These are the two most interesting segments within the aviation industry, relative to the complexity of operations and how these segments must rely on modern technology to conduct a tightly choreographed orchestra of people, processes, computer systems, and standard operating procedures (SOPs).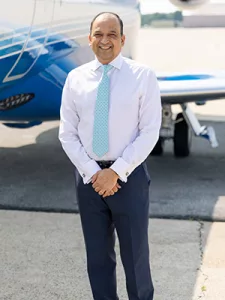 "In today's world, data is everything. The key decisions made, ability to deliver great service or products, adapt to changes, rapidly adopt new business models, compete, and excel – all these things rely on data, information, and business intelligence," Pendsé notes.
Commercial airlines deal with a 2D problem; that is, their flight schedules are set months in advance and completely based on passenger and cargo load factors, meaning their only worries are crew pairings and aircraft type allocation.
In the world of fractional aviation, there is a 3D model that requires solving. Instead of schedules becoming created months in advance, like in commercial aviation, schedules are set anywhere between 12 and 48 hours in advance. These schedules are more dynamic, and the aircraft and crew are instead brought to the passenger, as opposed to the passenger having to travel to an airport.
As the number of aircraft in a fractional operation increase, the computational and operational complexities grow exponentially.
A key initiative that PlaneSense is focusing on is a schedule optimization engine that mathematically solves the challenges of scheduling hundreds of pilots and flights every day. Working with mathematicians and operation research experts affiliated with a world-renowned university, this schedule optimization, coupled with the modernization of the Flight Operations System, will allow PlaneSense to make demand, crew, and aircraft allocation decisions more rapidly to accommodate as many flight requests as feasible while operating within regulations.
Additionally, PlaneSense has commenced a transformative project to modernize its finance operations, with a new enterprise resource planning (ERP) platform that includes migration to the cloud.
"This will allow us to optimize and enhance our finance business processes and bring in more automation, better-integrated data, and business intelligence to the company," outlines Pendsé.
Well-known for the robust, sophisticated pilot training provided to flight crews, PlaneSense also plans to produce an entire ecosystem of software for even more modernized crew training management. This will allow further enhancement of the training offered, along with ensuring that the pilots are continually the best of the best.
PlaneSense has also commenced a project to enhance its customer experience via a modern mobile app that is under development.
FIRST-CLASS TRAINING PROGRAMS
Having the most sought-after pilots in the market is instrumental to the success of PlaneSense. The vetting process demands significant experience from new recruits, and the training offered to the crew is world-class, utilizing the latest methods, technologies, and tools to enhance and expedite the crew's education and testing.
Pendsé notes that "safety and service are of the highest priority, and we have established robust, industry-leading training programs for both pilots and maintenance technicians to support the quality operations our clients have come to expect from the program."
Similar to pilot training, the vigorous maintenance training program, where the technicians undergo a combined average of more than 2,000 training hours a year, includes in-house training as well as education through manufacturer schools, such as Pilatus and Williams Engines. This maintenance is done through the Atlas Aircraft Center (Atlas), a sister company of PlaneSense, where maintenance and all other technical support is performed for the PlaneSense fleet.
"This unparalleled training regimen has earned Atlas the 'Diamond Award for Excellence' from the FAA every year since 2001. Atlas has also earned the Aircraft Electronics Association (AEA) 'Training Excellence Award' for many years."
Employing close to 550 team members across two locations in Portsmouth, New Hampshire and Boulder City, Nevada, PlaneSense has worked diligently to ensure that there is no shortage of talent and that flight operations run safely and smoothly in a timely manner.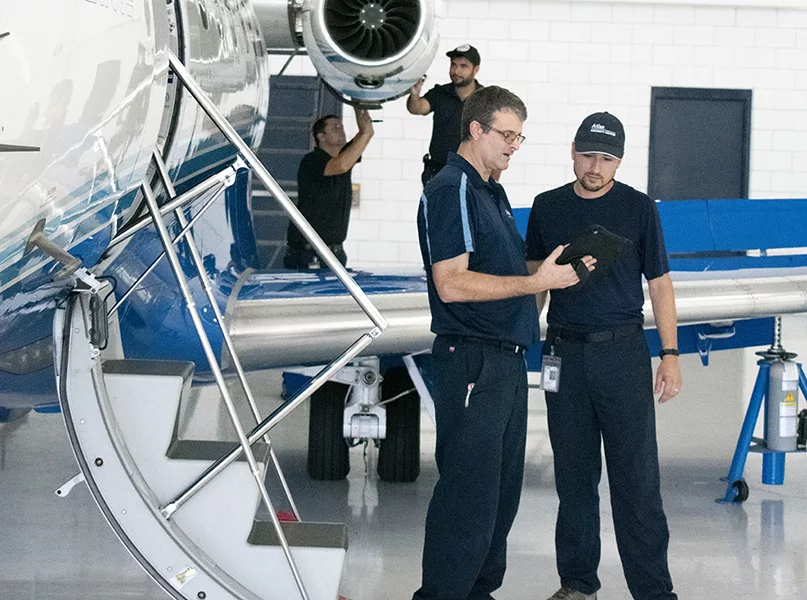 GOING BEYOND THE MINIMUM
From the beginning, PlaneSense has provided clients with safe, reliable, and discreet fractional aircraft ownership, setting them apart from the rest of the industry in terms of its service.
Issuing flashy press releases and relationships with lifestyle partners has never been a key priority for PlaneSense. Instead, the focus is on substantive improvements to the value offered to shareowners, proven by the customers who have stayed loyal since 1995, allowing PlaneSense to become a family company with customers throughout the different generations.
In a 2022 annual survey of private aviation providers, conducted by a well-known private aviation industry publication, readers ranked PlaneSense first in customer service, value for price paid, aircraft choices, peak days, aircraft availability on short notice, and overall satisfaction compared to similar operators.
In addition to finding ways in which to enhance the customer experience, PlaneSense deeply values the input and opinions of those who work hard every day to ensure the company thrives.
"Pilot and maintenance technician shortages are impacting the aviation industry around the world, and we made some important changes to their compensation packages and schedules that have enhanced their quality of life. This has started to pay dividends for us," Pendsé explains.
Furthermore, the successful growth of any company highly depends upon the satisfaction and dedication of the employees. PlaneSense relies upon quality training and open communication to retain those within the company and guarantee a continuity of success and longevity. PlaneSense is a 'flat organization,' and its management team is easily and readily accessible to all the staff.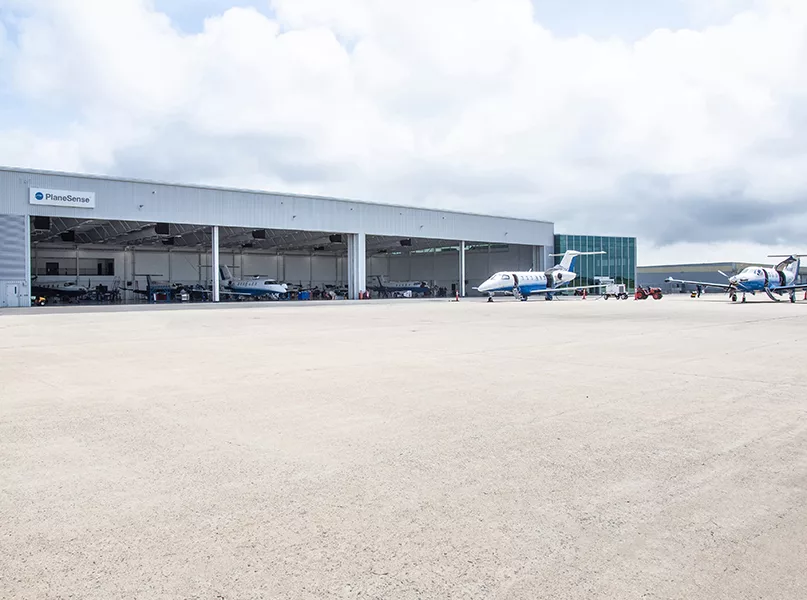 WHAT THE FUTURE HOLDS
After adding jets to the program in 2015 to open new options for clients and meet more flight needs, PlaneSense is looking to expand the jet operations to the contiguous US as more PC-24 jets join the fleet.
"For a company that started in the Northeast US, we have steadily expanded service across the country. Our PC-12 fleet already operates in all the contiguous United States. As new PC-24s continue to join the fleet, the jet fleet will also soon operate across the contiguous US," Pendsé highlights.
Commercial airlines are no longer leading the way in terms of travel; today, people are prioritizing companies that promise reputable and well-engineered aircraft that allow them to travel reliably.
Private flying is unmatched in its convenience and comfort and has become a valuable travel option for business and leisure alike. From a corporation that needs to fly its board members to a meeting to an entrepreneur who needs to reach their clients quickly, private aviation is a critical tool that allows success to be in closer reach.
While it may appear that only large companies can afford this type of travel, the National Business Aviation Association (NBAA) reports that 45 percent of companies who use private flights have fewer than 500 employees.
With no restrictions from PlaneSense about who can fly on a share owners' share, team members can travel more easily and conveniently, and companies can buy the exact shares they need, resting happy knowing that there is a fixed cost that can be factored directly into budgets.
With a strong belief that there is a smarter way to fly privately, the PlaneSense program offers aircraft share owners notable aviation experience, combined with a proven commitment to safety, service, and excellence.
As the nature of flying is constantly changing due to the desire for more convenience and reliability, PlaneSense exemplifies the importance of a long-standing and proud history, along with constant innovation, to ensure the future of private flying is more efficient than ever.
PLANESENSE PARTNER