Tires distributed by Canada Tire Inc have been providing value to customers for almost a century. CEO, Gabriel Granatstein, details the company's dedication to distribution, its team and its values.
DISTRIBUTORS OF VALUE
The consolidation of Canada's tire industry has seen many local and regional distributors rolled up into larger national players.
However, one regional distributor that has proudly stood the test of time – 95 years to be exact – and played a major role in shaping the industry, is Canada Tire Inc (Canada Tire). 
Gabriel Granatstein, CEO, along with his brother-in-law, Director of Sales, Chris Moody, represents the fourth generation of the family business, which was founded in 1928 by his great grandfather, Louis Wiseman.
"The average life-span of a family business is 24 years and only three percent make it to the fourth generation, so it's amazing that we've made it this far, and it's only because of the work done by the generations before us," opens Granatstein, who has now been with the company for more than seven years following a varied career in retail, the military
and law.
By the 1980s, Canada Tire had pivoted from a retail chain of tire shops to B2B distribution, developing a reputation for value-priced tires in Central and Eastern Canada.
Each generation of the family has brought a new vision and a shift in focus, the latest of which now sees the company distribute tires to customers multiple times a day in major metropolitan areas, focusing heavily on cutting-edge marketing and technology to amplify its personalized approach to service.
"Whereas customers for the most part used to order tires in bulk, there's now many more stock keeping units (SKUs) as customers are less willing to take a lot of inventory, so we have to be a lot more refined to make sure we have stock in the right place, at the right time, at the right price," Granatstein outlines.
"We like to work with local carriers that we know will go above and beyond, and take pride in their work. This creates a situation where each of our distribution centers has a slightly different makeup for delivery, but always with the end goal of providing the best service possible."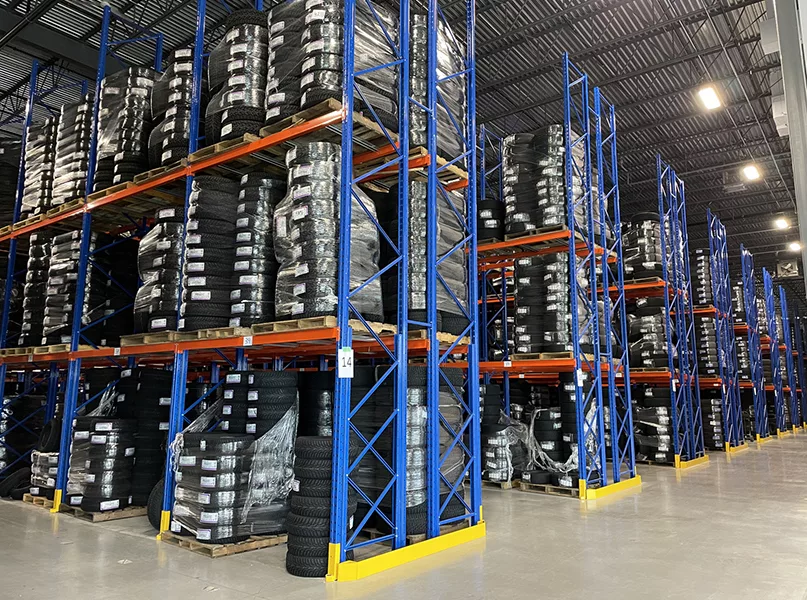 EXPANSIVE FOOTPRINT
Canada Tire today has a total of seven distribution centers – three in Québec (Salaberry-de-Valleyfield, Sherbrooke, Levis), three in Atlantic Canada (Moncton, Dartmouth, Mount Pearl), and one in Ontario (Mississauga).
The company recently relocated to its brand-new distribution center in Salaberry-de-Valleyfield, which was opened in July 2021 and is now its largest facility.
Spanning more than 110,000 feet, it is almost twice the size of the company's previous main distribution center in Montréal.
"We were running out of room and needed more space, so we took the risk of opening a new main distribution center during the COVID-19 pandemic," shares Granatstein.
"It has worked out really well, and we've been fortunate for a number of reasons. You had to bring in a lot of products early and have the space to store it during the pandemic, so we were lucky enough to have that space and it really helped to sustain us when the supply chain was difficult to manage."
Through its distribution centers, the company serves key clients in the vast majority of urban locations in Eastern Canada, namely independent garages, car dealers, fleets, rental car companies, and online vendors.
This expansive footprint is complemented by a retail store in Montréal that serves as a showcase of Canada Tire's products.
A wide selection of passenger, performance, SUV, and light truck tires are stocked by Canada Tire, whose core mission is to distribute unique brands that maximize profitability.
The company therefore differentiates itself by concentrating entirely on Tier 2 and Tier 3 products, and choosing underrepresented tire brands that the competition doesn't focus on.
"We find that when we do this, there's a place for all of us in the market because we provide value that our competitors don't, which has translated into where we are today," Granatstein tells us.
"For example, Groupe Touchette is Canada's largest tire distributor and they do an amazing job, but they focus on a specific tier of products which has allowed us to really establish Canada Tire in our segments."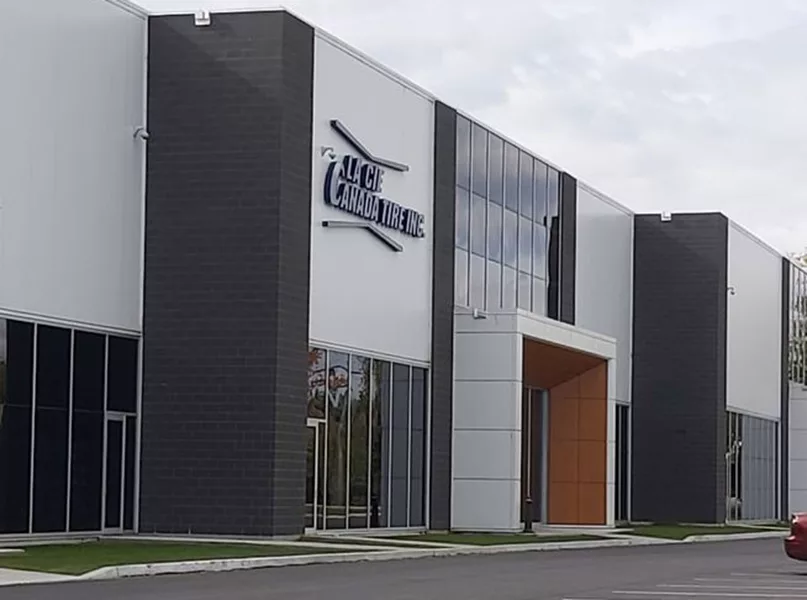 RESPONSIVE REGIONAL PLAYER
Under Gabriel's father, Billy Granatstein, grandfather, Jack Granatstein, and uncles Sam and Philip Wiseman, Canada Tire was the first to bring in high-quality, value tire brands from China and South Korea, where the company continues to import the vast majority of its products by container.
That brings with it benefits but also challenges, which reared their heads during the pandemic when global supply chains were heavily impacted.
"We went from using one freight forwarder to 15, so handling the cash flow implications of that in terms of fuel and ocean freight rates was a very interesting challenge that thankfully we overcame and were able to use to our benefit, but it's constantly changing," observes Granatstein.
"I think our size allows us to react quicker than the competition, and the fact we are in charge of importing most of our own products for the most part gives us that additional flexibility that others don't have."
One of the freight forwarders who stepped up for Canada Tire during the pandemic was Cargolution, who helped to manage the company's supply chain issues. According to Granatstein, Cargolution "stepped into the breach" and has been a valued partner since.
As well as providing value with its wide range of tires, Canada Tire's flexibility means that it is very responsive to customer needs.
"When you're a regional player like us, you have the ability to remain close to your customers, directly communicate with them, respond to their needs, and create solutions to the problems they have," says Granatstein.
"Ultimately, it's not always about the tires, but problem solving – it may be that the customer needs a particular brand or service we provide that the competition doesn't. People do business with us because we're easy to do business with, and we help them become more profitable."
With the company adding Maxtrek to its portfolio of brands this year, Canada Tire's range of tires will offer more choice for customers than ever.
"We don't launch new brands often as we're committed to our suppliers, so that's a big deal for us and we're excited about that. It's a line of tires that will provide great value for our customers," Granatstein informs us.
"We've partnered with many of our suppliers for decades, including Deldo, who provides us with the Minerva brand of tires. I would also include Macpek in the same bracket, as we have a deep partnership with them and are proud to sell their products.
"This is another new partnership for us and one we feel is based on shared values – something of key importance to us in selected new partners," he adds.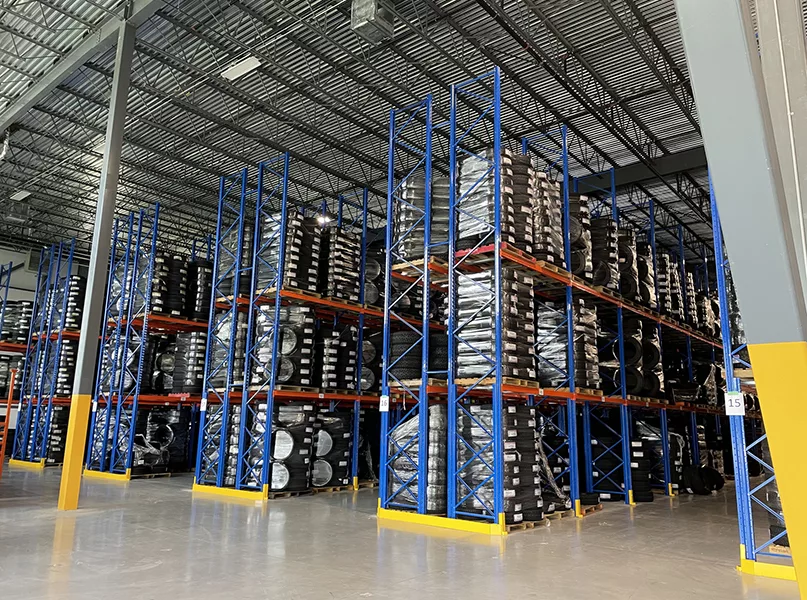 TEAM AND VALUES
Canada Tire is proud of its history, and the fact that many team members have been working at the company for several decades.
"It's quite rare now to have the type of employees that we have at Canada Tire, and it's something that I'm really proud of," smiles Granatstein.
"We have employees who have been with us for more than 30, 40, and even 50 years, and that comes with a lot of strengths. Having people who know the business inside out is incredibly helpful, and their ability to adapt to new ways of working has been wonderful and constantly impressed me.
"We are only as good as the team that we have, and our team is extraordinarily committed to the company."
Canada Tire is equally committed to corporate social responsibility (CSR) and supports charities that are close to its employees and customers.
Likewise, employees have the support of Canada Tire if and when they need it, whether that's in the form of time off, financial support or education.
"I think it's the sense of commitment that we have to each other that helps to keep people at the company."
This reflects the purpose that Canada Tire lives and operates by, which is to sell tires and wheels profitably – to provide a better life for its team members and partners.
"Making profit is fundamentally important, but profit is not the end goal itself – it's a means of measuring our success and investing in our business and ourselves," concludes Granatstein.
In that vein, Canada Tire launched a company-wide profit sharing program in 2023 that ensures when the company does well, all employees share in that success.