As aviation bounces back from COVID-19, there remains a looming pilot crisis. We speak to Espen Høiby, CEO of AAP Aviation, about crew management in a post-pandemic world.
Introduction
Though the aviation industry was hit tremendously hard by the COVID-19 pandemic, North America has so far recovered impressively well compared to many other regions.
After a resilient 2021, the International Air Transport Association (IATA) expects US passenger numbers this year to reach 94 percent of 2019 levels, with a full recovery forecast for 2023.
Brighter skies undoubtedly lie ahead, but for now, clouds of uncertainty continue to circle when it comes to crew availability.
The shortage of pilots in the US, exacerbated by COVID-19, has led to airlines cutting schedules and having to boost pay and bonuses to staff their operations.
Faced with this challenge, we find out how AAP Aviation (AAP) is taking full responsibility for the entire crew management process, after speaking with CEO, Espen Høiby.
What is your take on the industry across North America, as it seeks to recover from the impact of the COVID-19 pandemic?
Espen Høiby, CEO (EH): The US domestic market is the world's largest air travel market, and North America as a whole is in that sense particularly interesting for us at AAP.
Prior to COVID-19, the US was among our largest markets in which we employed close to 1,000 people. However, the looming pilot crisis is already becoming evident in the region and I believe this is one of the biggest challenges that the industry as a whole will be facing in the years to come.
Although airlines have been able to innovate their service offerings for travellers, they have failed to innovate in ways to attract core personnel.
As with many other industries, gender diversity is a key element in ensuring sustainability. Whilst I'm sorry to say that only about five percent of all operating pilots are women, I choose to see the huge potential of this tremendous lack of gender balance, as we promote and facilitate career opportunities and management for the next generation.
North America is a very mature market and less fragmented than what we still see in Europe, yet it is also very traditionally managed. As our solutions in essence are offering airlines optimized cost structures, enhanced efficiencies and more flexibilities, they ought to be greatly embraced by the industry.
People want, and operators need, accessibility, simplicity and quality in crew management. I believe that we provide operators with the comparative advantage and agility they need to succeed, and our employees with the best working conditions.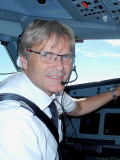 As a company that's 'All About People', how does AAP Aviation attract and retain talent?
EH: We are actively reinvigorating the status of a career in the sky by offering employment security, competitive wages and benefits and flexibilities for the individual.
We also promote diversification and accentuate female role models to dissolve the old-fashioned pilot stereotypes and motivate and support more women to choose what is currently a male-dominated profession.
AAP is focusing heavily on industry-specific technological developments and advanced tools in order to streamline the everyday duties of our crew and make routine tasks a lot more efficient.
People also want to work where they live, so our structure is to enable crew bases in outstations. There is also a business imperative for the operators to leverage us in this sense.
The industry has paradoxically been very locally organized as airlines mainly operate out of their "home market" to their respective destinations. Seeking additional flexibility by a more global approach represents a huge competitive advantage in terms of access to sufficient competent personnel.
Similarly, what strategies does AAP Aviation deploy to source the right pilots, cabin crew and aviation professionals on behalf of its customers?
EH: First and foremost, we acknowledge the uniqueness of our clients and there is not one profile that necessarily fits all customers.
Thus, we have developed our own crew matching and recruitment tool, CrewMatch™, which currently holds more than 160,000 candidates.
This uniquely built tool for the mass recruitment of standardized workforces allows us to filter and pre-screen candidates extremely efficiently based on the exact requirements of our clients.
That in turn enables our recruitment and selection specialists to focus their efforts on the candidates most likely to succeed in the subsequent recruitment process. Having a very experienced and capable team of aviation experts and people specialists is key in order to select the right candidates.
We are not just fixed on finding a candidate that meets the hard requirements, but we ensure that we have the right profile to best fit the needs and uniqueness of each client.
What are your predictions for the aviation industry in a post-COVID-19 context – are you confident that the industry will bounce back in the near future?
EH: Absolutely. The fundamentals that have driven air travel for the past five decades remain intact, there is a substantial underlying predicted market growth for the next 20 years, and the North America region will be the fastest market to fully recover.
We are seeing positive signs and people will want to travel, but airlines will need to revisit their economies of operations and opt for more aggressive cost-cutting solutions and alleviate indebtedness and future liabilities going forward.
AAP Aviation is well positioned for the post-pandemic era. Airlines worldwide are now positioning themselves for a rise in activity, and we are increasingly receiving enquiries from companies that want to collaborate with us.
That's undoubtedly because they see our model and solutions as competitive. We will now build the company further and ensure that our business model becomes an even greater success than before the pandemic.