Tiffany Buzzato, Founder and Creator of California-based skincare brand DEW Mighty, talks sustainability in retail and establishing a brand without moral compromise.
INTRODUCTION
Zero Waste, eco-friendly, carbon neutral.
As the buzzwords to define global consumer trends, we frequently see these phrases strung out as corporate marketing tactics – empty hashtags that distract from genuine sustainability commitments.
Nowhere is this more prevalent than within the retail sector and cosmetics in particular; an industry that continues to rely on single-use plastics and is one of the worst offenders in terms of waste and emissions footprint due to packaging and global shipping.
According to a 2020 report on Plastic Free Beauty by 'Beat the Micro Bead', the global cosmetics industry produces over 120 billion units of packaging per year. A staggering 95 percent of this packaging is thrown away after just one use, with nine percent of the plastic waste that has been produced ending up being recycled. Meanwhile, 79 percent of that plastic waste is destined for landfills, dumps, or the natural environment.
Now more than ever, retailers and brands must address the worldwide packaging problem. We shine a light on one brand who abides by these environmental slogans as a company mantra.
"We're based in beauty, but we want to change the way that people look at objects. We want to design them, make them essential, high-performing and plastic free.
"We want to get rid of this idea that when you use something up, you throw it away or recycle it, because it will just magically go away."
From the company's base in Hermosa Beach, California, founder and creator of DEW Mighty, Tiffany Buzzato, is a passionate spokesperson for all matters pertaining to sustainability, channelling these beliefs and ethos into her visionary business.
"We don't intend to have a large product range and hyping up consumerism is against our main philosophy. We should always be looking to refuse, reduce, reuse, and recycle, but as a last resort," she comments.
As an entirely waterless beauty product, DEW Mighty avoid the billions of pounds of water that are shipped around the world to produce skincare products. Since inception and a delayed company launch in April 2020 thanks to the turbulent events of the COVID-19 pandemic, the brand has garnered attention from the likes of Forbes, Women's Health, and Marie Claire, with the innovative launch of its solid serum bar.
While Buzzato's outlook on North America's cosmetics industry and its incorporation of sustainability is hopeful, she remains cognizant of the giant strides that still need to be taken. Having been in the beauty industry for over 15 years and involved in many different segments – from manufacturing to business development – the need for improvement is obvious.
"Many large beauty companies are still talking more about recycling and focusing on products with reclaimed packaging, so consumers are convinced that they're doing good by buying those products.
"But the reality is that we are still producing and throwing away plastic at such a tremendous rate with such low recyclability, that this gives too much credit to a system that isn't circular or sustainable enough," she tells us.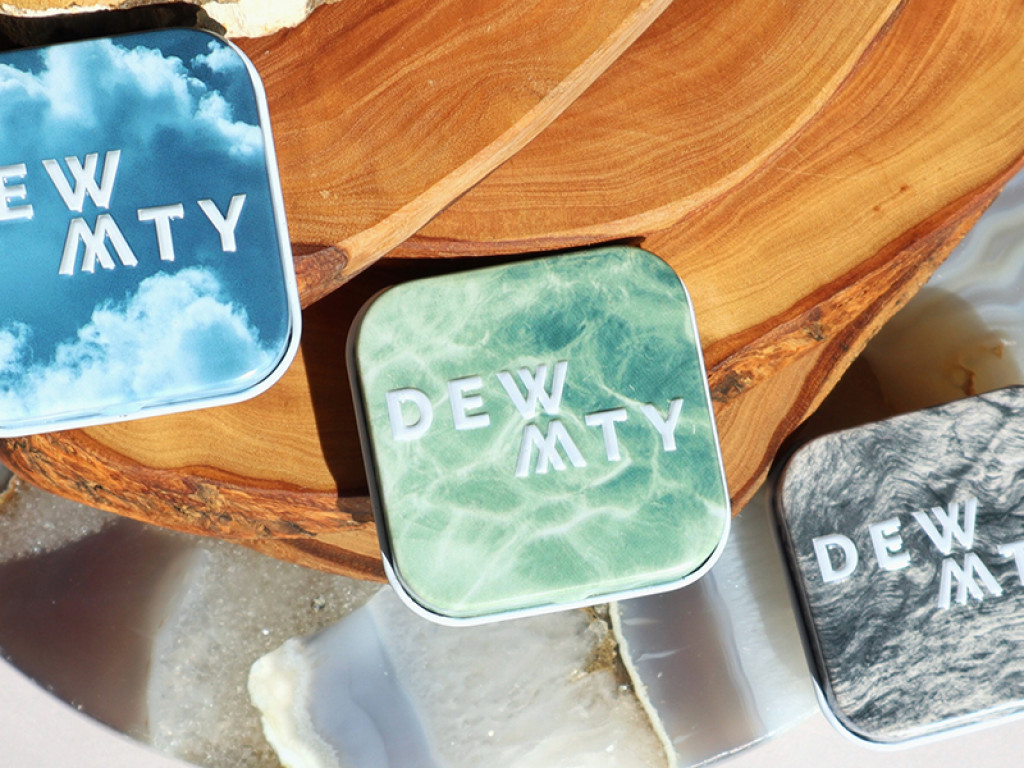 A SOLID EFFORT
From ideation to concept, DEW Mighty live and breathe sustainability. The brand's baseline product is a solidified serum bar that is designed to eliminate and replace several different beauty items in its single concentrated form. By so doing, the company seeks to eliminate waste in an industry that is otherwise saturated with plastics.
"It starts with sourcing and notifying all of our suppliers about packaging and reviewing it prior to the purchasing of raw materials, all the way to creation in product development," Buzzato tells us.
"You can't avoid shipping, but you can avoid the materials that you put in there and the products in samples that might not be used which could be used somewhere else."
Each order is analyzed through a carbon offset calculator, funding reforestation to compensate for the emissions from each package delivered as it continually strives for carbon neutrality based on resource consumption and the company's day-to-day operations.
At the manufacturing stage, DEW Mighty's product is batched in such a way that the number of units is always monitored, and the company will still sell any imperfect products.
"Everything is audited and looked to be reused if it cannot be recycled," Buzzato explains.
DEW Mighty's native setting of Hermosa Beach provides the perfect backdrop for the brand to thrive, with a growing number of refilleries cropping up on the local retail scene. California is also home to progressive climate change action legislation, involving strict adherence to recycling that prohibits items with a low recyclable rate from being manufactured with the designated recycling logo.
"I have a lot of hope that the legislation to come will be eye opening and change habits all the way down to the consumer level."
Alongside the structural obstacles that impede truly driving a green transformation across the wider North American retail landscape, Buzzato identifies the need for a "flip in consumer psychology", that is gradually evolving thanks to a growing awareness and education within environmental matters.
"Consumers are always looking for convenience in our lives, judging whether or not we've 'made it' by the amount of things that we own, whereas we need to focus instead on purchasing fewer, quality items that stand the test of time," she comments.
"There is a general disregard about just how much we consume. In North America, what we have in resources per capita is on average eight times greater compared to other countries in the world."
PURPOSE BEYOND PROFIT
For DEW Mighty, supply chain operations are accompanied with the struggle of sourcing partners who comply with and mirror the company's own laudable environmental commitments, dealing with packaging companies who are accustomed to making money based on the performance of sales and often reluctant to pursue alternate avenues, particularly with a refillable product.
In this regard, Buzzato occupies a staunch position on ethics and morals when it comes to vetting suppliers and their choice of packaging.
"I push on to suppliers an uncompromising approach when it comes to reviewing materials for packaging. That can cause difficulties, asking them to get to the pack out process before even placing an order – but we have to be very clear that we won't be using poly bags and that we're only to go wrap using biodegradable materials and are willing to pay more for those options."
With strict adherence to such principles, patience is key in building a business in alignment with core values.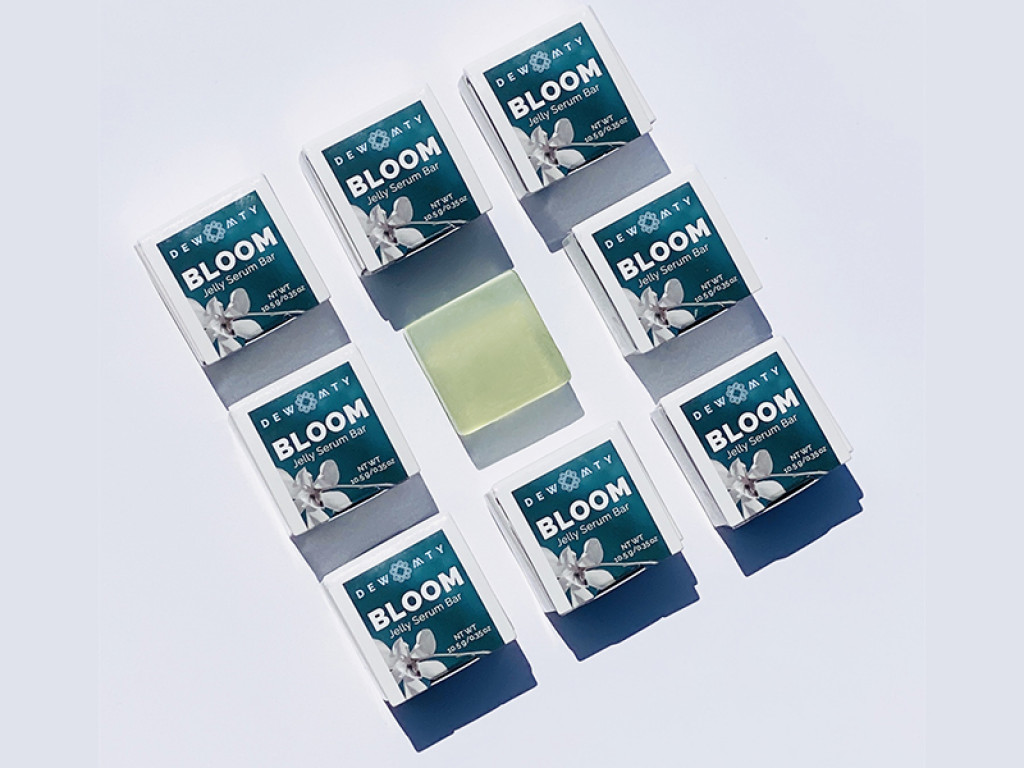 "We have two amazing products right now that we are waiting to launch on, purely because of the components and materials. But we're willing to wait in order to get to the item that is going to uphold our standard. That's part of why we self-fund and don't have investors that require us to compromise in those areas," Buzzato tells us.
For Buzzato, DEW Mighty is willing to shoulder these increased overheads, since there is arguably no cost greater to the brand, than that of compromise.
In the fast-moving retail space, where companies are continually evolving to keep pace with the higher pressure on sustainability expectations, Buzzato advocates a slower approach to drive a lasting change.
"I would advise others not to rush to market to make money – rather try to thoughtfully curate something that solves a problem for the long-term," she says.
"We don't look to make small incremental changes by making decisions based on what people will consume. Instead, we create true innovation in a way that can only work in a holistic nature by establishing a whole brand in a format that never existed before, that follows a sustainability mantra."